Cleaning supplies made from from all-natural green cleaning ingredients such as vinegar, baking soda, Castile soap and hydrogen peroxide are amazing! In the correct combinations these green cleaning ingredients can leave your whole house sparkling (for only a few cents) while eliminating the need for toxic household chemicals.
Unfortunately…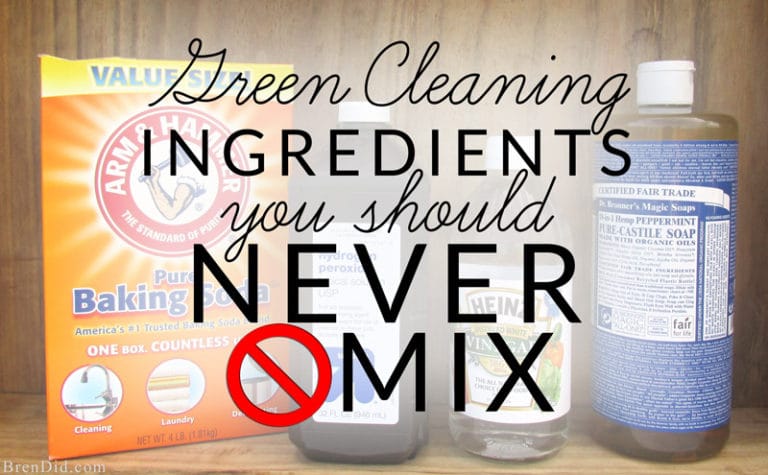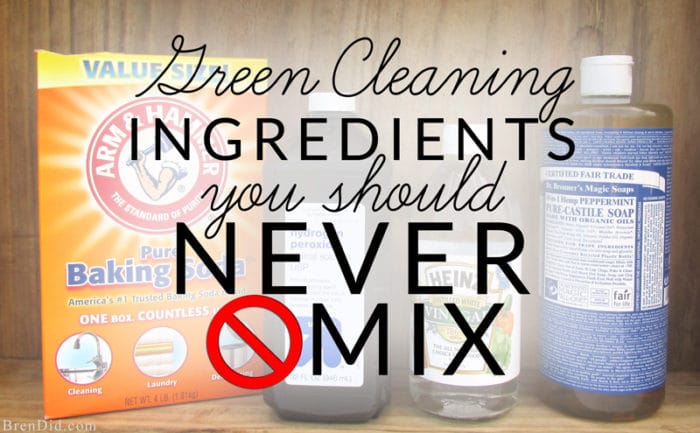 Many natural DIY cleaner recipes found online combine ingredients that should NEVER be combined.
Some of the combinations simply neutralize one another, killing their cleaning power and wasting your money… while other combinations can produce dangerous reaction that can damage your lungs or home surfaces.
Ineffective Green Cleaning Ingredients
There are three green cleaning ingredient combinations that should NEVER be used in one DIY cleaning recipe. Learn about these ineffective combinations: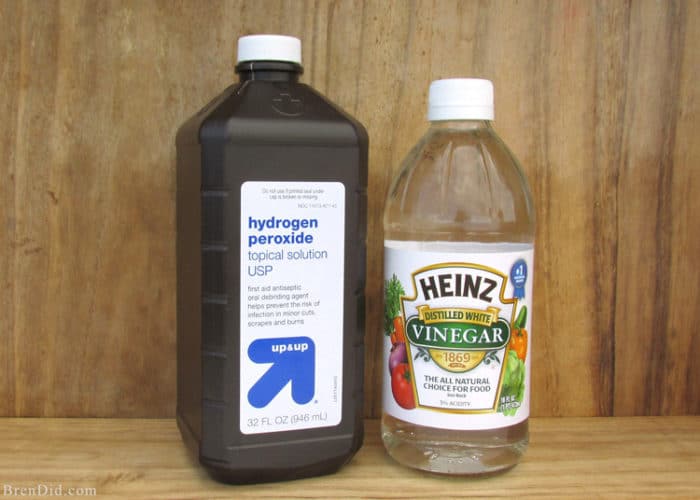 1. Hydrogen Peroxide + Vinegar = Peracetic Acid
Hydrogen peroxide and vinegar are both great natural cleaners and sanitizers, BUT combining them in a container creates a corrosive acid.
The risk: Bodily damage and/or damage to household surfaces. Vinegar and hydrogen peroxide create an acid when combined. Peracetic acid can irritate your skin, eyes, and respiratory system and can be corrosive to household surfaces.
How to use them effectively: You can use hydrogen peroxide and vinegar while cleaning, but always think of them as one-two punches…NEVER mix them into a cleaning solution bottle!
When I want to disinfect I simply screw a spray top onto my hydrogen peroxide bottle and another spray top onto my white vinegar bottle. I then  spray and wipe with one cleaner and then the other. (This makes a great bathroom disinfecting cleaner when kiddos are sick.)
If you want a disinfecting cleaner you can mix and store in a bottle safely, try my Lemon Infused Disinfectant Spray Cleaner recipe or Natural Fabric and Room Refresher recipe (it doubles as a surface disinfectant) both disinfect the whole house!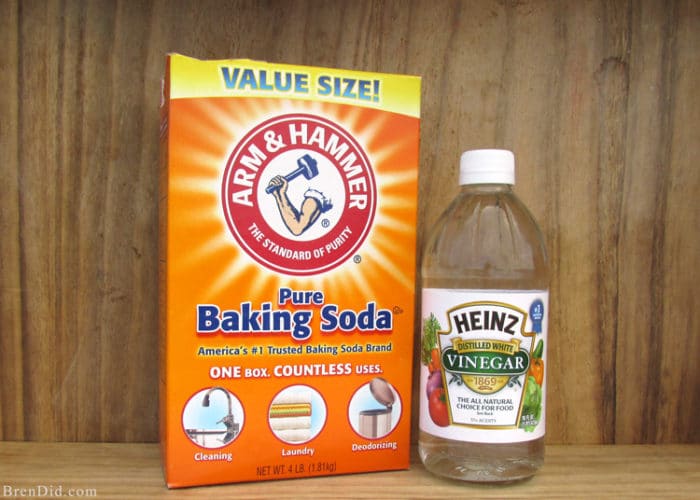 2. Baking Soda + Vinegar = Water and Sodium Acetate
Baking soda and vinegar are a bubbling combination, BUT those bubbles are not doing any deep cleaning.
The risk: Wasting your money. Baking soda is basic while vinegar is acidic, their reaction produces water and sodium acetate. This is an ineffective homemade cleaning solution of water with a tiny amount of salt in it.
How to use them effectively: Don't waste your time cleaning with an ineffective cleanser! Instead use baking soda as a scouring agent to clean ovens, sinks, and bathrooms and simply rinse with tap water.
Use the vinegar as a scum busting glass cleaner or as an odor neutralizer. My favorite glass cleaner recipe combines vinegar and vodka to make your glass surfaces sparkle!
(Want to learn more about baking soda and vinegar? Read Why You Should Never Use Baking Soda and Vinegar to Clean Clogged Drains. If you are looking for a green drain cleaner check out How to Naturally Clean a Clogged Drain. I test and explain several green drain cleaning methods!)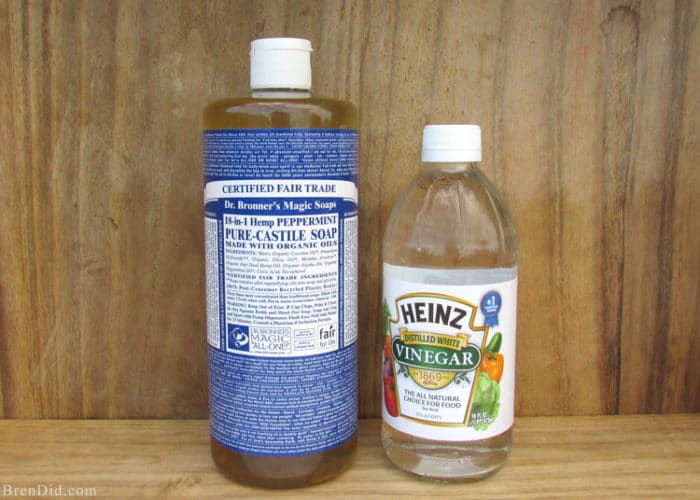 3. Castile Soap + Vinegar = Gunk
Castile Soap and vinegar are versatile green ingredients with many uses, BUT combined in one cleaner they actually make your home dirtier.
The risk: Wasting money and time.  Castile soap is basic while vinegar is acidic. When you combine the two you get a reaction that breaks down or unsaponifies the Castile soap, tuning it back out to its original oils. The mixture looks like a white, curdled gunk.


Instead of getting a great cleaner you are spreading ineffective gunk all over. Castile soap is expensive, don't waste it!
How to use them effectively: Do not combine Castile soap with acids (including lemon juice and vinegar). Instead, use the soap first and use vinegar as a rinse agent in your washing machine, dishwasher, or cleaning rinse water.
I use Castile soap in my Borax free homemade laundry detergent and liquid laundry detergent followed by my easy homemade fabric softener. It also works great in this laundry stain treater.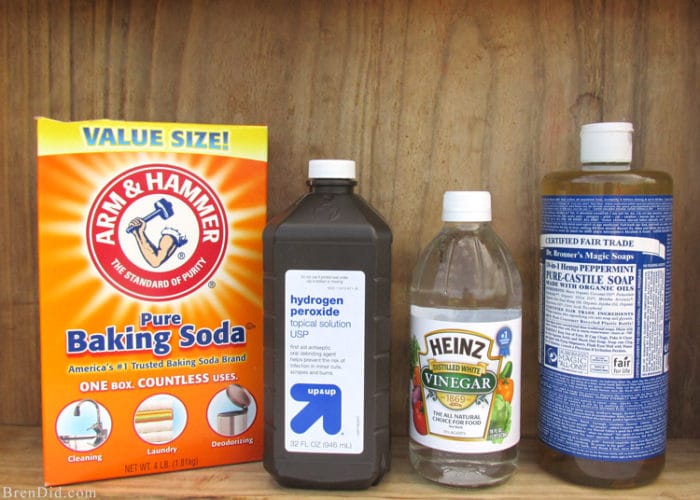 Clean your home naturally and effectively by avoiding these ingredient combinations. Don't be too hard on yourself if you have made any of these green cleaning mistakes, it is a learning process!
Get More "Dirt" on Green Cleaning Ingredients
I used to clean my disposal and drains with baking soda and vinegar.  Whoops! Read How to Naturally Clean a Clogged Drain to see the green methods that work much better.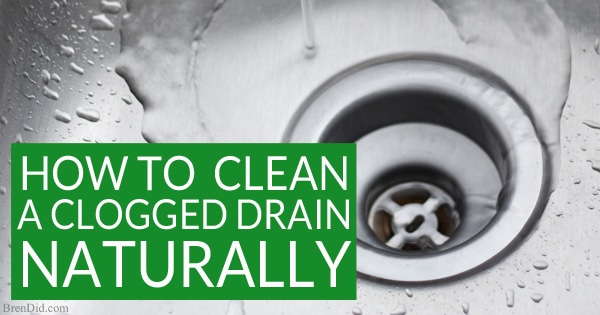 Some green cleaning recipes combine hydrogen peroxide and baking soda. This combination should never be stored in a closed container because it can  explode, leak, or spray all over when opened. Learn why in Natural All Purpose Cleaner.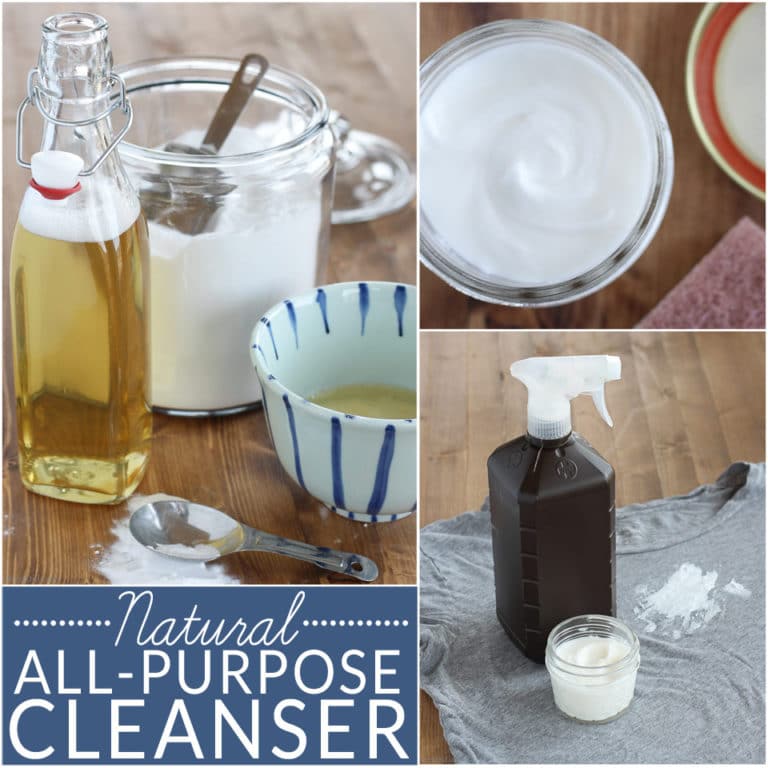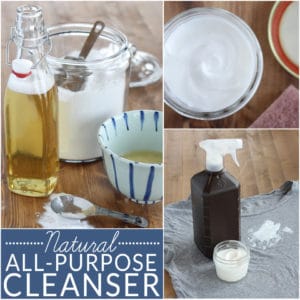 The next time you find a new DIY cleaner that you're not sure about stop by the Bren Did Facebook page and ask, I love trying new green cleaners!
Like my green cleaning tutorials? Sign up for my newsletter below and never miss a thing!