This homemade disinfectant spray ia a natural cleaner that can help protect your family from germs during cold and flu season. It can also be used to clean cutting boards and kitchen counters while cooking. Learn how to make your own lemon disinfecting cleaner for an easy, frugal cleaning solution that can help protect your health.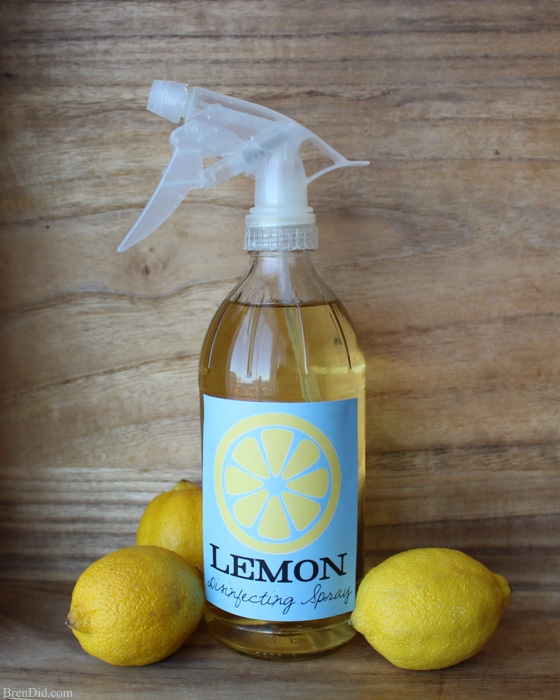 This post uses affiliate links. They don't cost you a thing and help us bring you green cleaning tutorials. Read more in Policies & Disclosures.
I stopped using commercial disinfecting cleaners in my home when I learned that they could contain hazardous chemicals and indoor air pollutants. These substances can cause health problems including asthma, hormone disruption, heart disease, cancer, headaches, eye irritation, congestion, and nausea.
Plus manufacturers of cleaning products in the United States do not have to list all the ingredients on their labels. This means that you have no idea what you are exposing your loved ones to when you reach for most commercial cleaners.
I did a litte research and learned that's it's easy to make you own homemade disinfecting cleaner that contains the same active ingredient found in many commercial cleaners but none of the dangerous additives.
Choosing a Natural Disinfectant
This homemade disinfectant spray uses two simple ingredients to naturally kill germs: ethanol and lemon oil.
Ethyl alcohol (ethanol) is a common disinfectant used in the United States. Ethyl alcohol is a potent virucidal agent and is commonly used as an active ingredient in hand disinfectants for healthcare workers.

Ethanol is sold as vodka or grain alcohol in the United States. You must read the proof label on the bottle for the correct ethyl alcohol concentration.

Lemon oils are found in the rind of citrus fruit, a common grocery store staple, and have show strong antimicrobial activity.

No need to run out and buy lemon oil, the lemon oil in this cleaner naturally comes from the rinds of a lemon when it is steeped in vodka or grain alcohol. Save the lemon fruit or juice for other recipes.
Using Ethanol as a Disenfecting Cleaner
Why choose ethanol for this homemade cleaner? Ethyl alcohol (ethanol) is readily available plus it's germicidal, bactericidal, tuberculocidal, fungicidal, and virucidal when used at the correct concentration. According to the CDC:
Salmonella typhosa, E, coli, and Serratia marcescens are killed by 40-100% ethanol
COVID-19 (coronavirus) is killed by 70% ethyl alcohol solutions.
Staphylococcus aureus and Streptococcus pyogenes are killed by ethyl alcohol concentrations of 60%–95%.
Lipophilic viruses (e.g., herpes, vaccinia, and influenza virus) are inactivated by ethyl alcohol concentrations of 60%–80%
Hydrophilic viruses (e.g., adenovirus, enterovirus, rhinovirus, and rotaviruses) are inactivated by ethyl alcohol concentrations of 60%–80%
Where to Buy Ethanol
Ethanol can be purchased in the United States two ways:
As pure ethyl alcohol (also called vodka or grain alcohol). This is the only type of alcohol that you can drink without harming yourself.
As denatured ethyl alcohol. This alcohol that is made unfit for human consumption by adding chemicals to it to make it poisonous.
This recipe used pure ethyl alcohol which is sold at liquor retailors in the United States as unflavored vodka or clear grain alcohol.
Vodka sold in the United States has a minimum ethanol content of 40% alcohol by volume (labeled as 80 proof).
Other grain alcohols such as Everclear have a higher ethanol content of 60%, 75.5%, 94.5% and 95% alcohol by volume (labeled as 120, 151, 189, and 190 proof respectively).
*Other types of denatured alcohol are available in the U.S. These include isopropanol (rubbing alcohol or isopropyl alcohol) and methanol (methyl alcohol).
**Do not substitute any other alcohols or denatured alcohol for the ethanol in this recipe. The resulting cleaner will contain additional ingredients that could be dangerous to inhale and may not be safe on food surfaces.
How to Make Lemon Infused Disinfectant Spray Cleaner
Ingredients
Unflavored vodka or grain alcohol (use a cheap variety for everyday cleaning, choose a higher proof for killing viruses such as coronavirus)
4-6 Fresh Lemons
Directions
1.Wash and peel the lemons, place rinds in a glass jar. Cover the rinds with vodka and allow to steep in a cool dark place for 1-6 weeks. (This is called infusion.)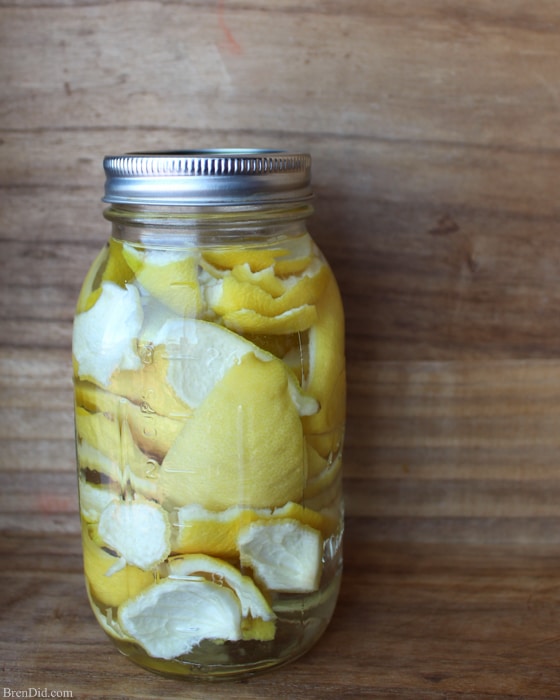 2.The cleaner is ready when it becomes a yellow color. For more concentrated lemon oil and a darker color, allow to steep for a longer time. Remove the lemon rinds and any solids by pouring the liquid though a sieve or cheesecloth. (This is called filtration).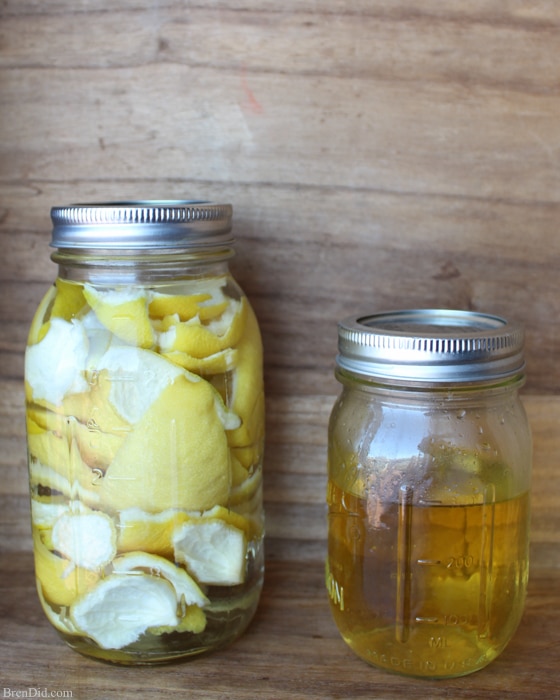 3. Pour the cleaner into a spray bottle. Do not dilute! Download the PDF labels and attach. (I print mine on adhesive full-size labels for easy application.)
How to Use Homemade Disinfectant Spray
After removing all visible dirt and soils with a damp cloth, spray the lemon cleaner directly onto solid surfaces you want to disinfect including countertops, cutting boards, toilet seats, floors, and more!
Allow the disinfectant at least 10 seconds of dwell time to kill germs. (Dwell time is the amount of time a cleaner must stay wet on a surface to be effective. According to the CDC, ethanol can kill Serratia marcescens, E, coliand Salmonella typhosa in 10 seconds.)
Wipe the surface dry with a clean cloth (if desired). There is no need to rinse.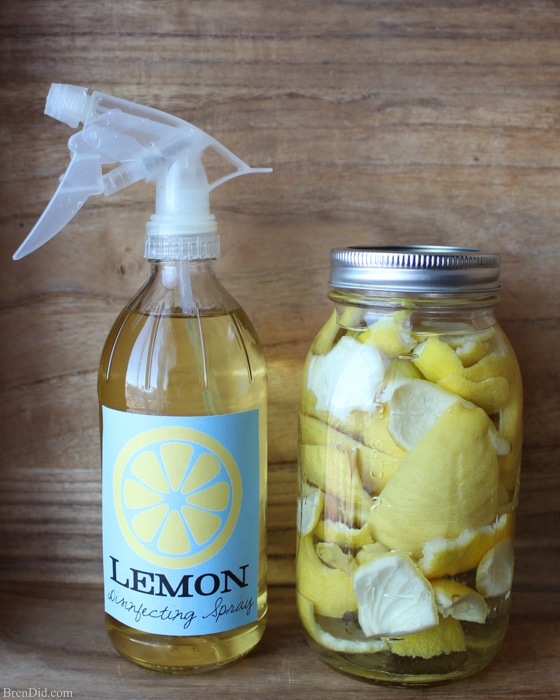 Homemade Disinfectant Spray FAQ
Should I dilute the cleaner with water? It depends on desired alcohol content in the cleaner and what you used to make your infusion.. If you want to kill respiratory viruses you need a minimum 70% ethyl alcohol solutions. A dilution of 1 cup lemon cleaner made with 190 proof alcohol: 1 cup water will create a 95 proof cleaner which is 47.5% alcohol, not high enough to kill some viruses. It's much simpler to start with a bottle of ethyl alcohol that is the same concentration you desire in your cleaner and not dilute.
Why do I need to clean before disinfecting? Cleaning removes germs from surfaces but does not necessarily kill them. Disinfecting kills germs but does not necessarily remove them from surfaces. The CDC recommends both steps (with separate cloths) to best protect your family.
Can I use vinegar in place of alcohol? The CDC does not list vinegar as an approved disinfectant to prevent respiratory viruses. You can make my easy infused vinegar for other household cleaners, just not this disinfectant.
Can I use rubbing alcohol in place of ethanol? All rubbing alcohol sold in the United States is denatured (not fit for human consumption) therefore I do not recommend using it to clean food surfaces.
Can I use plain ethanol to disinfect? Absolutely! You can grab a bottle of 151 proof (75.5% alcohol) or higher and get to cleaning. The lemon adds some scent and a little boost from the lemon oils but the plain alcohol works fine too!
Can I add essential oils to the cleaner? Essential oils have been shown to have disinfectant (antifungal, antibacterial) properties. But EOS can cause adverse reactions in children, adults, and pets including allergic reactions, skin irritation or rash, and neurological impartment. Health experts recommend limiting the use of many EOS on food contact surfaces and in homes with sensitive individuals (young children, pregnant women, people with respiratory issues, and certain pets).
Why do I need to let this cleaner sit? All disinfecting cleaners, both homemade and commercial, require a certain amount of time to kill germs and bacteria. This time is called dwell time. It's a huge problem with commercial cleaners because most people do not read the label and do not let the cleaner sit for the time indicated. Be safe, let it sit (and read your cleaner labels!).
Always Use Your Best Judgement
There is, of course, an exception to every cleaning rule. If you live in a home with an immune compromised individual, you may be advised to use different cleaning products. Be safe and listen to your doctor's advice.
Like my green cleaning tutorials? Sign up for my newsletter below and never miss a thing!