This all natural, non-toxic homemade glass cleaner contains two unexpected ingredients that clean amazingly well. The surprising ingredients: vodka and cornstarch!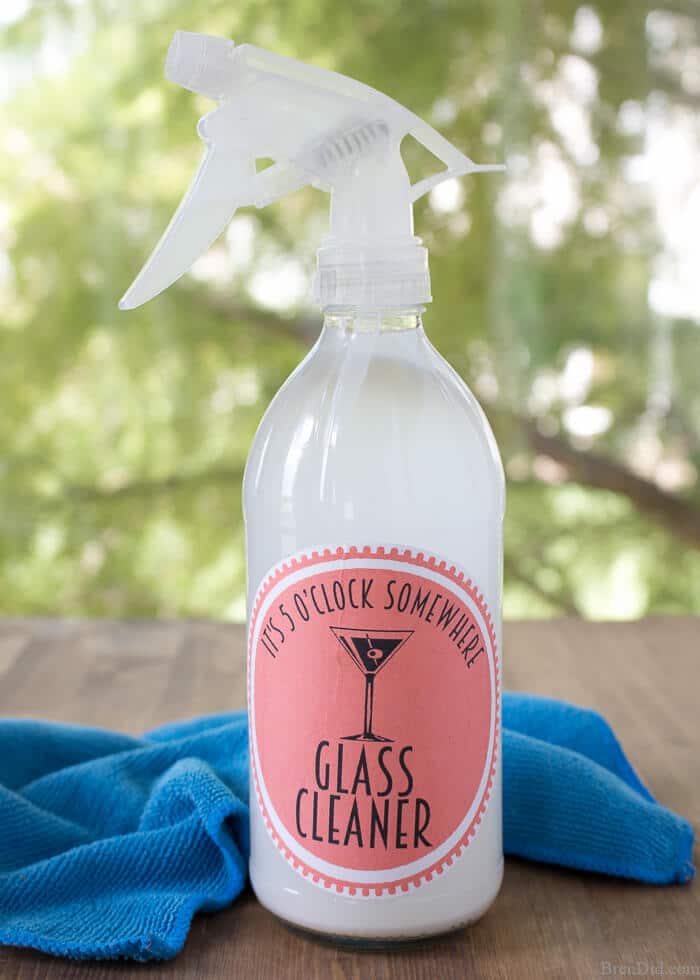 This post uses affiliate links. They don't cost you a thing and help us bring you creative projects. Read more in Policies and Disclosures.
Plain white vinegar is my go-to cleaner for windows, mirrors and other household glass surfaces . However vinegar was no match for sticky-fingered kids and a German Shepherd who loves to slobber on glass doors.
I decided to try making my own non-toxic homemade glass cleaner and stumbled on this glass cleaner experiment by Crunchy Betty that looked promising.
Strange Ingredients = Great Homemade Glass Cleaner
Corn starch in glass cleaner… sounds strange, doesn't it? I decided to give the recipe a try, but to make the cleaner even more natural by substituting vodka for rubbing alcohol.
Vodka can be used as a substitute for rubbing alcohol because it contains ethanol and water
Rubbing alcohol is mostly isopropyl alcohol with water and additives (aka unknown chemicals). I prefer using vodka due to concerns about using unknown chemicals in my home.
Vodka vs. Rubbing Alcohol
I made two batches of window cleaner, one using rubbing alcohol and one using vodka. Both cleaned glass well; however the rubbing alcohol mix left the smell of yucky rubbing alcohol in the house. The vodka cleaner was virtually odorless.
The verdict: vodka is my new favorite glass and window cleaning ingredient! I have spotless windows and mirrors with no funky odors floating about the house.
I dubbed the cleaner "It's 5 O'clock Somewhere Homemade Glass Cleaner" because of the vodka in the recipe.
Homemade Glass Cleaner Directions
Combine in a spray bottle:
Shake well.
*Learn to make my upcycled glass spray bottle for cleaning here.
Glass Cleaning Tips
Spray windows generously and wipe clean with a cotton rag or paper towel.
For lint free windows finish with one last wipe using a paper coffee filter or sheet of newspaper (sounds odd, but it works).
Store leftover cleaner in a cool dark place (like under the sink), shake to combine before each use.
Cost Comparison
It's cheap!
$0.26 an ounce for the vodka (buy cheap vodka, about $9 a liter )
$0.18 an ounce for the vinegar
$0.05 for the cornstarch.
Total cost = $0.93 for 21 ounces or $0.04 an ounce.
The cheapest commercial natural glass cleaner available is $4.00 for 32 ounces or $0.12 an ounce.
Free Label
Download a free label for your glass cleaner. Print on full sheet label paper then peel and stick.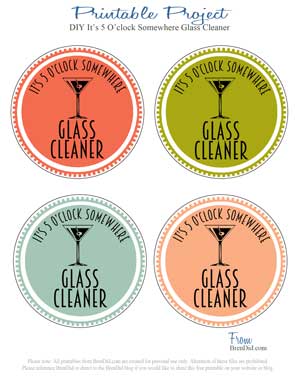 More Vodka Cleaners
I love using vodka to naturally clean and deodorize my home. It also a great natural disinfectant. These easy all-natural DIYs all use vodka to clean your home without dangerous chemicals!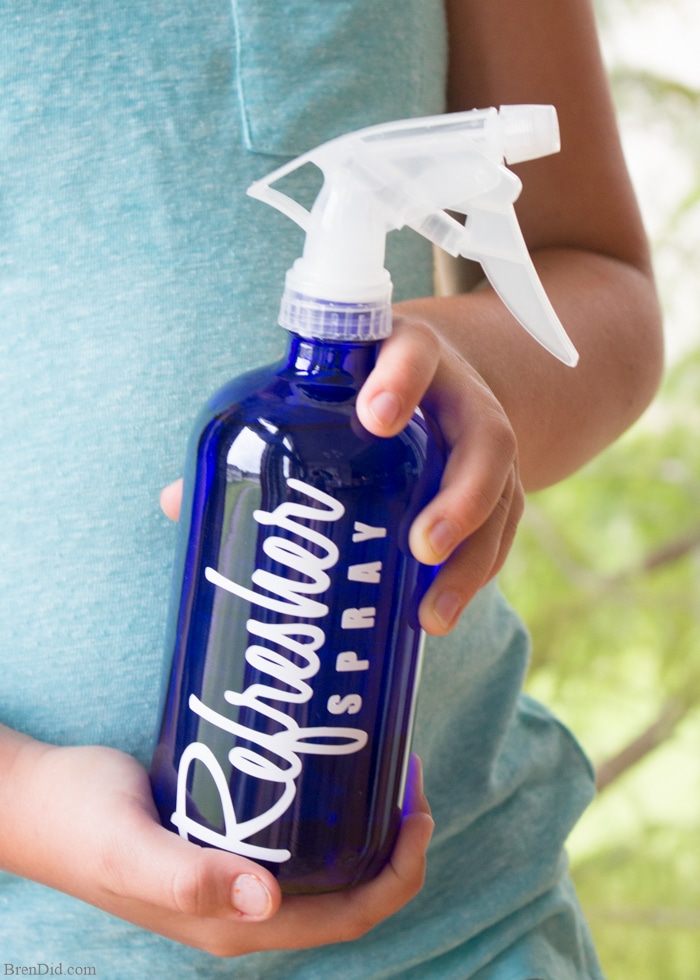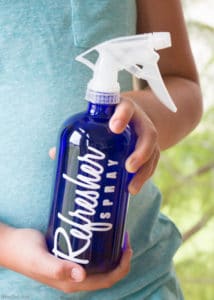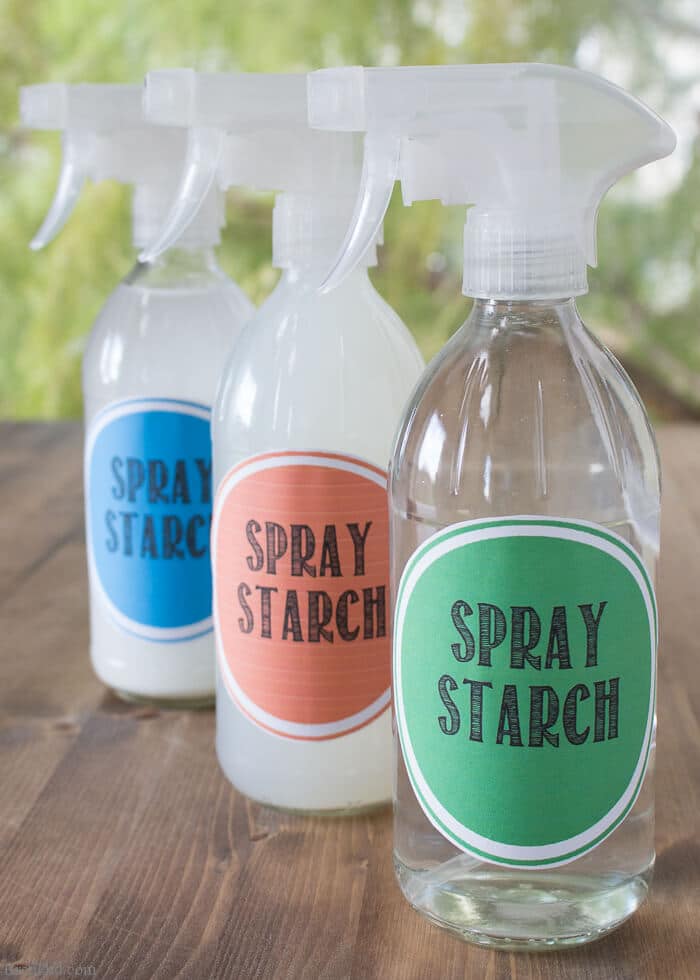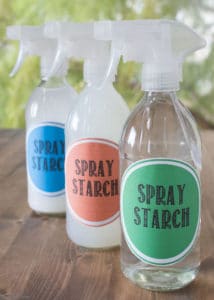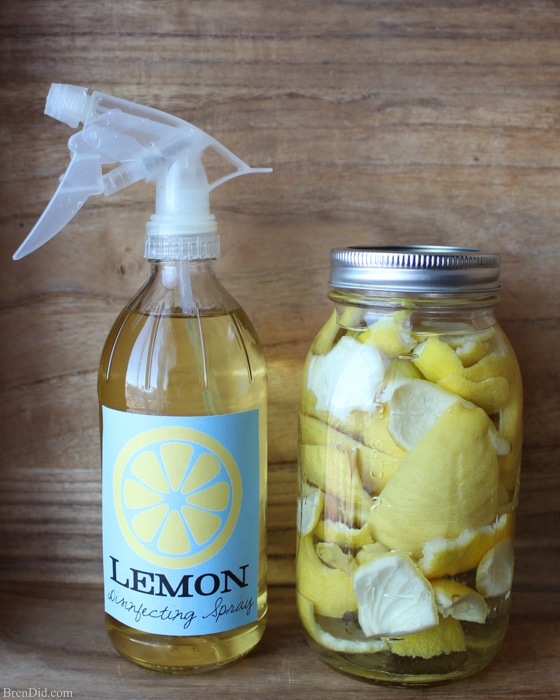 Like my all-natural cleaners? Sign up for my newsletter below and never miss a thing!