Cleaning with vinegar is one of the easiest ways to make your home healthier and green your cleaning routine. Learn all about vinegar, how to use it effectively, what combinations to avoid, and what natural cleaners to make with vinegar.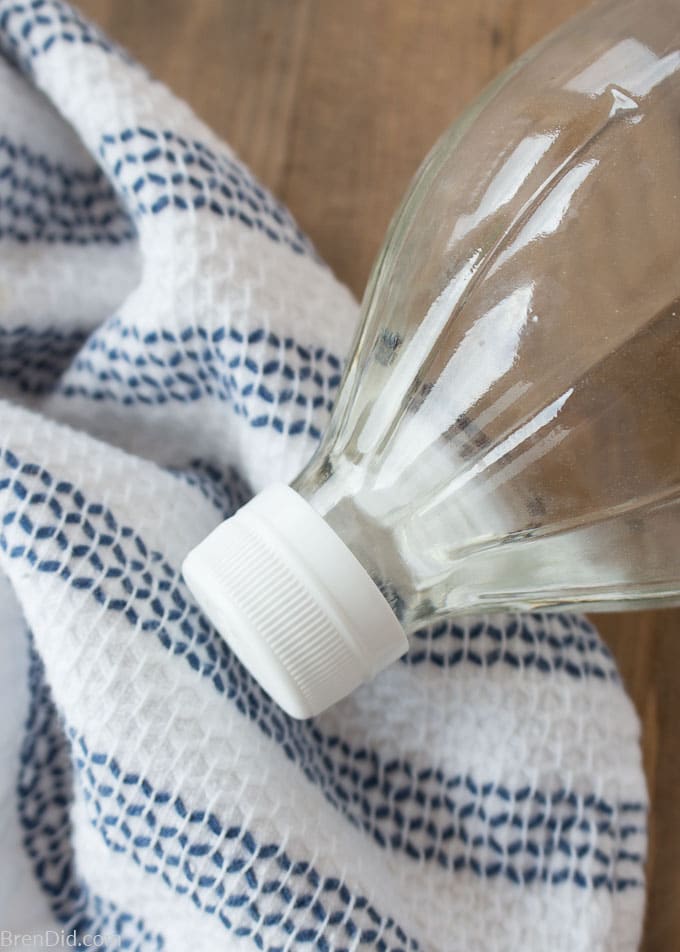 Homemade Cleaner Ingredients
If you've ever tried making your own homemade cleaners you know that they can range from very useful to total disaster. I hate wasting time and ingredients by making a cleaner that doesn't work effectively.
The #1 reason green cleaners fail? They use the wrong ingredients!
Other ineffective cleaners choose the wrong ingredients for the job.
It's important to understand the ingredients you are using to be able to clean effectively. When choosing ingredients I like to know:
How the ingredient works.
Where it is safe to use.
What it should (and should not) be mixed with.
 
Cleaning with Vinegar 101
Readers often ask me why I use vinegar in my homemade cleaners since it has a potent smell. Today I'll share some basic facts about vinegar and explain why I love cleaning with vinegar.
What is vinegar?
Vinegar is a weak acid that is commonly used  for cooking (adding sour notes to food, preserving, or pickling) and household cleaning. It is edible and biodegradable but it can burn sensitive skin or eyes.
Chemically speaking, vinegar is a solution of water, H2O, and acetic acid, CH3COOH. (Since vinegar is not a pure substance it does not have its own chemical formula.)
Vinegar is a great green cleaning ingredient because its acidic pH allows it to break down alkaline or basic substances that soil our homes and laundry plus it has a long shelf life at room temperature.
How is vinegar made?
Vinegar can be made several ways:
Vinegar is traditionally created through fermentation. It's a two-step process:
Fruits or  grains are allowed to ferment into ethanol alcohol (think grain alcohol or wine).
The alcohol undergoes a second fermentation that converts it into acetic acid.
Vinegar can also be created by distillation. This process starts with distilled alcohol (usually grain-based ethanol made from corn or wine) which is then fermented into acetic acid.
Vinegar can also be created in a laboratory.  In this process ethyl alcohol made from natural gas or petroleum products is fermented into acetic acid. (This type of white distilled vinegar is not commonly produced in the United States.)
*In all three processes the resulting vinegar is strained  and/or pasteurized then diluted with water to the desired percent of acetic acid (usually 5 to 8 percent).

What are common vinegar types?
The type of vinegar is determined by what it is made from. (Vinegar can be made from anything that contains sugar and can be used to make alcohol. This includes fruit, wheat, corn, and rice.)
White vinegar, apple cider vinegar, and wine vinegar are the most common types of vinegar in the United States.
White vinegar is the type of vinegar most commonly used for cleaning.
PH LEVELS AND CLEANING
Let's step back to high school chemistry class to examine the cleaning power of vinegar. Remember the pH scale?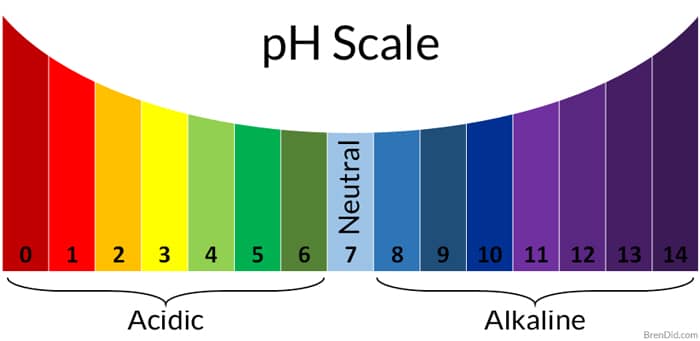 The pH scale is used to determine if a liquid is acidic, basic, or neutral. The scale runs from 0 to 14, the center of the scale is neutral (number 7).
Solutions from 0-6 on the scale are acidic.
Solutions from 8-14 are basic.
When a base is added to an acid (or an acid added to a base), the solution moves toward the middle of the pH scale as it is partially or fully neutralized.
Measuring Vinegar's Strength
The strength of vinegar can be measured two ways:
Concentration (the amount of acetic acid in the vinegar) which is measured in percent.
Acidity, measured as a pH value.
When vinegar has a higher percent of acetic acid is has a lower pH. This means that vinegar is stronger when it contains more acetic acid. For example:
White table vinegar usually contains 5% acetic acid and has a pH of approximately 3.
White cleaning vinegar has a higher percent of acetic acid (usually 6-8%) and a pH of around 2.
* 6% vinegar may sound like it's only 1% stronger than 5% vinegar, but it is actually much more powerful. Check out the pH chart again. Each whole pH value is ten times more powerful than the next whole value. So pH 2 is ten times more acidic than pH 3.
Using Acids to Clean Bases
Some of the substances that soil our homes are basic when measured on the pH scale, so acidic cleaners work best for cleaning them.
Some examples of the basic soils found in homes include hard water stains, mineral deposits, and soap/detergent residue.
The acid in vinegar reacts with and breaks down these alkaline or basic substances.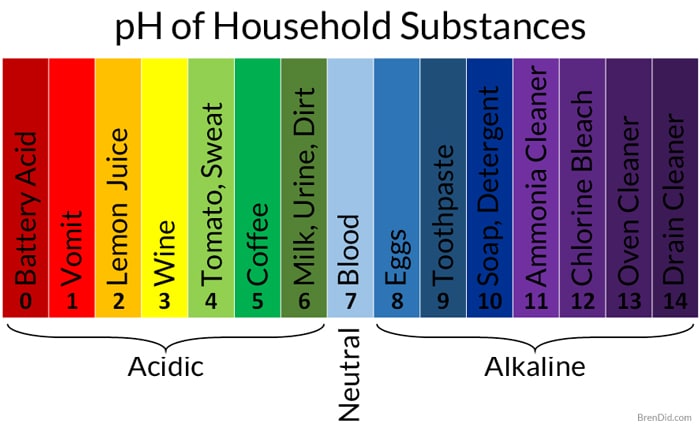 What can you clean with vinegar?
Vinegar is a versatile cleaner that can be used to clean:
Windows, mirrors and glass: vinegar prevents mineral deposits and hard water build up.
Bathroom fixtures (faucets, shower head, shower, tub, sink, toilet): vinegar removes hard water buildup and removes soap scum.
Trash cans: vinegar neutralizes the odor causing particles in garbage cans.
Linoleum floors: a vinegar/water solution gently removes dirt and residue, plus vinegar removes buildup from previous cleaning product to restore shine.
Solid surface countertops: laminate, ceramic tile, and solid surface countertops can be wiped with a a vinegar/water solution to remove dirt and residue (Tip – be cautious using vinegar on grout).
Coffee maker, tea kettle and teapot: vinegar removes mineral deposits and neutralizes odors.
Appliances (oven, refrigerator, microwave, dishwasher): wipe down the interior of appliances with a vinegar/water solution to removes dirt and residue while neutralizing odors.
Stainless steel: clean and shine stainless steel with a mixture of vinegar and oil (Tip – try this homemade polish).
Laundry: vinegar makes a great fabric softener in the washing machine,   it helps to breakdown and remove the soap or detergent and minerals in the water leaving clothes softer.
Dishes: vinegar can be used as a rinse aid in the dishwasher (place a small cup on the top rack) or added to rinse water when hand washing dishes, it prevents hard water buildup and helps remove detergent.
What should you NOT clean with vinegar?
Since vinegar is acidic you should be cautious when cleaning surfaces that can corrode. If left on too long or used in too strong of a solution the acid in the vinegar can damage the surface, dull the shine, or leave a cloudy mark.
Vinegar should not be used to clean:
Natural stone countertops (marble, granite, travertine, slate, soapstone, etc.)
What cleaners should NOT be mixed with vinegar?
Never mix bleach and vinegar or vinegar and hydrogen peroxide. These combinations emit toxic vapors.

ALL-NATURAL CLEANING RECIPES
I love cleaning with vinegar because it is inexpensive, dilutes easily with water, neutralizes odors, and leaves no harmful toxins behind. These are my favorite homemade cleaners that use vinegar:
*Have a favorite vinegar cleaner? Share it in the comments below. I love new green cleaners!
 
Vinegar FAQ
These are the most common questions I am asked about cleaning with vinegar and their answers:
Is there alcohol in vinegar? No. Vinegar is made from alcohol, but the fermentation process turns the alcohol into acetic acid.
Is there water in vinegar? Yes, vinegar is a solution of water and acetic acid.
What is white vinegar made from? White vinegar is most commonly made from grain alcohol (ethanol made from corn) which is fermented into acetic acid and diluted with water. It's also called distilled white vinegar.
What is apple cider vinegar made from? Apple cider vinegar is made from hard apple cider (ethanol made from apples) which is fermented into acetic acid and diluted with water.
What is the difference between distilled white vinegar and white vinegar? Technically white vinegar can made from any grain containing sugar and undergoes a 2-step fermentation process: grain ➝ alcohol ➝ acetic acid. (The most commonly used grain is corn.) While distilled white vinegar starts with alcohol and undergoes a 1-step fermentation process: alcohol ➝ acetic acid.  However, the terms are used interchangeably in the United States.
What is cleaning vinegar? Cleaning vinegar is white vinegar with a higher percent of acetic acid usually 6-8%. White table vinegar usually has 5% acetic acid. In most cleaning solutions you can use cleaning vinegar, white vinegar, or distilled white vinegar interchangeably.
What is spirit vinegar? Spirit vinegar is another common name for distilled white vinegar. It is made by fermenting distilled alcohol into acetic acid.
What is pickling vinegar? Pickling vinegar is distilled white vinegar with a high content of acetic acid. In the United States pickling vinegar typically has 6% acetic acid. In some countries pickling vinegar has 18-20% acetic acid and must be diluted before use.
What is "the mother" people talk about when discussing vinegar? Unpasteurized vinegar has a bit of gunk in the bottom of the bottle that is sometimes called "the mother" or "mother of vinegar". This acetobacter bacteria that aids in the fermentation process. Most commercial vinegars are pasteurized to kill the bacteria because it looks unappealing.
Is vinegar a good degreaser? Not necessarily. Vinegar can help break down the basic substances in greasy messes but usually needs an added detergent to clean up the oil completely. To make a natural degreaser using vinegar mix 1 cup water, 1/2 cup vinegar, and 1 tsp dishwashing detergent. Do not use Castile soap or baking soda in vinegar cleaners.
Is vinegar safe for the environment? Vinegar is edible and biodegradable, so it won't harm the environment. However, since it is an acid, it should be disposed of properly. Don't pour it on the lawn, for example. It will kill plants/weeds and can be used as an herbicide.
Like my green cleaning recipes and tutorials? Sign up for my free newsletter below and never miss a thing.