Cleaning floors can be a chore. Keep your hard surfaces in tip, top shape with this guide to natural floor cleaning and homemade floor cleaner recipe.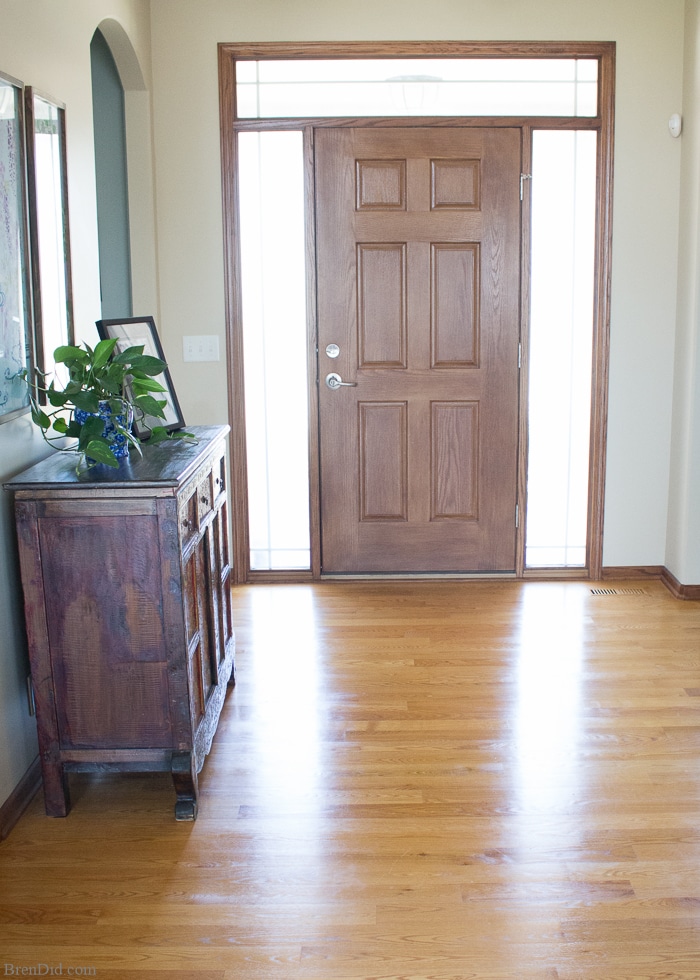 This post uses affiliate links. They don't cost you a thing and help us bring you all natural cleaning tutorials. Read more in Policies & Disclosures. 
I was barefoot in the kitchen chopping vegetables when I stepped in on a sticky spot on the floor. Where do these mystery spots come from?
Was it a bit of watermelon eaten as my kids gallop across the kitchen, a splatter from the stove, or something the dog tracked in from outside?
The source of the spot may be a mystery, but the way to clean it is not -> grab a microfiber mop, spray on some homemade floor cleaner, and wipe it away.
Learning to Clean Floors Naturally
We've lived in 8 different homes so I've dealt with a lot of different hard floor coverings – linoleum, laminate, hardwood, engineered wood, ceramic tile, natural stone, and even sealed cement – I've cleaned them all!
This guide will help you keep hard surface floors in tip, top shape…. naturally!
Homemade Floor Cleaner Ingredients
Look online and you will find a million different recipes for homemade floor cleaners. How can you choose?
I want floor cleaner to:
Do great job cleaning
Leave no streaks or residue.
Work on many different flooring types.
Be safe to use around kids and pets.
What Not To Use
There are several common floor cleaning ingredients I do not use:
Borax – Borax is a naturally occurring mineral, but it is toxic to the respiratory system and should not be ingested. In addition, Borax scores an F on the EWG scale for respiratory effects and developmental toxicity.
Castile Soap – Castile soap is one of my favorite all-natural cleaners, just not for floors. It needs a rinse and/or thorough drying to prevent residue and maximize shininess…. and drying floors does not sound fun!
Rubbing Alcohol – Rubbing alcohol contains isopropyl alcohol plus water, denaturants, and artificial fragrance. The denaturants and artificial fragrance are poisonous and should only be used in well-ventilated areas.
What Could Be Used
Vinegar – Vinegar falls into the MAYBE category. It is cheap, environmentally safe, and effective on dirt but it should not be used on all floor types. The acetic acid can etch natural stone and will damage waxed floors. Some engineered floor and hardwood floors manufacturers also caution that frequent vinegar use can soften or cloud the finish. I use it occasionally when naturally restoring hardwood floors, but I like using a multi-purpose cleaner for general floor cleaning.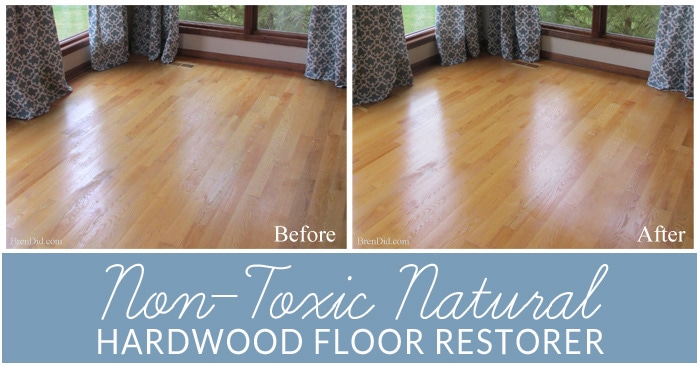 What to Use
Water –Water is nature's best floor cleaning product. Many times water is all you need to remove dust and everyday build up from floors. Remember, too much water can cause damage to any floor and water should never be used on unfinished hardwood or waxed wood. Use distilled water to prevent mineral buildup from hard water.
Detergent – Some grime (like oil and grease) resists water and needs an additional cleanser. In no-rinse situations like floor cleaning a mild natural detergent is a dirt fighting must. It leaves less streaks than Castile soap and does not need a rinse to shine. Look for a natural, non-toxic detergent like Sal's Suds.
Vodka – Vodka is high purity ethanol mixed with water, it's ph is nearly neutral when mixed with water. Vodka is a good solvent that helps dissolve oil and grime. Vodka also dries odorless and streak free. (Make sure you buy cheap vodka for cleaning!)

All Natural Homemade Floor Cleaner
My favorite homemade floor cleaner uses water, vodka and Sal's Suds. It is an effective cleaning solution that meets my non-toxic cleaning standards and can be used on almost any floor. The water loosens and wipes away dirt, Sal's Suds boosts the grime-fighting power, and vodka leaves an odorless streak-free shine. I love being able to clean hardwood then laminate then tile without ever having to switch solutions.
Ingredients
1 cup distilled water
1 cup vodka
3-4 drops Sal's Suds
Directions
Pour all ingredients into a spray bottle and swirl lightly to combine.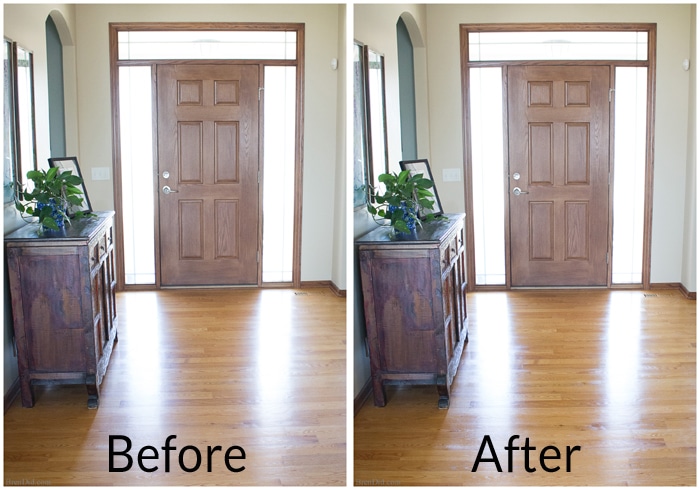 How to Clean Hard Surface Floors
Sweep or vacuum to remove dirt and debris.
Use a reusable dust attracting cloth to wipe floors of dust and hair (especially if you have pets or live in a dusty area).
Spray a small area lightly with homemade floor cleaner and wipe clean with a microfiber mop. Continue in small sections until the floor is clean.
Floor Cleaning Tips
Mist floors with a spray bottle instead of using a bucket of solution. The extra liquid takes more time to mop up and can cause water damage.
Enhance hardwood shine and color by making a spray of with 1 Tbsp olive oil, 1 cup vodka, and 10 drops of essential oil (I use lemongrass and lemon for scent). Shake frequently and spray lightly. Buff with a dry microfiber mop. Work in small sections.
Keep floor in top shape with regular maintenance. A daily sweep and prompt wipe up of spills will keep floors looking great without much mopping.
I hope this homemade floor cleaner helps you keep your home spic and span naturally!