Interested in natural cleaners and green living? Learn how to make scented vinegar for cleaning. It's an affordable and easy way to update your cleaning routine.

 This post uses affiliate links. They don't cost you a thing and help us bring you green cleaning tutorials. Read more in Policies & Disclosures.
When I was a child I was obsessed with Laura Ingalls Wilder. Remember her? The pioneer girl whose classic books were made into the Little House on the Prairie series? I would channel my inner Laura and pretend to be a pioneer girl trying to church butter, grind corn meal, or make maple syrup candy.
Even as an adult I love homemaking project that make me feel like a total pioneer goddess.  Come on, admit it… harvesting those homegrown tomatoes makes you feel a little like a frontier woman providing for your family.
Infused vinegar is that kind of project for me.  I love filling jars with cedar needles or leftover citrus peels and turning out jars upon jars of naturally scented cleaner.  It feels like I am making something useful out of (almost) nothing.
Honestly, it's becoming a bit of an addiction.
Last month my pantry shelves and kitchen cabinets were so full of scented vinegar I had to go on a cleaning spree to use it all up.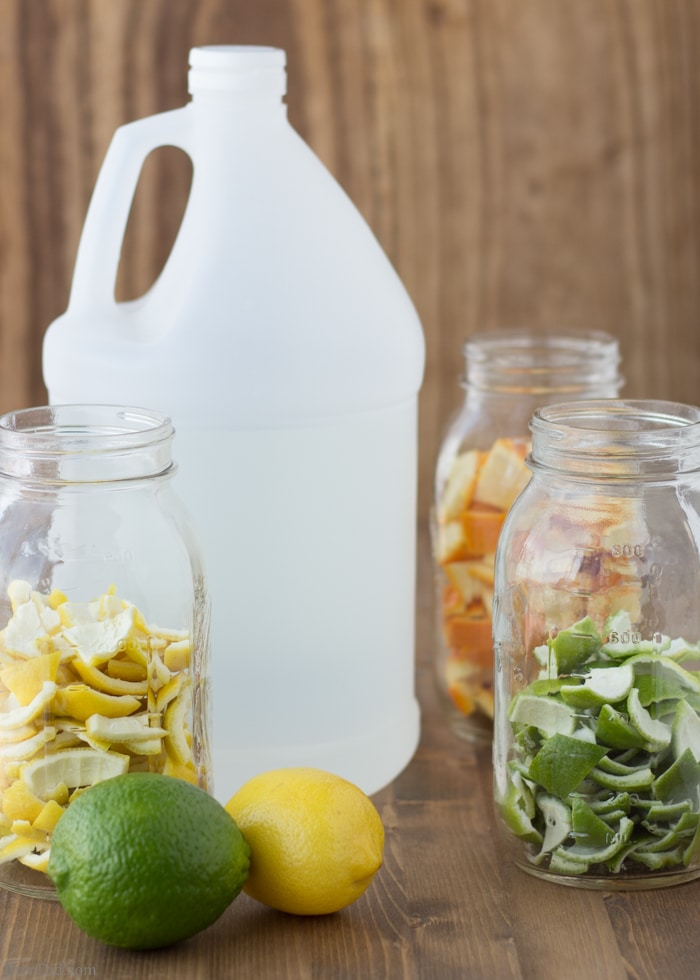 Why I Love Making Scented Vinegar
Here's what I love so much about the project:
It's easy. Seriously, it takes about 2 seconds.
It uses up leftover fruit peels or herbs that would otherwise go to waste.
It encourages me to clean with all natural products.
Whatever the reason, scented vinegar has a hold on me. It's here to stay!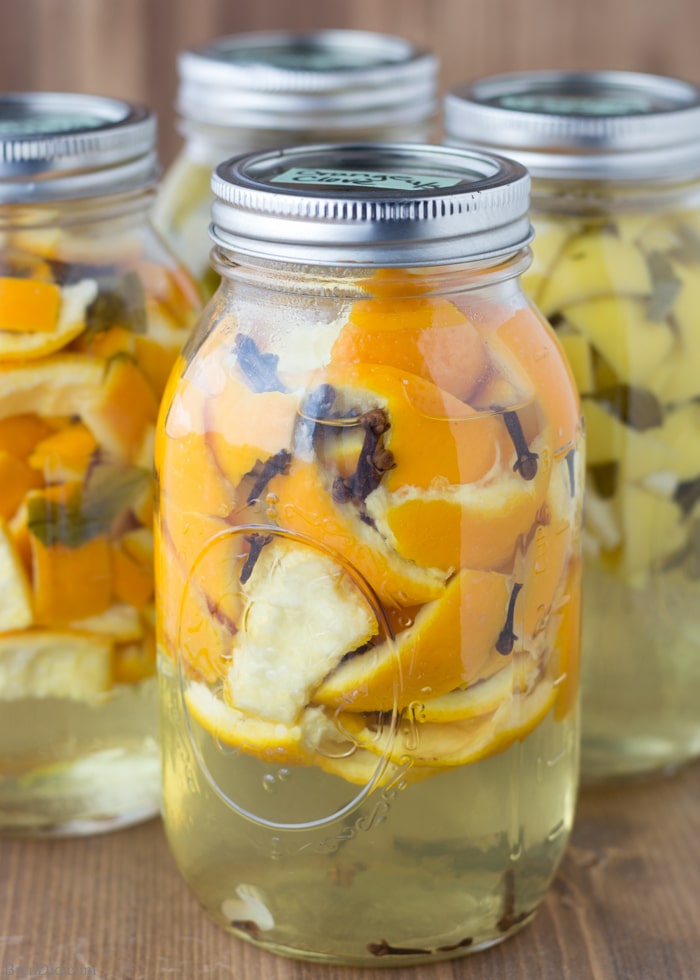 Scented Vinegar Varieties
I make several versions of scent vinegar including evergreen scented vinegar and orange scented vinegar.  Recently I started making a new variety… citrus infused vinegar with herbs!
I made the discovery one weekend when my vegetable crisper was stuffed with a bunch of leftover herbs that were on the verge of going bad.  It's the perfect cleaner to make in summer when fresh herbs are plentiful or in winter when you have fresh herbs leftover from holiday recipes and citrus is cheap .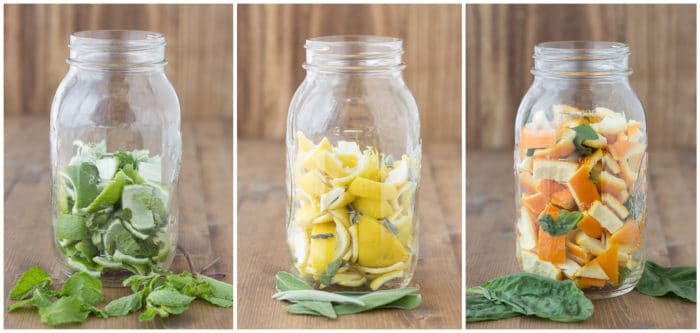 How to Make Scented Vinegar for Cleaning
Wash and dry large glass jars. I use quart canning jars.
Fill the jar ½ full with citrus peels and herbs. I've tried lime with mint, lemon with sage, and orange with basil.
Heat white vinegar to nearly boiling. I microwave mine in a large Pyrex measuring cup. (Glass does not react with the acetic acid in vinegar. Do not use an aluminum pan to heat vinegar!)
Pour the vinegar over the herbs, seal and place the jars in a cool dark place.
Check the mixture after 24 hours, it should be ready use. (Allow it to sit longer if you want to smell to deepen.)
Strain the peels and herb out of the mixture and discard. (You can also freezer the peels and herbs into cubes to clean your in-sink disposal.)
Store the scented vinegar in a cool dark location.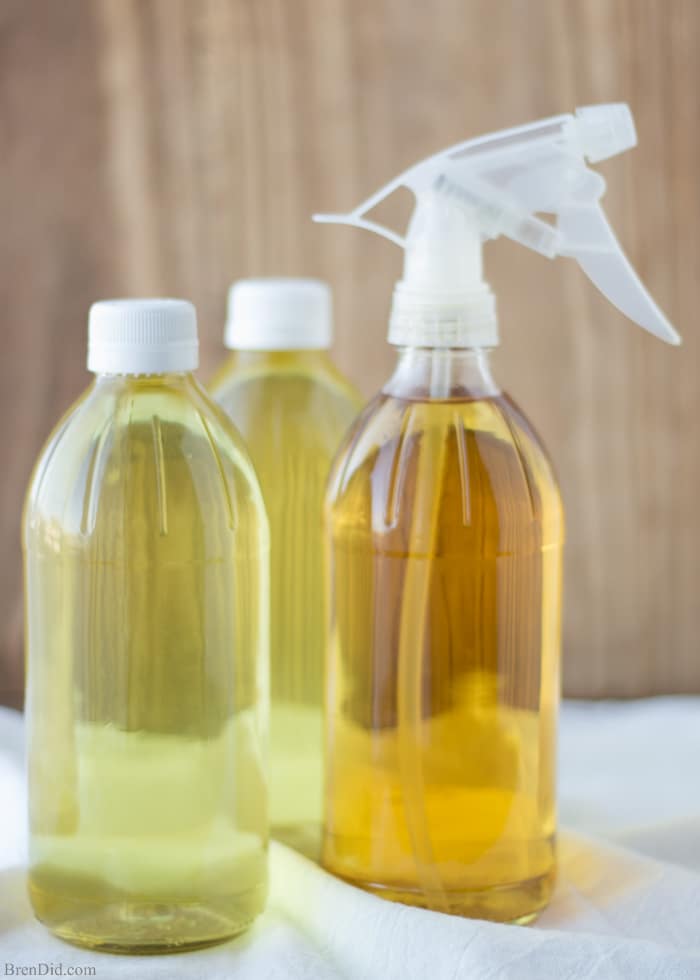 How to Clean with Scented Vinegar
Make a simple homemade cleaner with vinegar by combining 1 cup of vinegar with 1 cup of water. This DIY cleaner is non-toxic, cuts through grime with ease, and naturally deodorizes. I use it for almost every cleaning job. (Add 1/4 tsp of hand washing detergent for a great multipurpose cleaner that does not need rinsing and cuts grease!)
Warning – Use caution when cleaning with vinegar. Vinegar is a acidic cleaner that can damage some delicate surfaces. Learn more in the Ultimate Guide to Cleaning with Vinegar.
Here are some more DIY cleaners with vinegar you can add to your cleaning routine:
Microwave Cleaning – Combine 1/2 cup vinegar and 1/2 cup water in a microwave-safe bowl. Heat the mixture for a few minutes and let the steam collect on the inside of the microwave. Carefully remove the bowl and wipe down your microwave.
Refrigerator Cleaning – Clean and deodorize the fridge by wiping it down with equal parts water and vinegar.
Window Washing – Mix equal parts vinegar and water in a spray bottle, wipe down with a lint free cloth.
Pest Control – Place ¼ cup of vinegar in a small jar. Cover with plastic wrap and secure with a rubber band. Poke a few holes in the wrap with a toothpick. Fruit flies will be attracted to the vinegar and get caught in the jar.
Fabric Softener – Add ½-1 cup of vinegar to the rinse cycle to help remove detergent build-up, soften fabrics, and deodorize laundry. You can use a Downy ball to release the vinegar at the correct time.
Toilet Deep Cleaner – Turn off your tank and flush until the bowl is nearly empty. Fill with vinegar. Soak paper towels in vinegar and place over the water jets. Allow to soak overnight. Remove paper towel and scrub, turn on water then flush.
All-Purpose Cleaner – Fill a spray bottle, with 1/3 vinegar and 2/3 water. Use it to clean household surfaces. (Do not use on stone floors, marble or granite the porous surfaces can be damaged by vinegar.)
Rinse Aid – Place a small dish with ½ cup of vinegar in the top rack of the dishwasher as a rinse aid that helps prevent hard water spots and removes detergent residue.
Washing Machine Refresher: Fill all compartments with vinegar and run your washing machine on the cleaning cycle.
Pet Odor Remover– Clean pet stains and then spray with a mixture of 1/3 vinegar and 2/3 water to deodorize.
Hard Water Spot Remover:  Scrub shower heads, faucets, shower doors and bathtubs with vinegar to remove hard water spots and mineral buildup. Add 1 cup of water to your sink and fill with water, soak cloudy glasses to remove mineral build up.
Carpet Cleaner: Use vinegar in the carpet cleaner to deodorize and freshen carpet. Add ½ cup of vinegar to the detergent compartment and then fill with water. Clean carpets as directed. Do not store vinegar in the machine reservoirs.
Hard Floor Cleaner: Use a mixture of 1/3 vinegar to 2/3 water to mop floors. Refill Swifter cleaner bottles with this solution and never have to buy refills again. (Do not use on stone floors, marble or granite the porous surfaces can be damaged by vinegar.)
Refresh Hardwood Floor Finish – See this tutorial for deep cleaning hardwood floors with vinegar.
Coffee Pot Cleaner – Fill water reservoir with vinegar and run brew cycle. Scrub pot clean and then run 2 cycles of fresh water through the machine.
Kill Weeds Naturally– Spray weeds and areas where you do not want plants to grow with vinegar.
Clean Coffee and Tea Stains – Fill mugs with vinegar and let sit overnight. Scrub and rinse.
Eliminate Food Odors – Rinse storage containers and water bottles in a sink filled with 2/3 water and 1/3 vinegar. Let sit overnight if necessary.
Freshen Garbage Disposal – Freeze vinegar into cubes, store in a freezer bag, grind a few cubes in the garbage disposal once a week.
Clean and Deodorize Garbage Cans – See this tutorial for cleaning garbage cans with vinegar.
4 Tips for Making Scented Vinegar
Use a glass container to heat vinegar – Glass does not react with the acetic acid in vinegar. Aluminum and cast iron pans are reactive surfaces. If you want to use a saucepan to heat your vinegar use stainless steel. If you're not sure what your pans are made of, stick with a glass container in the microwave!
Skip the heating step and use the slow steep method to make scented vinegar –  1) Fill your glass container with citrus peels and/or herbs. 2) Pour in white vinegar to cover the peels. 3) Close container tightly and place in dark place for  2-4 weeks. 4) Remove from cupboard, strain out the peels, and use for cleaning.
Use recycled glass jars to make scented vinegar – Don't buy special Mason jars to make scented vinegar, any glass jar with a lid will work. Make sure to thoroughly wash the container to remove any smells/residue before making the cleaner.
Use a glass spray bottle or plastic bottle designed to hold acidic cleaners – The acetic acid in vinegar can leach chemicals from plastic spray bottles. Make and store vinegar based cleaners in upcycled glass spray bottles, a store bought glass spray bottle, or a plastic spray bottle designed for cleaning products (#2 plastic).
I hope you try making a few jars of scented vinegar, you'll be amazed at the ease of the process (you don't even need a pioneer girl sunbonnet) and you'll love the natural cleaners.
Like my green cleaning tutorials? Sign up for my free weekly newsletter below.