Natural All Purpose Cleanser takes less than a minute to make, cleans well, and replaces many toxic substances in your home! Try this all-natural DIY cleaner today!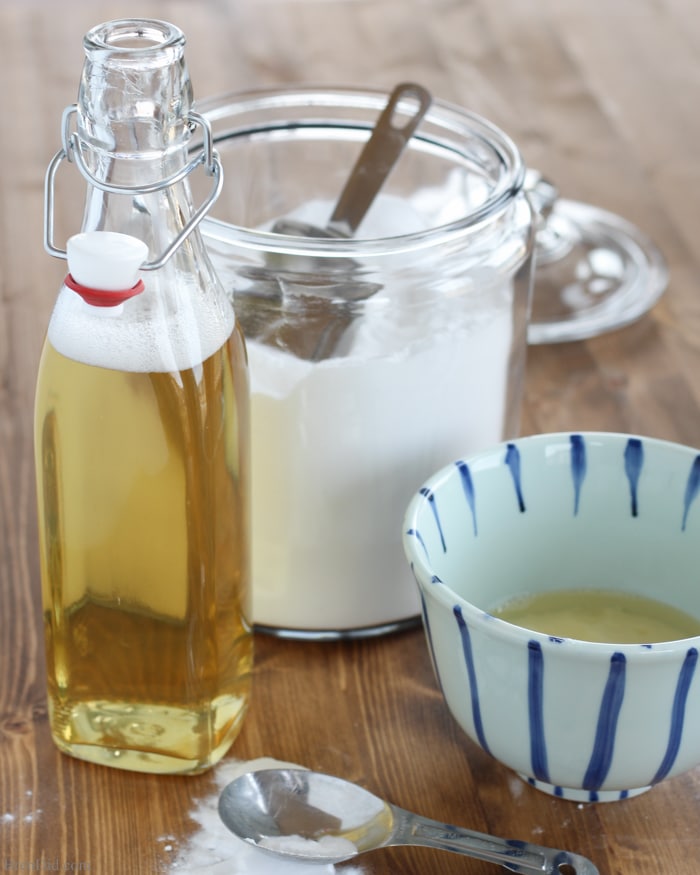 This post uses affiliate links. They don't cost you a thing and help us bring you natural cleaning tutorials. Read more in Policies & Disclosures.
Clean Home with No Cleaning?
I have a problem and it is a problem shared by many other Americans.
I attribute my issue to the attitude-behavior gap. Have you heard of this phenomenon? It's the difference between what people say and what they actually do, the discrepancy between their beliefs and their actions.
You know, the thought "I want to look good for swimsuit season" and the action "I think I'll stay here on this comfy couch, watch a little TV, and have some popcorn."
The problem I have lasts much longer than swimsuit season.
What is my problem?
I have the never-ending desire for a clean home with absolutely zero desire to clean.
Back me up here. You have this problem too, right?
I love to have a gleaming oven, shiny bathtub, and glistening pots and pans but lack the motivation and time to scrub and polish each day. My best hours are not spent bent over a dirty bathtub scouring and buffing until my back is sore and my hands are red and irritated from harsh cleaners.

Clean with Less Cleaning
I am a clean freak! I truly believe there is a place for everything and everything has its place. I love shiny sinks. I hate piles of laundry. I love a clean home.
But I still hate cleaning.
What can be done?
I use quick tricks to minimize the time I spend cleaning time and maximize results:
I pick up in quick 5-minute spurts to keep the clutter away.
I wash a load of laundry every morning so it doesn't pile up.
I clean like things together (i.e. vacuuming all rooms at once or scrubbing all the bathrooms together).
And…
I minimize the number of cleaners I use around the house.
Using multi-purpose cleaners means I have to spend less time looking for the correct cleaner, less time hauling multiple cleaners from place to place, and less time mixing up homemade cleaners.

Natural All Purpose Cleaner
A few years ago I started making an all-natural cleaner that can tackle tough jobs throughout the home. This Natural All-Purpose Cleanser is a workhorse!
It can:
Scour sinks, bathtubs and showers.
Clean and freshen toilet bowls.
Clean glass top stoves.
Degrease and scour an oven.
Remove stains from cutting boards.
Be used as dishwasher detergent.
Replace laundry detergent in a pinch.
Polish pots, pans, and cookie sheets.
Pre-treat laundry stains.
Remove carpet stains.
Scrub tile and grout.
And more!
Plus it is all-natural and so gentle on your hands that you can use it to exfoliate!

Natural All Purpose Cleaner Ingredients
What is in this miracle all-purpose cleaner? It contains just two simple ingredients:
And (if you desire)
How to Make All Purpose Cleaner
Simply stir the ingredients together to make a creamy paste that is the consistency of buttercream icing.  You can make the cleanser thinner by adding extra castile soap or a tablespoon of water. Customize it to your preference!
These ingredients are non-reactive so you can mix this cleaner and store it without worrying about it emitting fumes, the bottle exploding, or it becoming ineffective.
Tip: I mix and store Natural All Purpose Cleanser in a glass jar to prevent the plastic from leaching into the cleaner. (I use this kind)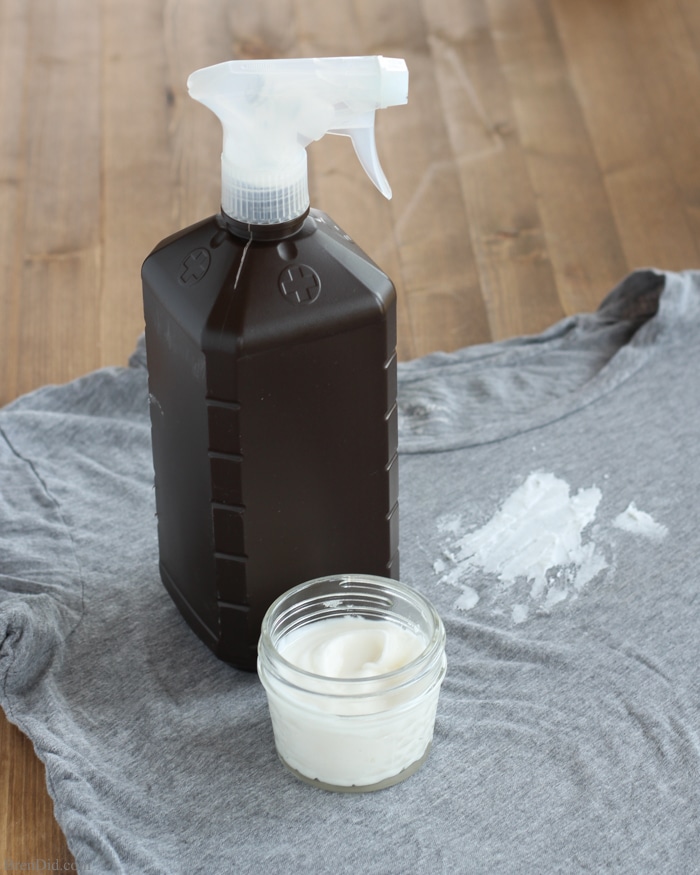 Power It Up!
It is easy to make this all purpose cleaner extra-strength. You simply spray the mixture with hydrogen peroxide when cleaning.
For example: I spread the cleaner on laundry stains and then spritz it with hydrogen peroxide before tossing it in the wash. When people are sick I scrub the toilet bowl with the cleanser and the toilet brush and spray on hydrogen peroxide to disinfect.
Tip: Screw a recycled spray top onto a hydrogen peroxide bottle to make it easy to use for household cleaning.
Warning: Do not combine the hydrogen peroxide with the cleaner you plan to store. The hydrogen peroxide will react with baking soda neutralizing the cleaning power and releasing carbon dioxide. This gas will make the bottle of cleaner explode, leak, or spray all over when opened.
All-Natural Homecare
Disregard the marketing hype and commercials! You do not need to buy separate bathtub scrub, shower spray, toilet clean, oven cleaner, stove top cleaner, stain treater, etc.
When you reduce the number cleaners you use you reduce the number of chemical substances you and your loved ones are exposed to in your home. It is an easy way to get a greener more natural home!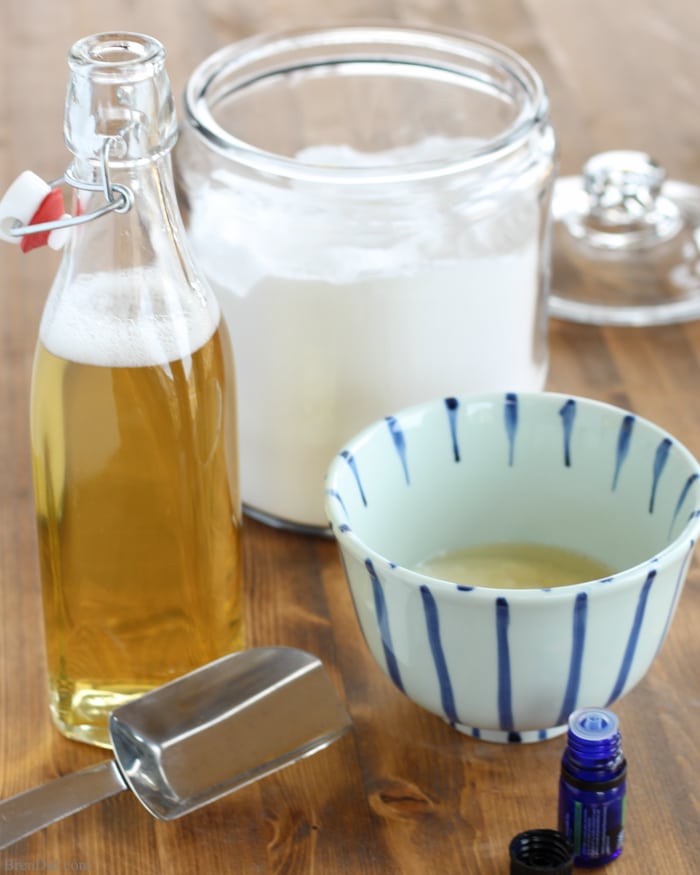 How to Use Natural All Purpose Cleanser
This cleanser is easy to use!
Apply the paste with a damp sponge to scour sinks, bathtubs and showers, clean glass top stoves, or degrease the inside of your oven. Rinse well with water.
Add a teaspoon of the paste to the edge of your toilet bowl and scrub with a brush to clean and freshen toilets. Spray with hyrdogen peroxide while scrubbing to disinfect. Flush to rinse.
Apply the paste with a scrub brush to remove stains from cutting boards or clean tile grout. Spray with hydrogen peroxide while scrubbing to brighten and disinfect. Rinse with water.
Spread on laundry stains and spritz with hydrogen peroxide to pre-treat laundry stains then wash as usual. (Pretest on delicate or dark-colored fabrics.) Add 2 tablespoons to a load of laundry to get your whole was clean, add a 1/2 cup of hydrogen peroxide to the wash cycle to brighten whites.
Fill your dishwasher detergent compartment with the paste to wash your dishes. Apply the paste with a damp sponge to polish pots, pans, and cookie sheets.
Apply to a wet sponge then squeeze to distribute through the sponge. Blot sponge onto carpet stains. Spritz lightly with hydrogen peroxide while you continue to blot. Spray with water and then blot dry with a clean light-colored rag or towel. (Pretest on delicate or dark-colored carpet.)
Like my easy green cleaning tutorials? Sign up for my newsletter below and never miss a thing!