The most popular green cleaning recipe on Bren Did is Natural Homemade Laundry Detergent. It is also the post that also gets the most questions and emails. This question and answer about homemade laundry detergents addresses the most common concerns about homemade laundry supplies.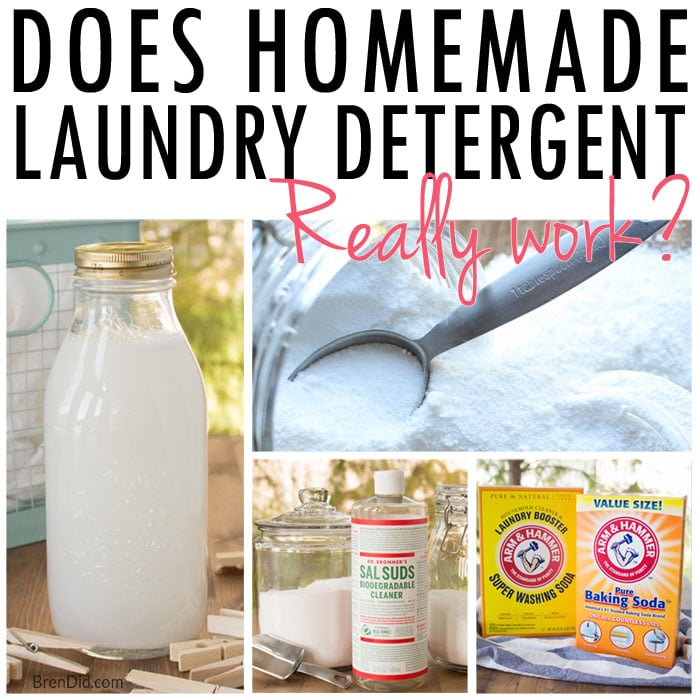 This post contains affiliate links. They don't cost you a thing, but help us bring you creative projects. Read more at Policies & Disclosures.
Have you seen recipes for making homemade laundry detergents but wondered if they would work effectively, if they  would ruin your washing machine, or if they were  all a big waste of time? I have been making and using my own laundry detergent for more than 3 years and want to share my experiences with you.
 
Should I try make homemade laundry detergents?
Everyone should do their own research and make their own decision about using homemade laundry supplies. I make my own laundry supplies for two reasons:
To eliminate dangerous, unnecessary, man-made chemicals from my home. When I began my journey to a greener home I found out that my laundry detergent could cause health problems such as cancer and respiratory issues so I did not feel safe using it for my family's laundry.
To save money on natural cleaning products. The all natural commercial laundry detergents I feel safe using range from $14.00 to $15.00. This tripled the cost of my laundry detergent.
Do homemade laundry detergents clean well?
I can't speak for ALL homemade laundry detergent recipes, but I am completely satisfied with my two DIY versions (I make powdered laundry soap and liquid laundry detergent).  I have been using homemade laundry detergent for 3 years and have had no problems with my washing machine or cleanliness of laundry.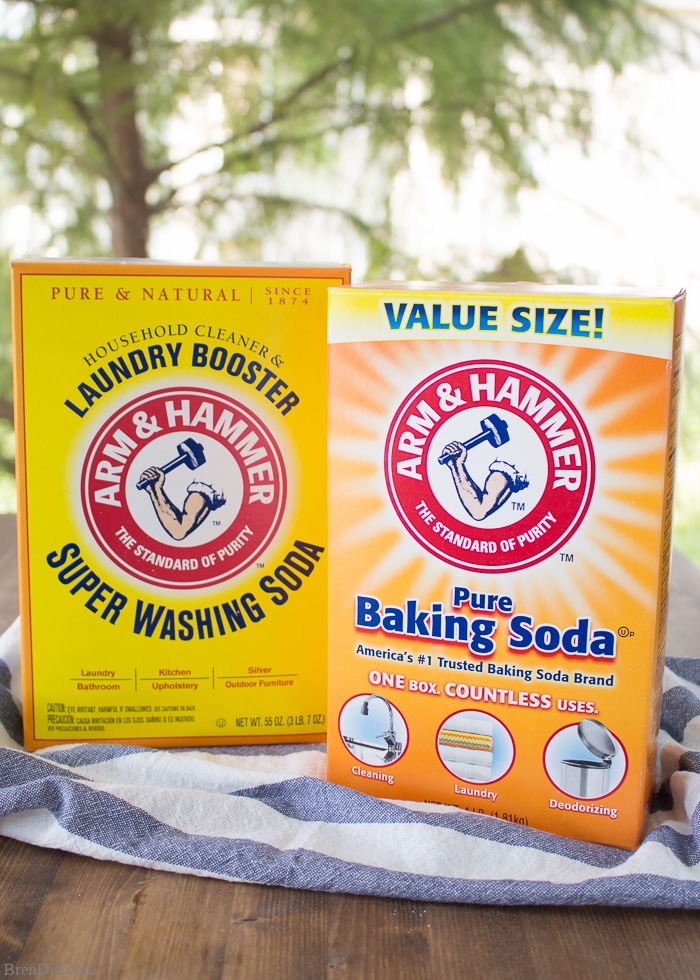 The Ingredient are the Key
To judge the cleaning power of a homemade laundry detergents you need to know about its ingredients:
1) Soap or Detergent
"Laundry detergent" is a name we commonly use for ALL laundry cleaners, just like we call all facial tissues "Kleenex."  In reality, some laundry detergents contain soap and some contain detergent. (If a homemade laundry recipe does not contain either soap or detergent it will not clean well.)
Both soap and detergent are used to clean: Both contain surfactants (substances that help clean by reducing the surface tension of water). Both soap and detergent remove soils and bacteria when aided by friction and water.
Soap and detergent are made differently: Soap is made from vegetable or animal fats and oils, synthetic detergents are made from petrol-chemicals. Soap has been around since around 2800 B.C., synthetic detergents have been around since 1916.
The history of soap and detergent: Synthetic detergents were developed due to WWI shortage of fats for soap making in Germany. Production took off in the US after WWII due fat and natural oil shortages and the need for a military grade cleaner that would work in sea water. (Until WWI all laundry was washed using SOAP.)
Pros and cons: Soap is considered better for your health and the environment than detergents. Detergents are toxic to fish and wildlife.  Soap can react with minerals in the water and leave a residue if not rinsed correctly.
Common soaps in homemade laundry recipes:  Dr Bronner's Castile Soap, Kirk's Castile Coconut Soap, Kiss My Face Olive Oil Soap,  Zote, Ivory Soap bars
Common detergents in homemade laundry recipes:  Sal's Suds, Ivory Flakes, Fels Naptha
2) Other Laundry Ingredients
Both homemade "detergent" and synthetic detergent contain alkalis ("builders" to help soften hard water, my version of homemade detergent uses washing soda and baking soda). Both homemade "detergent" and synthetic detergent contain brighteners (synthetic detergents use OBAs, my version of homemade detergent uses sodium percarbonate).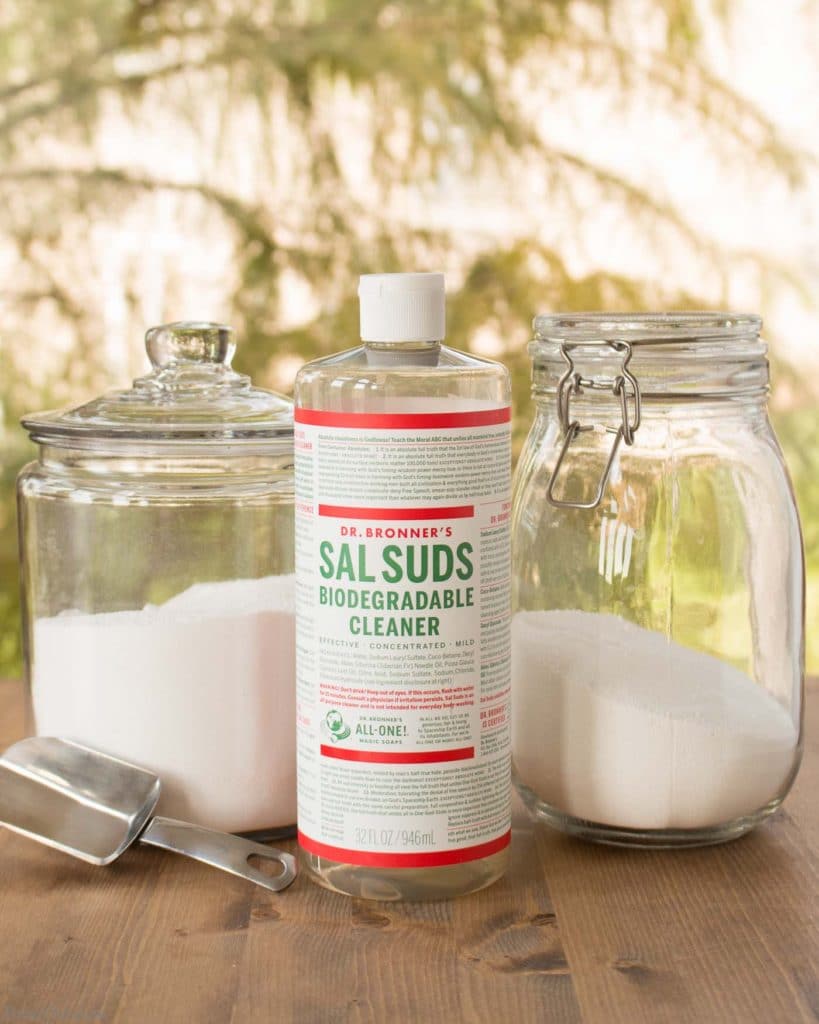 Using Safe Ingredients in Homemade Laundry Detergents
Homemade laundry detergents are not always more natural or safe than commercial detergents. If you are making detergent to protect your family from dangerous, unnecessary chemicals you must select the correct ingredients.
My homemade laundry soap uses natural substances that are rated safe by the EWG for use on humans and the environment. Unfortunately, many detergents recipes contain ingredients made from  chemicals that can be dangerous to humans and the environment.
For example:
Check all laundry detergent ingredients on the Environmental Working Group's database to keep the laundry detergent all-natural.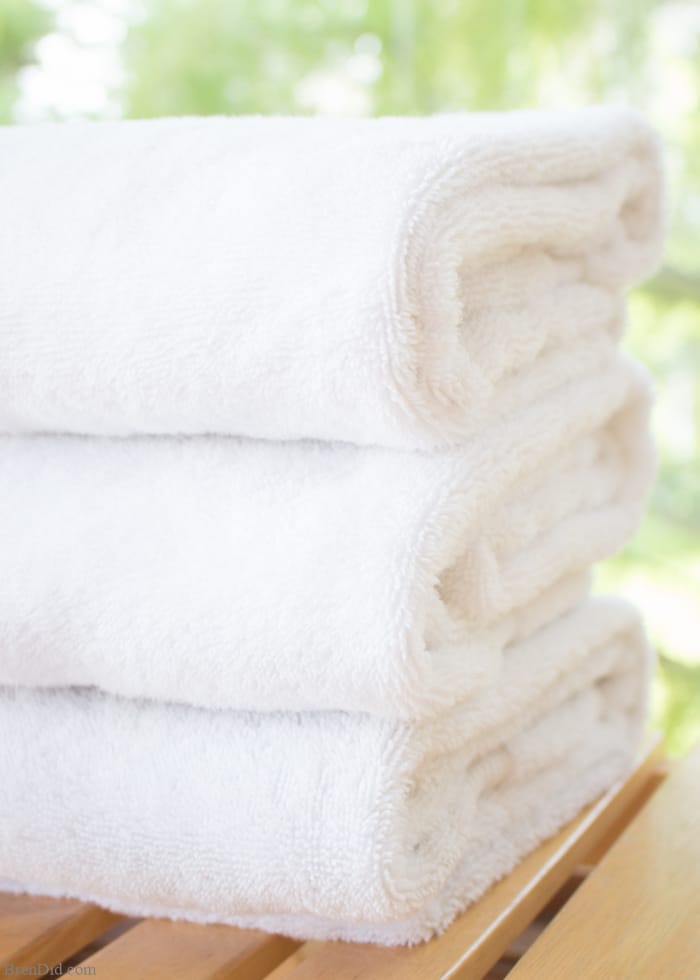 Does homemade laundry detergent get your laundry white?
Commercial detergents get laundry brilliant white by adding a coating of harmful chemicals to clothes that make them appear bright white (normal clean laundry appears yellowish to the naked eye). These substances don't get your clothes any cleaner, but trick your eyes so that they seem whiter and brighter.
The two most common types of whiteners are bluing and fluorescing.
Bluing is what your great grandma used to make white appear whiter, it is fine blue iron powder suspended in water. The bluing counteracts the natural yellow in items (just like blue shampoo is sold for platinum blond or white hair) and eventually wears off.  (The data is still out on the safety of bluing.)
Optical brighteners  (OBAs) absorb yellowish light and re-emit it in the blue region making whites seem really bright. They can cause skin irritation and are dangerous to the environment. (OBAs are widely considered unsafe.)
To get your laundry whiter you should:
Use the correct water temperature – Fabrics get cleaner in warm wash water that has had detergent dissolved in it. Fill your washer with water, add the detergent to dissolve, then add laundry.
Allow laundry to agitate – Friction in the washing machine gets clothes clean. Allow laundry to freely move and they will get cleaner, don't over fill or stuff your washer.
Give the cleaning agent enough time to work – Pretreat tough stains to give the cleaners extra cleaning time or soak tough loads instead of piling on extra detergent.
You can also naturally white laundry by soaking clothes in lemon juice and water,  hanging them out to line dry in the sun, using a solution of hydrogen peroxide and water, or using a non-chlorine oxygen based bleaches.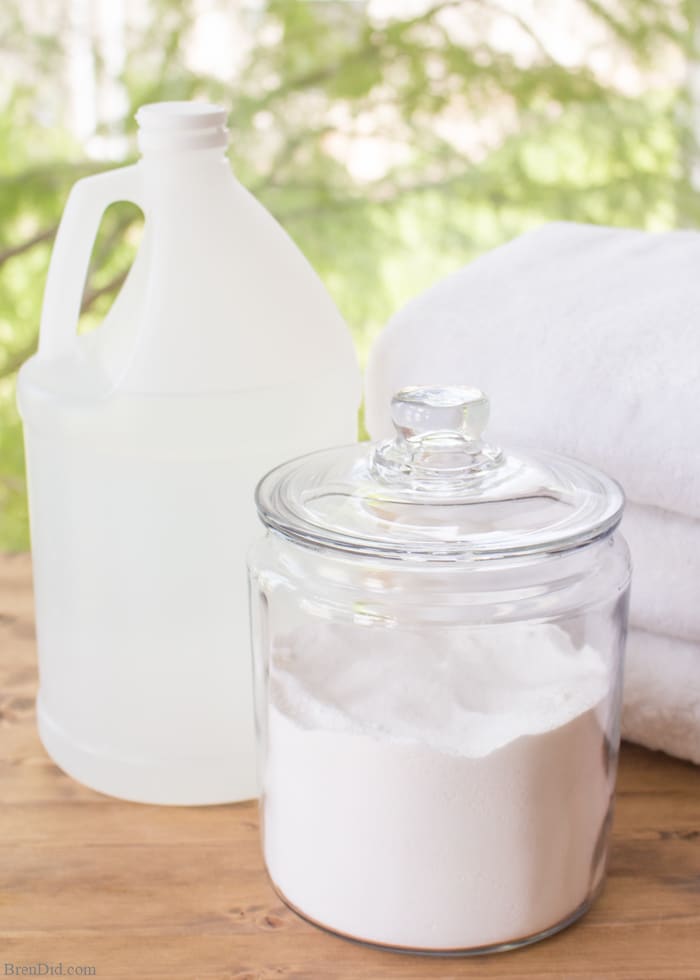 Does homemade laundry detergent make clothes smell clean?
The commercial laundry industry has convinced us that clean laundry smells like the powerful scent of synthetic fragrances. In reality, the artificial scents that make laundry smell like mountain streams or fields of flowers are toxic substances that coat laundry with a waxy substance. This oily coating smells strongly and is hard to remove from fabric. These substances are absorbed into your skin when you wear your clothes, sleep on your sheets, or dry off with a towel. Truly clean laundry smells like nothing! (If you have odors check out my post about eliminating smelly laundry.)
Do homemade laundry detergents build up in your machine?
Soap and detergent can both works great for household laundry if used correctly. If you use too much soap in each load or have hard water laundry soap can leave a residue.
Any "soap scum" (residue that may form when soap is used in hard water) can be eliminated by adding white vinegar to the final rinse water. Vinegar naturally breaks down soap residue. I fill my fabric softener dispenser with white vinegar or use a Downy ball full of vinegar in each load.
Please be aware that detergent residue and hard water laundry problems also affect synthetic detergents. (This is why all kinds of laundry additives from water conditioners to brighteners are sold in the laundry aisle.)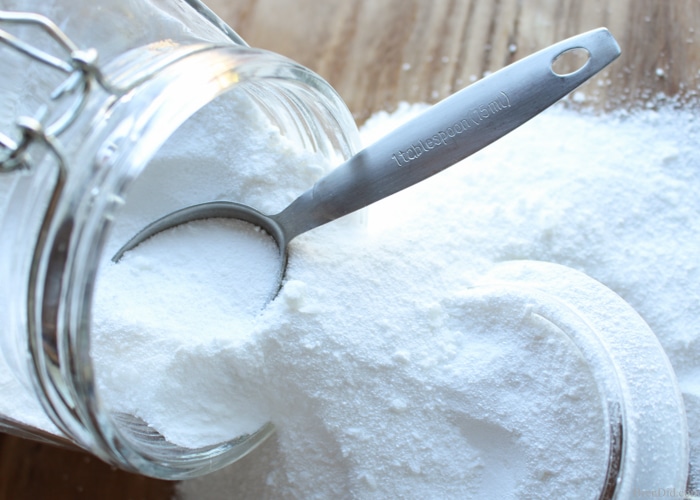 The final decision homemade or store bought?
I would rather deal with a few disadvantages to using soap for laundry than expose my family to unnecessary man-made chemicals. You should decide what is right for your family.
For more information you should read:
Like my green cleaning tutorials? Sign up for my newsletter below and never miss a thing!