Baking Soda and Washing Soda sound similar but they are definitely not the same product. Both can be used to clean laundry, both can be used for household cleaning, but one can damage skin and the other can be eaten. Learn the difference between washing soda and baking soda PLUS find out their best cleaning uses.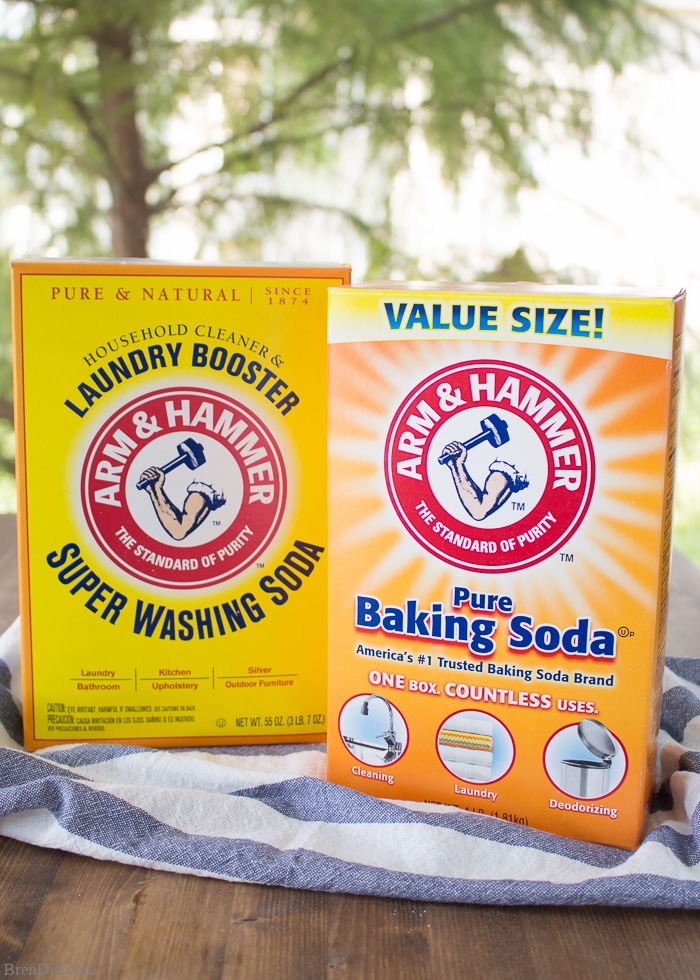 Homemade Cleaner Ingredients
Ever tried making your own homemade cleaners? Some of the recipes are effective, some are so-so, and some are a total disaster. It's a waste of time and ingredients when a new concoction doesn't work as expected.
The #1 reason homemade cleaners fail? Choosing the wrong ingredients!
Some natural cleaner recipes combine ingredients that neutralize one another or produce dangerous reaction. 
Other ineffective mixtures choose the wrong ingredients for the job.
It's important to educated yourself about the ingredients you are using to be able to make the right choices and clean effectively. I like to know:
How ingredients work.
Where they are safe to use.
What they should (and should not) be mixed with.
Green Cleaning Question
A lovely reader sent a message to my Facebook page  asking why I include both baking soda and washing soda in some of my homemade cleaners. I started writing a reply and then realized I should share the answer with everyone.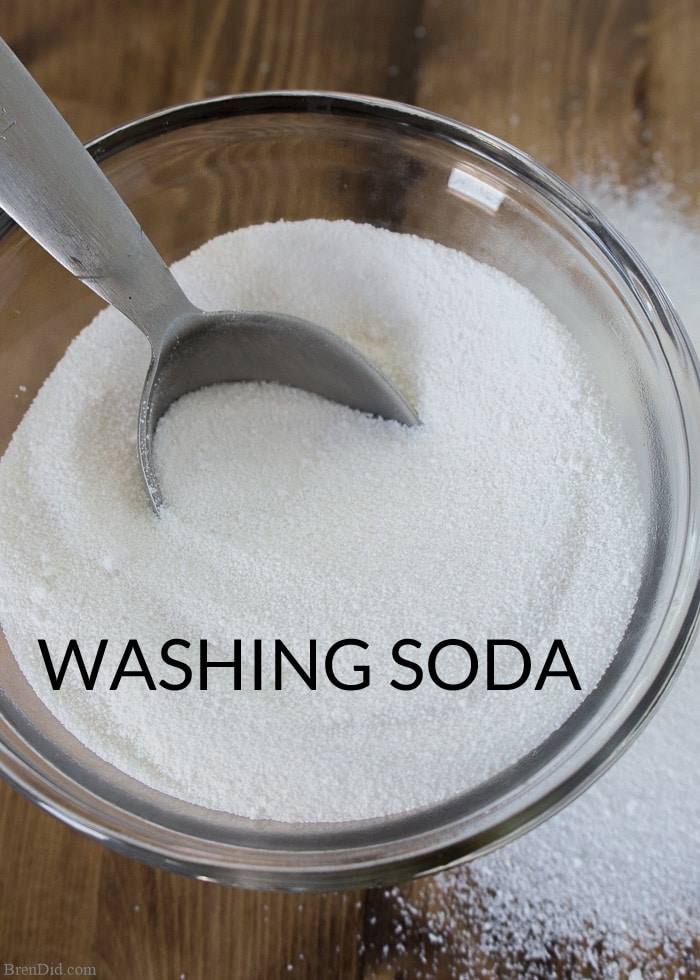 What is Washing Soda?
Washing soda or soda ash are common names for Sodium Carbonate (Na2CO3). Washing soda is a caustic base (able to burn, destroy, or damage organic tissue slowly by chemical action). It is not edible, should not be inhaled, and can damage eyes (flush the exposed areas with large quantities of water). Gloves should always be worn when cleaning with washing soda.

What is Baking Soda?
Baking soda is the name commonly used for Sodium Bicarbonate (NaHCO3). Baking soda is a mild base that is commonly used as a leavening agent to raise baked goods. It is edible and is mild enough to be used as toothpaste or taken as an antacid. Baking soda is edible but should not be inhaled and can irritate eyes.
All-Natural Substances
Washing soda and baking soda are both natural substances made from a mineral called trona. Processing trona produces sodium carbonate and sodium bicarbonate. Both are white crystalline powders.
Baking soda is a pure white powder with fine, dusty granules that cannot be felt.

Baking soda granules are easy to dissolve in water and rinse clean
It is a mildly abrasive cleaner that is good for scrubbing.
Washing soda is a white-ish powder with larger granules that can be seen and felt.

Washing soda granules dissolve slowly in water and will leave a white residue if not well rinsed.
It makes a more abrasive cleaner that can scratch delicate surfaces but cleans well.
pH levels and Cleaning
We have to step back to high school chemistry class to continue examining the difference between baking soda and washing soda. Remember the pH scale?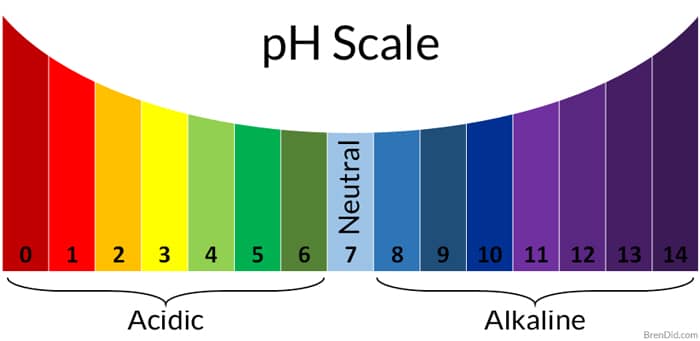 The pH scale is used to determine if a liquid is acidic, basic, or neutral. The scale runs from 0 to 14, the center of the scale is neutral (number 7).
Solutions from 0-6 on the scale are acidic.
Solutions from 8-14 are basic.
The further away from 7 you move on the scale, the more intense the acid or base.

Substances at the ends of the scale are caustic (able to destroy organic materials/cause chemical burns). For example, battery acid has a pH of 0 and drain cleaner has a pH of 14.

Each whole pH value is ten times more powerful than the next whole value. For example, pH 10 is ten times more alkaline than pH 9 and 100 times more alkaline than pH 8.
When a base is added to an acid (or an acid added to a base), the solution moves toward the middle of the pH scale as it is partially or fully neutralized.
Using Bases to Clean Acids
Most of the substances that soil our homes and laundry are acidic when measured on the pH scale, so alkaline cleaners usually have the best results.

Washing Soda and Baking Soda are both alkaline (basic).
Baking soda has a more neutral pH of 8.
Washing soda is more alkaline with a pH of 11.
Different Bases, Different Uses
The high alkalinity of washing soda helps remove grease and stains. It can also balance the pH level of water to enhance detergent's effectiveness.

Because washing soda is highly alkaline, too much washing soda can damage surfaces, fade colors, and eat away at fabric/surfaces over time.
Mildly alkaline baking soda neutralizes odor causing acids, breaks down proteins and stains, and softens water to enhance detergent's effectiveness.

Because baking soda is a mild alkaline, it does not usually damage surfaces or fabrics but can take longer to clean.
Household water has a pH range of 7 to 8.5. Optimal water pH for laundry is around 10.

The pH of water can be raised with washing soda or baking soda. However, using too much washing soda can fade or weaken fabrics.
Baking soda and washing soda should NEVER be mixed with acidic cleaning ingredients such as lemon juice or vinegar.

The bubbling reaction when the ingredients are combined is the acid neutralizing the power of the alkaline cleaner.
Alkaline cleaners need to attack acidic household soils to work well. Neutralizing their power with acidic cleaning ingredients makes them less ineffective.
When Baking Soda vs Washing Soda?
Both natural substances are effective water softeners, deodorizers, and alkaline cleaners. BUT because of the difference between washing soda and baking soda you should…
Choose washing soda when cleaning:

Sturdy surfaces or fabrics that are easy to rise (bathtub, shower door).
The washing soda will clean without damaging the item and can be washed away easily.
Choose baking soda when cleaning:

Sturdy surfaces that are hard to rinse (oven floor or floor grout).
Delicate surfaces that can be scratched (natural stone counters).
Areas used by children and pets (carpet, pet beds).
Food preparation surfaces (kitchen sink, cutting board).
It has enough grit to clean but will not scratch surfaces, is easier to rinse clean, and it is edible so there is no residue worry.
Choose both washing soda and baking soda when cleaning:

Household stains and odors from items that can be easily rinsed but may be damaged by the overuse of a caustic substance (laundry).
Using a combination of washing soda and baking soda raises the pH of water for optimal cleaning conditions while deodorizing and breaking down stains.
All-Natural Cleaning Recipes
Now that you've learned about washing soda and baking soda try using them to clean. Check out these all-natural cleaners that use baking soda and washing soda.
Cleaners that Use Baking Soda:
Cleaners that Use Washing Soda:
Cleaners that Use Baking Soda & Washing Soda:
Like my green cleaning recipes and tutorials? Sign up for my free newsletter and never miss a thing.