The most popular green cleaning tutorial on Bren Did is Natural Homemade Laundry Detergent. It is also the DIY that also gets the most comments and emails!  This laundry detergent question and answer addresses the most popular concerns and inquiries.
Learn a bit more about making homemade laundry detergent and give this all-natural recipe a try.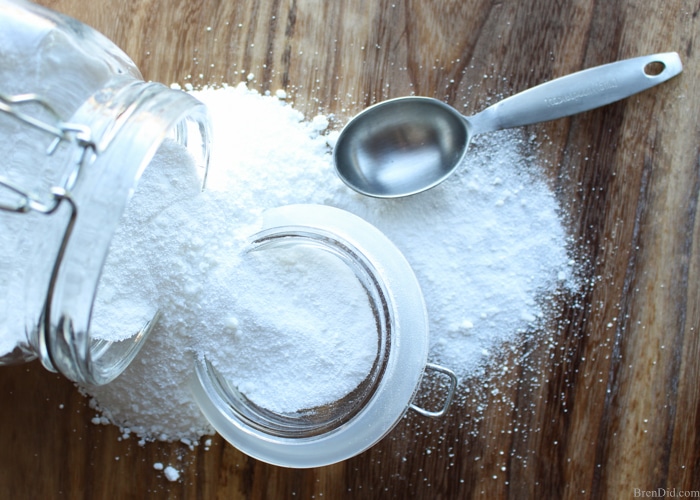 This post uses affiliate links. They don't cost you a thing and help us bring you creative projects. Read more in Policies & Disclosures.
How to Use Natural Detergent
How well does this detergent work?
This detergent works as well as any commercial laundry detergent I have ever purchased. I have used it exclusively for more than 3 years and can tell no difference between store-bought detergent and my homemade laundry detergent.
Can I use this detergent on delicates… or diapers… or dark colors?
I use this detergent on everything from bathing suits and delicates to stinky gym clothes and uniforms.  It cleans great and has never damaged an item. If you are concerned you should make a small batch and test the detergent for yourself.
Is this detergent safe to use on baby clothes? I'm hesitant to switch from Dreft.
One of my pet peeves is the way laundry detergent manufacturers market some laundry detergent as baby specific. Many of these "baby" detergents are heavily scented and laden with chemicals that are bad for infant's skin. For example, Dreft baby detergent rates an F on the EWG scale, I would not use it in my home. My natural laundry detergent recipe rates an A on the EWG scale, that's why I feel good about using it on all my kids' laundry.
Is this recipe safe for HE washers?
This recipe is low foaming so it is HE safe. I have successfully used this detergent in a standard washing machine, a front load HE washing machine, and a top loading HE washing machine. High efficiency and standard machine detergents contain the same cleansing ingredients.  High efficiency detergents do not contain chemicals such as ammonium lauryl sulfate, sodium dodecyl sulfate, or sodium laureth sulfate that make soap suds or foam. This detergent works well in a standard machine, but there will not be many soap suds.
Should I put the detergent in the dispenser or directly in with the clothes?
I put the detergent directly in the wash tub on top of the laundry. I have never used it in the detergent compartment since it is powdered.
Can I use this detergent in cold water?
I do most of my laundry in cold water and have not had a problem. If you wash in extremely cold water (such as well water) or have issues with it dissolving, add the detergent to a cup of warm water and then pour it over the laundry.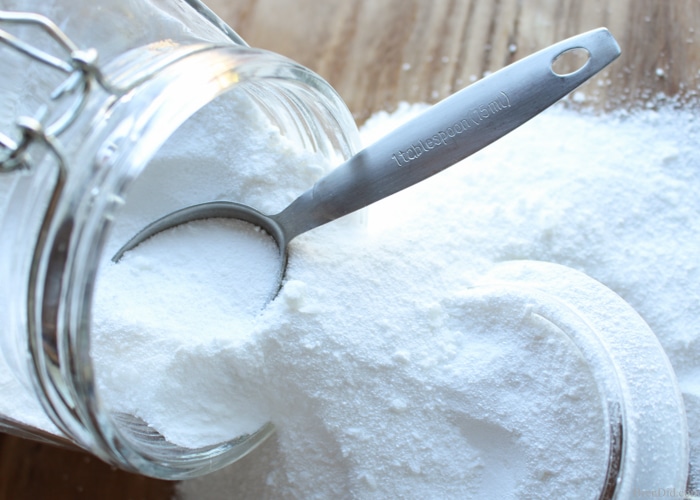 Natural Laundry Ingredient Questions
Can I substitute Zote flakes? I don't like to grate soap.
I do not used Zote flakes because detailed information about Zote's ingredients is not available. W hen companies do not readily disclose ingredients it makes me suspect that they contain dangerous substances.  Zote does contains fragrance and dye, both of which I avoid.  The best information on Zote is here.
**If you want a no-grate detergent check out my DIY Laundry Detergent Liquid recipes. There are two borax-free liquid detergent recipes that make small batches of laundry detergent with no grating.
Can I substitute liquid Castile soap for the bar Castile soap?
You can not add liquid Castile soap to the dry mix, the  liquid will react with Oxiclean in the mix and lose it's effectiveness. Want to use liquid Castile? Mix together the other ingredients (no bar soap) then add ¾ tsp of liquid Castile to the washing machine with 1 tablespoon of dry mix.
Note: liquid Castile soap is more expensive and less concentrated than solid Castille bars. 1 cup of liquid Castile soap equals 3.64 ounces of bar soap. You need 35 oz. of liquid Castile to equal 16 oz. of bar soap in this recipe. The liquid Castile costs about $18.00, the bar Castile costs around $5.00.
**If you want a liquid detergent check out my DIY Laundry Detergent Liquid recipes. There are two borax-free liquid detergent recipes that make small batches of laundry detergent with no grating.
Can I use a soap other than Kirk's Original Coco Castile Soap?
Feel free to substitute any natural Castile soap bar, just be sure to use the same amount (16 ounces).  Dr. Bronners' Castile bars and Kiss My Face Olive Oil unscented bars work well for me in this recipe.  Check substitutions on the Environmental Working Group's database to keep the laundry detergent all-natural.
Is Oxyclean really natural?
Oxiclean is mostly sodium percarbonate. When water is added it releases hydrogen peroxide and sodium carbonate (washing soda). Sodium percarbonate is considered eco-friendly. The Free and Baby  versions of Oxiclean are free of artificial dye and scent, according to the manufacturer. The EWG guide gives Oxiclean Baby and Oxiclean Free ratings of A and B. .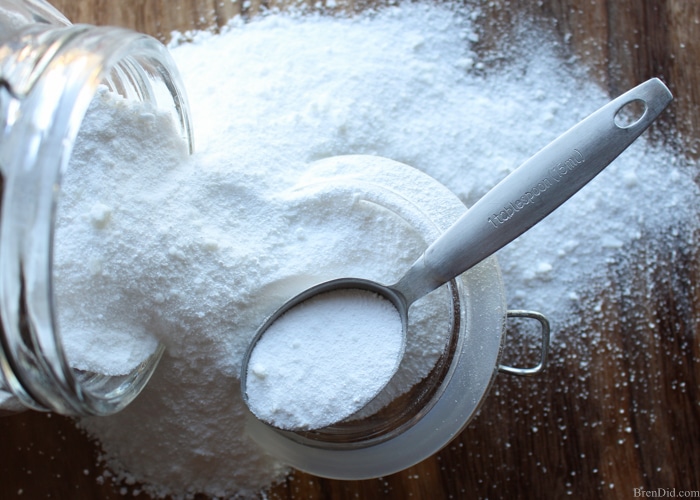 Where to Buy Ingredients
Where do you buy Oxiclean Baby? I can't find it.
Oxiclean Baby is hard to find in stores, but can be ordered from Amazon. Oxiclean Free is easy to find, works equally well,  and rates a B on the EWG scale.
Where do you buy your ingredients? Your prices are great!
Unscented Kirk's Castile is available for a good price on Amazon  and Walmart (online and some locations). I purchase the other ingredients at local big box stores. As of 10/2015 the washing soda is $3.24 (Wal-Mart), the Oxiclean Free is $7.59 (Target), and the baking soda is $1.98 (Wal-Mart), add Kirk's from Amazon and the detergent is $18.50 for 320 loads (5.7 cents a load). Generic unscented Epsom salts add about $1.25 (Wal-Mart).
Where do I buy Epsom salts?
Epsom salts can be purchased at most grocery and big box stores. Check the pharmacy or personal care section. Buy only pure, unscented Epsom salts. There is no need to get an expensive brand. (Note: I do not use Epsom salt in my detergent.)
Where did you get your glass containers? I love them!
I store my detergent in affordable 2-quart Hermes top jars or wire clamp jars. The are also called glass swing-top, or wire bail jars. I love the look of these classic jars in the kitchen and laundry room.
How to Add Scent to Natural Detergent
Unscented laundry detergent never makes my clothes smell clean. What does this detergent smell like?
Many people think "clean" is the powerful scent of synthetic fragrances. Unfortunately, the artificial scents that make laundry smell like mountain streams or fields of flowers contain toxic substances which can harm your health. The bottom line –> truly clean laundry smells like nothing! Use this detergent and laundry will come out of the machine clean, safe, and smelling like nothing!
What can be added to naturally scent this detergent?
Commercial detergents are usually scented with toxic chemicals that coat laundry. Natural substance cannot not make laundry detergent smell as strongly as artificially scents. To add a gentle, natural scent you can:
What you should not add to detergent:
Essential Oils – Essential oils are natural and safe to use in laundry, but wash out with the rinse water. Laundry comes out of the machine VERY faintly scented or smelling like nothing. Any remaining essential oil scent will disappear in the dryer.
Scented Epsom Salts – Epsom salt is sometimes sold with artificial scent such as lavender, milk and honey, or chamomile. Scented Epsom salts do not rate well on the EWG scale, do not use them if you want non-toxic laundry detergent.
We have really smelly laundry; can I add Downy Unstoppables or Purex Crystals (or a similar laundry scenting product) to the detergent?
Please check ANY scented product on a green cleaning guide (I use the Think Dirty App, on the Good Guide, and EWG.org) before adding it to the detergent. Downy Unstoppables rate an F and Purex Crystals rate a C on the EWG scale , I would not use them in my home.  Stinky gym clothes and fuel soaked uniforms come out smelling clean and fresh when using this detergent and a white vinegar rinse, no harmful ingredients necessary!
Do clothes smell like vinegar if you use it to soften laundry?
White vinegar in the rinse cycle may make laundry smell slightly vinegary when wet, but it will have absolutely no vinegar smell when dry. Vinegar is a natural deodorizer, as it dries it removes odors including its own. If you hate the scent of vinegar make natural Fabric Softener that softens in the dryer and uses essential oils.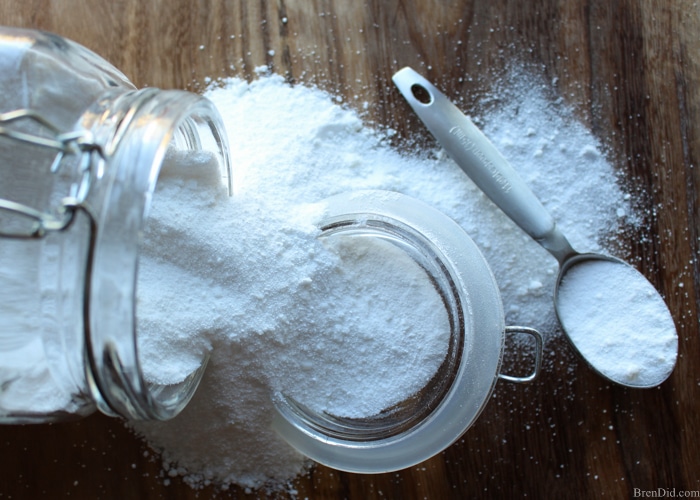 I hope this Q & A has answered your most pressing questions.  Still have concerns? Read more in my post Do Homemade Laundry Detergents Really Work or comment below and I'll answer.
Like my green cleaning tutorials? Sign up for my newsletter below and never miss a thing!