A thorough dishwasher cleaning will get your appliance into tip-top shape. It can also help solve many common dishwasher problems. Learn how to green clean your dishwasher today!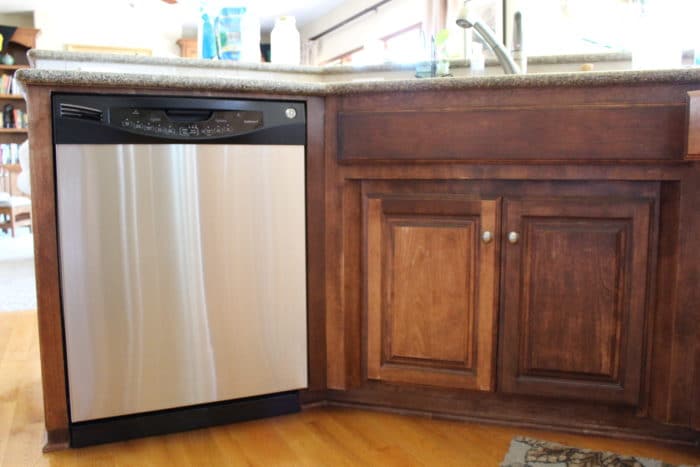 This post uses affiliate links. They don't cost you a thing and help us bring you creative projects. Read more in Policies & Disclosures.
Your kitchen is harboring greasy, gunky, scaly muck in a place that is meant to clean your dishes. I am speaking of your handy-dandy dishwasher! This common kitchen appliance is full of dirty surfaces that go unnoticed because they are hidden deep inside the dishwasher.
I'm a dishwasher cleaning pro! We move every 2-3 years for my husband's job and have never moved into a house with a new dishwasher. Each of our eight dishwashers has needed a little TLC to get back in top operating condition. I'll teach you how to clean a dishwasher… the easy and green way!
Does Your Dishwasher Need Cleaning?
Does your dishwasher need cleaning? Ask yourself a few simple questions:
Are your dishes are not coming out as clean as they did when your dishwasher was new?
Does your dishwasher drain slowly or chug and chug while trying to drain?
Does your dishwasher have a bit of standing water in the bottom after running?
Do you notice tiny particles of grit stuck to your dishes after running your dishwasher?
If you've answered YES to any of these questions you are in need of a simple dishwasher cleaning and tune up.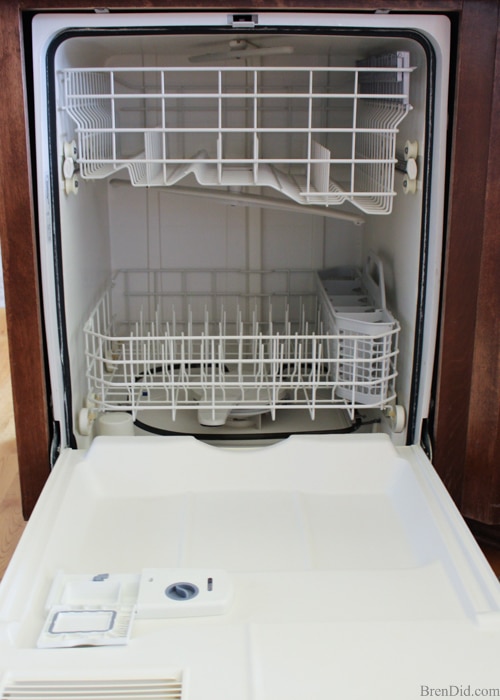 Why Dishwashers Need Cleaning
1 – Dishwasher lines can become clogged with food particles, grease, lime or calcium the same way that arteries can become clogged with cholesterol. The buildup makes the lines narrower and narrower until they clog completely. These problems make the machine wok worse and can shorten the life of you dishwasher!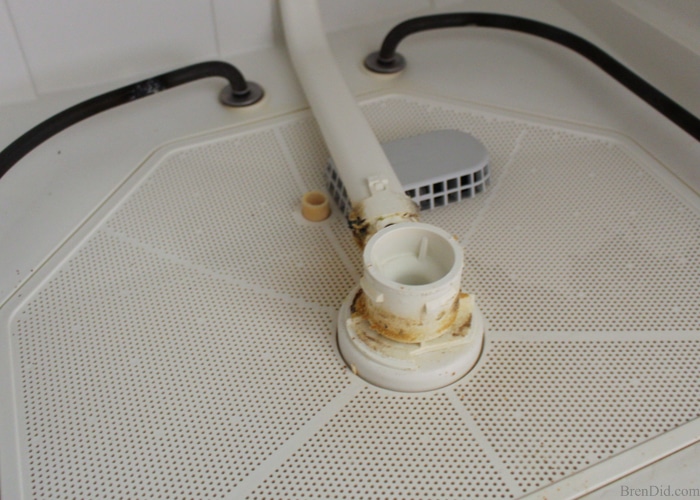 2 – If you live in an area with hard water your dishwasher probably has lime deposits (calcium carbonate scale) due to constant exposure to large amounts of minerals such as calcium. Over time your dishwasher will drain more slowly and the motor will have to work harder and harder to get the water out of the machine.
3 – Grease and food particles can get trapped in the filters and washing arms after repeated use. This gunk is continuously circulated and sprayed over your dishes as the wash cycle runs. GROSS, GROSS, GROSS!
4 – In 2010, phosphates were removed from dishwasher detergents which can lead to more build up inside your machine, especially in areas with hard water.
How to Green Clean Your Dishwasher
You can call a repair man to fix your suffering dishwasher or use this easy cleaning tutorial to avoid a costly service call (most repair men charge $100 or more) and can make your dishwasher last years longer.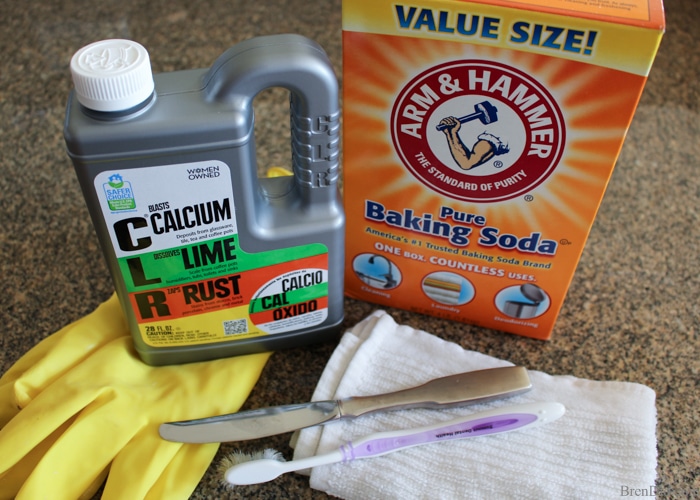 Green Cleaning Supplies
I love this tutorial because it uses safe, green cleaning supplies. You only need a few items to clean your dishwasher:
CLR (Calcium, Lime, Rust Cleaner ) – CLR rates an A on the EWG scale and is recognized by the EPA's Safer Choice Program as a safer alternative to chemicals. It is septic-safe and contains no phosphates.)
Dishwasher Cleaning Steps
1. Remove the lower rack of the dishwasher and set aside.Carefully remove the lower spray arm and filter from the bottom of the machine. These pieces can contain a lot of gross greasy build up, you may want to wear cleaning gloves.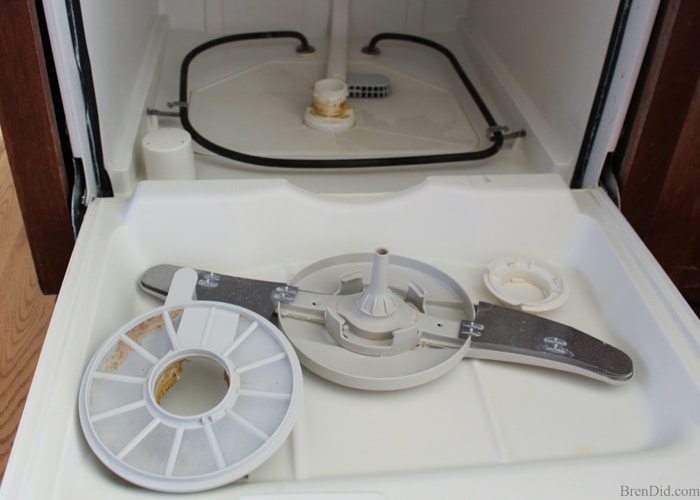 *Tip: If you do not know how to remove these pieces consult your user's manual or look up your brand of dishwasher online. You can usually find an operating manual that will help you remove the pieces.
2. Wash the spray arm and filter in your sink with hot soapy water with ¼ cup of CLR.  Use a rag and hot soapy water to clean the area inside where the filter and spray arm attached. (See all the gross build up? Yuck!)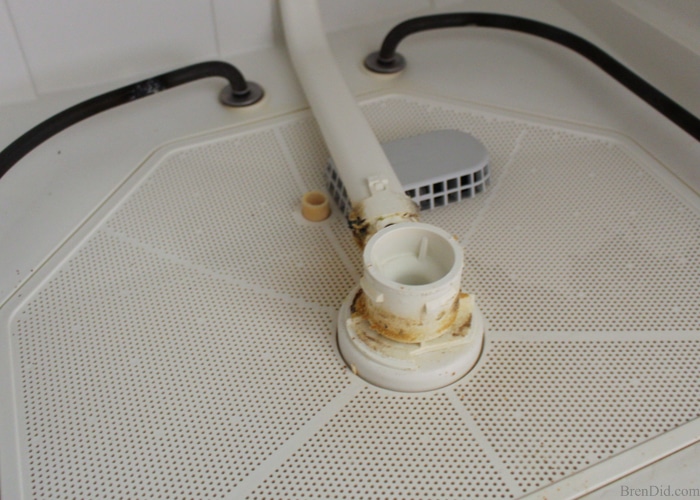 3. Carefully remove the steam vent from the door of the dishwasher. This piece should easily pop out, I use a table knife to remove it.
*Tip: If you do not know how to remove the steam vent consult your owner's manual.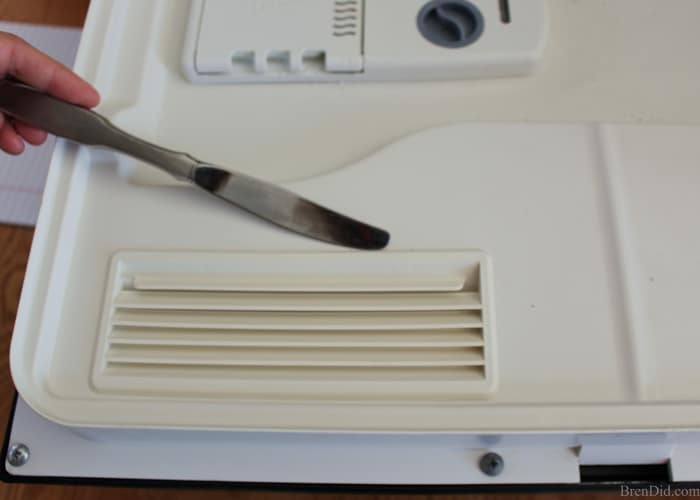 The steam vent can be full of food particles, mold, and lime scale. Wash the vent cover then clean out the steam vent in the door of the machine with hot soapy water with ¼ cup of CLR.
*Tip: Make sure you put of towel on your floor under the door of the machine. The steam vent will drain out the front of the door onto your floor.
4. Scrub the outer seal of the dishwasher with a toothbrush dipped in baking soda then wipe it clean with a damp rag. The gentle abrasion of the baking soda helps to remove lime scale and dirt. (You can see the white build up from hard water on the upper seal.)
5. Scrub the heating coil in the bottom of your machine and any dirty spots on the inside of the tub with baking soda and a toothbrush. The heating coil is the black piece.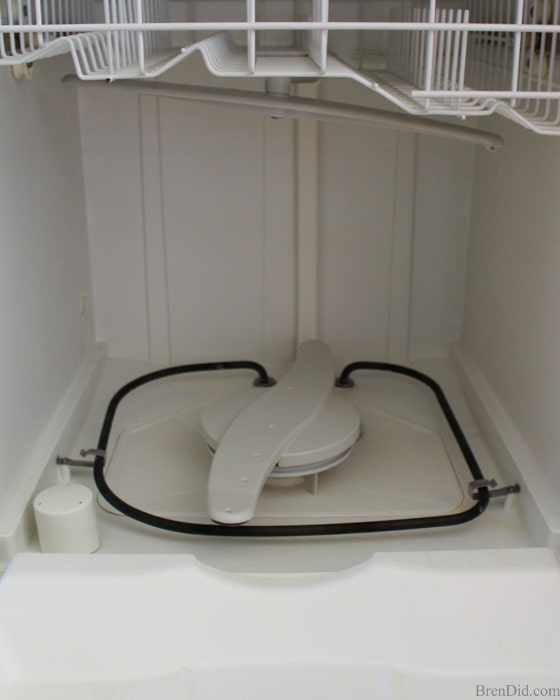 6. Use a rag dipped in hot soapy water with ¼ cup of CLR to clean the edges of the door. Lots of buildup and food drips can hide here. Make sure to get the hinges too!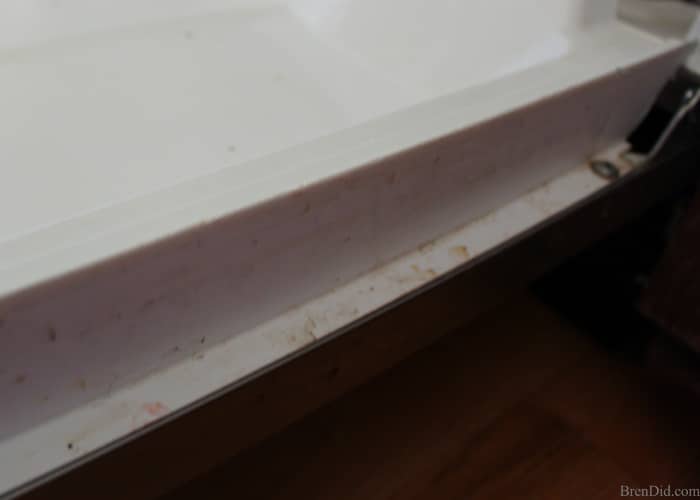 7. Reassemble the lower spray arm and filter into the bottom of the machine. Run the rinse cycle briefly to make sure it is running correctly.
*Tip: I start the rinse cycle and then hit cancel to test the machine, you don't need a full rinse cycle.
8. Replace the lower rack and start a full wash cycle, when the tub is partially filled with water pour in ½ cup of CLR into the bottom of the machine. Do not use more than ½ a cup.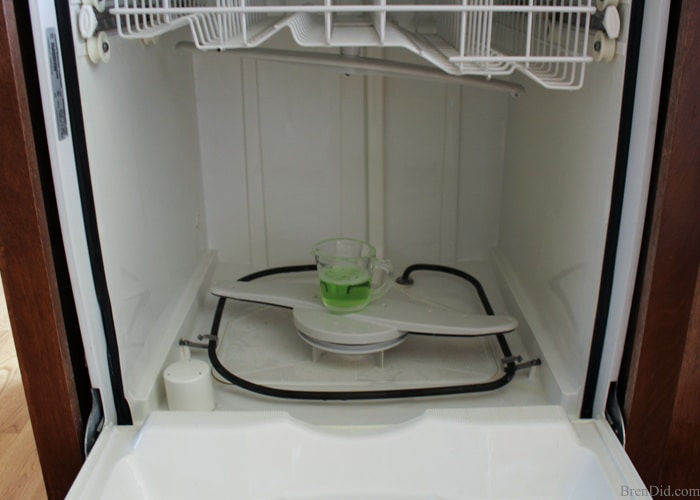 Resist the urge to peak in the machine while it is running. The CL can cause quite a bit of foam that will leak out if you open the door (I learned the hard way!)
Whoops, I peaked and the foam overflowed!
9. Once the cycle is complete fill the soap dispenser with your favorite dishwasher detergent (try my homemade version) and run another full cycle to make sure the CLR is completely rinsed from the machine. While the machine runs clean and polish the foot (the small indented area under the door).
10. Clean and polish the front of the dishwasher. Use your toothbrush to get into any cracks.  If you have a stainless steel dishwasher, polish it with my Wonder Dressing polish. It makes stainless steel appliance gleam!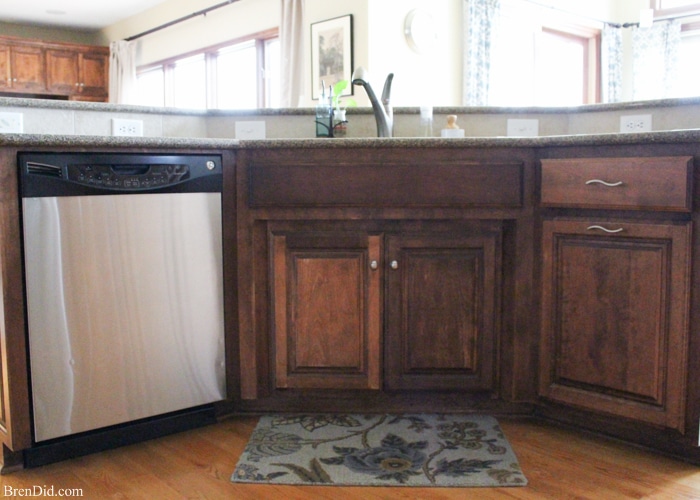 Results
This cleaning tutorial will leave your dishwasher sparking clean and running like new! I love know that our dishes are getting clean and are not being soaked with dirty water.
When we moved into our current rental the machine drained very S-L-O-W-L-Y and often had a inch of standing water in the bottom. The noises it produced made us think it was on its last legs.
After one good cleaning it drains so fast and with such force that you can see the water rushing through the garbage disposal drain. It cleans as well as a new machine and never leaves gunk on the dishes!
Like my green cleaning tutorials? Sign up for my newsletter below and never miss a thing!