Natural homemade fabric softener leaves laundry soft and static free without a chemical film or artificial fragrance. Learn how to make homemade fabric softener dryer sheets. It's easy and affordable to replace your current fabric softener with a more natural alternative.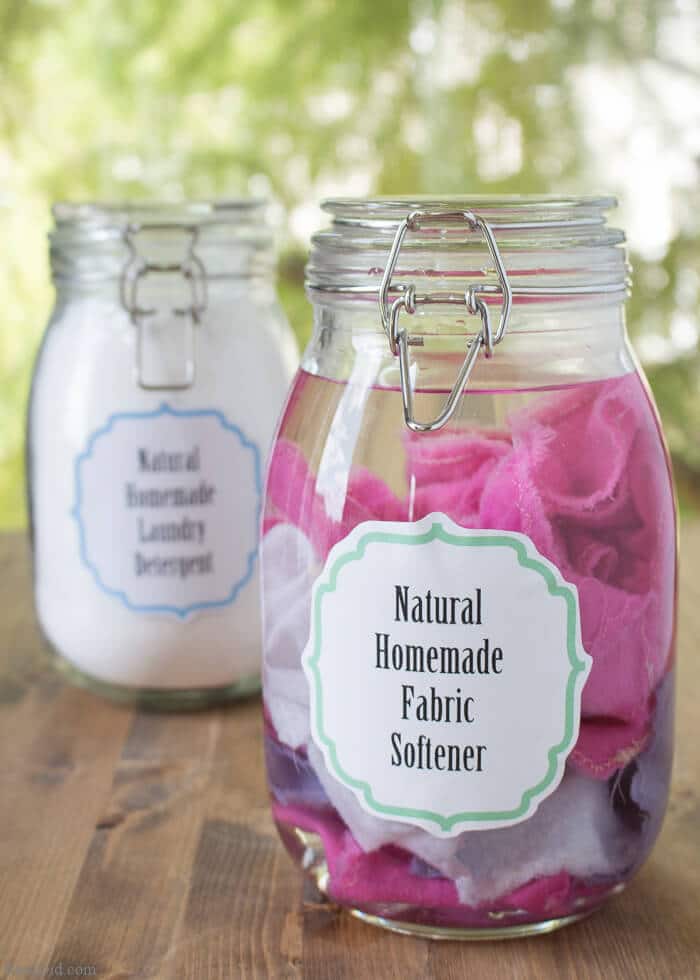 This post uses affiliate links. They don't cost you a thing and help us bring you creative projects. Read more in Policies & Disclosures.
I grew up in a country home with a huge clothes line in the backyard. Laundry time in the spring, summer, and fall meant folding warm, sun-dried laundry infused with the smell of sunshine. Today, like many Americans, I live in a suburban neighborhood with no clothes line but the memory of that ultra-fresh laundry.
For years I tried to mimic the smell with commercial dryer sheets and liquid fabric softeners. Then I glanced at back of my fabric softener bottle and read Biodegradable Fabric Softening Agents (Cationic).
What the heck?
I had no idea what this meant so I did a little digging and what I found out shocked me. This purposely unspecific phrase is used instead of listing the actual harmful chemical ingredients.
The Truth About Fabric Softener
The artificial scents that make laundry smell like mountain streams or fields of flowers contain toxic substances that can harm your health, and pollute the air inside your home.
These indoor air pollutants or VOCs can cause immediate and long term health problems like asthma, hormone disruption, heart disease, cancer, headaches, eye irritation, congestion, and nausea.
How Fabric Softener Works
Commercial fabric softeners leave a slippery film on fabrics that makes it feel soft to the touch. This chemical film makes contact with skin when you wear clothes, sleep on sheets, or dry off with a towel. There are lots of opportunities for your skin to absorb these dangerous chemicals!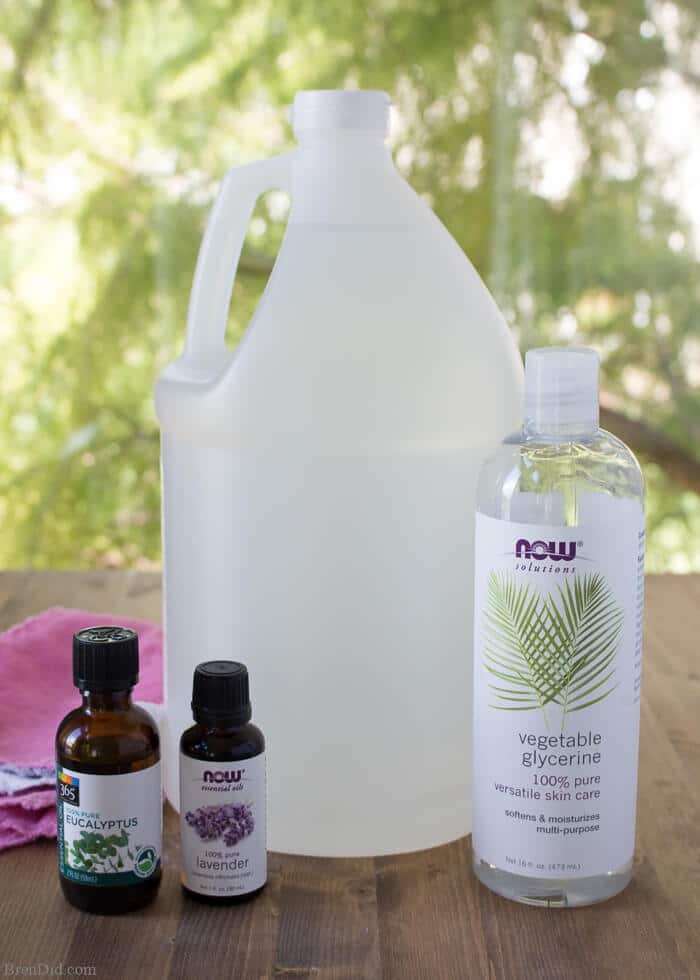 Natural Fabric Softeners
I wanted a safer way to soften laundry and found several easy-to-use, natural alternatives:
Baking soda added to the wash lowers the ph of water in the washing machine. Softening the water helps laundry rinse cleaner and be less stiff. (Baking soda is as an ingredient in my Natural Homemade Laundry Detergent.)
White vinegar added in the rinse cycle helps to break down the detergent, removes leftover soap residue, and deodorizes the laundry. Add white vinegar during the final rinse cycle (use your fabric softener dispenser or a dispenser ball).
Wool dryer balls placed in the dryer natural soften and reduce static by bouncing and rubbing against the fabric as it dries.
Homemade fabric softener & dryer sheets soften laundry in the washer or dryer. This fabric softener uses vinegar to soften and deodorize with a softening boost from vegetable glycerin.
Glycerin is used in lotions and beauty products to moisturize and soften because it is hygroscopic (absorbs moisture from the air). It is a clear thick liquid that is natural by product of soap making.
The softener does not use baking soda because it can not be used on dryer sheets and should not be combined with vinegar in homemade cleaners.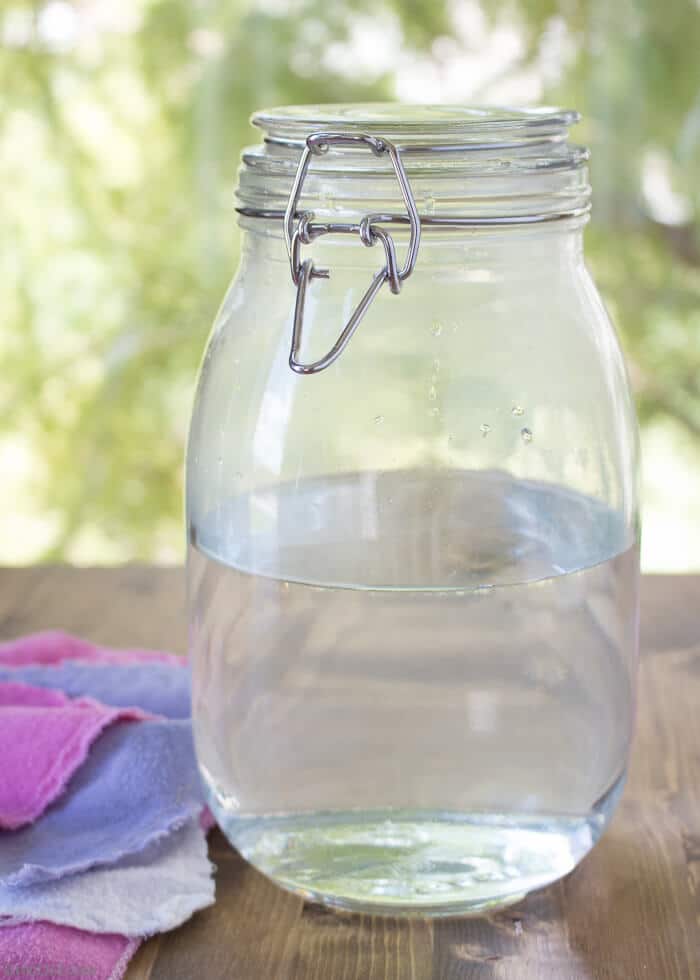 Natural Homemade Fabric Softener Recipe
Ingredients
Liquid Fabric Softener Directions
Combine white vinegar, water and glycerin in a glass jar. (To make liquid fabric softener mix together in a vinegar jug, it's easy to pour into the machine.)
Add essential oils, if desired, and stir or shake to combine. My favorite homemade laundry scent combinations are:
Dryer Sheet Directions
Add 100% cotton cloths to the fabric softener container. Mine are made from flannel fabric and are approximately 5 x 8 inches. Stitch around the edge to prevent unraveling (this step is cosmetic – you can simply rip up strips of flannel or cotton jersey). Tip – An old 100% cotton t-shirt can be cut up and made into dryer sheets. Make sure it's 100% cotton.)
How to Use Homemade Fabric Softener
Liquid Fabric Softener – Add ½ cup to the final rinse cycle. Use fabric softener dispenser or a dispenser ball.
Fabric Softener Sheets – Remove a fabric sheet from the jar and squeeze so it is not dripping. Add a sheet to the dryer with wet laundry and dry as usual.

More Laundry Softening Tips
Use dryer balls (reusable) or clean tennis balls to soften laundry and speed drying.
Try placing a ball of aluminum foil in the dryer to reduce static cling.
Dry clothes that attract lots of static (synthetic fabrics) until they feel a bit damp then hang to dry completely. This reduces wrinkles and eliminates static cling.
A Note on Natural Laundry Scent
Natural substance cannot not give laundry the huge scent of that come from artificial fragrances made with dangerous chemicals.
To add a gentle, natural scent you can:
Add Essential Oils – Essential oils are natural and safe to use in laundry.

EOs used in homemade laundry detergent or liquid fabric softener will scent the laundry room but will mostly wash out with the rinse water.
EOs used on homemade dryer sheets or wool dryer balls will very lightly scent laundry.

Spritz with Fabric Refresher – Natural fabric refresher is a safe way to give laundry a stronger natural scent.

Spray dry laundry while folding.
The bottom line –> truly clean laundry smells like nothing! I use EOs in my fabric softener to mask the scent of vinegar and make doing laundry more pleasurable. If laundry smells bad out of the machine or dryer you have a problem that is easy to solve with this natural odor removing guide.
Free Printable Label
If you like my label, click here for the free printable PDF.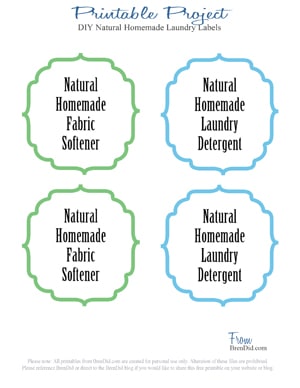 Like my green cleaning tutorials? Sign up for my newsletter below to make sure you never miss a thing.