A clean house smells like nothing. If my house smells I go looking for the source of the odor (is there something smelly in the trash, do I need to wash the dog bed, etc.).  I find the source of any odor and eliminate it. Even after a thorough cleaning my house doesn't smell like much, maybe a little vinegary or a faint hint of essential oils since I clean with natural homemade cleaners, but that generally dissipates in a few minutes.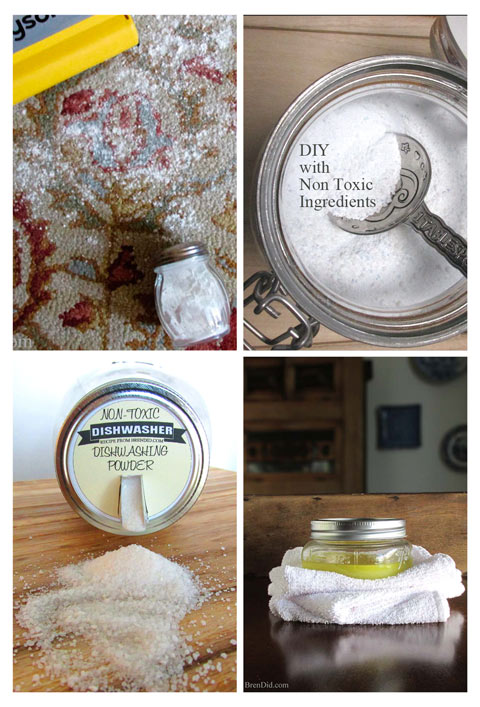 Why do I care so much about scent and my home? I believe many Americans have come to equate the scent of commercial household cleaners with an immaculate house. I did for many years too.
This, unfortunately, could not be farther from the truth. Many common household cleaners contain toxic substances which can be harmful to our health; this includes (but is not limited to) the artificial perfumes and scents used to make our homes smell like mountain streams or fields of flowers.
The chemicals commonly used in household cleaners can act as endocrine disrupters (mimicking or interfering with the function of hormones), neurotoxin (adversely affecting the nervous system), respiratory toxicant (adversely affecting the respiratory system), reproductive toxicant (adversely affecting  the reproductive system), and carcinogens (agents that are directly involved in causing cancer).
Here's the really scary part, while the U.S. requires manufactures to label hazardous household cleaners (general warning labels stating Danger, Poison, Warning, Do Not Drink, Avoid Eye Contact, etc.) the specific ingredients are considered trade secrets and do not have to be listed.
Let me say that again, the ingredients do not have to be listed. The bottom line: you have absolutely no idea what you are inhaling or exposing your loved ones to when you use many commercial cleaning products.
When did I stop associating clean with a scent? When I was a new mother I realized that I was hearing MANY, MANY stories of young people with terrible diseases: babies and young kids of friends with rare tumors and medical conditions, horrible breast and reproductive cancers in friends and coworkers under the age of 40, tumors in people I had known in college. I started looking for answers and decided I was going to eliminate as many toxins, additives and artificial ingredients as possible from our home.
Of course avoiding commercial cleaners is not the only answer to these problems. There are many causes and explanations for these situations. However, I feel better knowing that I am limiting my family's exposure when possible. Of course it's a process, no one is perfect but we can all take small steps each day, week or month that add up to huge health benefits for our families. I encourage you to do a little research, take a look around your home and decide what you can eliminate for the benefit of your loved ones.
Tip: One easy way to experiment with non-toxic cleaners is a "no-replace" policy. Once you run out of a commercial product do not replace it, instead try to come up with a non-toxic alternative. The internet is full of great ideas.

Are you concerned about chemicals in your home? If so, what steps are you  taking to eliminate toxins from your home?
Subscribe to the Bren Did Newsletter to Get Access