Looking for an easy, all-natural recipe for homemade dishwasher detergent? This Fresh Lemon Homemade Dishwasher Detergent uses real lemons, salt and vinegar to make liquid dishwasher detergent that is effective and non-toxic.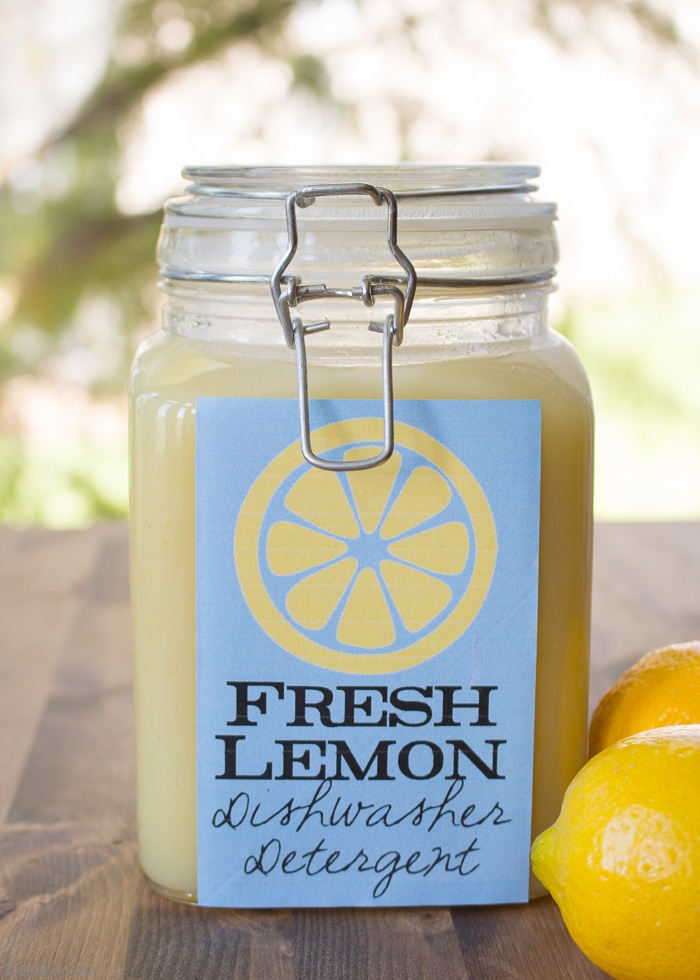 This post uses affiliate links. They don't cost you a thing and help us bring you creative projects. Read more in Policies & Disclosures.
Good & Bad Homemade Cleaners
I make many different green cleaning recipes for home care, I love knowing exactly what ingredients they contain and that they are safe to use near my kids and family. I also love researching new DIY cleaning recipes and analyzing their effectiveness.
Yeah, I'm a super big nerd.
If you've ever tried making your own cleaners you know the some homemade versions work great and some are a complete waste of time. It's a totally bummer when you make a new concoction and discover that it doesn't work.
Reader Question
A reader posted a message to my Facebook page asking me to investigate a homemade dishwasher detergent recipe she found on Pinterest, The recipe is for dishwashing gel that uses fresh lemons as a main ingredient.
I was skeptical when I read the original recipe.
The green cleaning recipe uses just lemons, white vinegar, salt and water. I decided to test its effectiveness and made a batch. Overall I was fairly pleased with the results.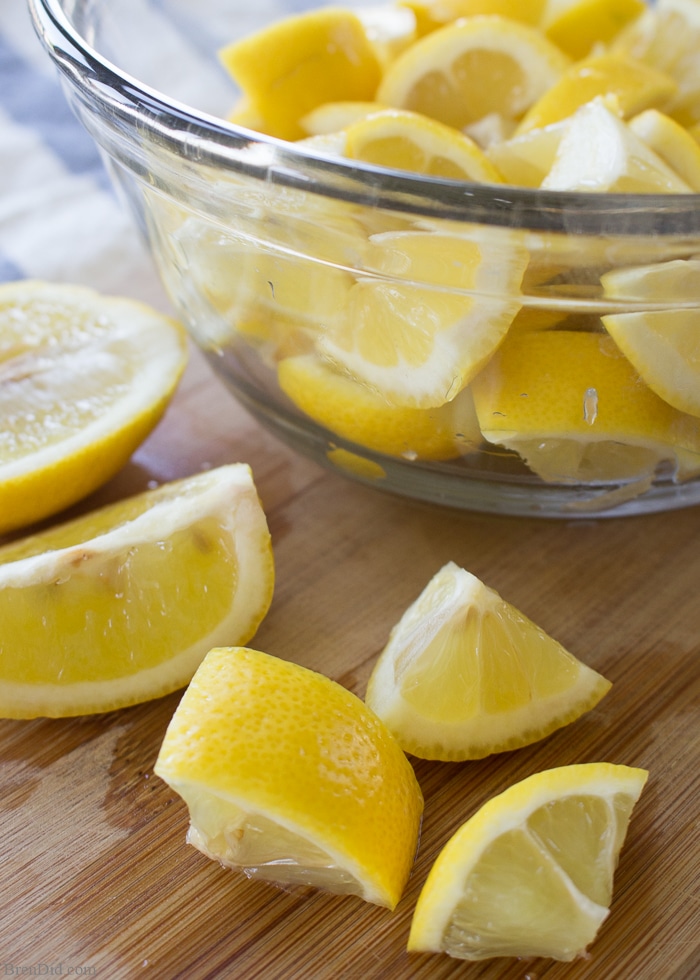 Original Recipe Results
The good:
The original version was easy to make and smells amazing! The house and dishwasher smell like lemony goodness.
The detergent does a good job cleaning dishes. Even the glasses and silverware were sparkly with no water spots.
The bad:
The original recipe left tiny bits of pulp and rind behind in the detergent dispenser and stuck on some of the dishes.
Gunk left behind is a deal breaker for me!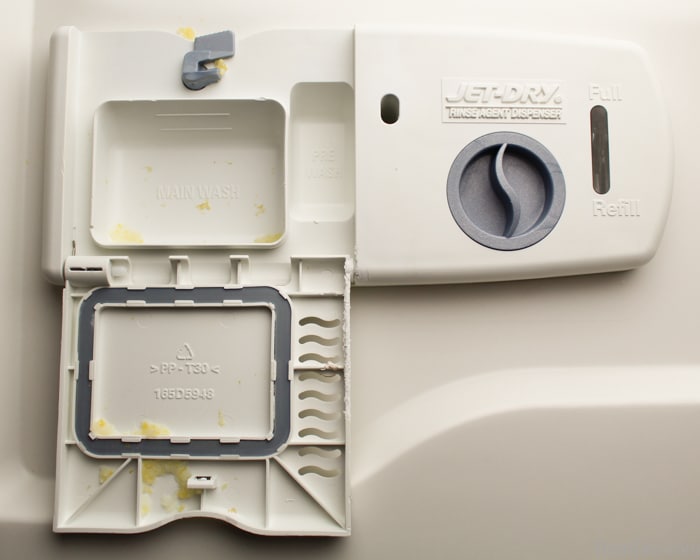 New and Improved Formula
I developed a new version of Fresh Lemon Dishwasher Detergent that cleans dishes beautifully… no lemon pulp in sight!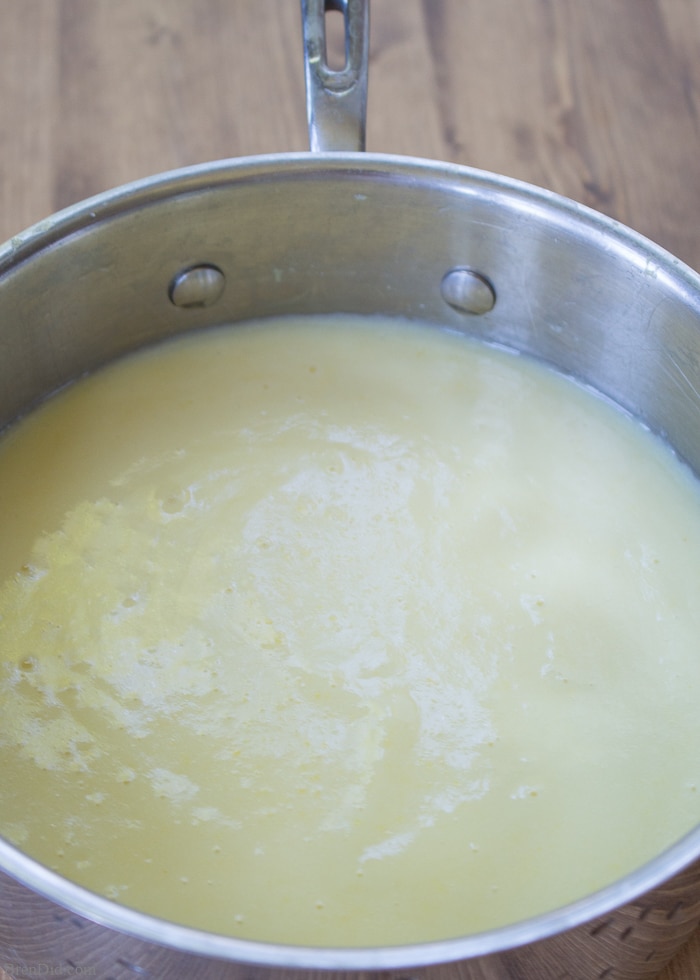 How to Make Dishwasher Detergent with Lemons
Get the full instructions:
Ingredients
2 cups diced lemon (Use both the rind and fruit with seeds removed, about 4 medium lemons)
3 1/2 cups water (Divided into 1 ½ cups and 2 cups)
4 oz white vinegar
1 cup kosher salt
Instructions
Cut lemons into small ¼ inch thick chunks, making sure all seeds are removed.

Place the lemons into a small sauce pan with 1 ½ cup of water.

Heat the lemons and water to a slow boil. Simmer for 20 minutes until water is reduced and syrupy and lemons are very tender. Make sure to stir frequently, add water if needed.

Add the cooked lemon and syrup mixture to blender with 2 cups of water, blend on high until very smooth.

Strain lemon mixture back into your saucepan using a small colander. (I was left with approximately 1 tbsp of pulp and rind.)

Add vinegar and salt to saucepan and stir until well combined.

Bring mixture to a slow boil and cook for 10-15 allowing it to thicken slightly. It will be the consistency of runny applesauce when done.

Cool completely in sauce pan, stirring occasionally to incorporate salty crust that may form on the top. Attach a

free printable label

and store in a glass container

To wash dishes: Fill your dishwasher detergent dispenser with the fresh lemon gel. I use about 3 tablespoons of detergent.
Why Fresh Lemon Homemade Dishwasher Detergent Works
There are five (5) reasons why Fresh Lemon Homemade Dishwasher Detergent works well (Disclaimer: I am not a chemist just a green cleaning enthusiast!):
The citric acid in the lemons helps to clean mineral deposits.
The naturally occurring lemon oil in the rind has antibacterial and cleaning properties.
The white vinegar contains acetic acid which is a good degreaser, descaler, and also helps as a rinse agent to soften hard water.
The acid in the lemon juice is a great degreaser.
The kosher salt acts as a mild preservative and scouring agent.
The rind and white pith of the lemon are rich in pectin, a natural thickening agent. The high pectin level is why the mixture forms a gel. Do not leave out the rind and pith!

Notes for Homemade Dishwasher Detergent
Store the detergent in the refrigerator to prolong shelf life. It is made from all-natural ingredients that will ferment.

My batches last several weeks in the refrigerator, I do a load of dishes a day and it is all used up before going bad.

The recipe take a bit of time to prepare, but it makes the house smell amazing while cooking.
Grab a free printable label for Fresh Lemon Homemade Dishwasher Detergent. Print on full sheet labels for easy application. I use a swing top jar.
Natural Cleaning Boosters
Having trouble getting homemade dishwasher detergent to clean as well as commercial detergent? It's because homemade dishwasher detergent is free of phosphates, chlorine bleach, and other dangerous substances. If you live in an area with hard water you may experience filming or spotting on your dishes. The citric acid and acetic acid in this recipe help to remove the minerals in the water, but you can also try these tips:
Rinse off food residue before washing your dishes.
Place a small cup of vinegar on the top shelf of your machine to act as a natural rinse aid. Use about 1/4 cup per load.
Clean your dishwasher every few months to remove minerals from the lines. This Dishwasher Cleaning and Tune-Up tutorial is an easy, green way to get your dishwasher running (and cleaning) like a new machine.
Fresh Lemon Homemade Dishwasher Detergent Cost
The price of the detergent varies with lemon prices:
Total cost -> $1.75 for 32 ounces or about $0.10 a wash. My favorite store-bought dishwasher detergent costs about $0.19 a wash.
Like this recipe remake? Like BrenDid on Facebook and let me know what cleaning recipe you want me to analyze!