This non-toxic shower cleaner magically melts soap scum, tub rings, and shower buildup, no scrub needed! Plus, it uses only two natural ingredients and rates an "A" on the Environmental Working Group (EWG) scale.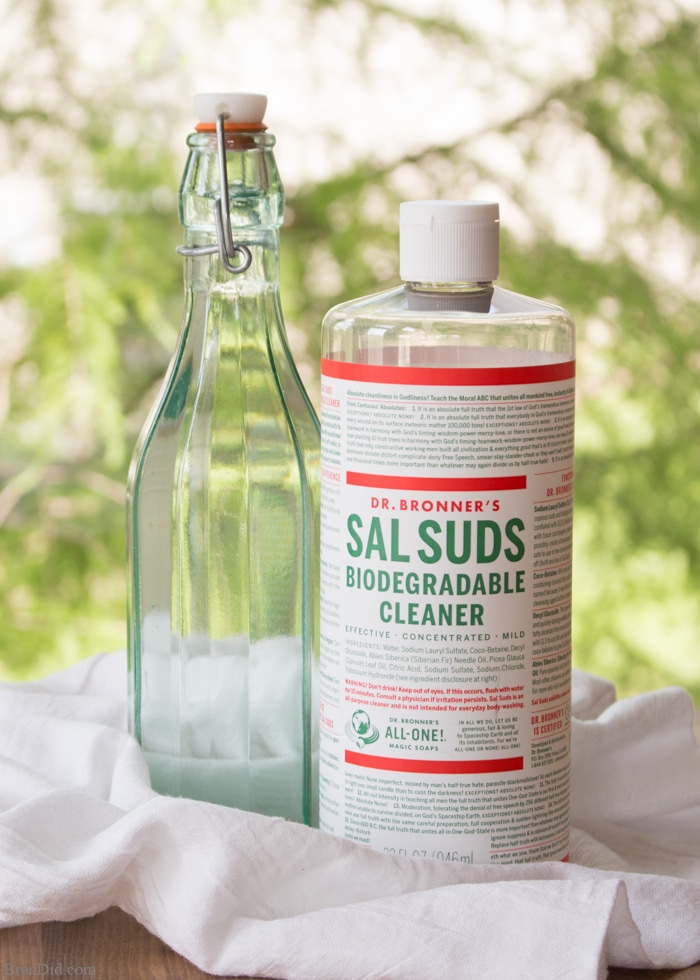 This post contains affiliate links. They don't cost you a thing but help us bring you natural cleaning tutorials. See Policies & Disclosures for more information. 
Raise your hand if bathroom cleaning is your LEAST favorite housekeeping task.  I love my bathroom to be bright and shiny, but hate scrubbing tub rings and toilets.
I used to purchase a foaming bathroom cleaner to get my tub and shower spotless with very little effort, then I began to investigate the harmful ingredients in cleaners and I was shocked…. my commercial bathroom cleaner rated an F on the Environmental Working Group (EWG) scale. I had to find a substitute!
All-Natural Bathroom Cleaner
I hopped onto Pinterest for DIY shower cleaners and tried making cleaners with:
lemon and salt
hydrogen peroxide and tea tree oil
vinegar and rubbing alcohol
None of them cleaned well, so I went back to cleaning with my Natural All Purpose Cleanser. It does an amazing job, but requires some elbow grease.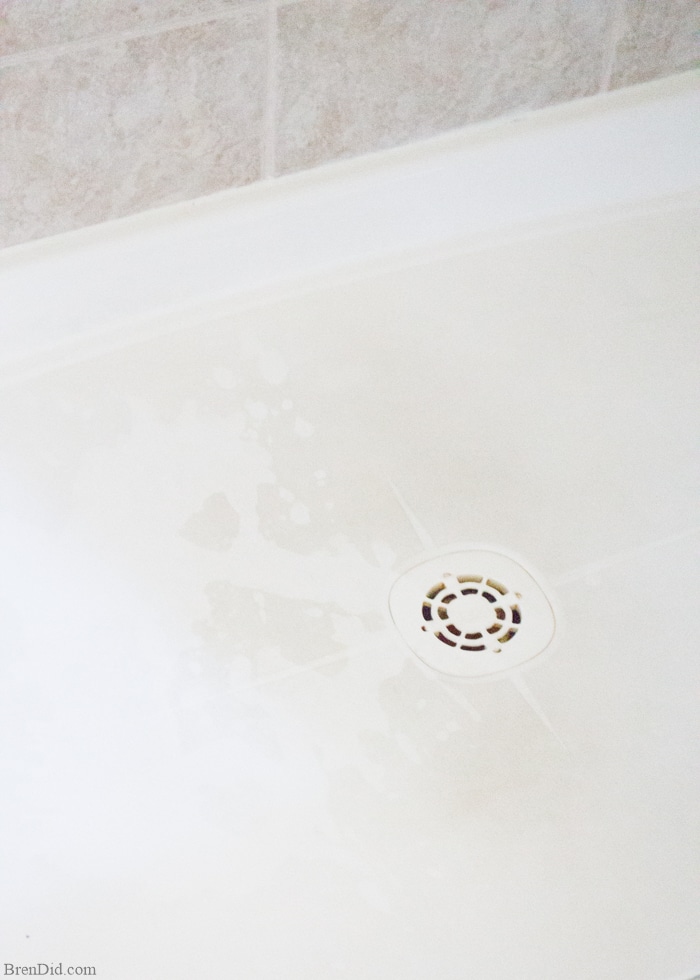 Pinterest Shower Cleaners
I found a popular no scrub shower cleaner recipe on Pinterest and was intrigued. The cleaner is made from Dawn dish detergent and hot vinegar to clean the shower with no scrubbing. I wanted give it a try but there were two problems:
I did not want to use Dawn because it rates poorly on the EWG scale.
I did not want to heat up vinegar to clean, I wanted a version I could store under my bathroom cabinet.
Sal's Suds
I decided to try the recipe with one of my favorite commercial household cleaners. Sal's Suds is a detergent made by Dr Bronner's (they also make my favorite Castile soap).
Detergent vs Soap
Soap is made from vegetable or animal fats and oils, synthetic detergents use man-made chemicals. Soap has been around since around 2800 B.C., synthetic detergents have been around since 1916.
Sal's Suds is a detergent that is made from  plant-based surfactants (not petro-chemicals like many detergents) and does not contains synthetic dyes or fragrance. It is 100% cruelty-free and rates an A on the Environmental Working Group (EWG) scale.

No Scrub Shower Cleaner
Ingredients
Directions
Pour vinegar and Sal's Suds (or detergent) into a spray bottle and swirl to combine.
Spray the mixture onto the shower and tub, wait for a few minutes then rinse and prepare to be amazed.
No Scrub Shower Cleaner Tips
Use this cleaner on areas that are easy to rinse like sinks, tubs, showers and the inside of your toilet.
Test before using on any natural stone surface, vinegar can damage some stone finishes.
For tough stains allow it to sit for 10-15 minutes then scrub and rinse.
This cleaner smells like vinegar, add 15-20 of essential oil to scent and add cleaning power. Lemon, thyme, rosemary, tea tree, eucalyptus, peppermint, and lavender are all great choices. I use 10 drops eucalyptus, 5 drops lavender, and 5 drop of rosemary for a spa-like scent.  Use a glass bottle if using essential oils, see my DIY glass spray bottle for cleaning.
Dilute the mix with 1 cup of water for less odor and bubbles. I use the full strength mix for extremely dirty surfaces and dilute for weekly cleaning.
No Scrub Results
Let me first say it is hard to photograph a bathtub or shower, I apologize. My (lack of) photography skills aside, this cleaner is AMAZING!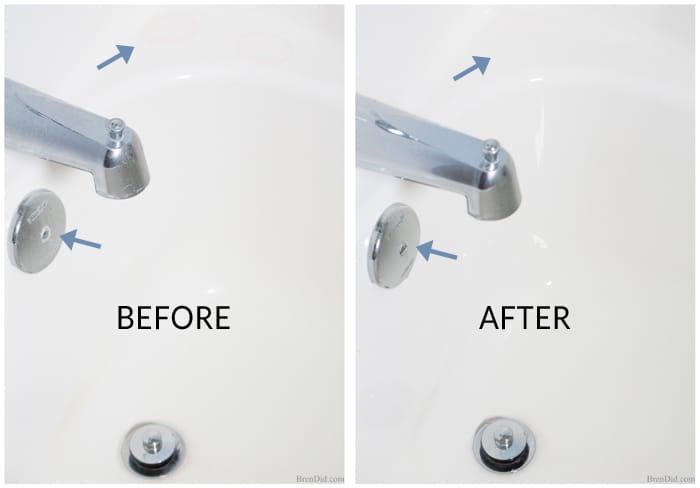 Bathtub Cleaning
The tub above is in my kids' bathroom, they are in charge of cleaning so it is not the most spotless place in the house. Notice the pink shower gunk rings from the shampoo bottles and the soap scum build up on the overflow drain.
Now look at the after picture. I sprayed on the cleaner and let it sit for about 5 minutes then rinsed with the shower heap. Shower gunk and soap scum GONE!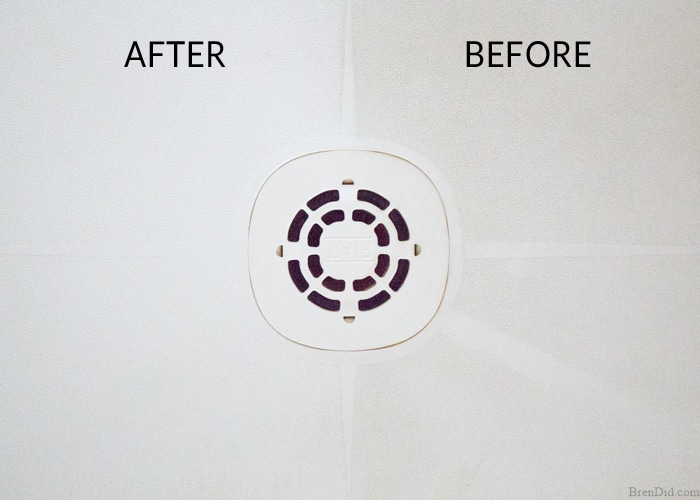 Shower Cleaning
The shower stall in our master bath has a floor that is made of white plastic. It has a slight texture that tends to attract dirt, especially when we wash our German Shepherd in it.
I clean it every week and it looked clean, until I spray it with one squirt of No Scrub Shower Cleaner (see the very top picture). I rinsed it with water and it was immediately bright white where the cleaner landed (with NO scrubbing).  I completely cleaned one side (see the before-after above), built up dirt and soap scum GONE!
Toilet Cleaning
The cleaner also works great in toilets. The Sal's Suds helps the vinegar cling to the sides of the bowl allowing it to work on mineral deposits and hard water stains.
I sprayed the inside of the bowl focusing on the top ring where hard water tends to build up and waited 10 minutes. I then brushed and rinsed,   hard water stains gone!
Grout Cleaning
I use hydrogen peroxide and baking soda to clean stained or discolored grout. Get the full tutorial here.
Cleaning the bathroom may not be fun, but it can be greener and EASIER with this Non-Toxic No Scrub Shower Cleaner. I hope you try it in your home!

Like my all-natural cleaning tips? Sign up for my newsletter below and never miss a thing.