What kind of dog shampoo do you use on your dog? I make my own all natural DIY dog shampoo. It's easy to make, cleans well, and it kind to your best friend's coat!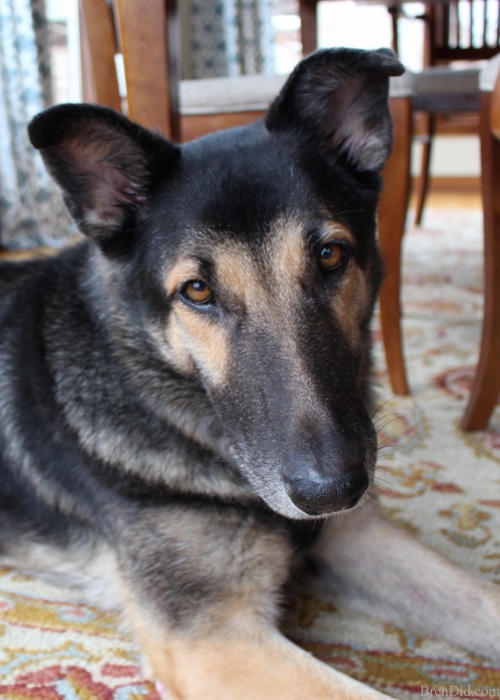 This post uses affiliate links. They don't cost you a thing and help us bring you creative projects. Read more in Policies and Disclosures.
Our Rescue Dog
I may be biased, but I think we own the world's best dog. His name is Gus and he is a 7 year old German Shepherd/Collie mix.
I can't take credit for making him the world's best dog. We adopted him in 2011 from the West Side German Shepherd Rescue in Los Angeles, CA.
He was 2.5 years old and fully trained, but had been relinquished by his former family because he was "itchy." He was skinny, dirty, and shy but we could tell he was a sweet goober of a dog.
We brought Gus home, switched him to corn-free dog food, started washing him with all-natural shampoo, and the itching stopped.
We have all been crazy in love ever since. I'm so glad we get to be his forever family!

Dog Allergies and Itchy Skin
Like any dog, Gus has a few minor issues. He is allergic to corn and if he gets any in his diet he turns into a big itchy mess.
Gus also has seasonal allergies that cause him to scratch and lick his paws relentlessly during the summer and fall. He is especially sensitive to yard fertilizers and herbicides so we only use organic products on our lawn and try to avoid grass that has been treated with harsh chemicals.
We  help keep Gus's allergies at bay by regularly washing his paws after walks and bathing him frequently. Since he is prone to skin issues we make our own gentle dog shampoo to wash him.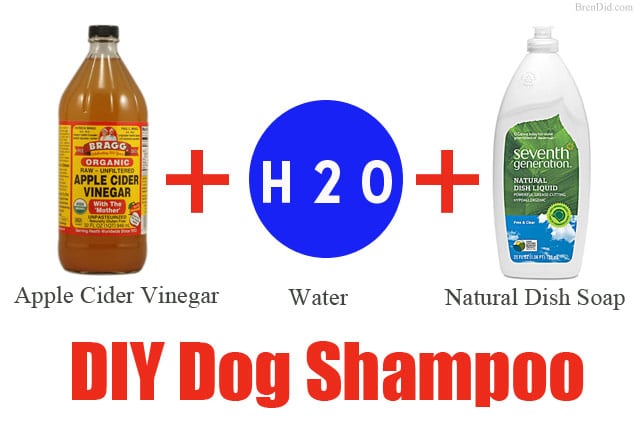 DIY Dog Shampoo
Ingredients
Directions
Combine ingredients in a plastic bottle, shake together and use to wash your dog. Wet dog with warm water, apply shampoo and massage, then rinse well (as you should with all dog shampoos). This recipe makes enough to wash our 70 lb dog several times.
Warnings
Patch test this wash on one small part of your dog to check for allergic reactions.
Your dog will smell slightly vinegary after his or her bath but will smell like nothing (but a clean dog) when dry. Vinegar is a natural deodorizer.
DIY Dog Shampoo Cost
$3.50 for 25 ounces of Seventh Generation Natural Dish Liquid, the recipes uses 4 ounces or $0.56.
Organic vinegar cost approximately $3 for 16 ounces or $0.75.
The water comes from my tap, $0.
That's $1.31 for 3 dog washes or about $0.44 a wash.
Our old dog shampoo cost around $8 for 4 washes or $2 a wash and contained a lot of unknown ingredients.
Like my green cleaning tutorials? Sign up for my free newsletter below and never miss a thing! 

Bren Did Newsletter Subscribers Get Access!