This Christmas joke teller (or fortune teller) is full of silly Christmas jokes that are perfect for elementary school students. Grab the free printable for a fun Christmas party or a simple class activity!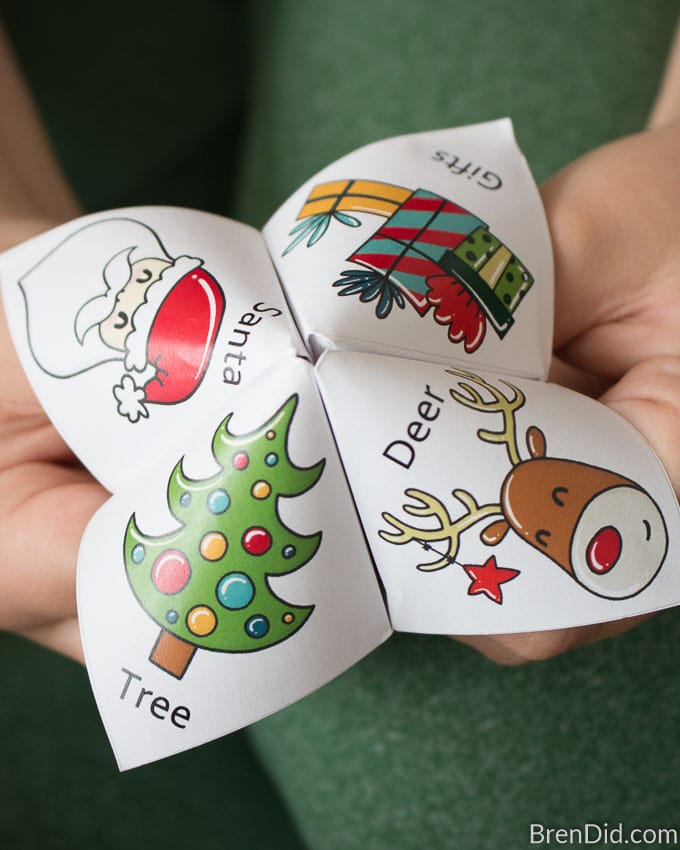 This post uses affiliate links. They don't cost you a thing and help us bring you creative projects. Read more in Policies & Disclosures.
The History of the Fortune Teller
Did you ever play with a paper fortune teller when you were in school? They are a simple paper game made by folding a square of paper into a moveable device with 8 flaps that are filled with messages or "fortunes."
Never heard of fortune tellers? You may have called them cootie catchers, salt cellars, or chatterboxes depending on where you lived as a child.
The exact origin of the cootie catcher is unknown (some claim they came from 17th century Europe while others believe they are a Japanese origami invention) but it's safe to say that they were popular with children all over the world by the early 20th century.
From Fortune Teller to Christmas Joke Teller
When I was an elementary school student my friends and I would make each other fortune tellers that "predicted" the number of children we would have, who we would marry, and what our jobs would be as adults.
I wanted to share the craft with my kiddos so I turned the fortune tellers I loved as a kid into Christmas joke tellers by replacing the fortunes with seasonal, kid appropriate jokes. (They are the same shape as the fortune tellers we used as kids but each flap contains a silly joke that elementary school kids love.)
Paper joke tellers are perfect for classroom parties, a silly activity at home, or even a special lunch box treat.
Get the Christmas Joke Teller HERE!
How to Make a Paper Fortune Teller
Fortune tellers are made by folding a square of paper into 8 movable flaps that you label with messages, fortunes, or jokes. Download and print the folding instructions with the joke teller.
How to Make Christmas Joke Tellers
My premade Christmas joke teller craft is as easy peasy!
Grab the free printable joke teller and save it to your computer
Print the file on matte photo paper for extra bright colors (it is also extra sturdy).
Fold and start your own tradition of silly holiday jokes!
How to Use a Fortune Teller (Joke Teller)
To use: The person holding the joke teller asks a friend to choose from each layer of the joke teller. The choices determine which flaps are opened and which joke is told.
The Christmas Joke Teller gives students the choices of a Christmas item (Santa, tree, gifts, or deer) and the number of the joke they want to hear. The inside flaps are filled with cute Christmas pictures and the answers to the jokes.
Black & White and Full Color Versions
The joke tellers come in 2 versions: full color and black and white.
This project is popular with teachers who don't always have the budget for color copies. The black and white version is perfect for kids to color and fold.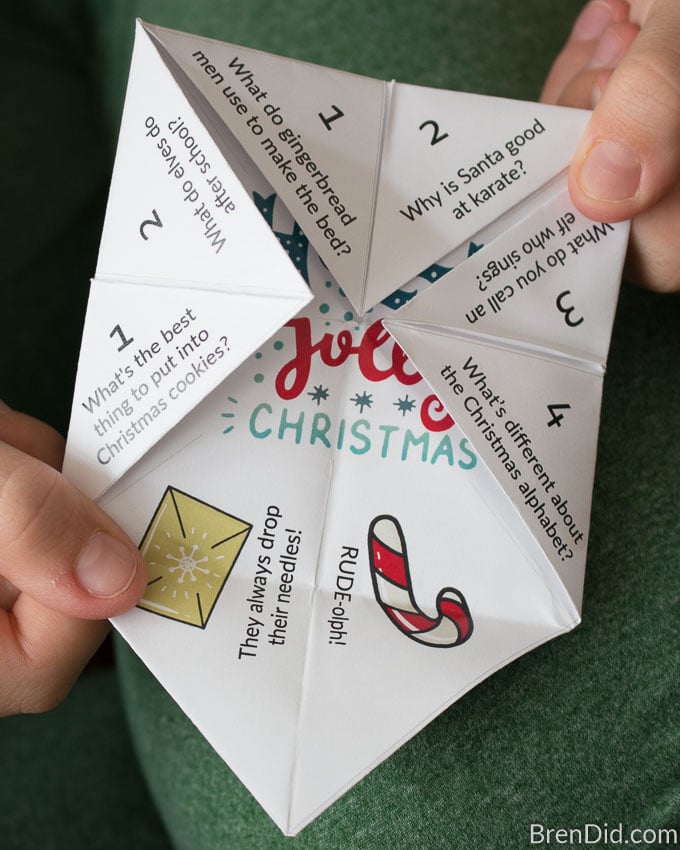 Silly Christmas Jokes for Kids
Grab the joke teller and folding instructions here and share these 8 silly Christmas jokes with your favorite kids.
What do elves do after school? Their gnome work!
What does a gingerbread man use to make the bed? A cookie sheet!
Why is Santa good at karate? He has a black belt!
What do you call an elf who sings? A wrapper!
What's different about the Christmas alphabet? It has has no L (noel)
What do you call a reindeer with bad manners? RUDE-olph.
Why are Christmas trees bad at sewing? They always drop their needles!
What's the best thing to put into Christmas cookies? Your teeth!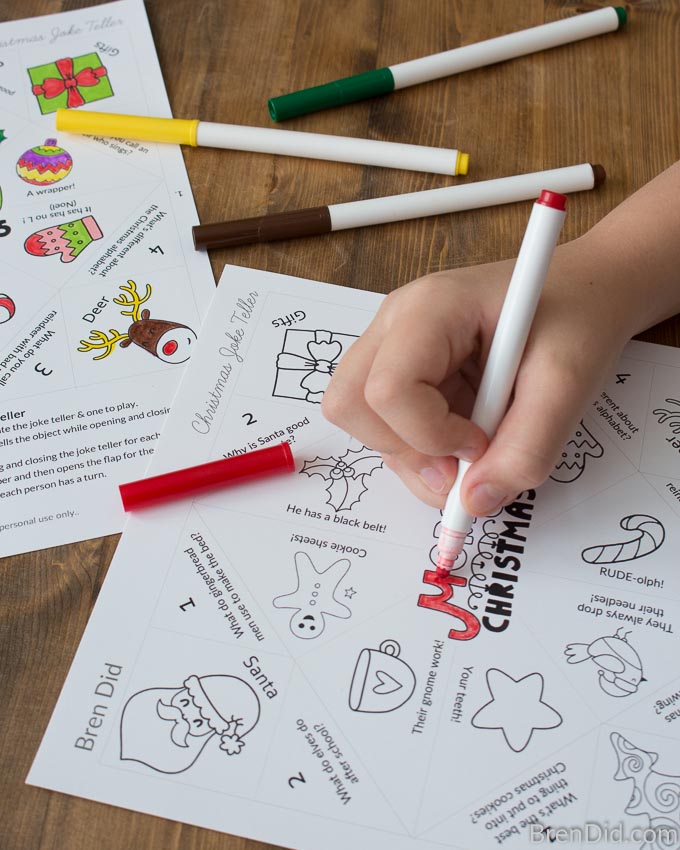 More Free Fortune Tellers
I've designed lots of fun holiday cootie catchers for kids. Check out these fun versions: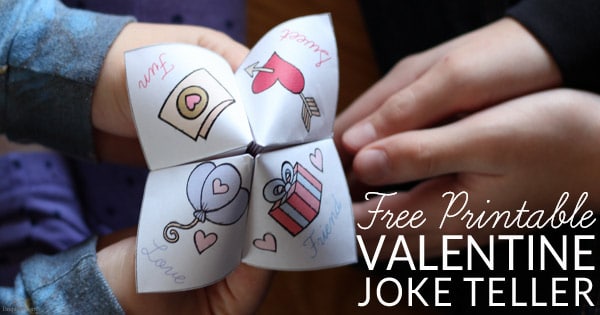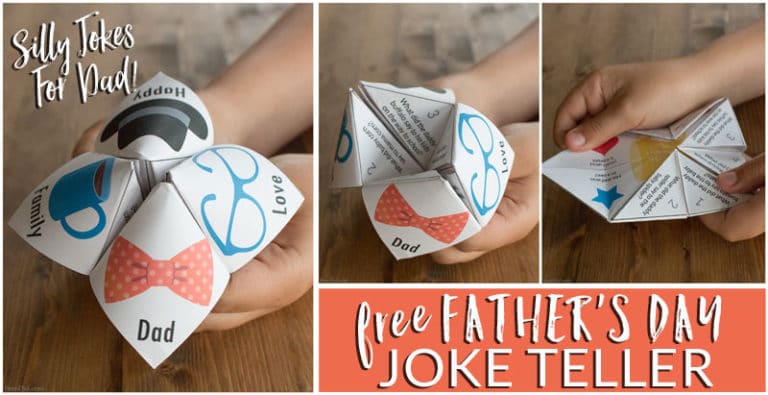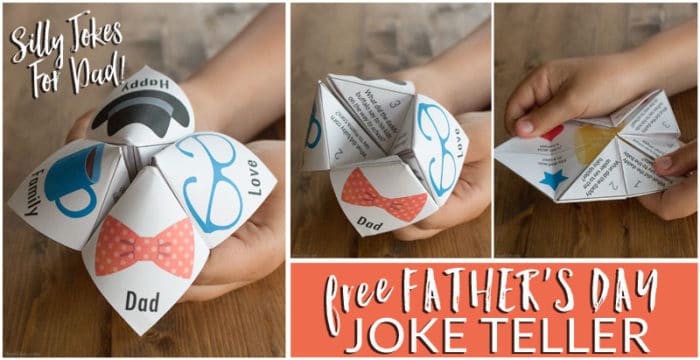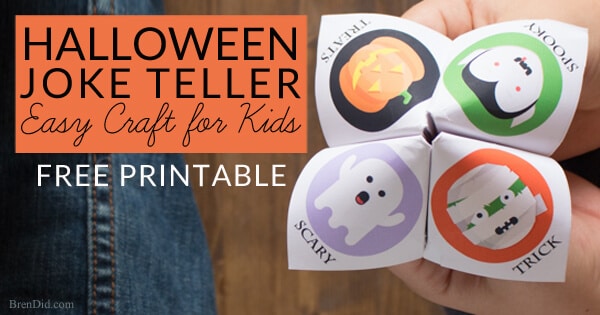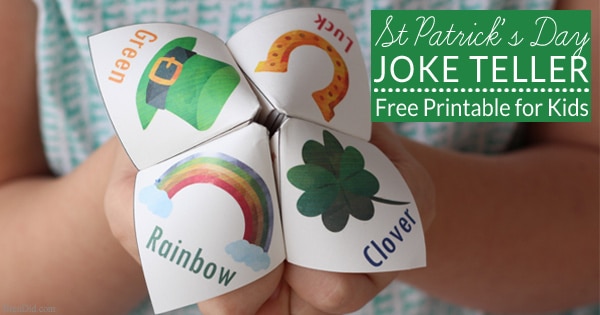 Like my free printable joke teller and other paper crafts? Sign up for my free newsletter below and never miss a thing!