Love celebrating Halloween but hate the constant focus on candy and snacks? These free printable Halloween joke tellers are a delightful Halloween treat that focuses on fun instead of food…. no candy or sugar added!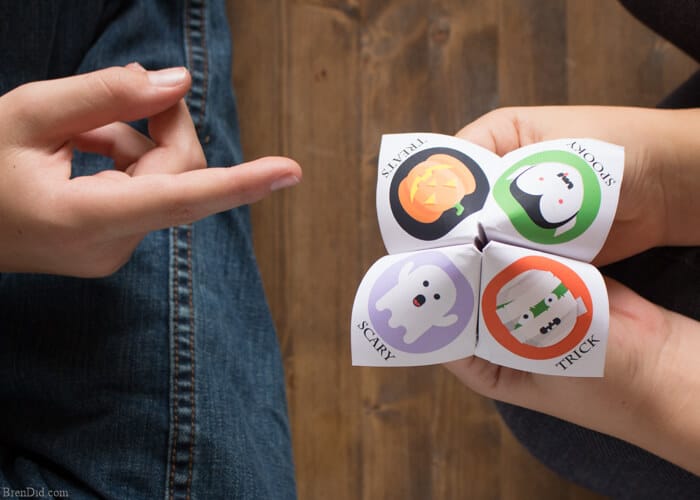 This post contains affiliate links. They don't cost you a thing, but help us bring you creative projects. Read more at Policies & Disclosures.
Type the phrase "Halloween treats for kids" into an online search engine and you're sure to come up with hundreds of captivating, sugar-filled ideas. I love the fun ideas AND sharing special Halloween treats with my kids…
But I HATE all the focus on unhealthy food and sugar filled treats.
Junk Food Overload
Is it just me or is there more and more junk food available at school each year? I remember getting a few special holiday treats or ocassional homemade birthday cupcakes as a kid, but it seems like the amount of sugar and candy treats given to my kiddos rapidly escalates from Halloween through Valentine's Day.
There are sweet treats at clubs, junk food snacks at meetings, and classroom rewards of candy almost ever-single day. Ugh!
I love my kids to have fun, but I hate constantly having to be the healthy eating police and feeling like the mean mom for saying NO!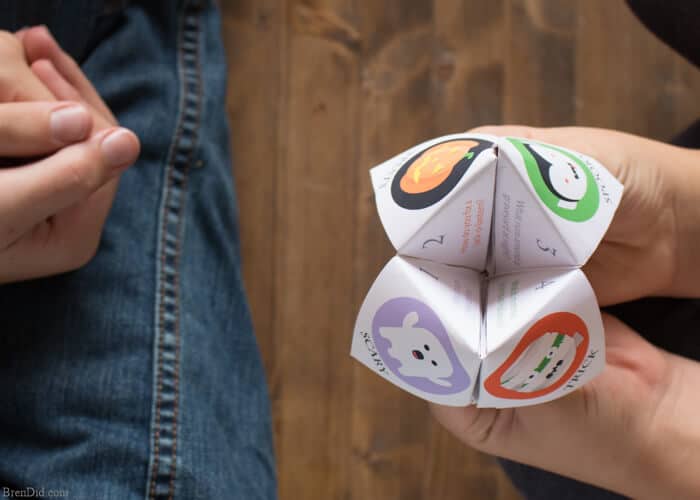 I want to thrill and delight my kiddos with special treats for the holidays without adding to the sugar overload!
Do you feel the same way about sugar? Do you want to entertain your kids without filling them with junk? Check out my adorable collection of free printable holiday cootie catchers including this fun Halloween joke teller.
Joke Tellers, Cootie Catchers or Fortune Tellers?
Joke tellers are an easy folded paper craft that kids love. The free printable project (with easy folding instructions) takes less than 5 minutes to complete. Just print and surprise your kids this Halloween… no sugar required!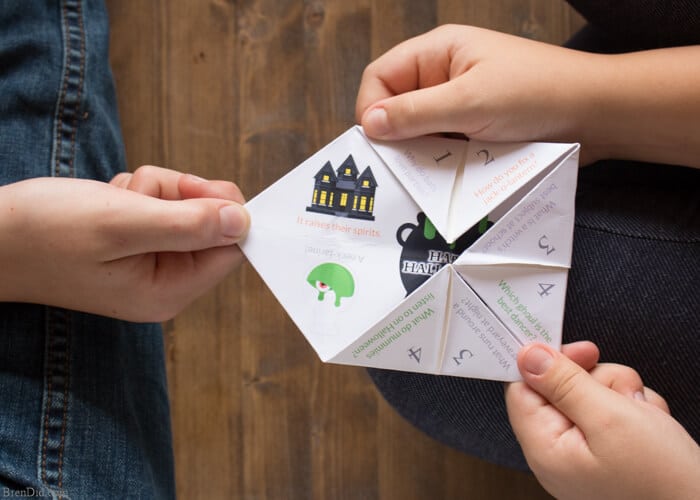 Do you remember making paper fortune tellers (sometimes called cootie catchers) in elementary school? My friends and I used to fold and decorate fortune tellers from notebook paper. They were supposed to "predict" our adult lives including the number of children we would have and our future careers.
I was reintroduced cootie catchers when my kids hit elementary school and was amazed that they are still popular! I think the appeal is in the fascinating way a piece of paper can fold into a entertaining toy.
Get the free Halloween Joke Teller here. 
How to Make Halloween Joke Tellers
Want to make Halloween joke tellers with your kids? It's as easy as 1-2-3!
1 – Get the free printable Halloween Joke Tellers with instructions HERE.
2 – Print, cut, and fold the joke teller. I like to print mine on matte photo paper for a sturdy joke teller with extra bright colors but any white paper will do!
3 – Share the silly Halloween jokes with your favorite kids.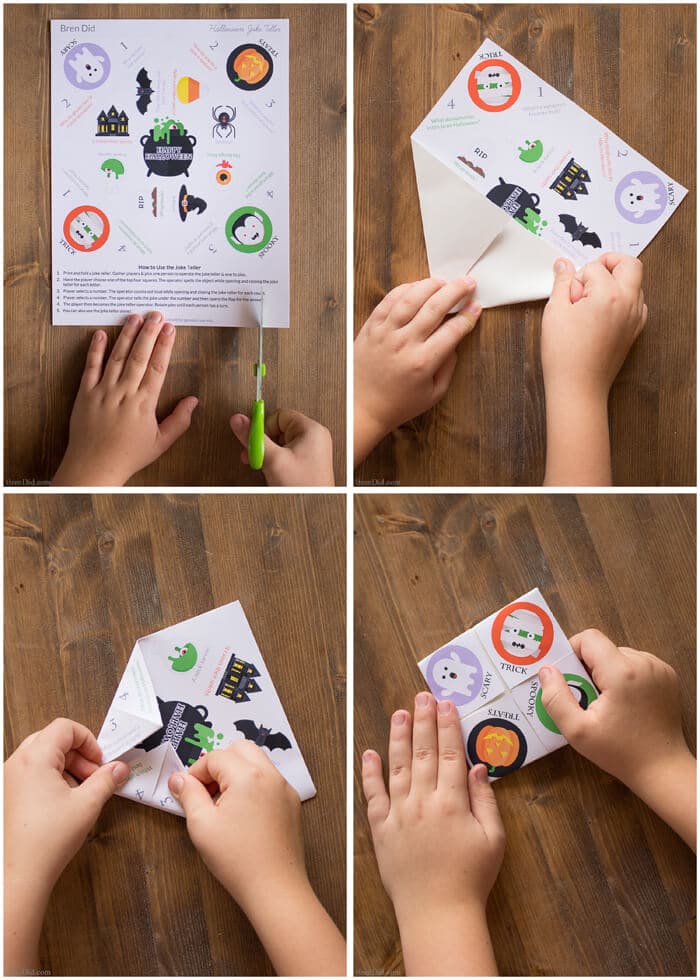 Black and White Version for Coloring
This project is popular with teachers who don't always have access (or the budget) for color copies. I've included a black and white version in the download for kids to color and use.
More Free Fortune Telllers
I've designed lots of fun holiday cootie catchers for kids. Check out these fun versions: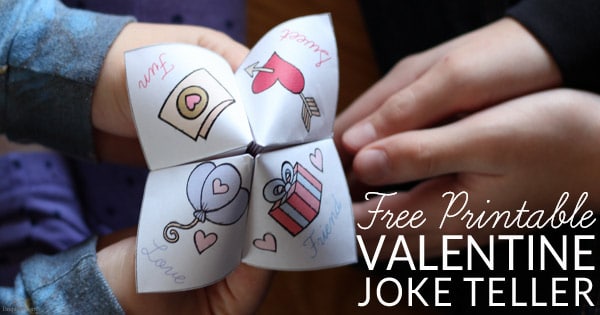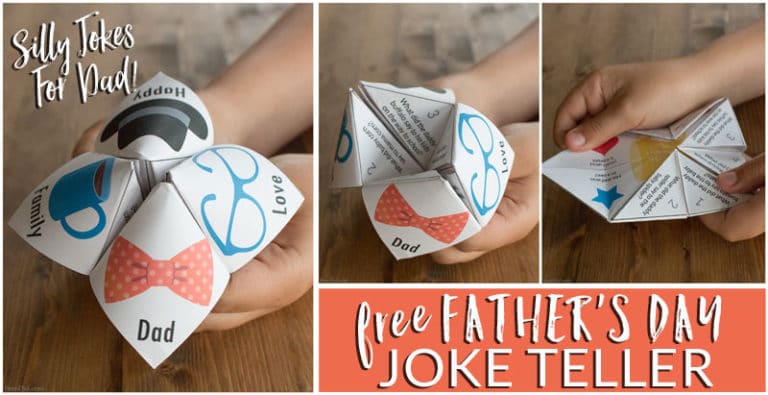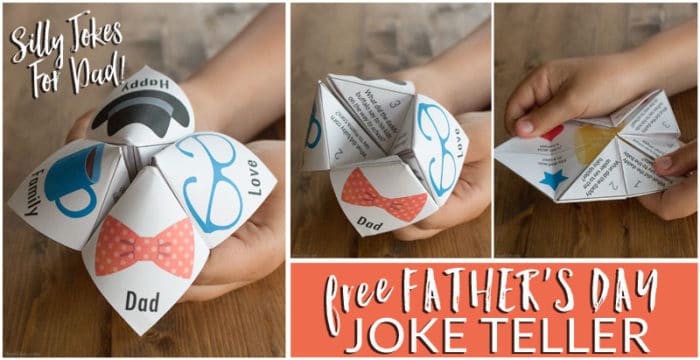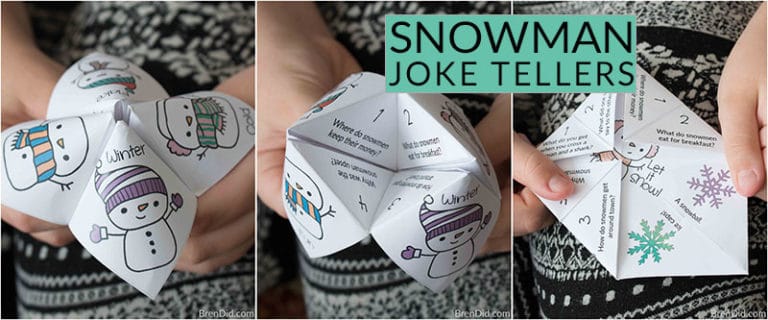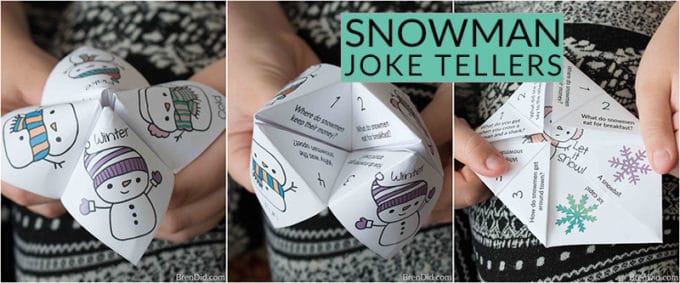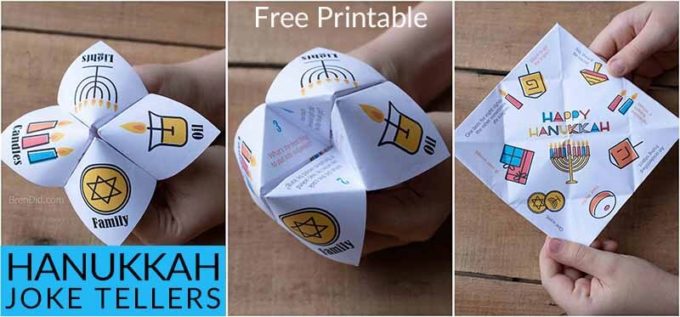 Like my free printables and paper crafts? Sign up for my free newsletter below and never miss a thing.

Looking for more sugar-free Halloween fun? Delight your kids with my easy tangerine pumpkins, Halloween fruit cups, or other healthy snack ideas.