Paper cootie catchers are a fun holiday treat for kids that contain no sugar, won't clutter your home, and can be completed in just a few minutes. Surprise the kids in your life with a St Patrick's Day joke teller this March. They are a fun way to say Happy St. Patrick's Day!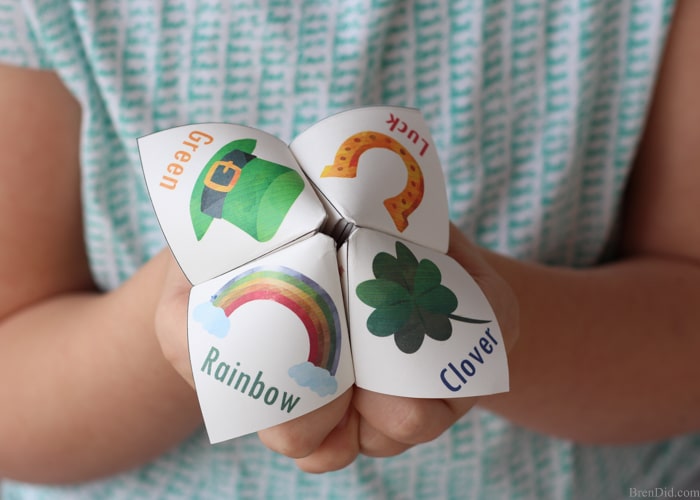 This post contains affiliate links. Read more on my Policies & Disclosures page.
Sugar-Loaded Overload
Halfway through my latest elementary school classroom party I began daydreaming that I was curled up on the sofa with a good book and a glass of wine instead of handing out candy to a noisy room full of sugar-loaded school kids.
Have you taken a gander at the St. Patrick's Day treat ideas for kids  found on Pinterest?  Most are sugary sweets that are not great for growing kids,  cheap plastic junk that clutters up their rooms (and eventually the landfill), or elaborate crafts that simply do not fit into busy parents' schedules.
What's a fun-loving mom to do?
Make a St Patrick's Day Joke Teller for kids!
What is a Joke Teller?
A joke teller is an easy folder paper craft that is a great St. Patrick's Day treat for kids. The free printable project (with easy folding instructions) takes less than 5 minutes to complete.  You can surprise your kids this St. Patrick's Day… no sugar or room cluttering junk needed!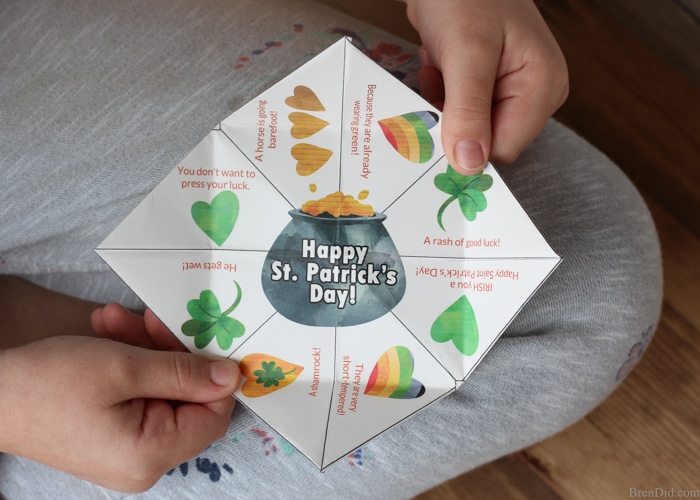 Joke Teller, Cootie Catchers & Fortune Tellers
What are cootie catchers? You may remember folding these paper fortune tellers in elementary school. My elementary school friends and I used to make them with notebook paper and colored markers. Most of the folded paper games we made were meant to predict the number of children we would have, determine our spouses, or pinpoint careers.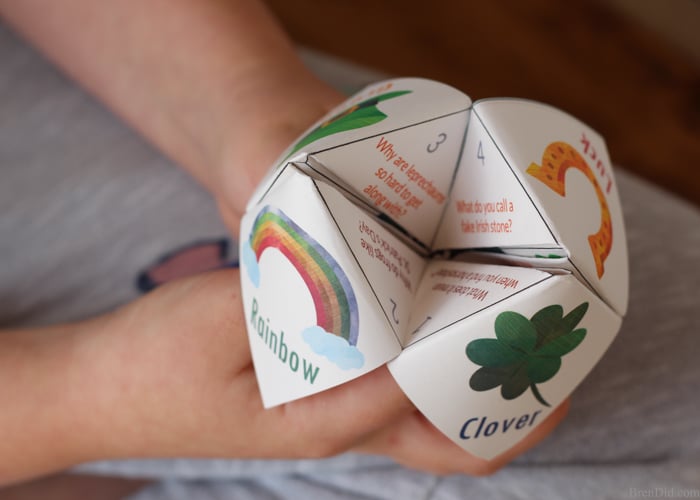 When my kids hit elementary school I was reintroduced cootie catchers (sometimes called fortune teller or joke tellers depending on where you live) and was amazed at their continued popularity. I'm not sure if the appeal is in the fun design, the colorful images, the silly jokes, or simply the mesmerizing way paper turns into a toy. Whatever the reason, there is still something captivating about these folded paper crafts.
How to Make a St. Patrick's Day Joke Teller
Want to try making a St. Patrick's Day Joke Teller for your kids? It's as easy as 1-2-3!
1 – Get the free printable St. Patrick's Day Joke Teller with instructions in my free printable library.
2 – Save the file to your computer, then print and cut out the joke teller. I print on matte photo paper for extra bright colors, it is also make the joke teller extra sturdy.
3 – Fold the joke teller & share the silly St. Patrick's Day jokes with your favorite kids.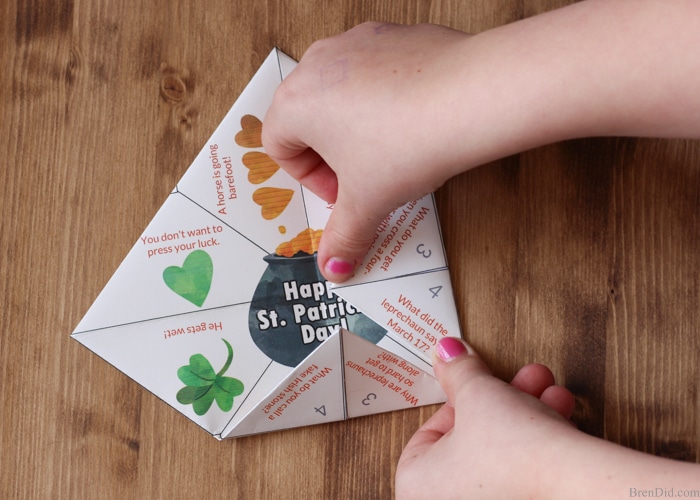 More Free Cootie Catchers
I've designed tons of other holiday cootie catchers for kids. Check out these other fun (and FREE) printables: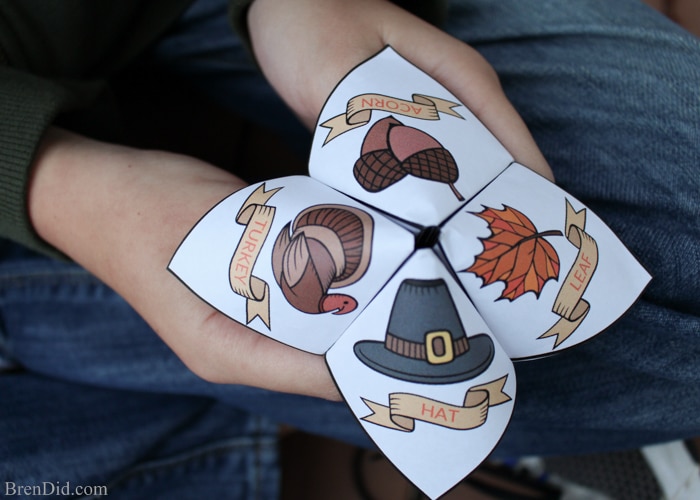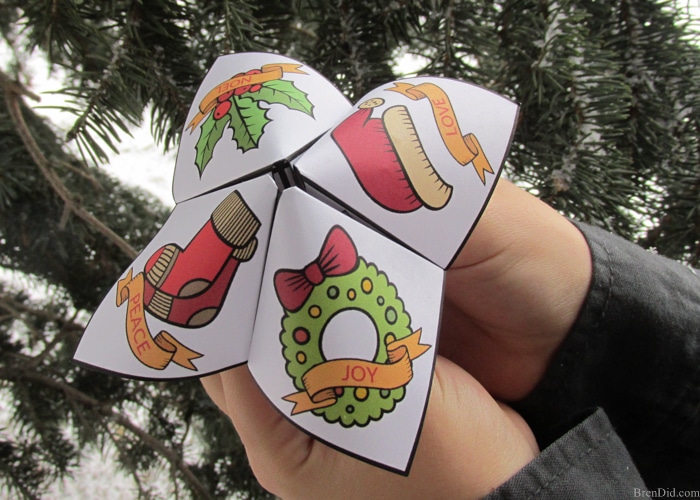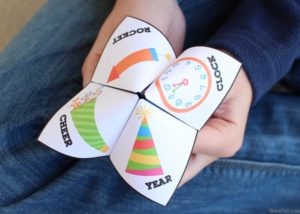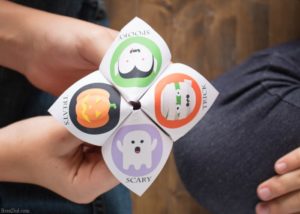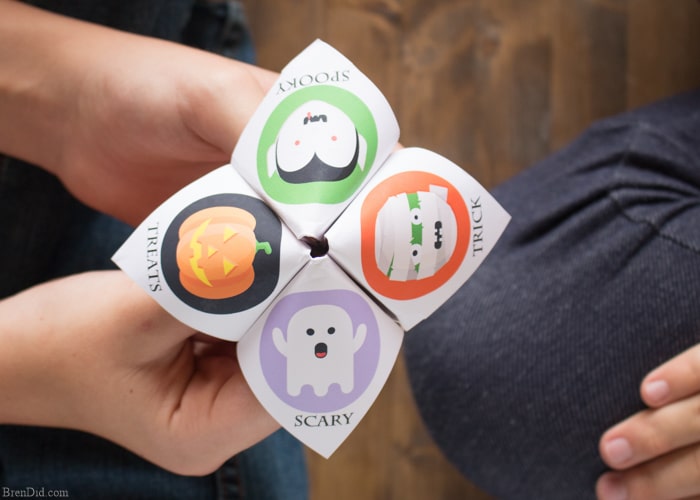 Like my free printables and easy crafts? Sign up for my newsletter below and never miss a thing. 

Looking for more St Patrick's Day fun? Delight your kids with my free printable Saint Patrick's Day Lunch Box Notes.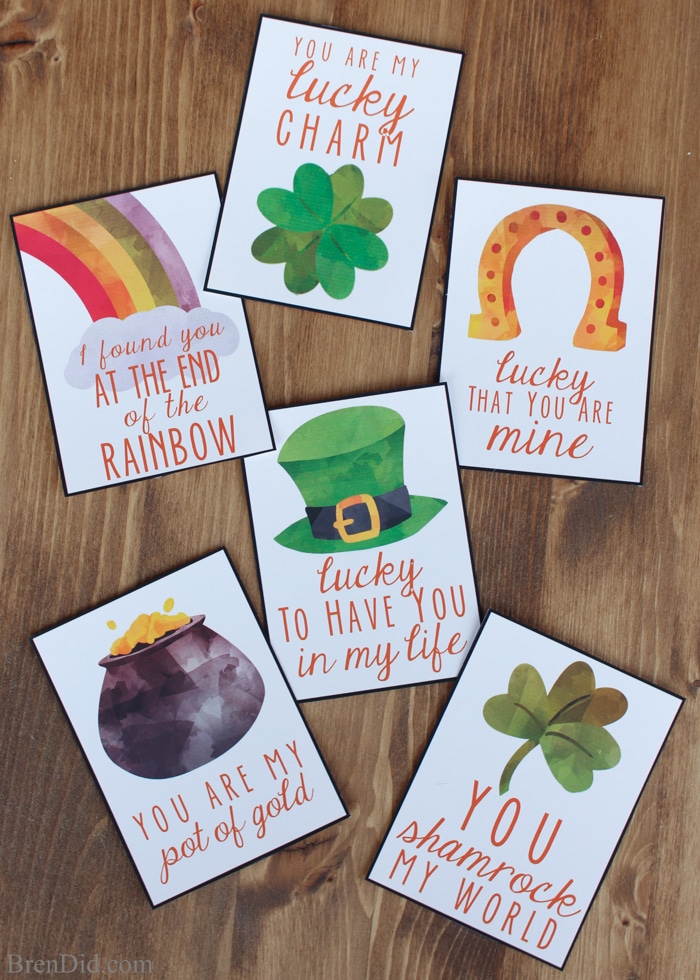 Bren Did Newsletter Subscribers Get Access!