Lemony Snicket's A Series of Unfortunate Events has come to Netflix! The hilarious but tragic series is based on the internationally best-selling children's novels by Lemony Snicket (aka Daniel Handler). Your whole family will love this dark comedy for kids, join in the fun with these free printable bookplates featuring quotes from the books.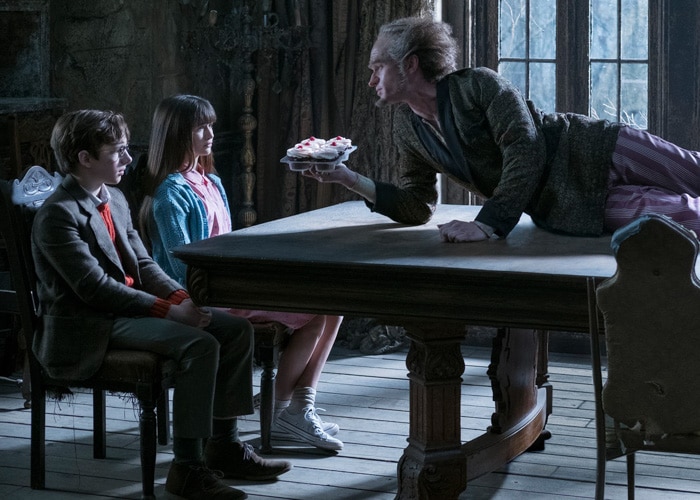 Disclosure: Netflix provided me with a streaming device and service in return for writing about their service. The opinions and free printables in this post are my own. This post uses affiliate links. Read more in Policies & Disclosures.
Learning a Sense of Humor
Did you know that children LEARN their sense of humor?
From a very young age babies respond to things that look or feel funny

For example: a silly peak a boo face or blowing raspberries on the belly

Starting in the toddler years, children begin to understand how the world is supposed to work and respond to things that have an incorrect twist

For example: putting a pair of pants on backwards or pretending to drink out of a shoe

As kids enter upper elementary school they start to grasp more sophisticated humor: situations where things are mostly wrong but still a little bit right

For example: a video bloopers show featuring a crazy bicycle crash or a movie joke about a child licking a flag pole
 
Why should we care about developing our kids' sense of humor?
Humor is an important coping skill that can ease tension and help kids deal with life's hard lessons and injustices.
Experts say a well-developed sense of humor can boost a person's immune system, contribute to a more optimistic outlook on life, increase self-esteem, and help us overcome difficulties.
And it's up to parents! Children who have a well-developed sense of humor are more likely to have parents who joke and laugh with them.
Age Appropriate Dark Comedy
I love watching my kids' sense of humor grown and develop! However, as a mom, I have found that many dark comedies with the wicked twist preteens love are TOTALLY inappropriate for their age.
I am not ready for my kids to deal with the adult themes found in many movies and television shows. It's one reason I was so excited to hear that Netflix was bringing A Series of Unfortunate Events to the screen.
It's a kid appropriate dark comedy full of slightly creepy and twisted humor that your big kids are ready for (whether you realize it or not).

 A Series of Unfortunate Events
Lemony Snicket's A Series of Unfortunate Events is the tragic tale of the Baudelaire siblings (Violet, Klaus, and Sunny), recently orphaned children who are placed in the custody of a distant relative (Count Olaf) who wants to steal their inheritance.
In each episode the children must use their wits to escape the clutches of Count Olaf and his accomplices and learn more and more about their parents.
The series brings the wacky wry world of Lemony Snicket (real name Daniel Handler) to the screen. His wonderfully books have captured the imagination of children since they were first published in1999. The 13 novels have sold more than 65 million copies and have been translated into 41 languages.
The Netflix Adaptation
If you love the Lemony Snicket novels you will be delighted with the Netflix series. It's one of the few book-to-screen adaptations that stays completely true to the original story.
Each novel is presented in two episodes. Season one covers the first four books: The Bad Beginning, The Reptile Room, The Wide Window, The Miserable Mill.
Our family is excited to enjoy the new family favorite for several more terrible seasons!
 What Makes the Show so Entertaining?
The Amazing Actors
Netflix has assembled a diverse and inclusive cast of Hollywood gems with a few talented newcomers.
Neil Patrick Harris as the evil Count Olaf
Joan Cusack as the well meaning Justice Strauss
Patrick Warburton as Lemony Snicket the narrator
Alfre Woodard as the grammatically correct Aunt Josephine
Aasif Mandvi as herpetologist Dr. Montgomery Montgomery
K. Todd Freeman as Mr. Poe the bumbling banker
Catherine O'Hara​ as evil optometrist Dr. Orwell
Don Johnson as Sir owner of the Lucky Smells Lumbermill
Louis Hynes as Klaus Baudelaire
Malina Weissman as Violet Baudelaire
Presley Smith as Sunny Baudelaire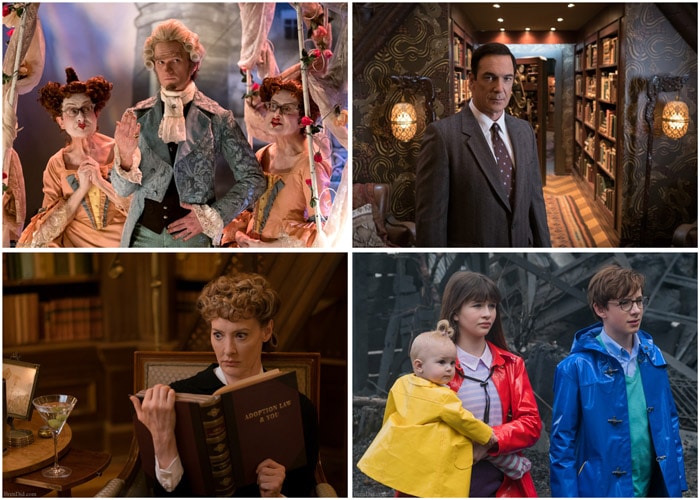 The Spectacular Writing
Daniel Handler (aka Lemony Snicket) is the author of the novels AND a primary writer of the series. This means the show include the same rich language, captivating twists, and wry sarcasm of the novels!
The tone of the series is melancholy, sarcastic, mysterious… and hilarious! (It's everything that 2004 film adaptation wasn't… hooray!)
The Gorgeous Sets
The sets from the series are beautiful and ornately detailed. From the snake inspired wallpaper in Montgomery Montgomery's home, to the elaborate library in the backyard of Justice Strauss, and Aunt Josephine's cliff clinging dwelling over Lake Lachrymose . There is so much to look at in each shot, you will find a new treasure each time you watch.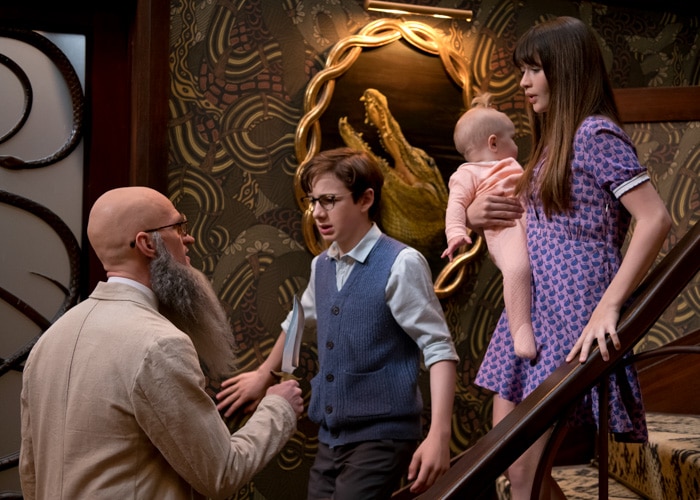 Are Your Kids Ready for A Series of Unfortunate Events?
How do you decide when your kids are ready for more the more complex dark humor of the series? Try reading the first book from the Series of Unfortunate Events (The Bad Beginning) with your family and see if your children understand the more sophisticated humor.
The books are recommended for kids ages 8 – 12 years old. If you find that your kids are a little lost when reading the book save the series for a bit, it's going to be a Netflix classic! You can show it to them when the are ready.
Free Printable Bookplates
To celebrate the launch of Lemony Snicket's A Series of Unfortunate Events  I created 12 free printable bookplates to label your favorite volumes and create your own. The label features some of our favorite Lemony Snicket quotes about reading.
Like my free printables? Sign up for my free newsletter below and never miss a thing!