Coffee is an easy teacher appreciation gift that is loved by the entire school staff. Grab a few bags or boxes of coffee then download, print, and stick-on these adorable labels. Presto… the gift of coffee for all!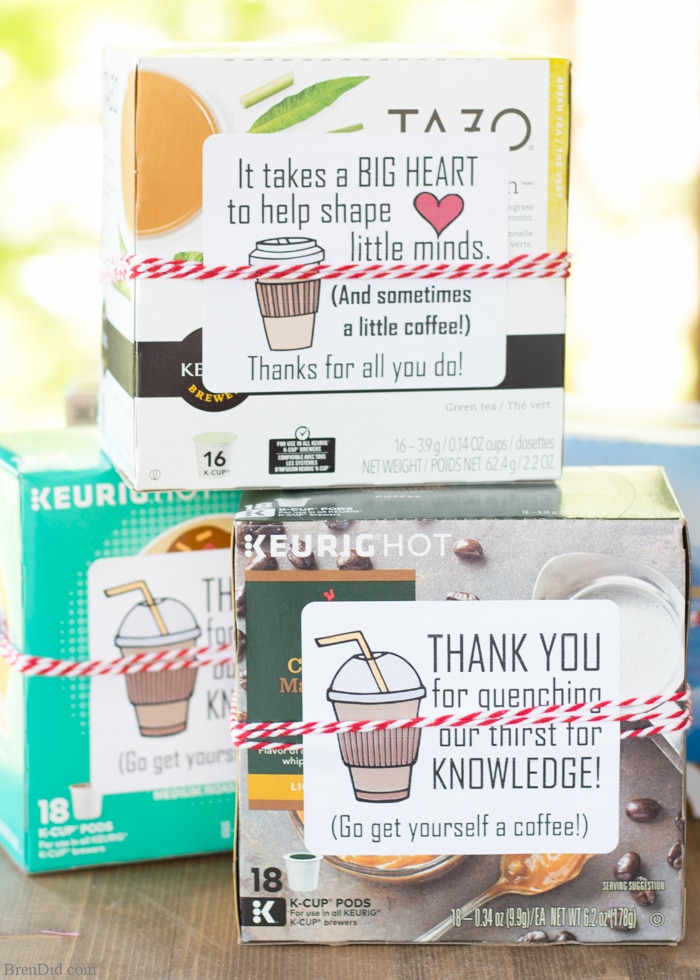 This post uses affiliate links. They don't cost you a thing and help us bring you creative projects. Read more in Policies & Disclosures.
I didn't start drinking coffee until I was an adult. I was 25, a newlywed, and had recently relocated to the Pacific Northwest. I spent my days locked in a tiny basement office with Cookie Monster Blue shag carpeting telecommuting to my Midwest office.
These major life changes, paired with the iconic foggy winter weather of the Puget Sound, were a recipe for depression… until I discovered the joy of the drive-thru coffee stand!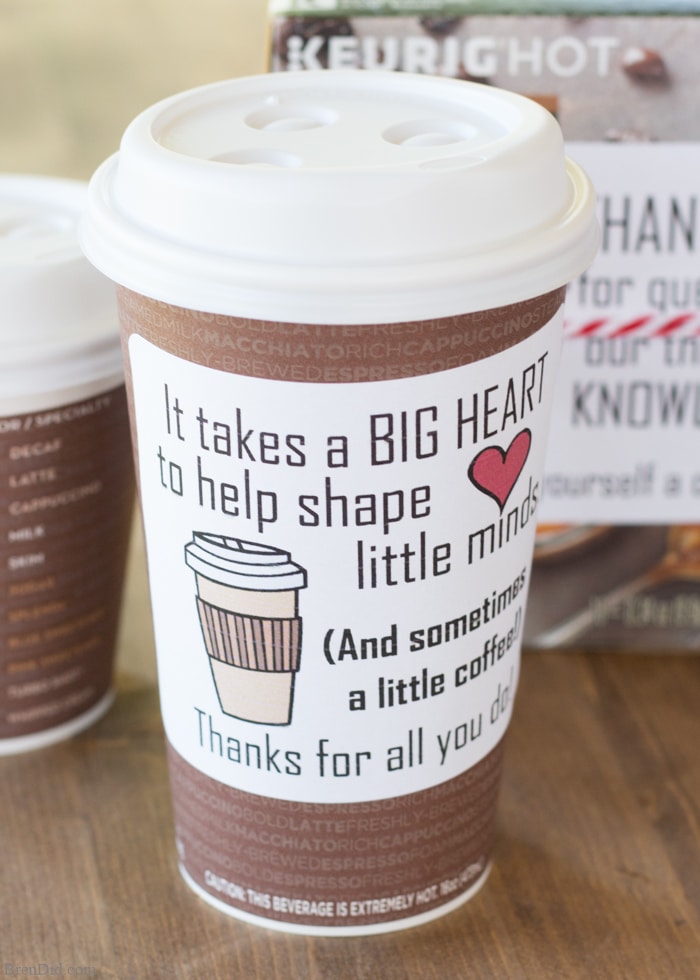 Gourmet Coffee On-the-Go
The gourmet coffee drive-thru is a Washington state phenomena that I have never seen replicated. Don't get me wrong, there are always a few drive-thru windows offering coffee wherever we live, but in Washington, especially the northwest coast, coffee stands are a RELIGION.
Our town of roughly 20,000 boasted more than 20 drive-thru coffee shops. Some were tiny stand alone shacks or VW buses perched in the parking lot of a bigger business. Some were simple sliding windows attached to larger stand-alone cafes. Some were famous chains with slick ordering intercoms and a mermaid logo. Each had a special offering, a dedicated customer base, and supremely delicious coffee.
It was in Washington that I discovered the Sugar Baby Latte, the Zebra Mocha, and the Irish Dream. These caffeinated friends got me through my first years of marriage and military life and, a few years later, my children's' toddler years when I was mostly a single parent due to deployments.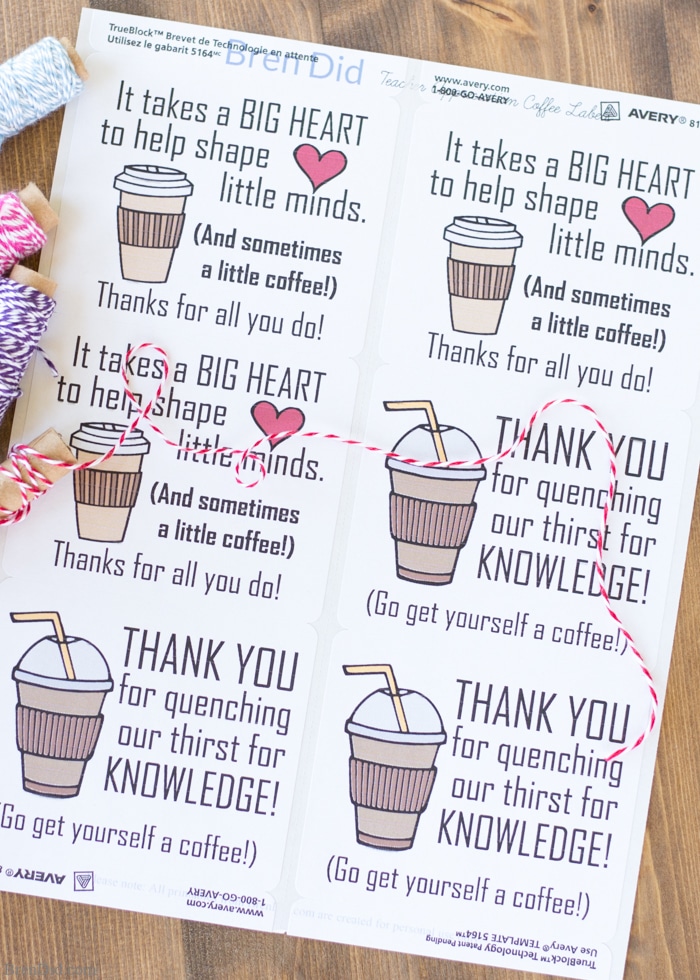 Coffee Teacher Appreciation Gift
I no longer live in Washington. Most mornings I drink black coffee brewed in my own kitchen. But I still remember the joy of the coffee stand. These fond memories may be the reason I love giving coffee as a gift: a simple DIY Sharpie coffee mug, a package of homemade coffee shortbread, or a coffee gift card. They all seem perfect for most gift-giving occasions.
(Pssst… check out this list of my favorite free printable coffee gifts for teachers. They make gift giving a snap!)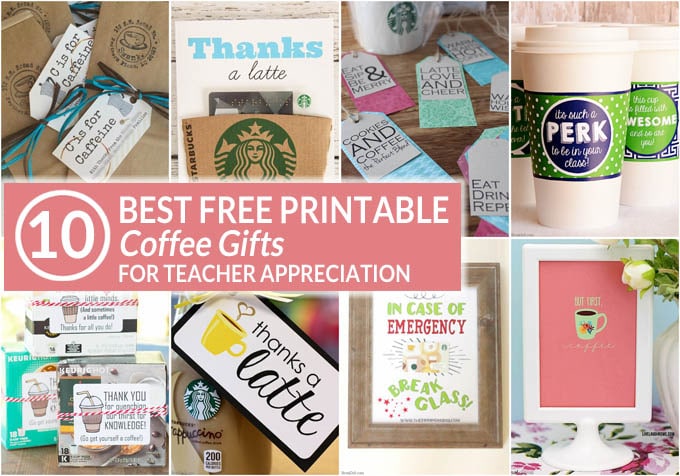 Coffee for All!
During Teacher Appreciation Week I love sending a few bags of gourmet coffee for the teacher's lounge. It helps replenish their supply and is a treat for the whole staff. This year I delivered single serve pods since our elementary school uses a Keurig coffee maker.

How to Make the Coffee Gift
Coffee is probably the easiest teacher appreciation gift you will ever make. You need a few boxes of coffee and some labels. then download, print and stick-on my free labels. Presto… the gift of coffee!
Supplies
Directions
Download the free PDF label.
Print the labels using an inkjet printer.
Stick the labels to the coffee.
Add bakers twine, if desired.
I hope this easy DIY brings a little coffee joy to your favorite teacher. If you like my easy DIY projects, sign up for my free newsletter and never miss an idea or free printable.

Love coffee and cookies? Try this amazing mocha shortbread recipe (with free gift tags).