Looking for easy and adorable coffee gifts?  These coffee gift ideas are easy to make, come with adorable free printables, and are loved by (caffeine-fueled) teachers everywhere!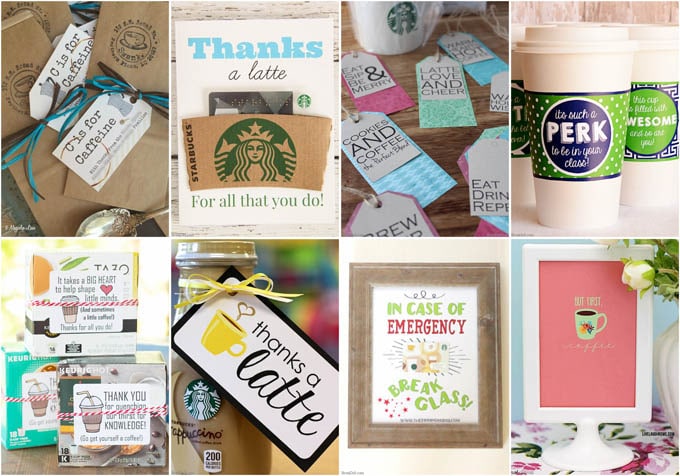 Why I Love Coffee Gifts
I love giving coffee teacher appreciation gifts for several reasons:
Coffee.
Period. (Do I need to elaborate? )
Coffee gifts are easy to scale up or down.
Everyone has a different budget for teacher appreciation gifts. A coffee gift can be as simple a cup of coffee with a fun label or as elaborate as a coffee gift basket full of coffee beans, a custom teacher mug, and mocha cookies. You set the budget and the scale.
Coffee is a thoughtful gift, even if you don't know the person well.
It can be hard to buy a teacher appreciation gift for the person who spends each day with your child… but who you might not know well on a personal level. A coffee gift card is always appreciated!
Teachers deserve a little indulgence every day.
Specialty coffee it a bit of an indulgence. I mean really, we can all drink our coffee at home straight out of the pot…  but isn't it more fun to go to the coffee shop and grab a cup that was made just for you? It's a mini indulgence and teachers deserve that special perk! (Yes, I said PERK!)
Did I mention that it's (full of caffeine) coffee?
It takes a lot of energy to deal with tiny people day in and day out. These fun gift ideas keep educators fully caffeinated!
Free Printable Coffee Teacher Appreciation Gifts
I've collected 10 (okay, 11… I couldn't pick!) of my favorite free printable coffee gifts for your gift giving convenience. Grab your favorite, print it out, and get gifting!
5 Minute Coffee Teacher Appreciation for a Crowd
Grab these free printable coffee labels from Bren Did, print them out, and stick them to boxes of coffee or coffee cups. Presto, teacher appreciation gifts for everyone!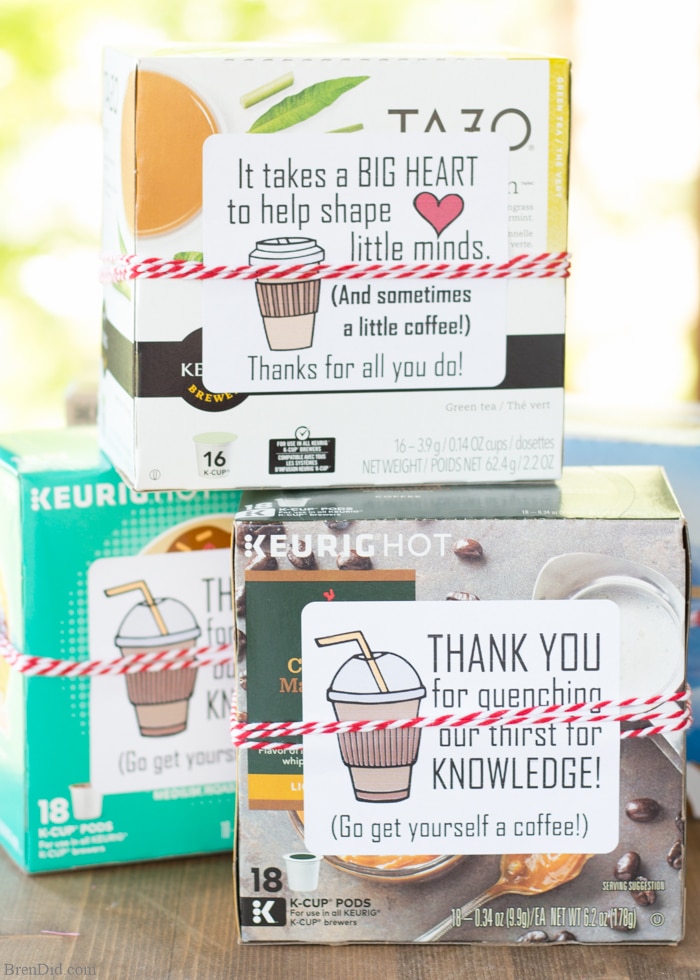 C is for Caffeine Teacher Appreciation Gift Tags
These free printable coffee gift tags with a school theme are perfect for teacher appreciation gifts. Grab the tags from 11 Magnolia Lane and give one to your favorite educator!
The Biggest Perk Free Printable Gift Card Holder
This coffee gift card holder is perfect for teacher appreciation week, Valentine's Day, or even the last day of school. Download the free printable from Skip to My Lou and add a gift card from your favorite coffee shop.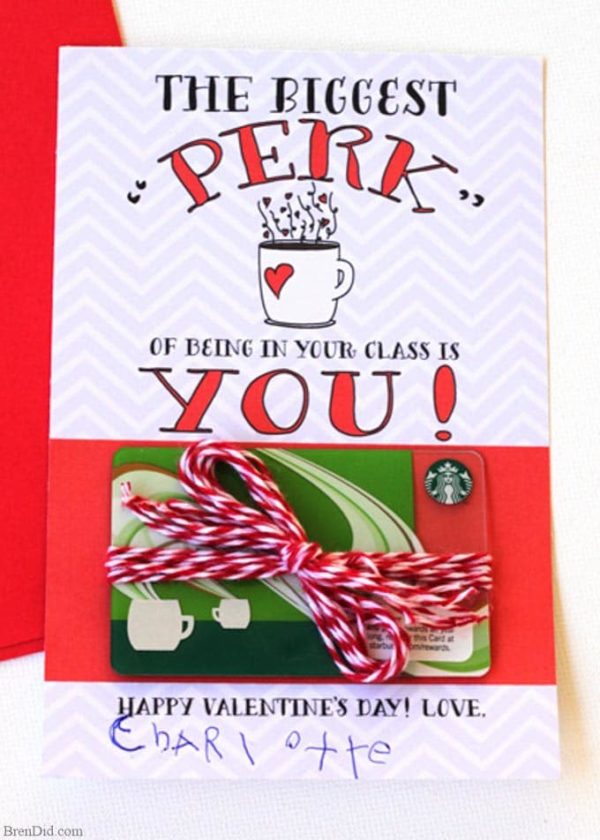 Thanks a Latte Tie On Gift Tags
This tie-on is perfect for a teacher appreciation breakfast place card or gift basket add on. Download the free printable from Kinder Craze and add it to your favorite coffee gift.
It's Such a Perk Coffee Cup Wrappers
Dress up a cup of java with these lovely coffee cup wrappers from I Should Be Mopping the Floor. I love the three different phrases on these printables ("It's such a PERK to be in your class!", "This cup is filled with AWESOME and so are you!", "Thanks a LATTE for being the best teacher ever!".)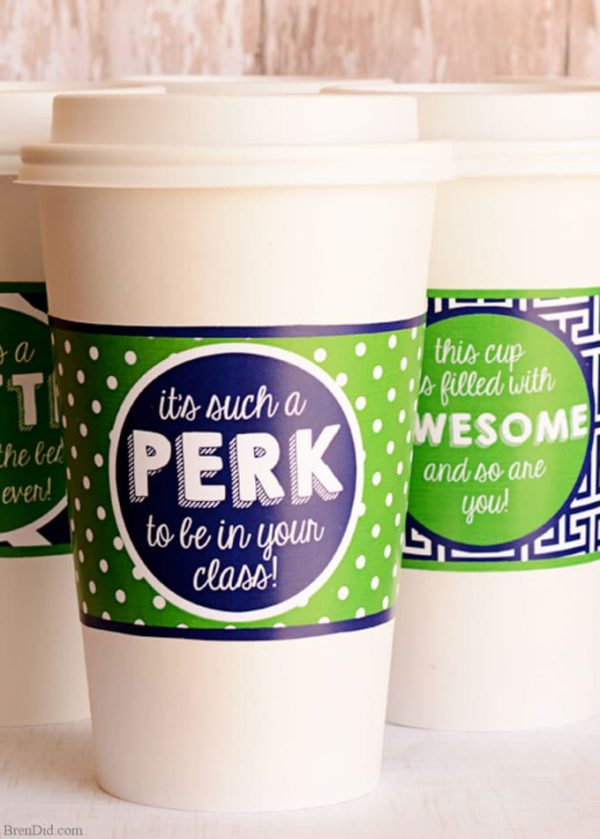 Daily Grind Gift Tags
Let's face it, it can be a LONG school year. These adorable free printables say, "Just a little something to get you through the daily grind." Soooooo appropriate as summer approaches. Grab the free printable from A Few Shortcuts.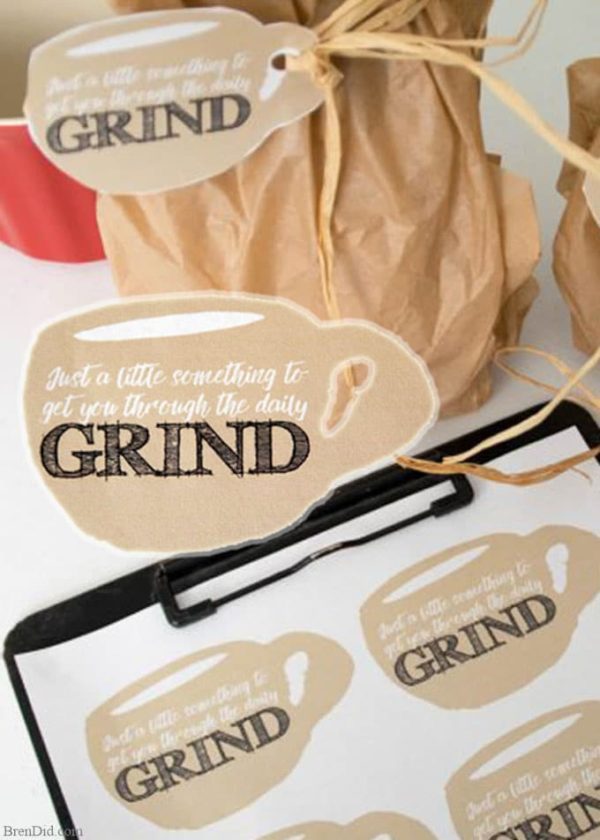 Coffee and Chocolate Shortbread Cookie Recipe with Free Printable Gift Tags
Teachers cannot live on coffee alone! This delicious mocha shortbread recipe from Bren Did come with free printable gift tags to add to your homemade gift. Eat, sip, repeat!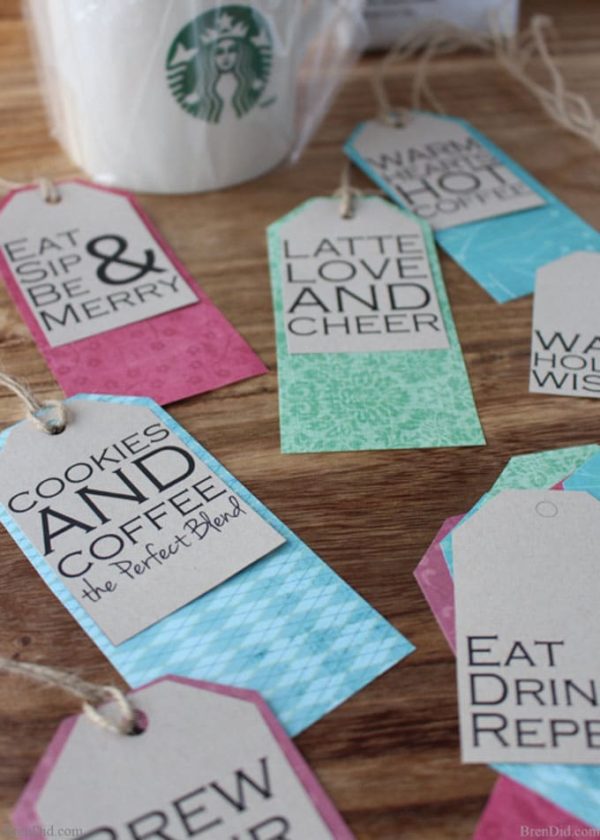 Coffee Emergency Gift Card Holder
Summer approaches…. caffeine emergency.. get that teacher some coffee stat!  Give your favorite teacher this free printable gift card holder from The Pinning Mama that is even more hilarious when added to a dollar store frame.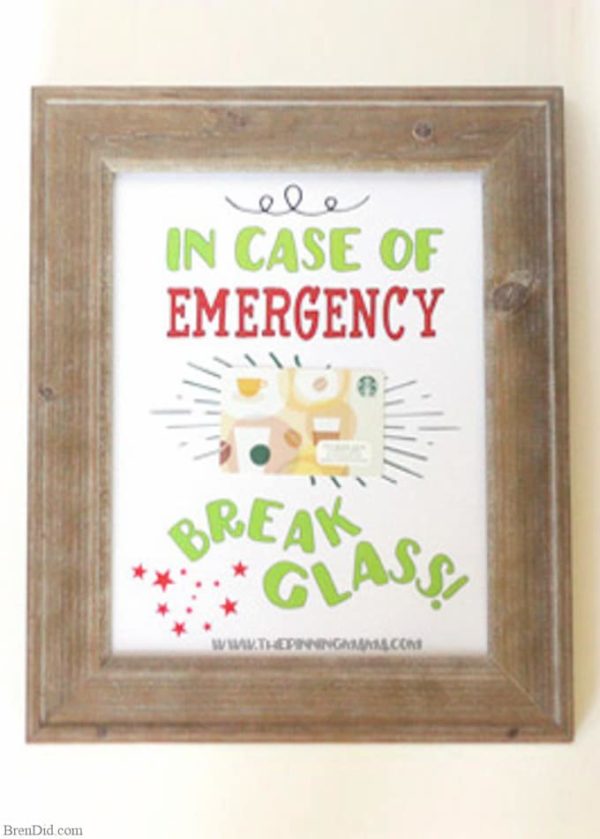 Thanks a Latte Gift Card Holder
Dress up this free printable gift card holder from Smashed Peas and Carrots with a coffee wrap (Psstt… you can pick one up for free when buying your gift card.) Score one for moms with too little time and too much on the to-do list.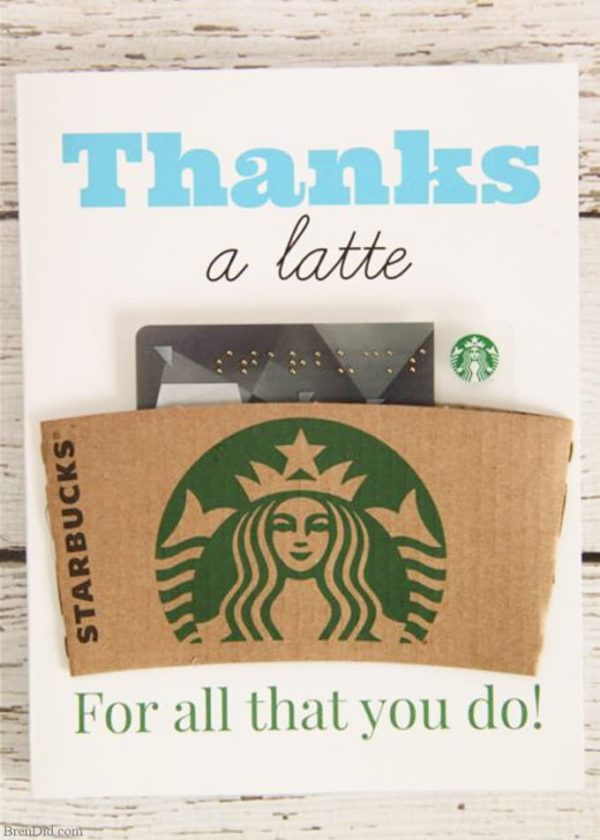 But First Coffee Free Printable Mantra
Teachers have so much to do each day…  and that day cannot begin without coffee. Add this fun, free printable morning mantra (But first, Coffee!)  from Live Laugh Rowe to your coffee teacher appreciation gift.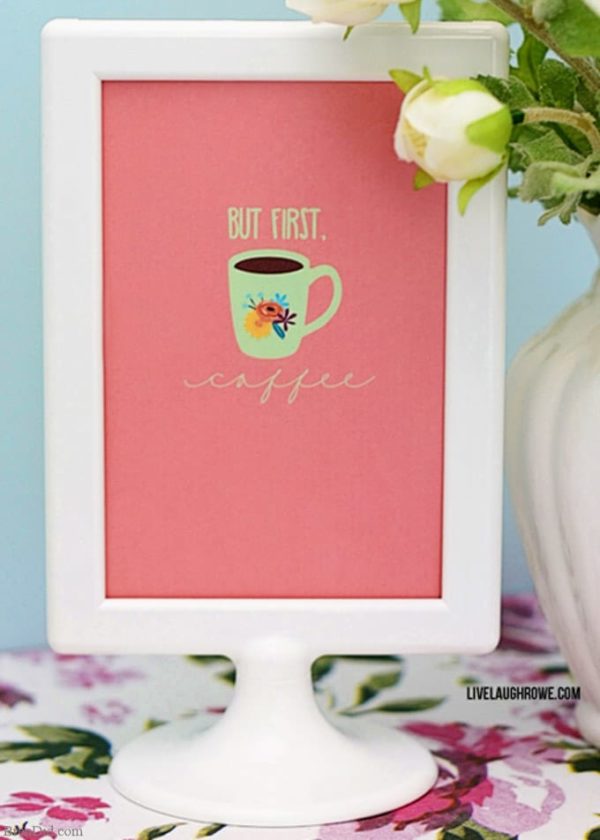 11. Good Days Start with Good Teachers Free Printable
A good teacher makes for a good class. PERIOD.  Remind your favorite teacher of their importance in the classroom with this free printable from Home Cooking Memories.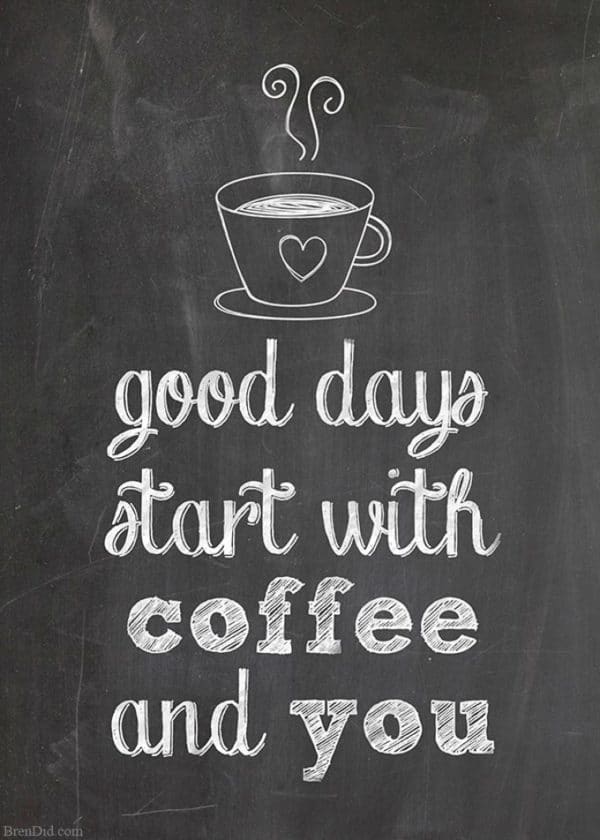 I hope these free printable coffee teacher appreciation gift ideas help you make a great teacher gift!
A special thanks to of the talented bloggers who created these beautiful printables.  You'll love exploring their blogs for incredible DIY projects and decorating inspiration.
Like my easy gift ideas? Sign up for my free newsletter below and never miss a thing!