Dress up a sack lunch this St Patrick's Day with these adorable lunch box notes. Your kids will love the thoughtful gift and you'll love surprising them with a healthy Saint Patrick's Day treat. 
This post uses affiliate links. They don't cost you a thing and help us bring you creative projects. Read more in Policies & Disclosures.
Winning Lunchtime
My best friend won the award for best lunch almost every day of elementary school.
Her lunch box contained fourth grade treasures such as a thermos of soup, delicately shaped vegetables, tiny chocolates, and a special message from her dad.
The notes were simple, often scribbled on the back of a paper napkin… but they were there in each and every lunch.
There is nothing like a reliable hello from home in the middle of the school day!

Master of the Lunch Note
My husband is the primary lunch packer at our house.
He claims no special skills in the culinary department – generally sticking to ham and cheese, peanut butter & jelly, or leftovers – but he truly shines at lunch box notes!
His lunch box enclosures are tiny humorous sketches of our family:
One lunch will find our German Shepherd piloting a World War II fighter plane
The next note will depict the children racing down a snowy mountain on one ski or competing in a swim team race.
I am the queen of creative cooking on the days that I pack school lunches. I love making turkey tortilla spirals, bento boxes of vegetables with dipping sauce, and peanut butter sushi.
But then comes the note…
While my notes contain lots of LOVE they show no artistic ability. I am crafty not an artist!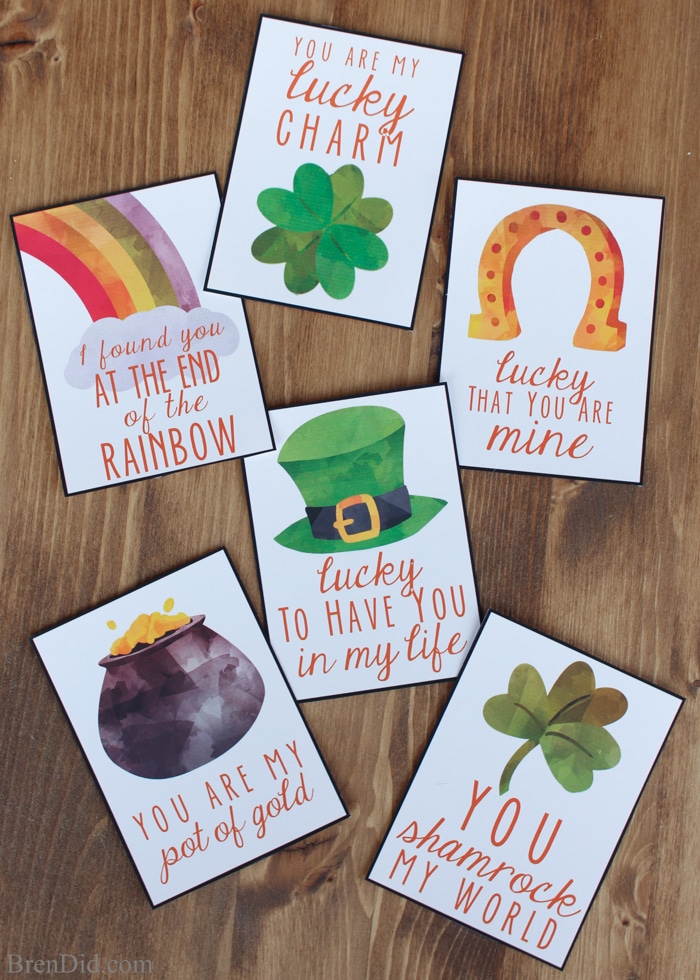 Saint Patrick's Day Lunch Box Notes
This spring you can RULE the lunch box note!
Hide these adorable free printable Saint Patrick's Day Lunch Box Notes in your kids' bags!
The miniature notes feature simple messages and colorful holiday images.
Matching envelopes and shamrock seals turn the notes into tiny pieces of mail.
Print, fold, tape… and YOU are the master of the lunch box note.
 Supplies
Directions
Print the lunch box notes. (Matte photo paper has the best image results.)
Cut out the cards and envelopes. (Print the shamrock envelopes on white paper or trace the envelope pattern onto colorful scrapbook paper for more unique envelopes.)
Score envelopes on the dotted line, fold, and secure with tape or glue.
Write a special message on the back of your favorite card and seal it in an envelope.
Surprise your kids!
Like my easy crafts and free printables? Sign up for my newsletter below and never miss a thing!