Paper cootie catchers (sometimes called fortune tellers) are a fun holiday treat for kids that contain no sugar and can be made in just a few minutes. This silly version is a Valentine Joke Teller that is full of Valentine themed jokes that are perfect for elementary school students.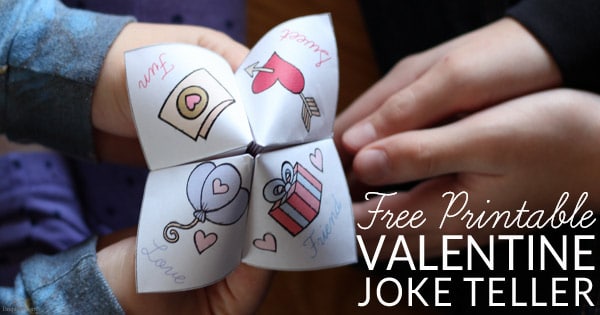 This post uses affiliate links. They don't cost you a thing and help us bring you creative projects. Read more in Policies & Disclosures.
Kids Love Jokes
Are you are corny joke lover? My kids cannot get enough of silly joke telling.
Valentine Joke #1
What did the Valentine card say to the stamp? Stick with me and we'll go places! 
I have to admit that it is all my fault (or maybe it is all my parents fault).  The simple fact is that I come from a long line of goofy, entertaining people. As a child I loved the silly jokes my dad would tell us over dinner.
My younger sister still loves to call and text corny jokes to me.  What can I say? It's a family tradition that keeps on giving!
Valentine Joke #2
What did one magnet say to the other magnet on Valentine's Day?  I find you very attractive!
I love finding new jokes for kids and can hardly wait for school pick up so I can pass them on to my offspring.  My kids also love to learn new jokes. Our bookshelves hold at least ten joke books, many dedicated to seasonal humor.
Valentine Joke #3
What kind of flowers should you never give on Valentine's Day? Cauliflowers!
This Valentine's Day I decided to combine my love of humor and paper crafts to bring you this hilariously fun fortune teller (sometimes called a cootie catcher). It is filled with eight silly Valentine jokes that are very very PUNNY.
Valentine Joke #4
What did the chocolate syrup say to the ice cream? I'm sweet on you.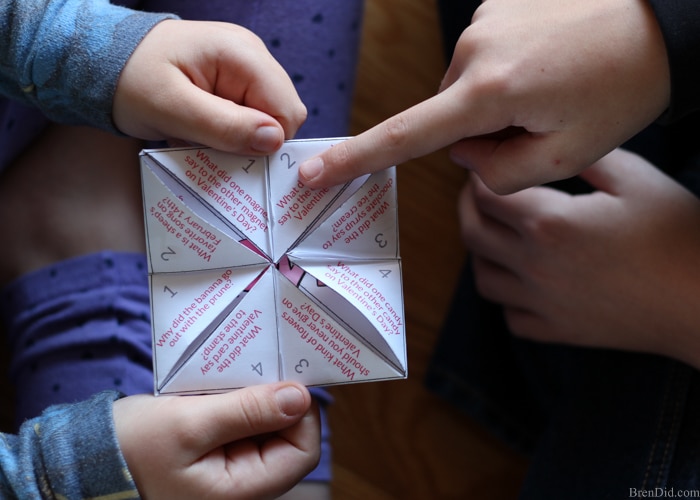 My kids were moaning and groaning with laughter when I gave them the joke teller. They concluded that the jokes were SOOOOO BAD that they were good.
I promise that your kids will love them too!
Valentine Joke #5
What did one bird say to the other bird on Valentine's Day? Let me call you Tweet heart! 
Non Candy Valentine Treat
Valentine joke tellers make the perfect surprise gift in a lunch box, a great non-candy Valentine for school parties, or even a fun family activity.
Valentine Joke #6
What is a sheep's favorite song on February 14th? I only have eyes for ewe.
Free Printable Valentine Joke Teller
Making joke tellers is as easy as 1, 2, 3!
Grab the free printable joke teller in the free printable library and save it to your computer
Print the file on matte photo paper for extra bright colors (it is also extra sturdy).
Fold and start your own family tradition of silly holiday jokes!
MORE FREE COOTIE CATCHERS
I've designed several holiday cootie catchers for kids. Check out these other fun (and free) printables: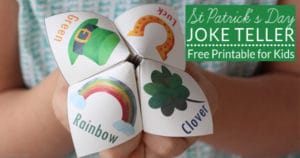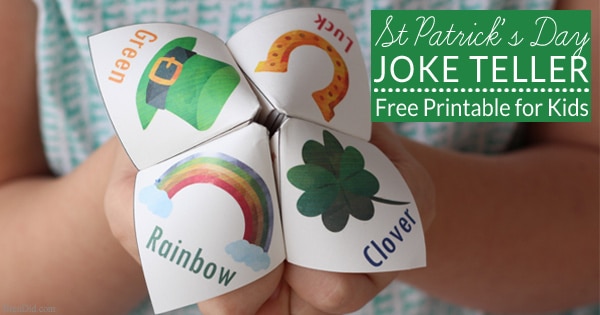 Like my free printables? Sign up for my newsletter below and never miss a thing! 

Bren Did Newsletter Subscribers Get Access!