Hanukkah joke tellers are full of silly Hanukkah jokes that are sure to bring a smile to kid's faces. Grab the free printable for fun Hanukkah gifts or simple Hanukkah crafts!
This post uses affiliate links. They don't cost you a thing and help us bring you creative projects. Read more in Policies & Disclosures.
Fortune Tellers, Cootie Catchers, or Salt Cellars?
Did you ever make paper fortune tellers (sometimes called cootie catchers or salt cellars) as a child? I remember making the fun folded paper game in elementary school
My friends and I would fold and decorate sheets of notebook paper into fortune tellers to "predict" our adult lives. We would fill the flaps of the games with answers to silly questions about who we would marry or our future careers.
It was the perfect entertainment for snowy indoor recess days!
I was reintroduced to fortune tellers when my kids hit elementary school and was amazed at their continued popularity.
I mean, really…. how can a sheet of paper compete with high-tech toys?
Silly Jokes for Kids
When my kids were in elementary school they could not get enough of silly joke telling. They loved entertaining their grandparents with new jokes and groaned with laughter whenever they heard a terrible punchline.
The memories of those silly evenings full of laughter still bring a smile to my face!
This winter I decided to combine my love of goofy jokes and fortune tellers to bring you holiday joke tellers! This simple Hanukkah craft is filled with eight (8) silly Hanukkah jokes that kids love:
What's the difference between Hanukkah and a dragon? One lasts for eight nights the other sometimes ate knights
Why was the broom late for work after the Hanukkah party? It over-swept.
How much Hanukkah gelt did the little skunk get? One scent.
What do you call the speck that falls into the latke pan? An unidentified frying object.
What's the best thing to put into sufganiyot? Your teeth!
What did the cook say when he was asked if the latkes would be long? No, they'll be round.
What did the car say to the dreidel? Want to go for a spin?
What did the candles say when the menorah complained about getting too hot? Whoa, a talking menorah!
Simple Hanukkah Gifts
Another thing I love about joke tellers? They are the perfect little treat for kids and take almost no time to make!
They are free.
They contain no sugar.
They can be made in just a few minutes.
They make simple Hanukkah gifts that kids love!
Score one for MOM!
Get the free Hanukkah Joke Teller here. 
How to Make Hanukkah Joke Tellers
Making joke tellers is as easy as 1, 2, 3!
Grab the free printable joke teller here and save it to your computer.
Print the file on matte photo paper for extra bright colors (it is also extra sturdy).
Fold and start your own family tradition of silly joke-telling!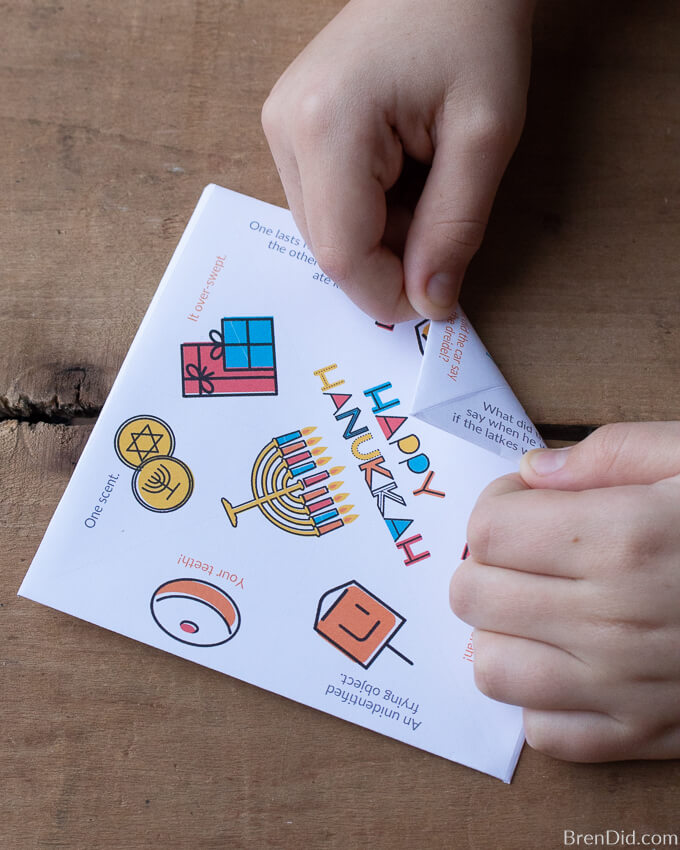 Black and White Version to Color
Joke tellers are popular with teachers and room parents who don't always have access (or the budget) for color copies. The black and white version can be printed for kids to color and fold. It contains the same fun jokes and graphics!
More Free Fortune Tellers
I've designed lots of fun holiday cootie catchers for kids. Check out these fun versions: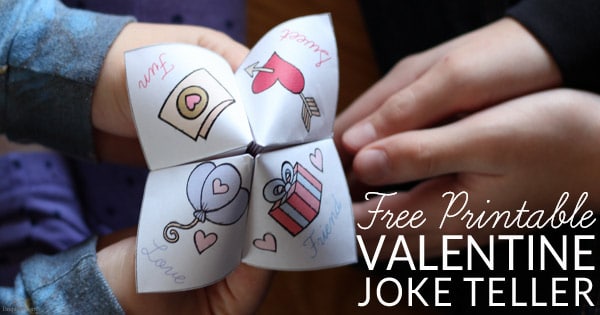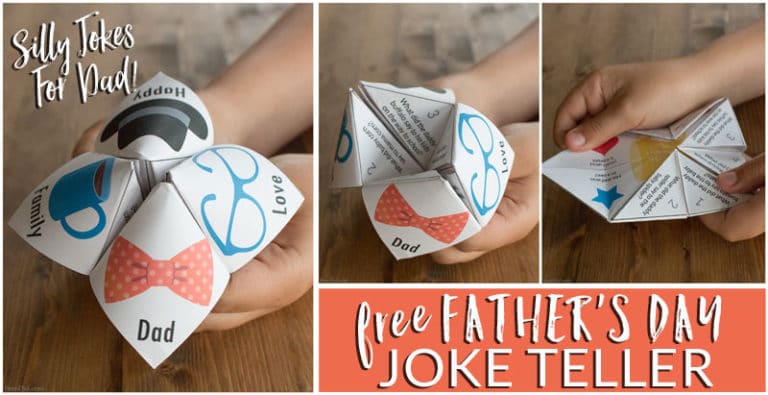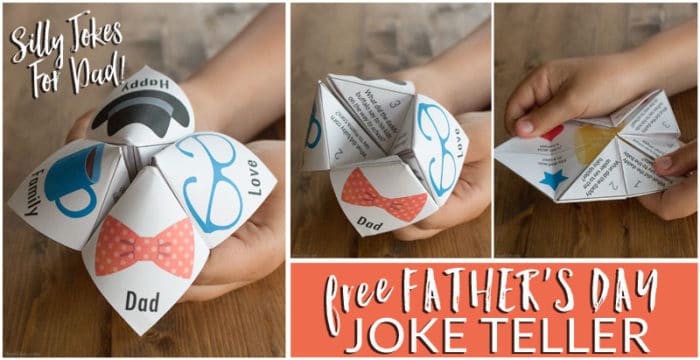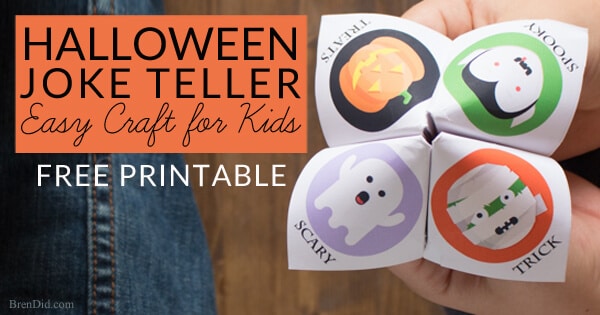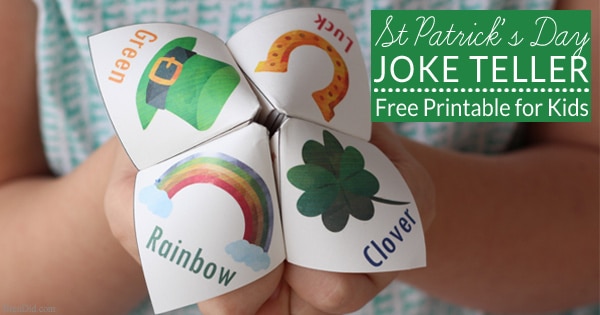 Like my free printable joke teller and other paper crafts? Sign up for my free newsletter below and never miss a thing!