Felt bows are the perfect Christmas present topper. They're reusable and make any gift look expensive. These 10 simple felt bow tutorials will make your presents shine this holiday season.
This post uses affiliate links. They don't cost you a thing and help us bring you creative projects. Read more in Policies & Disclosures.
Picture this classic Christmas morning scene…
The kids are up at dawn ready to see what Santa brought during the night. You grab a cup of coffee as everyone dashes to the tree and get just a moment to take it all in:
the glowing Christmas tree…
     the twinkling lights…
          the shining ornaments…
               the piles of beautifully wrapped presents…
                    And just like that wrapping paper, bows and ribbons are flying everywhere as the kids rip into their gifts with squeals of excitement and laughter.  
It's one of my favorite parts of Christmas!
My not-so-favorite part? 
Gathering up the giant mounds of crumpled wrapping paper, smushed bows, and plastic ribbon. Honestly, I'm always amazed that we can make so much trash is such a short amount of time.
Reusable Christmas Bows
Last year I decided to cut down on the plastic waste and started making reusable Christmas bows from felt. 
On Christmas morning I admired all the beautifully wrapped packages and loved knowing that there would be less trash to discard.
DIY Felt Bows for Christmas
This year I'm taking my bow making up a notch… I decided to  branch out from my classic Christmas gift bows and explore even more fabulous felt bows.
These are just a few examples of the wonderful bows you can make with just a bit of felt and some glue.
Poinsettias

Mistletoe

Holly

Mums

Traditional package toppers

Peppermint candy
How to Make Felt Bows
These 10 simple tutorials show you how to make felt bows using just glue and craft felt. Try making some for your Christmas gifts!
Classic Felt Bows for Christmas from Bren Did – Classic and beautiful, these are the felt bows I make each year. The easy instructions and free printable felt bow template make them a go-to for all your Christmas packages.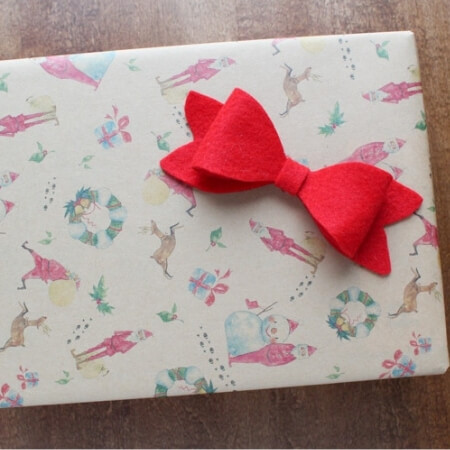 Peppermint Swirl Bows from DIY Candy – This easy tutorial makes peppermint candy bows that look good enough to eat.  They're a fun addition to any package and can double as an adorable hair bow or ornament!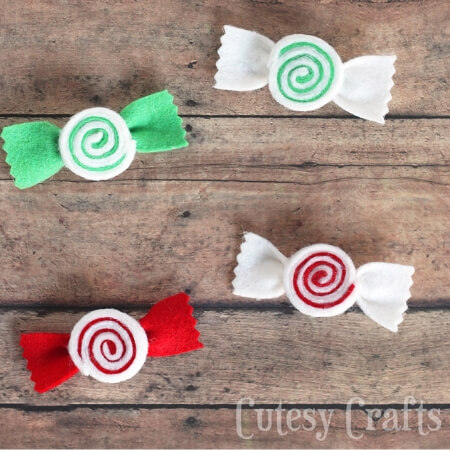 Simple Felt Bows from Everything Etsy – Add a pop of color to your Christmas gifts with these quick and simple bows.  Grab a ruler, colorful felt, and a glue gun to create these easy felt bows.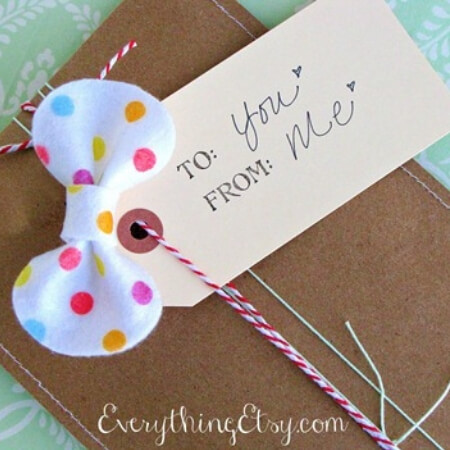 Felt Mum Bows from Better Homes and Gardens – Flowery, frilly bows will add whimsy to any gift! Make these festive holiday bows for glamorous package toppers or bunch a dozen together for a fun Christmas wreath.                                  
Traditional Felt Gift Bows from Apple Green Cottage – Traditional style ribbon bows are an iconic way to decorate presents for Christmas, birthdays or any other special occasion. Make a colorful assortment of these bows and use them to decorate gifts year round.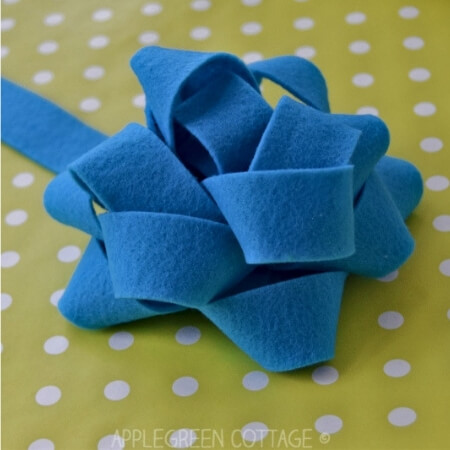 Holly Bows from Wild Olive – Holly is a classic symbol of Christmas. Recreate beautiful holly leaves with this easy tutorial from Wild Olive for felt bows that bring a touch of nature to Christmas gifts.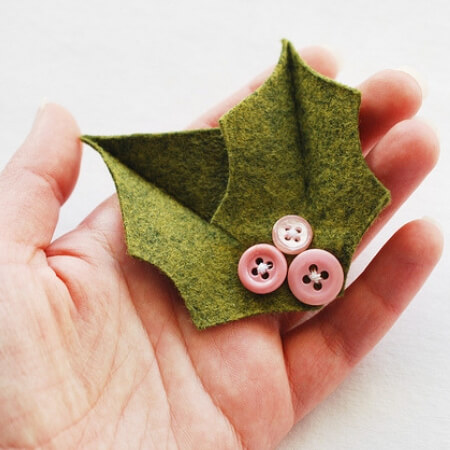 Iconic Bows from Damask Love –  Felt makes excellent

Christmas bows for wreaths

or gift boxes.  Add a clip and you'll have a classic hair bow any little girl would love.                  
Poinsettia Felt Bows from Better Homes and Gardens – The elegance and beauty of poinsettias are replicated with felt flowers in this easy project. Create a winter garden by using a variety of red, pink or white felt.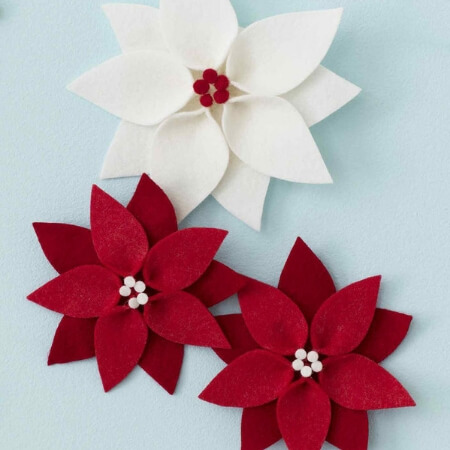 Petite Felt Bows from Kiki & Company – Petite felt bows are the perfect addition to stocking stuffers and small packages. Learn

how to make small felt bows

with this easy tutorial from Kiki & Company.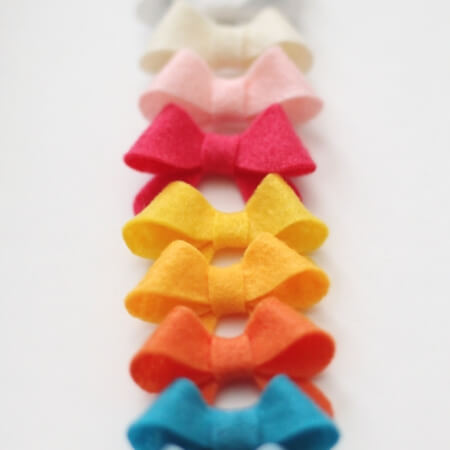 Mistletoe Felt Bow from Stay at Home Artist – Get ready for a smooch when you give a gift wrapped with a mistletoe felt bow.  Get the free template from Stay at Home Artist and you'll be on your way to Christmas kisses!
Felt Bow Making Tips
There's nothing like a beautifully wrapped Christmas gift. Learn how to make a bow out of felt for the perfect reusable finishing touch!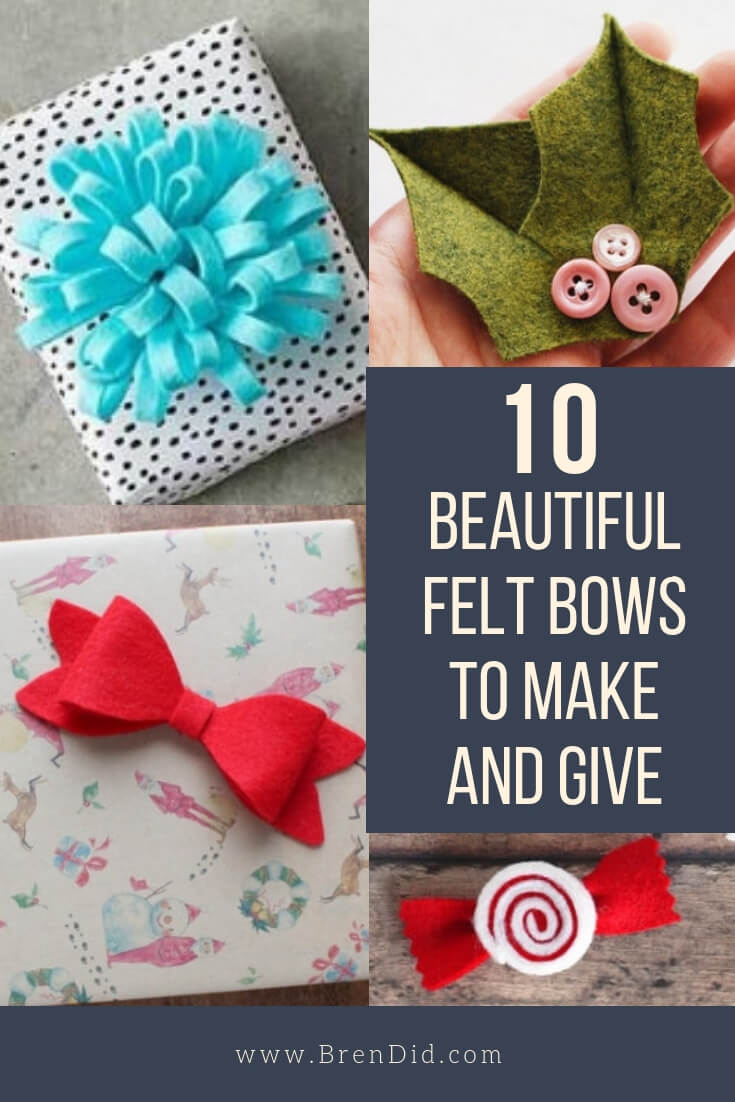 Love my simple craft ideas and free printable patterns? Sign up for my free newsletter below and never miss a thing!