Homemade enchilada sauce  is easy to make and tastes much better than sauce from a can. In just 5 minutes you can have UNBELIEVABLY good enchilada sauce that makes delicious Chicken Enchiladas.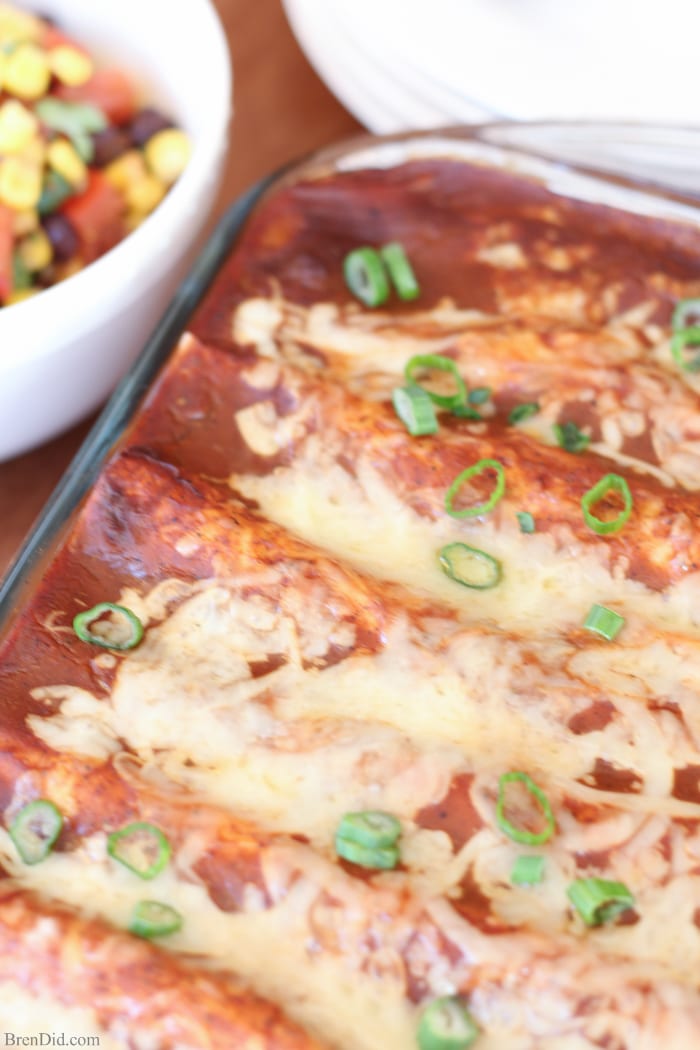 "How about quesadillas?" my husband suggested.
We stood in the kitchen contemplating our dinner choices after attending a day long swim meet. It was five o'clock, everyone was tired and hungry. I was determined not to order pizza since the kids had already consumed more than their fair share of unhealthy treats while waiting for their swim events.
"Or we could make tacos," he continued.
I may have visibly cringed.
You see, my wonderful spouse has suggested Mexican food as a dinner option more than a thousand times during our marriage. Seriously. We have been married for 5935 days and by my estimate he has suggested Mexican food at least one-third of those nights.
SERIOUSLY. One out of three nights. Give a girl some variety!
Cooking as Self-Defense
Is my hubby typical? Does your partner have an unshakable food preference? At the beginning of our marriage I thought the taco suggestion was just an off-handed remark he was in the habit of making, but after a few years I realized it was simply the truth.
My darling husband would eat Mexican food morning, noon, and night if it were available. His tastes are so reliable that I can predict his order in a restaurant if it has ANY offerings containing Mexican chorizo or green chilies.
What's a girl to do? It was either starve or learn how to cook delicious Mexican food. It was self-defense cooking, really. I could not take one more night of the bright yellow Mexican meal kits or sodium filled packets of taco seasoning my new husband was happy to prepare and consume.

Preparing Mexican Food from Scratch
A friend introduced me to online recipes and I was hooked. I searched through bazillions of sites for inspiration and began cooking simple Mexican dishes with basic spices and fresh ingredients.
It was a light bulb moment for this Midwestern girl. (As my dear friend Oprah would say!)
Mexican food could be delicious without being smoothed in nacho cheese sauce or coming from a mix that was loaded with salt. My cabinets began to fill with giant dispensers of chili powder and cumin. We started eating homemade Mexican food several nights a week.
Mexican Food Basics
Fast forward 15 years and I am still cooking lots and lots of Mexican inspired meals. Most of our favorite Mexican recipes are simple to prepare.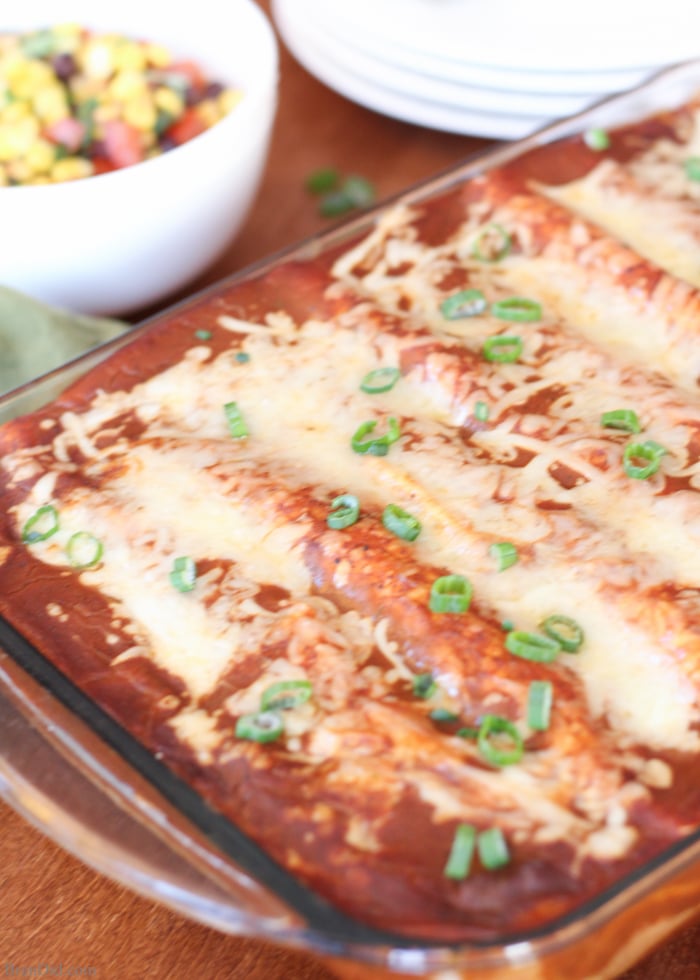 Homemade Enchilada Sauce
Homemade Enchilada Sauce was the Mexican food discovery that TOTALLY blew me away. I had been making enchiladas for years but had always relied on canned sauces not realizing that red enchilada sauce was simple to make.
It's true!  Red enchilada sauce uses only a few basic ingredients and produces FAR superior results to store-bought canned sauce.
This quick Homemade Enchilada Sauce turns your favorite combination of meat and cheese (or rice and vegetables) into an enchilada masterpiece! It tastes much better than prepacked sauces from the grocery store and also has far less sodium and no unnecessary additives.
Print
Homemade Enchilada Sauce
Author:

Prep Time:

2 minutes

Cook Time:

4 minutes

Total Time:

6 minutes

Yield:

5 cups

1

x

Category:

Dinner

Method:

Stove top

Cuisine:

Mexican
---
Description
Easy and delicious red enchilada sauce. This simple recipe tastes much better than sauce from a can and takes just 5 minutes to prepare. You'll never go back to the store-bought, overly processed sauce again!
---
5 tablespoons

chili powder

1/2 cup

unbleached all-purpose flour

2 tsp

dried oregano (crushed)

1 tsp

cumin

1 tsp

garlic salt

5 cups

cold water

1

15 oz can tomato sauce
---
Instructions
Mix dry ingredients in a large saucepan until well combined.
Slowly stir in 1 cup of water while whisking continuously to eliminate lumps. Whisk until smooth .
Slowly whisk in the remaining 4 cups of water making sure there are no lumps.
Heat the mixture over medium heat until thickened and barely boiling.
Stir in tomato sauce and heat thoroughly. Do not boil.
Use in your favorite enchilada recipe.
Optional – If you prefer a mole type sauce replace the cumin with 1 tsp of unsweetened cocoa powder.
---
---
Nutrition
Serving Size:

0.5 cup

Calories:

45
Keywords: enchilada sauce, easy enchilada sauce, homemade enchilada sauce
Recipe Card powered by
Easy Chicken Enchiladas
With enchilada sauce on hand, homemade Chicken enchiladas are a fast meal to whip up using precooked or leftover chicken. They can be assembled a day ahead then stored in the fridge or frozen until time to cook. I love making them when I am freezer cooking or using a waterfall meal plan.
Print
Easy Chicken Enchiladas
Author:

Prep Time:

15 minutes

Cook Time:

45 minutes

Total Time:

60 minutes

Yield:

10

servings

1

x

Category:

Dinner

Cuisine:

Mexican
---
Description
These easy and delicious chicken enchiladas. Use UNBELIEVABLY good homemade enchilada sauce.They are filled with a creamy chicken and cheese filling.
---
1

batch homemade enchilada sauce (or substitute three

12 oz

cans)

2 cups

Monterey Jack cheese (grated, or pepper jack or cheddar)

2½ cups

cooked chicken

½ cup

Monterey Jack cheese (grated, or pepper jack or cheddar)

12

8-inch flour or corn tortillas
Vegetable Oil (optional )
---
Instructions
Prepare Filling
In a medium bowl combine 1 cup of enchilada sauce with 2 cups of grated cheese and 2 ½ cups of chicken. Stir to combine.
Prepare Enchiladas
Lightly grease a 9×12 rectangle glass baking dish to prevent sticking and make the pan easier to clean up.
Pour 1 ½ cups on enchilada sauce into the bottom of the pan. Tilt pan to evenly distribute.
Heat tortillas shells for a few seconds in the microwave to make them more pliable. (If you are using corn tortillas dip them in the enchilada sauce for a few seconds to prevent them from breaking when rolled.)
Place 1/3 cup of meat and cheese filling in down the center of an enchilada then roll it up tightly. Place the enchilada seam side down against one short side of the glass pan.
Continue to fill and roll all tortillas until the pan is full and the filling is gone. You may have to squeeze the enchiladas together to fit the last few into the pan.
Pour the remaining enchilada sauce evenly over the tortillas in the baking pan. Make sure to cover all the exposed areas.
Sprinkle remaining cheese over the enchiladas and cover tightly with foil.
Bake at 375 until bubbly (about 45 minutes). Removed foil and return to oven for 2 or 3 minutes to allow the top cheese to melt.
Serve your favorite toppings (shredded lettuce, jalapeno slices, diced tomatoes, sliced black olives, tortilla chips, sour cream).
Cover and store leftovers in the refrigerator.
---
---
Nutrition
Serving Size:

1 enchilada

Calories:

380
Keywords: Easy Chicken Enchiladas
Recipe Card powered by
You must try making homemade enchilada sauce if you are a Mexican food enthusiast (or married to one). This recipe is often prepared (and well-loved) at the Bren Did homestead.
My husband still suggests Mexican food at least three nights a week after 16.5 years of marriage. It cracks our children up when he utters the word "tacos" as a dinner suggestion and I didn't even have to teach them to laugh. Scouts Honor!
Like my easy recipes? Sign up for my newsletter below and never miss a thing!