Make simple pom pom ducklings, baby chicks, and bluebirds with your kids to celebrate spring and Easter. They're simple to make and adorable!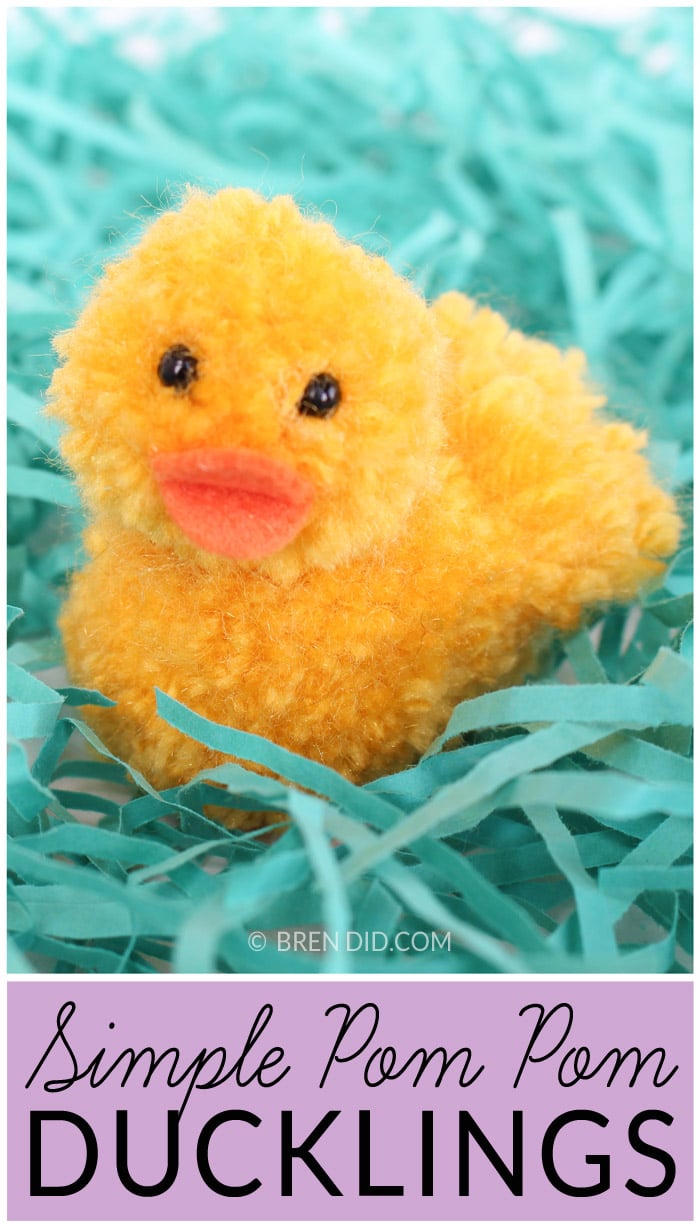 This post uses affiliate links. They don't cost you a thing and help us bring you creative projects. Read more in Policies & Disclosures.
Do your kids love ducks?
My kiddos love to feed the birds. Before a visit to "the duck park" two little people raid the pantry for stale (or not-so-stale) bread to sprinkle down to the happy ducks paddling across the pond.
If we're lucky a mama duck will arrive at the foot bridge with a string of fuzzy ducklings trailing behind. Those chubby yellow fellows are a sure sign of spring!
You have to admit that ducklings are the sweetest little birds. There are few things as cute as a baby duck paddling around a pond or waddling along the shore on his big webbed feet.
Make Way for Ducklings
Ducks and ducklings have been a favorite of my children for years. I can still repeat lines from each of our favorite children's books about ducks:
Make Way for Ducklings by Robert McCloskey – A pair of ducks decide to raise their family in a busy Boston park. (1942 Caldecott Medal)
Have You Seen My Duckling? by Nancy Tafuri – A mother duck loses her eighth duckling, and asks the other pond animals for help. (1985 Caldecott Honor)
10 Little Rubber Ducks by Eric Carle – A wave washes a box of rubber ducks into the sea where they are swept away to different adventures. (2005 Laura Ingalls Wilder Award)
This spring I decided to make my own cute, yellow and chubby ducklings to add to Easter baskets. These Simple Pom Pom Ducklings will waddle their way into your heart!
How to Make Simple Pom Pom Ducklings
This simple pom pom craft can be made in minutes using basic craft supplies. Try making a few and then create a sea of blue Easter grass or a pond of smooth sea glass for your ducky new friend.
Supplies
Directions:
Pom poms are easy to make with a cardboard pom pom template. It may take you a pom pom or two to get the hang of this technique. Don't get discouraged, you'll soon be a pom pom making pro!
Step 1: Make the pom poms.
Download the free pom pom template and print or trace onto lightweight cardboard. Cut out the pom pom makers and fold on dotted lines. The four small pieces make the duck's head, the four large pieces make the duck's body.
2. Hold two pieces of the pom pom maker back to back and wrap with yarn.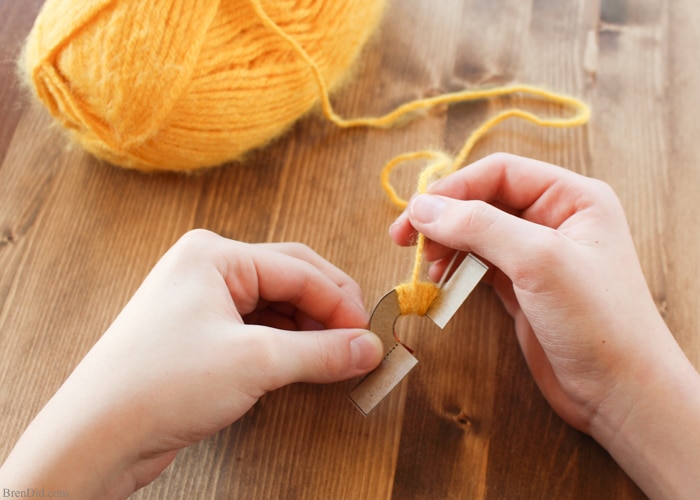 3. Wrap yarn around the cardboard template until it is very full as shown. The more yarn the fluffier the pom pom. Repeat with the other side of the pom pom maker.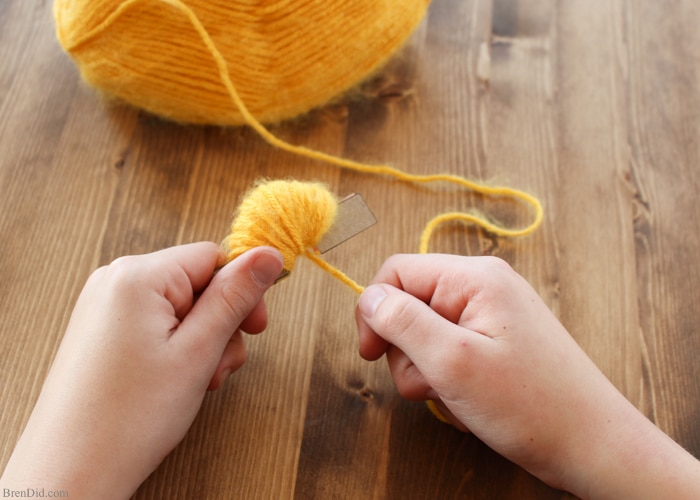 4. Attach the two sides of the pom pom maker to form a complete circle. Use tape to hold the sides together.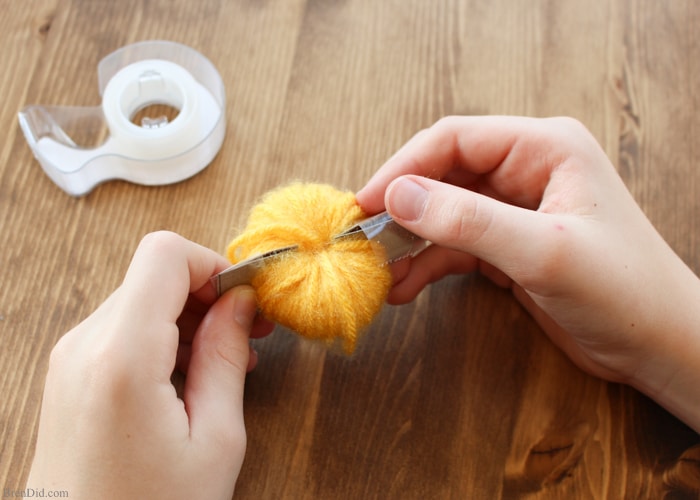 5. Slip your scissors between the back to back pieces of cardboard and snip the yarn. Repeat on the other side.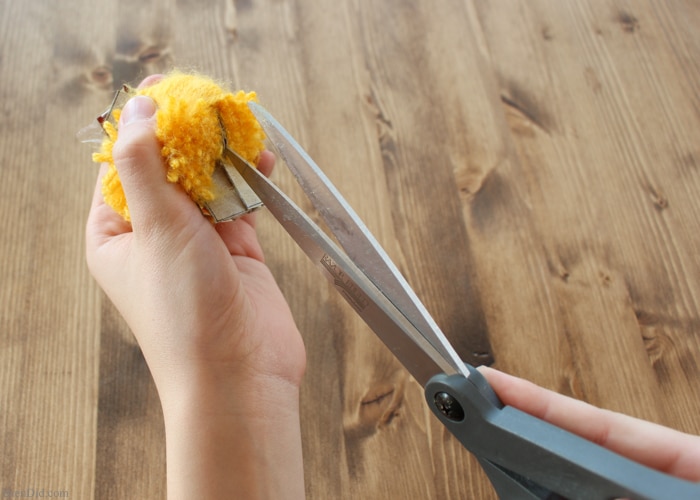 Cut an 8 inch piece of yarn or embroidery floss and tie around the center of the pom pom. (Tip: If your yarn is weak or prone to breakage use embroidery floss for your center tie.)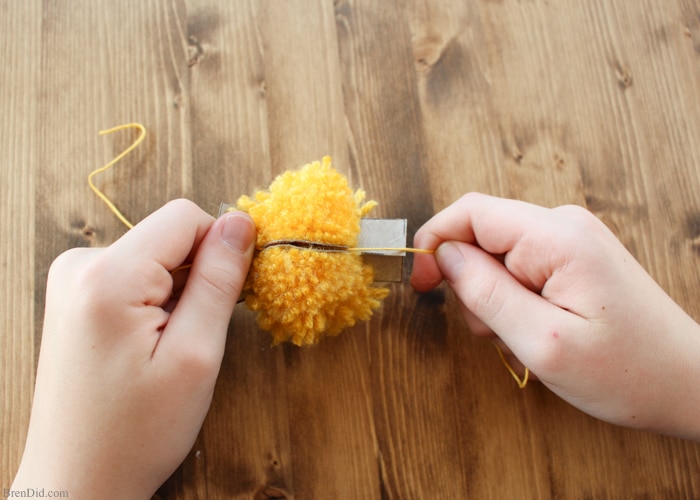 Remove the tape from the template and carefully remove the cardboard from the template.
Roll the pom pom in your hands to shape it into a ball and trim into a perfect sphere. Trim the ends of the center tie to the same length as the pom pom.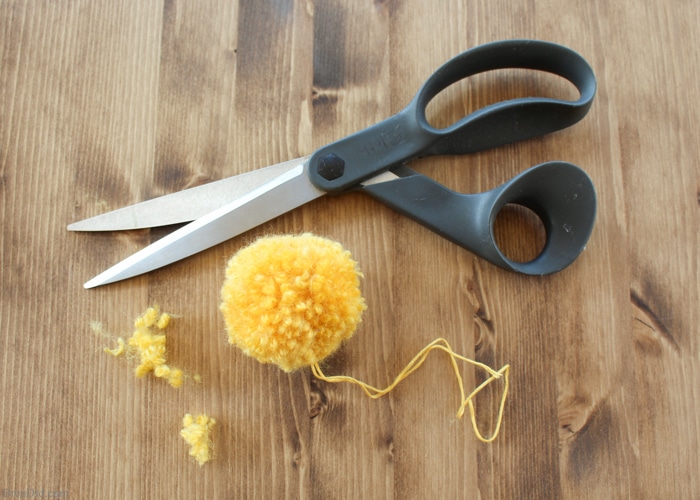 Repeat steps 1-8 to make the duckling's body.
Step 2: Shape the large pom pom into the duckling's body.
See image for the body shape:
Trim the sides and bottom of the pom pom so they are flat.
Trim the pom pom front and half of the top into a rounded shape.
Leave the back top uncut to form the duck's tail feathers.
Step 3: Assemble the duckling.
Use thread or embroidery floss to stitch the pom poms together. Try to get the needle through the center tie of each pom pom. (Tip: You can also glue the pom poms together, but thread is more secure.)
2. Cut two tiny half circles from craft felt for the beak.
3. Make a small indent in the yarn to hide the glue then attach the beak.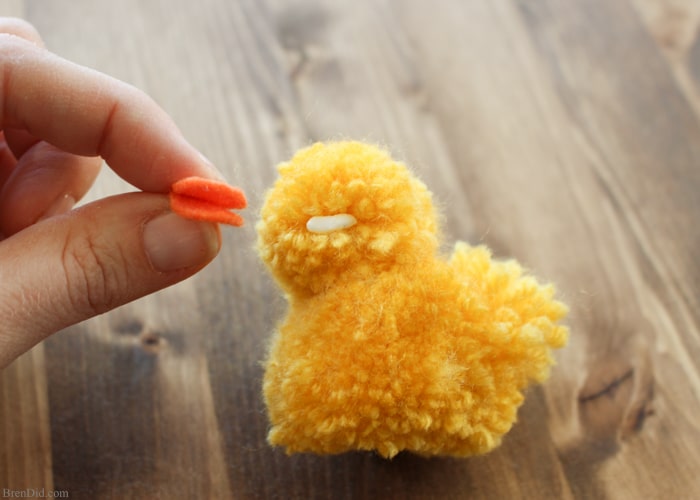 4. Use glue to attach the eyes.
5. Enjoy your pom pom duckling!
More Pom Pom Fun
Baby birds are a sure sign of spring! Check out these adorable pom pom friends for your duckling.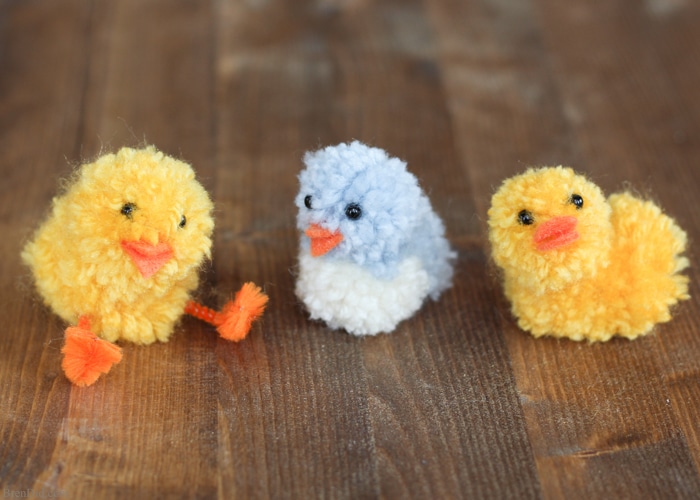 Visit Fireflies & Mudpies and learn to make this sweet little baby chick.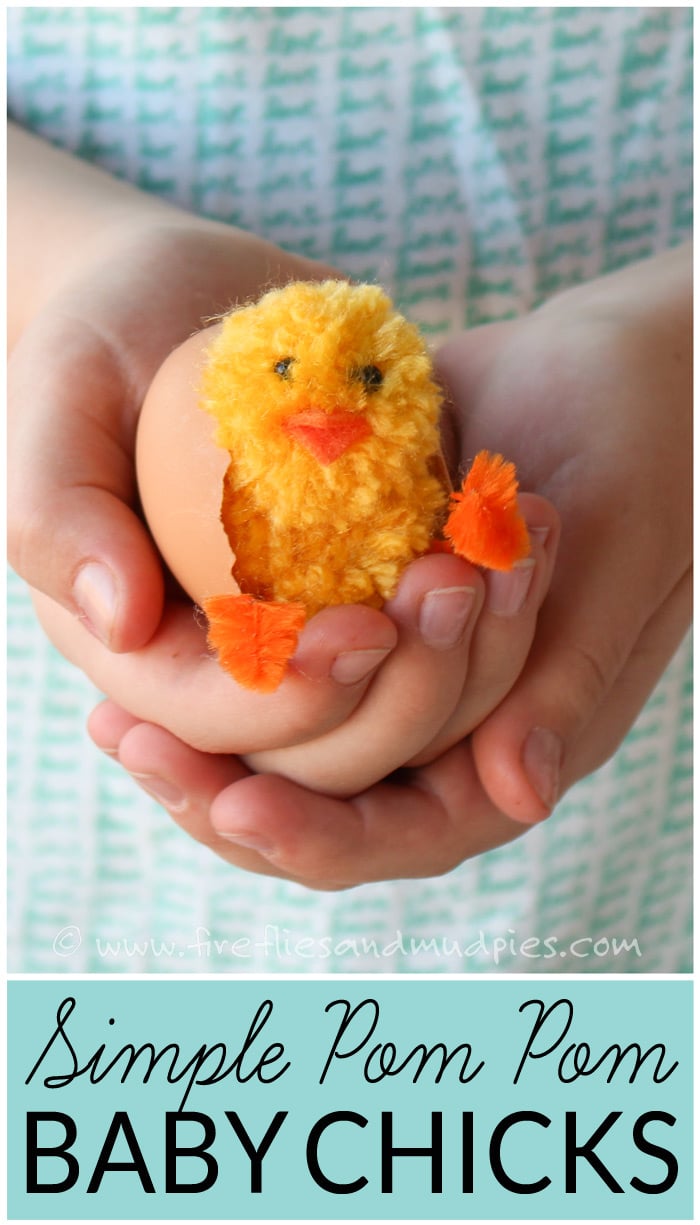 Visit The Magic Onions and learn how to make this adorable blue bird.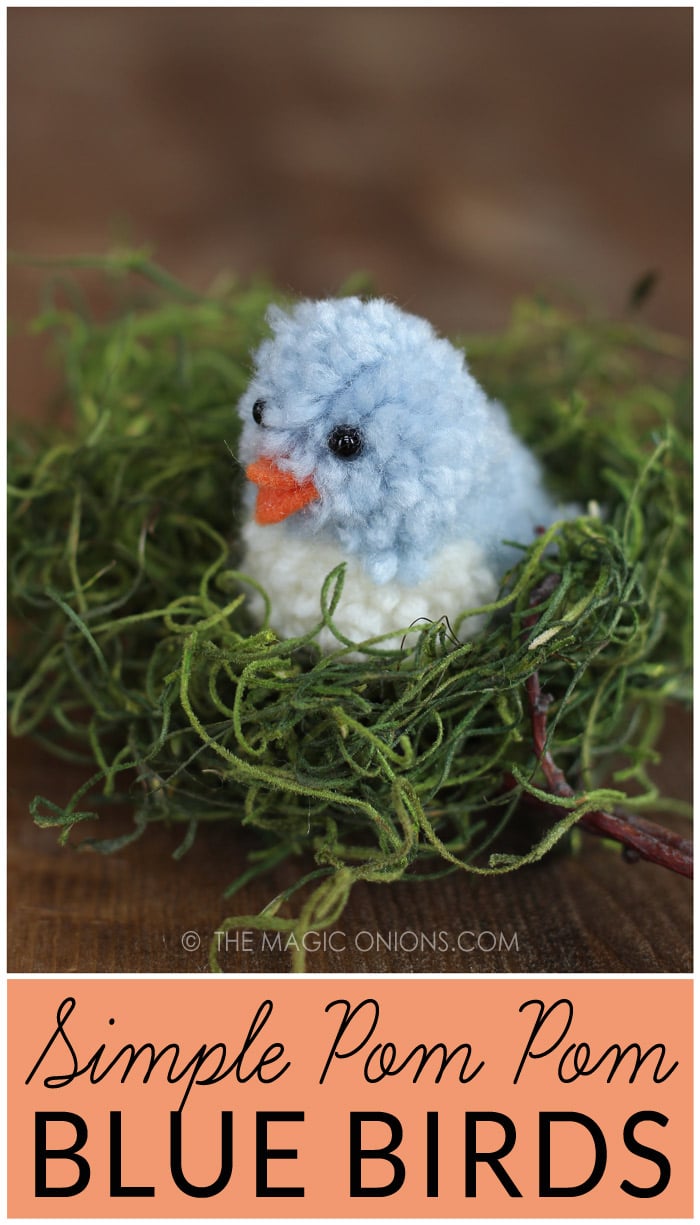 I hope you try making some cute little pom pom quackers… and don't worry, they don't eat much bread!
Like my easy crafts? Sign up for my free newsletter below and never miss a thing!