Evergreen scented vinegar for cleaning can be made with just two simple ingredients: vinegar and fresh evergreens. Learn how to make this easy pine scented cleaner today!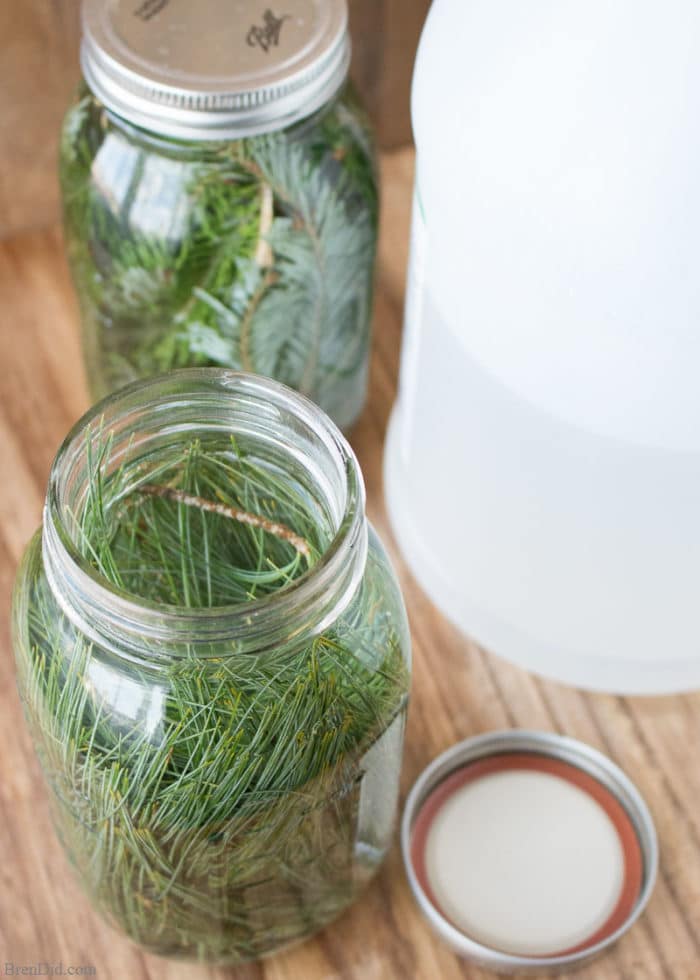 This post uses affiliate links, they don't cost you a thing and help us bring you green cleaning tutorials. Learn more in policies and disclosures.
Vinegar is one of my favorite weapons in the green cleaning war.
Unfortunately cleaning with vinegar makes the house smell  like…
well…
VINEGAR.
(Big shock!!!)
Scenting Vinegar
Some people flat-out REFUSE to clean with vinegar because of the ODOR. (If you clean with vinegar you know that the smell doesn't last for long. Vinegar is a natural deodorizer… it dries scentless.)
But I get it, it is MORE FUN to clean with yummy scents of flowers and refreshing forest odors drifting through your home.
Luckily it's easy (and cheap) to make scented vinegar that is a great natural cleaner AND is less offensive to the nose.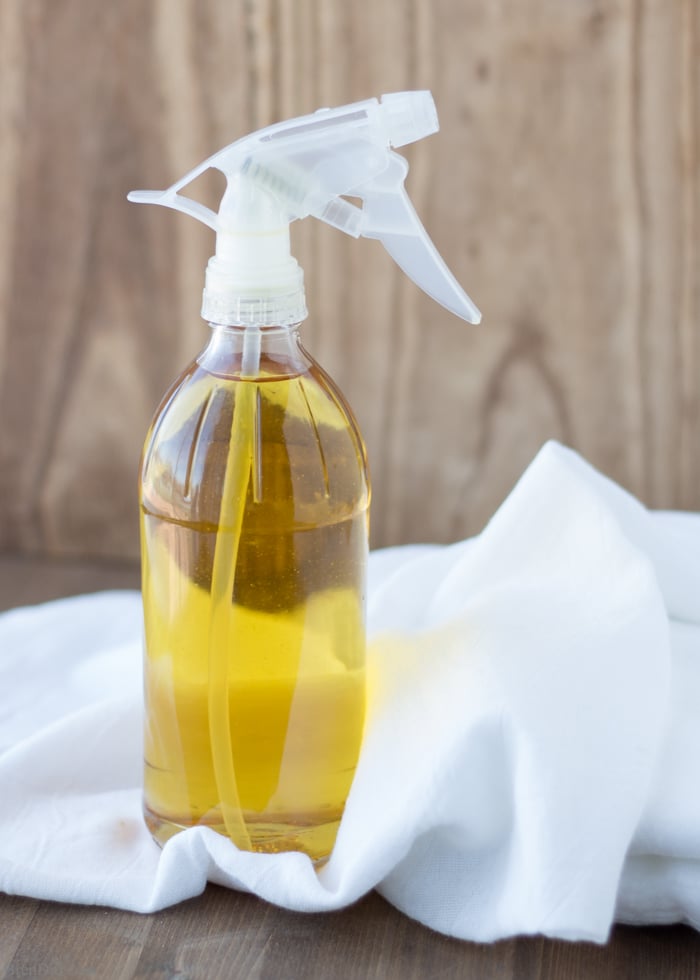 To Orange Vinegar and Beyond
Orange vinegar was my first successful vinegar scent. It's easy to make from leftover orange peels and cleans great with a bit of orange oil and light scent from the peels. I cleaned with it for years and even learned to make cleaning vinegar with citrus and herbs.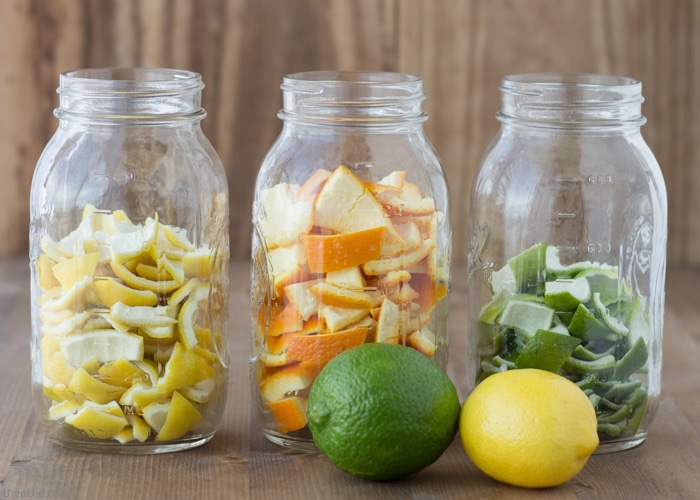 Then I started to get a little BORED with citrus vinegar. I thought about other popular cleaner scents and decided that EVERGREEN might be a nice addition to my cleaning routine. (Hello, PineSol!)
Do you use pine scented cleaner? The original, PineSol, was a pine oil-based cleaner invented in 1929.  Unfortunately, the pine oil was eliminated in 2014 so the commercially sold pine cleaner is now petrochemical based and scented with artificial fragrances (I avoid both of these ingredients).
The Great Evergreen Smell Test
Have you ever gotten up close and personal with a tree?
If not, let me tell you a little SECRET –> some evergreens smell like Christmas and fresh clean forests (HOORAY!) and some smell like, well…. cat urine. (BLACH!)
Not wanting my house to smell like cat waste, I conducted a vinegar scenting experiment: 
I gathered branches from my dried up Christmas wreath and a neighborhood tree.
I put the needles in separate glass jars and covered them with white vinegar.
I allowed the vinegar to steep for several weeks in a dark cupboard then smelled the results.
In the end, the vinegar steeped for 6 weeks for the best smell to develop.

The Evergreen Scent Results
The evergreen vinegar for cleaning smelled best with the dried branches from the wreath. It has a mild, piney scent. The wreath was labeled SPRUCE, but I am not a botanist… just a crazy DIYer!
The fallen pine needles also produced a nice scent, but it was much milder. (The stronger scent helps to better mask the vinegar odor.)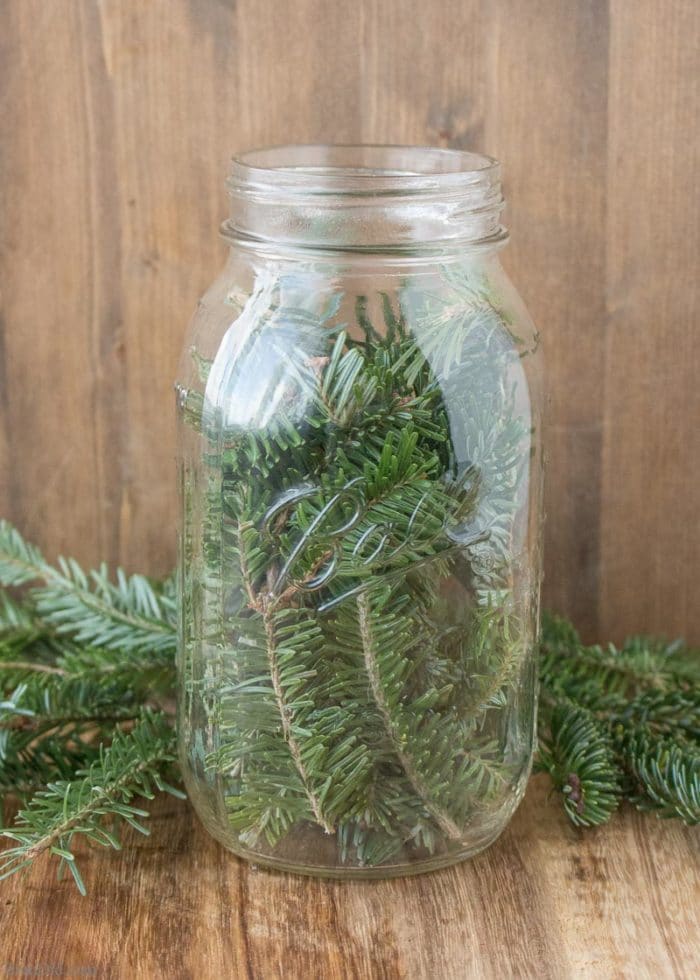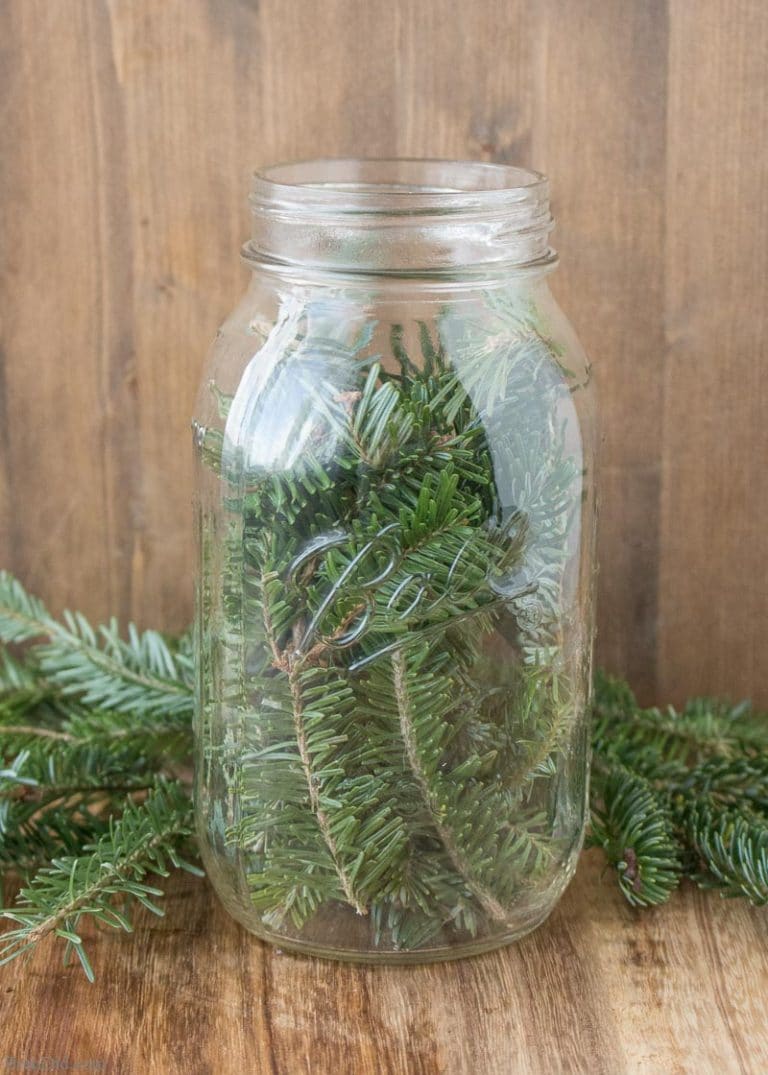 The Evergreen Scented Vinegar Verdict
I will try making evergreen vinegar again, especially around the holidays when I have fresh clippings on hand or can get them for free that the Christmas tree stand.
Evergreen scented vinegar takes nearly twice as long to scent than using citrus peels. But it is such a simple and affordable project there is nothing to lose!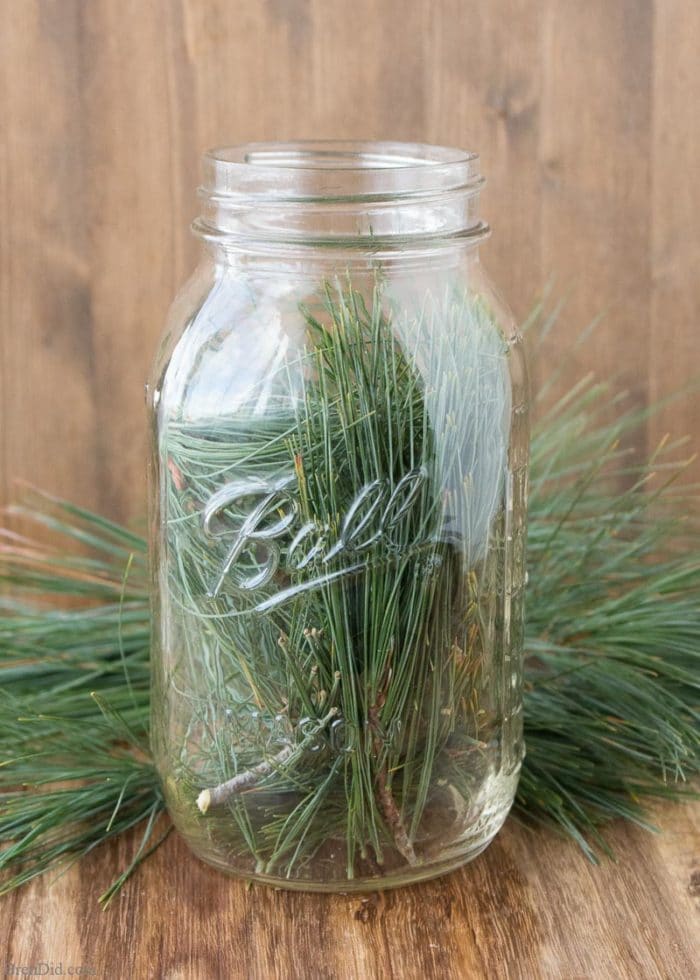 How to Make Quick Pine Cleaner
Pine oil, the original active ingredient in PineSol is made by distilling pine stumps, boughs, needles and cones. It has a lovely piney scent and is a natural disinfectant.
If you have no time (or desire) to soak pine needles you can make quick pine cleaner by adding a few drops of pine essential oil to vinegar or vodka:
1 cup of white vinegar or cheap vodka (using vodka will give you a more pleasant pine scent)
1 cup of water
5-10 drops of pine oil
Pine Scented Vinegar Directions
Place evergreen branches or needles into a clean glass jar.
Fill the jar with white vinegar.
Allow the mixture to steep for 3 to 6 weeks in a dark, cool place. (*Speed up the process by heating the vinegar before pouring it over the evergreens. I heat mine in a glass bowl in the microwave.)
Filter the branches or needles out of the vinegar using a mesh strainer.
Store the vinegar in a cool, dark place and use for household cleaning (1/3 -1/2 cup vinegar to 2/3 water for general cleaning).
More Scented Vinegar for Cleaning
Like cleaning with orange vinegar? Check out my other favorite DIY vinegar scents.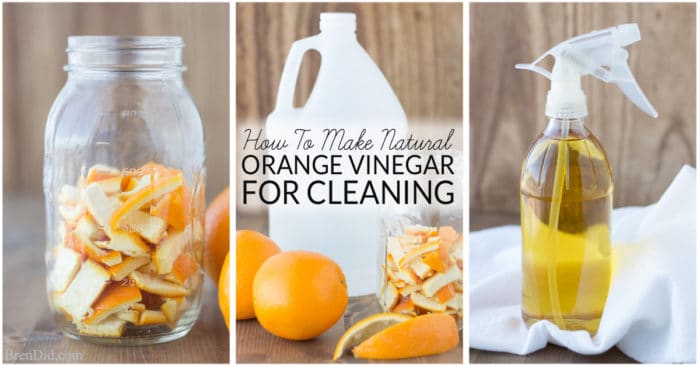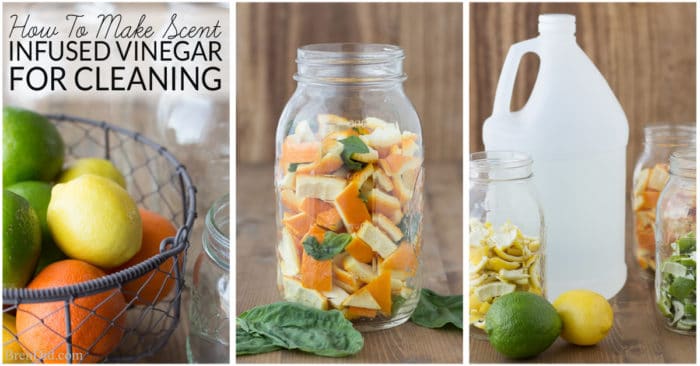 I hope you try making scented vinegar or scented vodka. A few jars can replace commercially scented cleaners for a greener, healthier home.
Like my easy DIY tutorials? Sign up for my newsletter below and never miss a thing! 

Bren Did Newsletter Subscribers Get Access!