Type the words Homemade Odor Eliminator or DIY Febreze into Pinterest or Google and hundreds of recipes will pop up containing two main ingredients:
Liquid fabric softener and water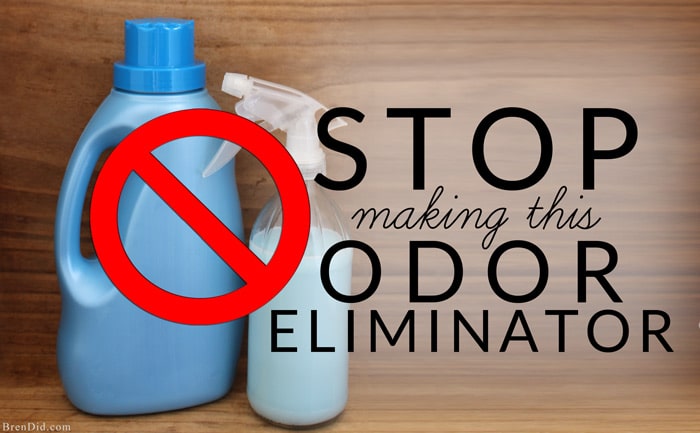 This easy DIY uses products you might already have at home…. BUT… 
Pretty please with a cherry on top…
STOP making this odor eliminator!
WHY?
Fabric Softener = Toxic Chemicals
Fabric softeners (both liquid and sheets) make fabrics feel softer by coating them with a layer of slippery chemicals. These chemicals are dangerous for humans to inhale or absorb into their skin.
Most commercial fabric softeners contain two substances that should be avoided:
Quaternary Ammonium Compounds or quats
Artificial fragrance
The Dangers of Quats
Quats are asthmagens, this means that they can cause asthma to develop in otherwise healthy people.
Quats also have unnecessary antibacterial qualities that may lead to development of antibiotic-resistant superbugs in our homes.
The Dangers of Artificial Fragrance
The word "fragrance" is used in place of the actual names of the toxic chemicals used to scent the product. (The U.S. considers these to be trade secrets and does not require manufactures to label the specific chemicals.)
These chemical substances can act as hormone disruptors, allergens, carcinogens, and developmental toxicants:
Hormone disruptors are chemicals that mimic or interfere with the hormones in our bodies. They may be linked to breast cancer,

endometriosis

, reproductive problems, prostate and testicular cancer, thyroid disorders, diabetes, and early onset puberty.
Allegens are substances that can cause strong immune responses in humans. These reactions can vary from runny noses and sneezing to life-threatening reactions such as allergic asthma and anaphylactic shock.
Carcinogens are substances that cause cancer. These chemicals can either directly produce cancer or disrupt cancer-related pathways in the body.
Developmental toxicants are chemicals that can cause adverse effects on the developing child in utero or in the formative years after birth. They can negatively affect the brain, behavior, and sex organs in fetuses, infants, and young children.
The Risk for You
The chemicals in fabric softener contaminate the air in our homes when sprayed about as room deodorizer. Instead of getting the fresh clean home you desire, you are launching dangerous chemicals into the air that you and your family breathe!
You don't have to take my word for it, the American Lung Association also suggests that these artificial fragrances are not used indoors to mask odors!
Better Ways to Freshen the Air
There are many affordable, all-natural ingredients you can use to effectively eliminate odor. Three of my favorites are vinegar, vodka and baking soda. All three eliminate odors instead of merely covering them up with artificial fragrance.
Vinegar – White vinegar is an effective natural deodorizer and mild disinfectant. Combine a teaspoon of vinegar with 2 cups of water in a spray bottle then lightly mist the air  (you can also stir in a few drops of essential oils). It smells a bit vinegary at first but dries odorless leaving no bad smells or vinegar scent. Learn how to naturally scent vinegar with herbs or citrus peels to make it smell better.
Vodka – Cheap vodka is my favorite natural deodorizer and disinfectant. Vodka is essentially odorless in cleaning sprays (no vinegar smell!) and naturally eliminates odors as it dries. Learn how to make an easy vodka based Room and Fabric Refresher Spray.
Baking Soda – Baking soda or sodium bicarbonate neutralizes both acidic and alkaline substances which eliminates the offensive odors instead of simply masking them. You might already be using baking soda to deodorize your fridge or freezer. Learn how to use baking soda to eliminate carpet odor, freshen your vacuum, and stop shoe & foot odor.
Like my green cleaning tips? Sign up for my newsletter below and never miss a thing! 

*You can read more about the dangers of using fabric softener at the Environmental Working Group (EWG) and Science Daily.