Muffins are an easy (and highly portable) breakfast choice, but the amount of sugar and oil found in most muffins puts them firmly in the junk food category. These healthy oatmeal muffins are a convenient and nutritious breakfast option the whole family will love.

This post uses affiliate links. They don't cost you a thing and help us bring you creative projects. Read more in Policies & Disclosures.
A Healthy Muffin Recipe was Needed
Let me paint you a maddening picture of sleep, chaos, and junk food breakfasts…
I have a child who HATES to get up in the morning (she's a natural night owl like her mother) but HAS to be on the bus ready for a productive day of school at 7:30.
This undesirable combination has led to a lot of stomping, a good deal of nagging, and more than a few pre-packaged junk food breakfasts snatched from the pantry at the last possible second to gobble on the way to the bus stop.
After one too many chocolate chip granola bar breakfasts I decided that we needed healthier option available for last minute breakfasts.
Healthy Oatmeal Muffins Recipe
This healthy oatmeal muffins recipe outshines standard recipes in several ways:
Toasted oatmeal replaces bleached white flour. (Use oats labeled gluten-free for healthy gluten-free muffins.)
Bananas keep the muffins moist instead of the usual oil or butter.
A bit of honey sweetens the recipe instead of refined white sugar.
If these substitutions sound like a recipe for cardboard, don't be alarmed! Toasting and grinding the oats results in a smooth muffin with a slightly nutty favor while the fruit and honey provide enough sweetness to tempt even picky taste buds.
Muffin Add-Ins
Want to customize your healthy oatmeal muffins? It's easy! Add 1/2 cup of fresh, dried or frozen fruit or 1/2 cut of chopped nuts to the batter. You can also add an extra teaspoon of cinnamon, some nutmeg, or even pumpkin pie spice.
Some of our favorite add ins:
Check out the comments section for even more great ideas from readers!
More Healthy Muffin Recipes to Try
1 – Healthy Chocolate Chip Oatmeal Muffins – My kids' all-time favorite healthy oatmeal muffins recipe. Lots of CHOCOLATE flavor but no sugar, no flour, and no oil!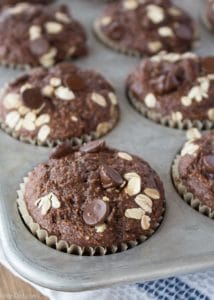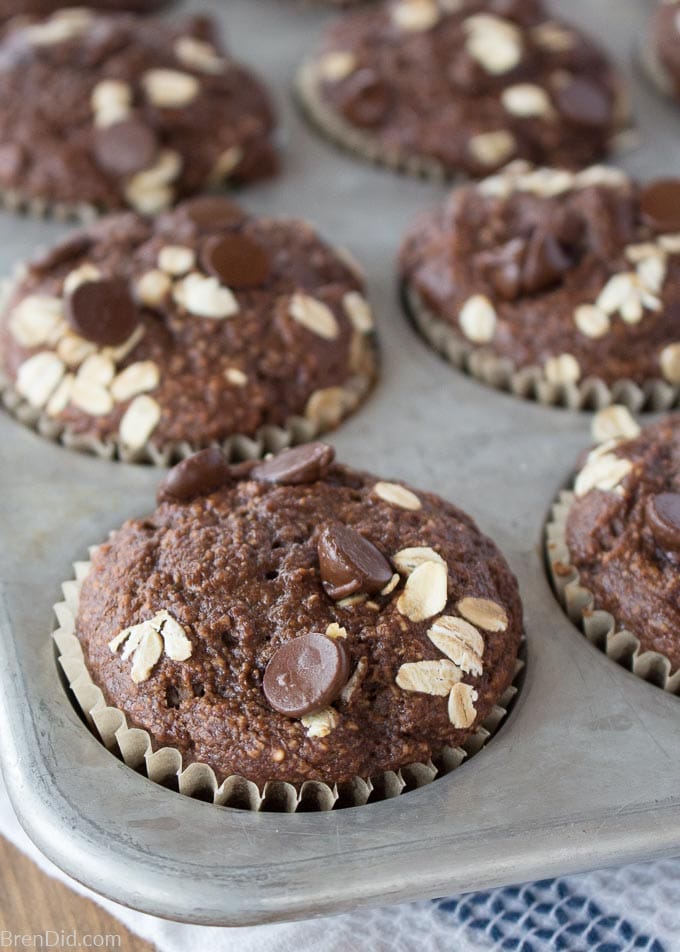 2 – Healthy Pumpkin Muffins Recipe  – Delicious pumpkin spice flavor with no flour, no sugar, no oil and no dairy… they taste like pumpkin pie.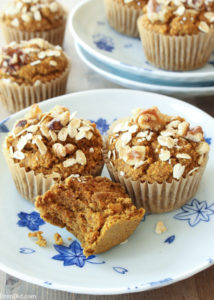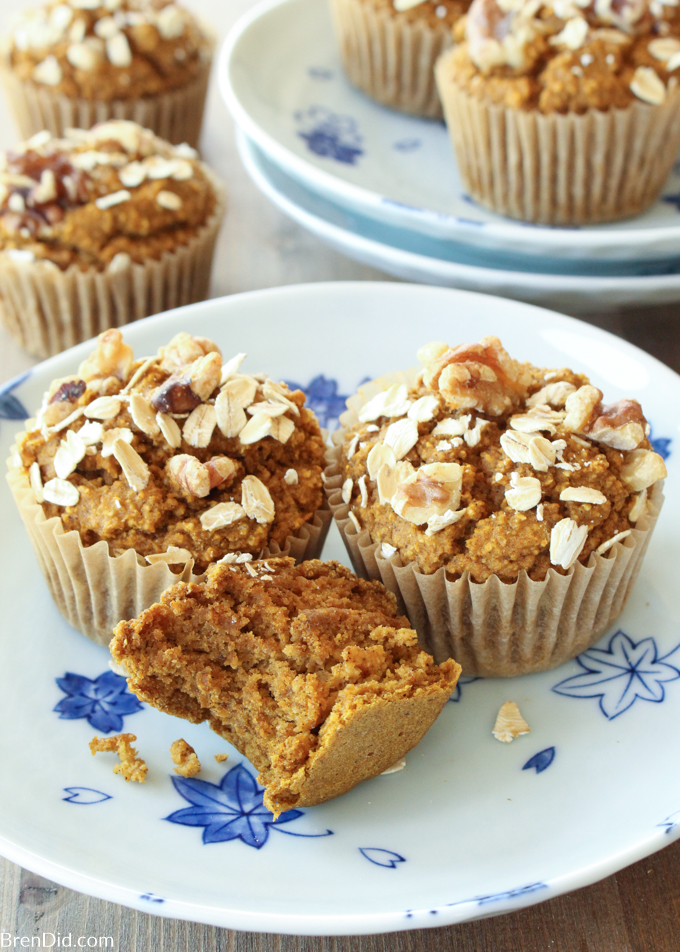 3 – Apple Cinnamon Blender Muffins – This easy recipe mixes in the blender for no mess but lots of delicious cinnamon apple flavor. These muffins are flour free, use no butter or oil, and are sweetened with dates.
4 – Healthy Zucchini Muffins Recipe – Zucchini and spices give the muffins classic zucchini bread flavor. Enjoy a fall favorites with no flour, no oil, no sugar, and no guilt!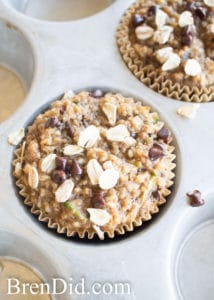 5 – Healthy Chocolate Peanut Butter Muffins Recipe – These muffins are full of chocolate peanut butter flavor but contain no flour, no refined sugar and they're oil free.  Classic dessert flavor combo with no guilt!
Healthy Oatmeal Muffins (No Flour No Sugar No Oil)
Looking for a healthy oatmeal muffins recipe? This recipe uses no flour, no sugar, and no oil but still produces moist delicious muffins. Gluten-free if you use gluten free oats. Customize the batter to make your favorite muffin flavors from BrenDid.com!
Ingredients
2 ½

cups

old-fashioned oats

( 1.5 cups ground, 1 cup whole)

2

Tbsp

old-fashioned oats for muffin tops

2-3

large

overripe bananas

(1 cup mashed or or 1 cup applesauce)

2

large

eggs

lightly beaten

1/3

cup

honey

3/4

cup

milk

2

tsp

real vanilla

2

tsp

baking powder

1/2

tsp

baking soda

1/2

tsp

salt

1

tsp

cinnamon

muffin tin
Instructions
Preheat oven to 325 degrees. Place oats on a baking sheet and toast until lightly browned, stirring once (about 4 to 6 minutes). Let cool to room temperature. (If you are in a hurry you can skip this step, however the toasting adds flavor!)

Divide oats into portions of 1.5 cups, 1 cup and 2 Tbsp

Turn oven heat up to 350 degrees.

Place 1.5 cups of oats in a food processor and blend/pulse until they reach a rough, flour like consistency.

Mash bananas well, they should have no lumps. I use my mixer to mash them before adding the other wet ingredients.

Add eggs, honey, milk and vanilla. Mix to combine.

Add dry ingredients (including the ground oats and 1 cup whole oats) to wet ingredients and mix until just incorporated. Allow these to sit for 10 minutes to soak the oats.

Optional: Fold in approximately 1/2 c fruit, raisins or nuts.

Scoop into muffin tin, lined with muffin wrappers (makes 14 muffins).

Sprinkle muffin tops with the 2 Tbsp of reserved oats, press lightly to make sure they stick.

Bake at 350 for about 20 -23 minutes, a toothpick inserted in the center of a muffin should come out clean.

Enjoy !
Nutrition Facts
Healthy Oatmeal Muffins (No Flour No Sugar No Oil)
Amount Per Serving
Calories 163
* Percent Daily Values are based on a 2000 calorie diet.
Need more nutrition details? Here's the complete breakdown:
Tips for Making Perfect Oatmeal Muffins
These helpful pointers will help you get the most out of this healthy oatmeal muffins recipe:
Use parchment baking cups. Healthy muffins have a habit of sticking to the baking cups and muffin tins. Parchment baking cups will prevent them from sticking, no greasing needed.
Let the muffin batter rest. Allow the batter to rest for 10 to 20 minutes before scooping it into the baking cups. This allows the oats to soften resulting in a more fluffy muffin.
Overfill the baking cups. Want your muffins to look as fluffy as mine? Fill the baking cups 3/4 full (muffin tins should usually be 1/2-2/3 full). These healthy muffins do not rise as much as traditional muffins so overfilling will make them look better.
Cut one open. These muffins are quite moist due to the bananas. It can be hard to tell if they are finished baking with a toothpick. Try cutting one in half to see if the center is fully baked.
How to store the muffins. Keep the muffins for 3-4 days in a sealed container on the counter, 7-10 days in a sealed container in the refrigerator, or for several months well wrapped in the freezer (defrost in the fridge overnight). Before serving I heat the muffins for a few seconds in the microwave or cut them in half and warm them in the oven.
Healthy Cookies
Can't get enough healthy baked goods? Check out these healthy cookies with no flour, no dairy, no eggs, and no added sugar. My kids love them for breakfast!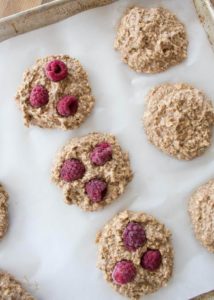 Like healthy recipes? Sign up for my newsletter and never miss a thing!

Tip: Have over ripe bananas but aren't ready to bake? Peel and freeze the bananas. Defrost and use to bake when convenient.
Bren Did Newsletter Subscribers Get Access!