Learn how I successfully use tea tree oil to treat tinea pedis (athletes foot). I always treated athletes foot with over-the-counter anti-fungal products until a tough case did not respond for MONTHS. I substituted tea tree oil and the fungus was gone in DAYS!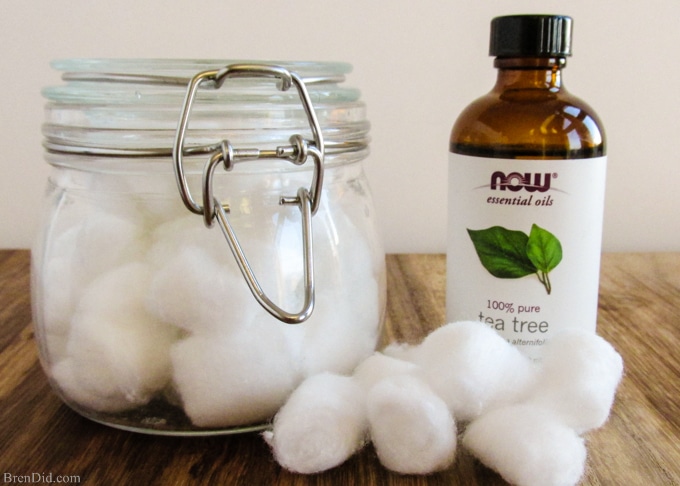 This post uses affiliate links. They don't cost you a thing and help us bring you natural body care tutorials. Read more in Polices & Disclosures. 
What is Athlete's Foot?
Tinea pedis is a common fungus that thrives in warm humid conditions. It is contagious and easy to catch. The fungus is called athlete's foot because it is often spread by going barefoot in damp public places such as locker rooms or public pools. spread in your home shower or bathroom tile.
Athlete's foot is characterized by itchy or burning toes/feet, excessive peeling skin on the feet/toes, and pink or raw skin on the feet. (Check between toes and on the soles for these symptoms.)
My Athlete's Foot Experience
There are a few people (I'm not naming any names!) in our family with sweaty feet and swimming hobbies that make tinea pedis a common occurrence in our home.
When complaints of itchy feet or overly pink skin reached my ears I used to apply over-the-counter anti-fungal products such as Terbinafine or  Clotrimazole that come in sprays and lotions.
Then, thanks to a busy swimming schedule and a hot, humid summer the fungus kept going and going and going. We kept apply the creams and sprays for month, but the fungus was not eliminated. I decided that it could not be cured by the over the counter products.
I began to look for a new solution…. but refused to subject my kids to a prescription for oral anti-fungal drugs (they can damage the kidneys/liver and often require blood tests). I investigated natural home remedies and decided to try tea tree oil.
Why I Use Tea Tree Oil to Treat Tinea Pedis (Athletes Foot)
Tea tree oil, also known as melaleuca oil, is an essential oil taken from the leaves of the melaleuca alternifolia tree which is native to Australia. It has a strong odor, similar to a strong pine or eucalyptus odor with heavy herbal notes.
Tea tree oil has been used in Australia for thousands of years to treat skin infections. It was first used by Indigenous Australians (Aboriginal people). Australian doctors began to use the oil in the 1920a and it soon became a common home remedy for fungal infections and other skin conditions.  Tea tree oil was even included in first-aid kits given to Australian soldiers and sailors during WWII.
According to the American Cancer Society, more recent laboratory experiments suggest that tea tree oil can work as an antiseptic when used on the skin to kill germs (including those that are resistant to other antibiotics) and  tea tree oil may be helpful in treating some types of fungus.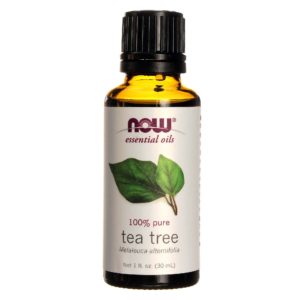 How I Use Tea Tree Oil to Treat Tinea Pedis (Athletes Foot)
Collect the supplies: 
Apply the tea tree oil:
Place 5 drops of Almond Oil (or carrier oil of choice) on a cotton ball.
Top the carrier oil with 5 drops of Tea Tree Oil.
Rub the cotton ball on a affected areas and surrounding areas.
Cover feet with clean cotton socks.
Apply 2 time daily, changing to clean socks each time.

Our Results Using Tea Tree Oil
The athlete's foot that had been haunting us  for months was noticeably better the very next day and nearly gone in 3 days! (We continued the treatment for 3 full days after the noticeable fungal infection was gone to make sure all the fungus had been eradicated.)
We have had NO athlete's foot in 4 months. Hooray!
I also took these preventative steps:
Clean all shoes – I wash /spray the shoes of the affected individuals  using a mix of ½ cup vinegar, ½ cup vodka and 10 drops of tea tree oil. (add eucalyptus or  lavender essential oils to mask the tea tree odor).
Spray the feet – I make a solution of alcohol (vodka) and tea tree oil to spray on feet and kill the fungus before it takes hold. We use it after we have been at the pool or in a locker room. It aslo makes a great deodorizer, get the foot spray recipe here.
Warnings and Tips
Please note: This information is intended for educational purposes only and is not meant as a substitute for medical care or to prescribe treatment for any specific health condition.
Before using any essential oil you should patch test it to make sure that you do not have an adverse reaction.
Tea tree oil should NEVER be taken internally!
 
More Natural Foot Care Ideas
If your family suffer from athlete's foot or stinky feet try these all natural DIYs:
Natural Deodorizing Foot Spray (for feet and shoes)
Cooling and Deodorizing Foot Powder (for feet and shoes)
Cooling Foot Lotion (softens and deodorizes)
Like my natural body care tutorials? Sign up for my newletter below and never miss a thing!