This cooling foot butter recipe will soothe your tired and hot feet with essential oils that cool, deodorize and naturally kill bacteria. The creamy lotion will also smooth and soften your feet with coconut oil, mango butter and vitamin e.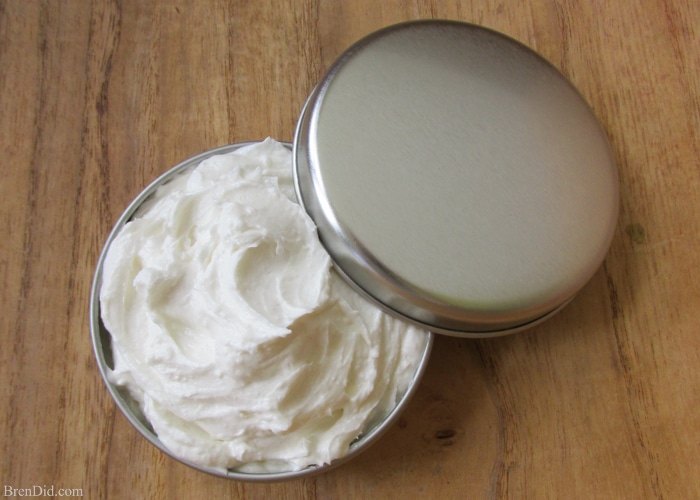 This post uses affiliate links. They don't cost you a thing and help us bring you creative projects. Read more in Policies & Disclosures.
Tired Feet
Poor feet! They really take the brunt of long days hiking, jobs that require long periods of standing, weddings spent in high heels, flip-flops on sandy beaches, and hours trapped in running shoes.
Take a little time to thank your feet for all their hard work with a little TLC.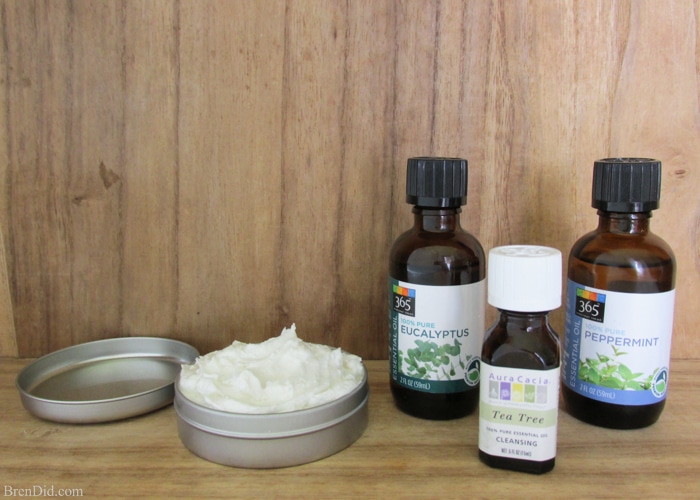 How Cooling Foot and Leg Butter Works
This Cooling Foot Butter contains three essential oils that work together to cool feet and eliminate foot odor:
Peppermint oil contains menthol which is soothing and cooling to the skin and/or skin irritations. Peppermint oil also smells great and may have some bacteria killing properties.
Tea tree oil is both antibacterial and antifungal, learn more from the National Center for Biotechnology Information.
Eucalyptus oil has a fresh and clean aroma and has been used as both an antiseptic and antifungal according to the University of Maryland Medical Center.
The recipe also uses three extremely effective natural moisturizers to soften your skin:
 Mango butter is pressed from the seed of the mango fruit. It is highly emollient (softening and soothing) to skins and has a high content of both oleic and stearic acid which seal in moisture.
Virgin coconut oil is a raw vegetable oil that is an excellent moisturizer with a high content of lanauric acid which is anti-viral, anti-fungal, and anti-bacterial.
Vitamin E oil is a vitamin oil know for its skin healing and antioxidant properties; it is often used in beauty products to reduce the signs of aging and treat skin conditions such as sunburn psoriasis, eczema, and stretch marks. It also acts as a natural preservative in homemade body care items.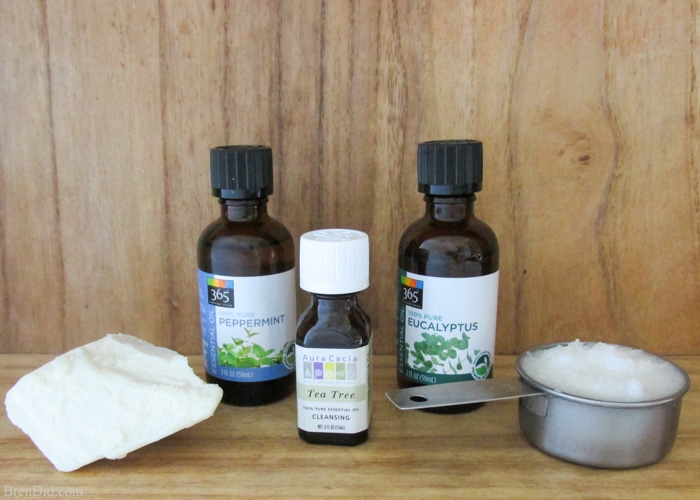 Cooling Foot and Leg Butter Ingredients
Cooling Foot and Leg Butter Directions
1. Melt coconut oil and mango butter together in a glass jar or metal container. (For this recipe I place my metal mixing bowl in a saucepan of simmering water to make a fake double boiler.) Watch the mixture carefully and remove from the heat as soon as the mango butter is melted. Do not overheat!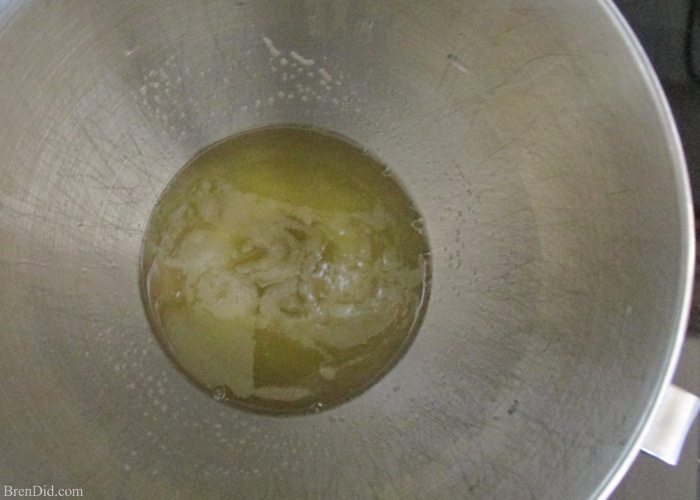 2. Remove the container from the heat, stir in essential oils and vitamin e oil. Cool the mixture to room temperature. (Place the bowl in the refrigerator for a few minutes to cool faster.)
3. Whip the room temperature mixture in a stand mixer or with a whisk until it is creamy and lighter in color.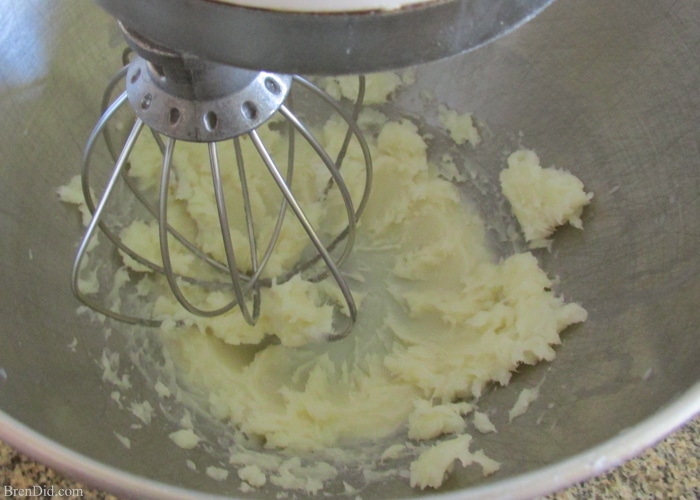 It will start out as pale yellow and turn to shiny ivory as it is whipped.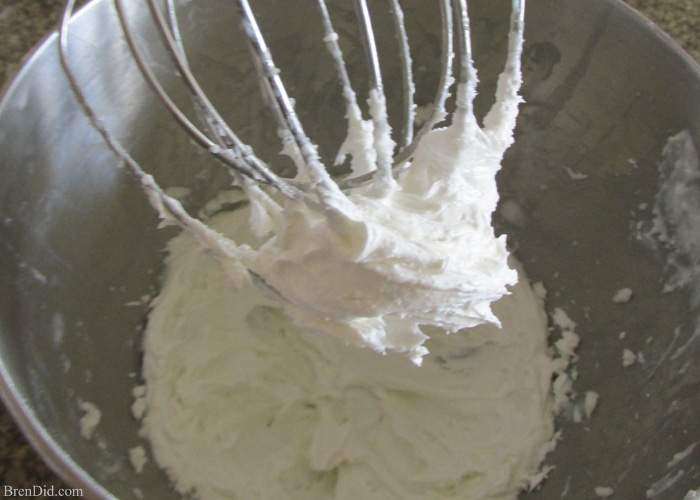 4.  Store in a closed container and use within 3 months. I store mine in the fridge for extra cooling power. It can also be stored at room temperature.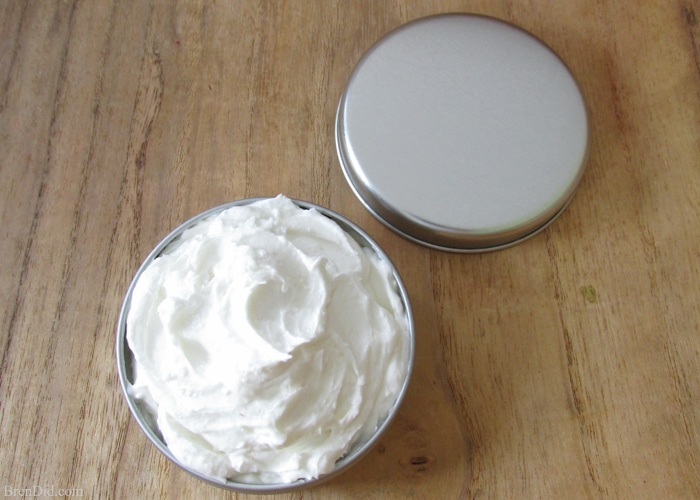 To use: Apply to feet and in between toes and rub into the skin on your legs. The cooling oils feel heavenly on hot or tired feet and legs. The foot butter also works great for a DIY pedicure. For extra moisturizing, liberally apply the butter at night and then put on cotton socks. You will wake up with soft, sweet-smelling feet.
 Cooling Foot and Leg Butter Cost
My Cooling Foot Butter costs around $6.00 for 19 ounces or $0.32 an ounce.  That's approximately $2.16 for the coconut oil, $3.00 for the mango butter, $0.53 for the vitamin e oil and approximately $0.50 for the essential oils.
A similar natural alternative on Amazon costs $16.00 for 8.4 ounces or $1.90 an ounce. You're saving more than $30 by making your own all-natural foot butter and you know exactly what it contains!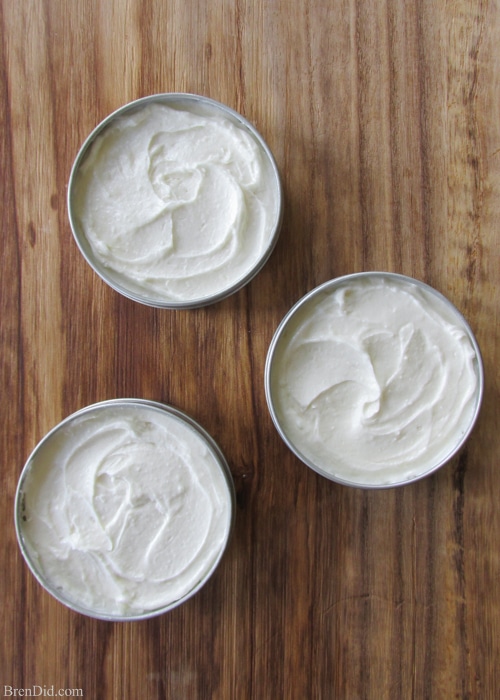 I hope you try my Easy Cooling Foot and Leg Butter Recipe; your feet with thank you for the special treatment! If you're looking for more easy ways to pamper your feet you should try Cooling Foot and Shoe Deodorizing Powder and No More Stinky Feet Spray. Together these three all-natural, non-toxic products will keep you feet and shoes smelling and feeling great all year-long.
Like my all-natural projects? Sign up for my newsletter below and never miss a thing!