Looking for a healthier junk food treat? Try this easy recipe for homemade soft pretzel bites. They are delicious!
I'm All-American when it comes to junk food → I love the classic salty, tasty treats that are traditionally served at baseball ball parks and carnivals.
My favorite is soft pretzels with cheese sauce.
Healthier Junk Food
My mind and my stomach don't agree on junk food indulgences. My stomach says "Yes, yes, yes" while my mind says "Oh no you don't!"
I've come up with a mind and stomach compromise: I make my own junk food.
Making your own "junk" food means YOU control the ingredients.. none of the excess fat, sugar, and artificial ingredients in most commercial junk food.
Soft Pretzel Bites
Our family love soft pretzels… pillows of soft, chewy dough with just enough salt to tempt your taste buds.
These better-for-you treats are also much easier on the wallet. (One order of pretzel bites at our local movie theater is $6.75, this recipe makes three times as much for less than a third of the price!)
I love serve soft pretzels with chunks of cheese, sliced apples and our favorite vegetable tray. It's a fun weekend dinner that indulges junk food cravings in a healthy way.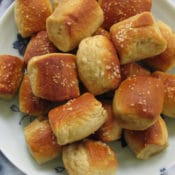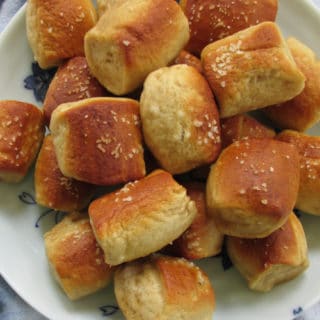 Recipe for Homemade Soft Pretzel Bites
Recipe for Homemade Soft Pretzel Bites – A favorite junk food indulgence is soft pretzel bites: tiny pillows of salty, soft, chewy dough that tempt your taste buds. Make them at home for better-for-you junk food treats that are also easier on the wallet.
Ingredients
1 1/2

cups

warm water

2 1/2

tsp

dry yeast

1 1/2

tbsp

honey

3 1/2 - 4

cups

unbleached all-purpose flour

1/2

tsp

table salt

1/4

cup

baking soda

1

tbsp

kosher salt or coarse sea salt

optional

2

tbsp

unsalted butter

melted (optional)
Instructions
In a large stand mixer bowl combine ¼ cup warm water with yeast and stir to dissolve. Stir in remaining warm water and honey.

Gradually add flour (1/2 cup at a time) and table salt until dough pulls away from sides of bowl and it forms a firm ball (depending on humidity you may not need all the flour).

Knead dough with hook for about 3 minutes, until smooth and elastic. Preheat oven to 450 degrees. Line two large cookie sheets with parchment paper.

Bring 2 quarts water to a boil and stir in baking soda.

Use a serrated bread knife to cut dough into 4 evenly sized pieces.

Roll each section into ½ inch thick snakes. Use bread knife to slice each snake into 1 inch pieces (approximately 60 pretzel bites).

Place 1 inch pieces into boiling water about 15 at a time, boil for 45 seconds.

Use slotted spoon to remove pretzels from boiling water and place on baking sheet. Sprinkle each pretzel bite with a bit of kosher salt while damp. Continue boiling until each sheet is full and all the pretzel bites are boiled.

Bake one cookie sheet of pretzels at a time for 5 minutes, rotate cookie sheet and bake for 3 more minutes or until dark golden brown.

Brush with melted butter, if desired. Serve warm with cheese sauce, mustard or plain.
Nutrition Facts
Recipe for Homemade Soft Pretzel Bites
Amount Per Serving
Calories 215
* Percent Daily Values are based on a 2000 calorie diet.
I hope you try my recipe for homemade soft pretzel bites. It is a fun recipe to make with your family or friends.
Like my easy recipes? Sign up for my free newsletter below and never miss a thing! 

Bren Did Newsletter Subscribers Get Access!