This Sweet Strawberry Lip Balm recipe is easy whether you're an avid crafter or a first-time lip gloss maker! It's a great all-natural beauty product that contains no artificial coloring or flavors… plus it's fun and easy to make!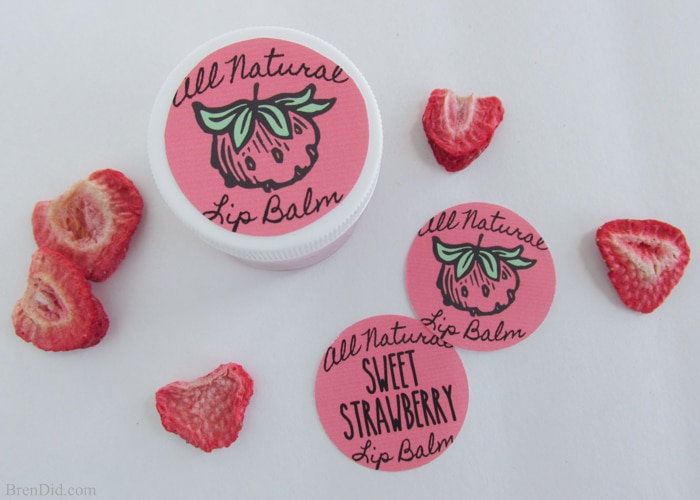 This post uses affiliate links. They don't cost you a thing and help us bring you creative projects. Read more in Policies & Disclosures.
Lip Balm Love
I spend most of my days in a pony tail, sans makeup, chasing kids around or cleaning the house. Even without makeup a bit of lip balm makes me feel more pulled together. I love the shine it adds to lips and the boost it gives your whole face.
Unhealthy Addiction?
I started paying attention to the ingredients in my make-up when I began transitioning to more natural home care products .
I was shocked to find out that many commercially produced lip balm products contain unhealthy ingredients such as parabens, artificial fragrances, artificial coloring.
These substances can act as allergens, endocrine disruptors, or carcinogens causing developmental or reproductive toxicity, early onset puberty, and/or cellular level changes. I became convinced that sprucing up with lip balm is NOT worth breast cancer!
All-Natural Lip Balm Recipe
It's easy to make ALL-NATURAL lip balm. After mastering:
I wanted to make a tinted, flavored balm but was disappointed to find out that most recipes suggest adding a bit of lipstick for color. I didn't want to use lipstick (since lipstick can contain lots of unnecessary and dangerous substances), so I was stuck…
…until I stumbled upon freeze dried fruit at the grocery store.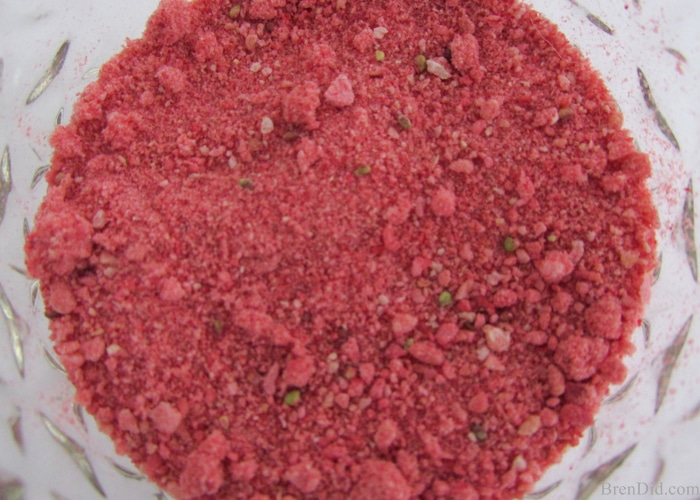 Freeze Dried Strawberries
Freeze dried strawberries have been dehydrated to remove the moisture but still contain all the lovely color, scent, and flavor of fresh strawberries.
Grinding them into a powder and adding them to my basic lip balm recipe resulted in a lightly tinted balm with a light scent and flavor of strawberries… with NO artificial ingredients!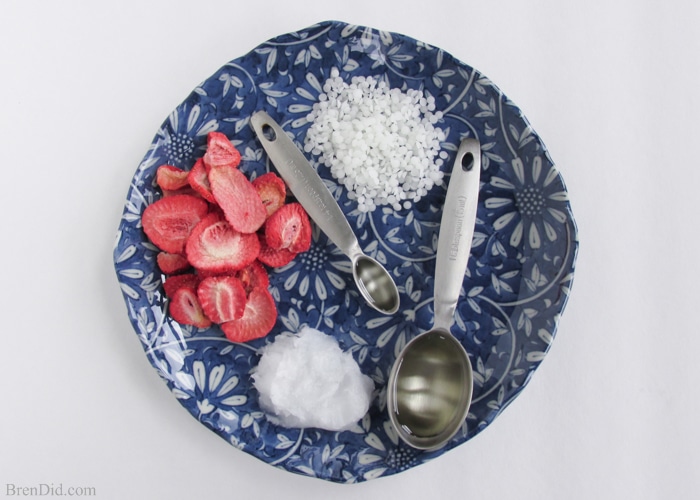 Sweet Strawberry Lip Balm Recipe
Ingredients
Total cost: $2.73
Directions
Use a blender or food processor to grind freeze-dried strawberries into a fine powder. (Try this easy trick to use your blender with a Mason jar.)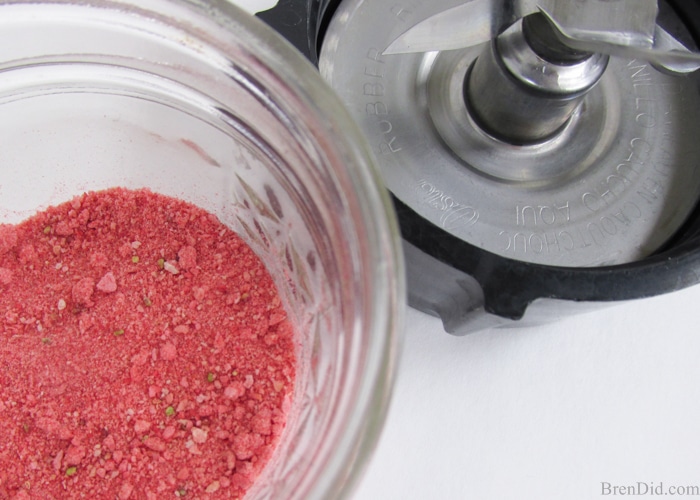 Place all ingredients in a small, heat-safe metal or glass container. I use a small Mason jar.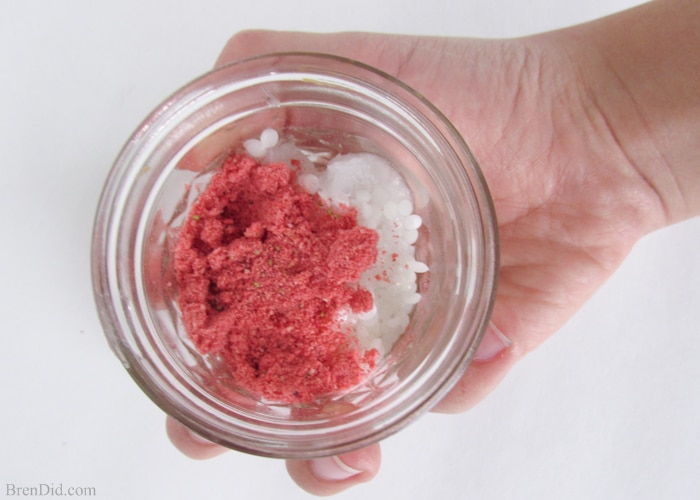 Place the container of ingredients in a pan of slowly boiling water that comes about halfway up the side of the container. Do not to get any water into your mixture.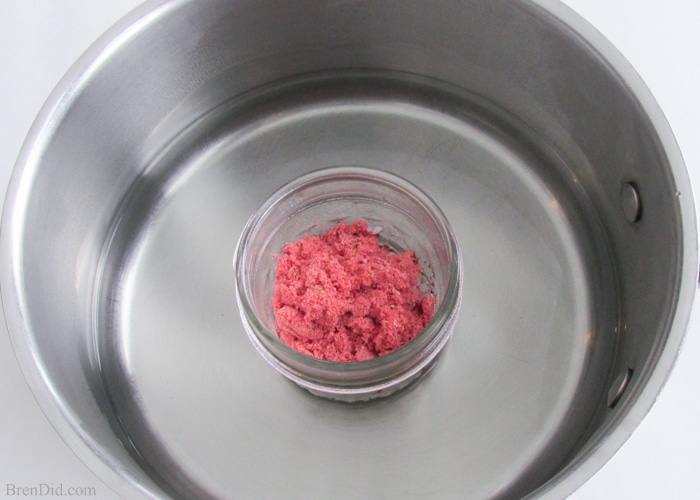 Keep the water simmering and stir the mixture occasionally with metal spoon, wooden chopstick, or unused popsicle stick until melted.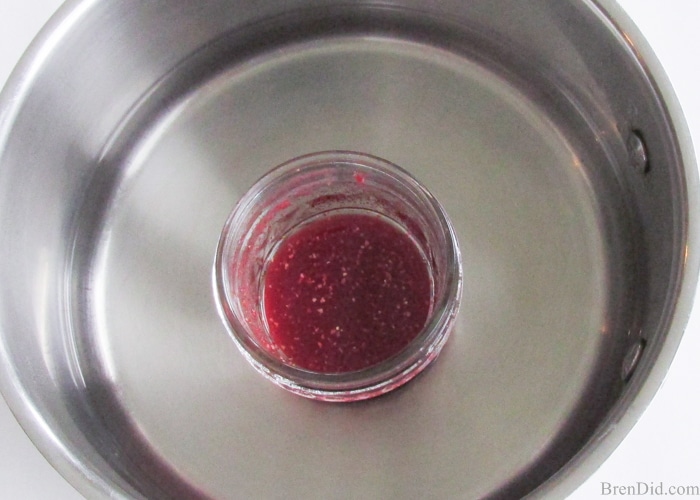 Remove the jar from the water and pour through a strainer into your final container. (I used a 1 ounce glass jar with a screw top.) Discard the solids from the strainer, this is the extra strawberry pulp and seeds.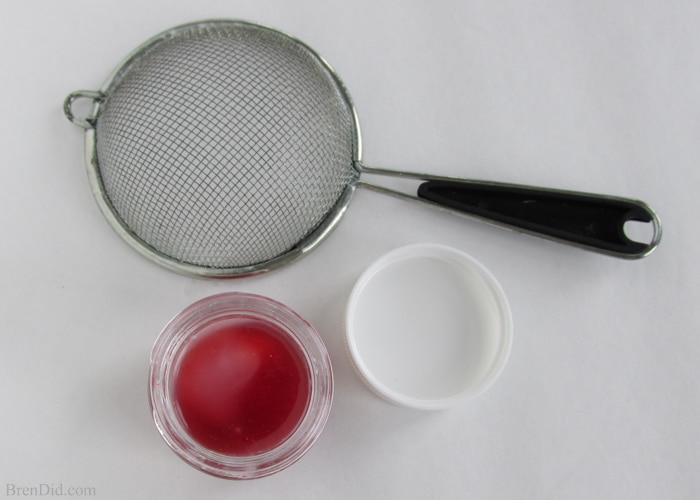 Allow the mixture to cool at room temperature, stirring once after about ten minutes. This will evenly distribute the strawberry color and flavor. (You can see the slight separation before stirring in the photo below.)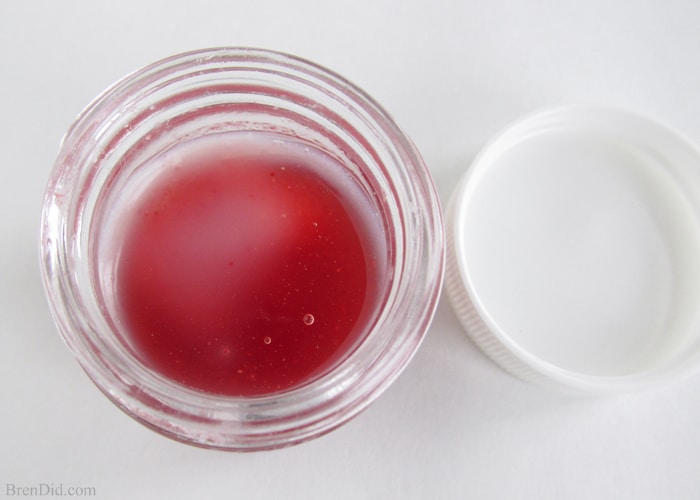 Cool lip balm completely, add a free Strawberry Lip Balm label, and enjoy!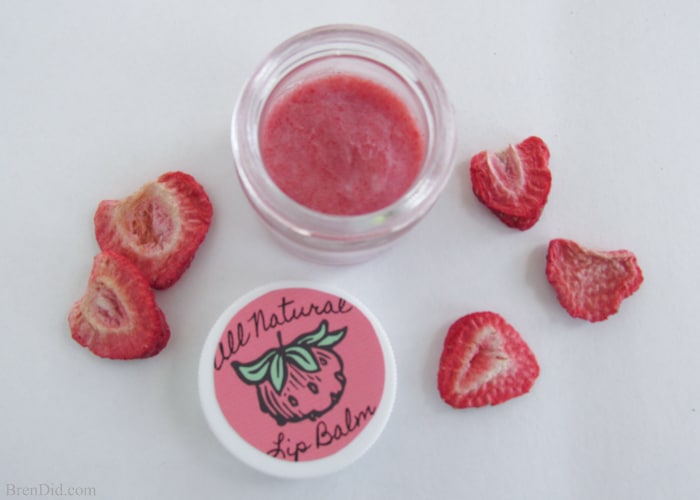 Strawberry Lip Balm Cost
My Sweet Strawberry Lip Balm DIY makes approximately 0.75 ounces of lip balm for $2.73!
A similar all natural commercial product sells for $3.00 for .25 ounces.
This DIY saves you $6.27 PLUS you know exactly what it contains and can feel good about using it!
Free Printable Lip Balm Label
Make your DIY lip balm extra special with a free Sweet Strawberry Lip Balm label.. They look great printed on white labels or craft paper labels.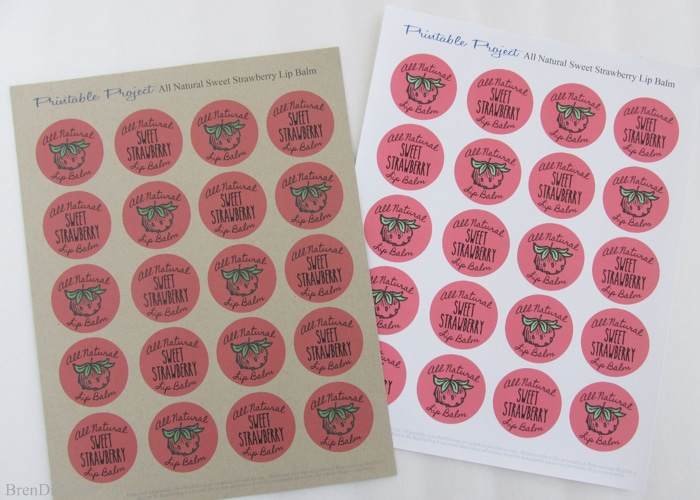 Like my all-natural beauty products? Sign up for my newsletter below and never miss a thing!