This easy beeswax lip balm recipe is identical to store bought lip balm for just $0.59 a tube. Learn how to make it today!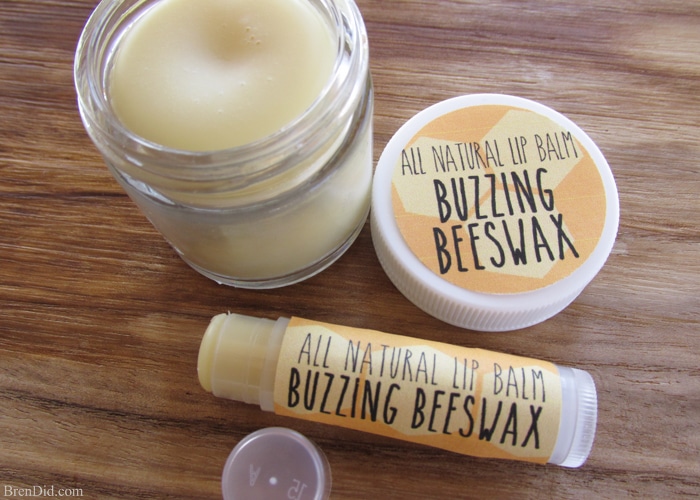 This post uses affiliate links. They don't cost you a thing and help us bring you creative projects. Read more in Policies & Disclosures.
I love all natural beeswax lip balm like Burt's Bees. It feels amazing on your lips, works as long as synthetic products and has a great tingly sensation when going on.
Everyone in my family loves the bees…. as the lost tubes all over my house prove. I've found:
A half empty tube of left in a swim bag to rot.
One melting in the backseat of my car.
Countless tubes drowning in the washing machine.
Each tube I discover makes me cringe and remember how expensive all-natural organic lip balm can be. Luckily, I discovered that making your own lip balm is VERY easy.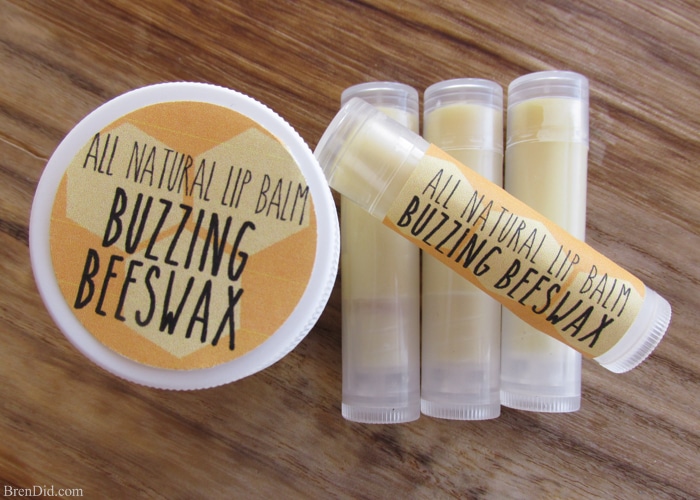 Beeswax Lip Balm
This Burt's Bees knockoff was names Buzzing Beeswax Lip Balm by my son. (He loves beeswax lip balm and may or may not be responsible for many of the tubes found in the washing machine.)
You get a great tingling sensation from the peppermint oil, it moisturizes well, it is organic, and it is CHEAP!
(Check out my All Natural Chocolate Cupcake Lip Balm recipe, it is just as easy to make and smells like fresh-baked cupcakes!)
Beeswax Lip Balm Ingredients
Beeswax lip balm contains:
Beeswax Lip Balm Instructions
1. Measure your beeswax, coconut oil, and mango butter into a glass or metal container. I like to use a Mason jar.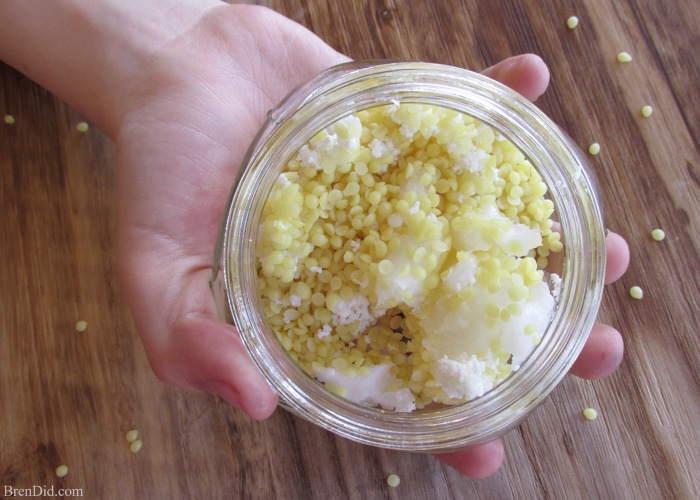 2. Place the jar into a sauce pan filled with about 1.5 inches of water and heat the water to simmering. Stir gently until the beeswax is completely melted. (Do not allow the water to boil and do not get water into the mixture).
3. Remove the container from the pan and quickly stir in the honey, Vitamin E and essential oils.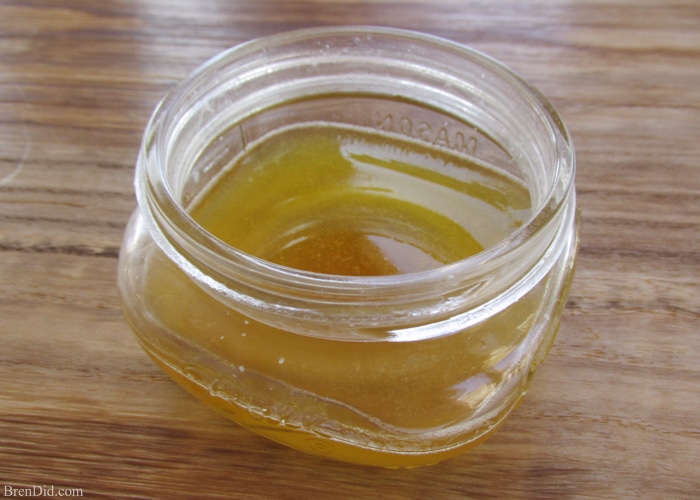 4. Carefully pour the lip balm mixture into tubes or lip balm pots.
5. OPTIONAL – Reserve a teaspoon of lip balm mixture for leveling your containers. Return Mason jar to the hot water (pan off the heat, the water will be warm enough to keep the lip balm melted).
Let the containers of lip balm cool slightly (3-5 minutes).The mixture shrinks as it cools leaving an indentation in the top. Use a spoon to add a few drops of the reserved lip balm to the top of each container to level them off. (This step is purely for better visual presentation, you can skip it!)
6. Allow your lip balm to cool to room temperature, add a free printable label and enjoy!
Cost Comparison
A 0.15 ounce tube of my old organic beeswax balm cost between $2.50 and $3.00 depending on where it is purchased. NEW Version– A 0.16 ounce tube of my Homemade Organic Beeswax Lip Balm costs about $0.59. That's a savings of 76%!
Make sure to download my free printable labels. They add a special touch to homemade products.
Plus, check out all my natural body care DIY projects including Vanilla Cupcake Lotion Bon Bons and Chocolate Cupcake Lip Balm.