Commercial antiperspirants are full of substances that can be dangerous to the human body this all-natural deodorant diy makes an effective all-natural substitute with no baking soda.
Ever thought about giving up antiperspirant? I stopped using it last year. Done. Finished. Gone. Caput.
No, I am not passionate about spreading body odor across the United States.
I am on a mission to protect my health… one personal care product at a time!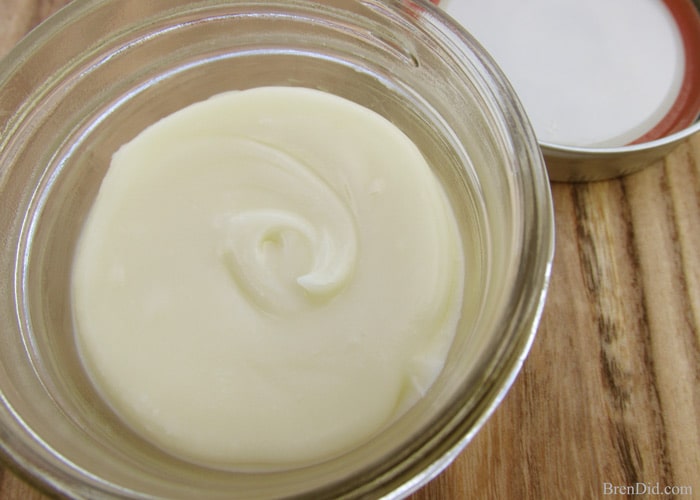 This post uses affiliate links. They don't cost you a thing and help us bring you all natural body care tutorials.
A few years ago I began paying more attention to the ingredients in my personal care items and learned some shocking facts about antiperspirant.
That nondescript white stuff I'd been spreading under my arms for years was full of substances that can be dangerous to the human body.
I was completely unaware of the problem, so I decided to find out more about antiperspirant, underarm odor, and potentially dangerous ingredients.
Why do arm pits smell?
Smelly armpits are caused by the bacteria that grows  in the damp underarm environment created by sweat. The bacteria feed on the fats and proteins that are released by our cells. Gross, but true!
How does antiperspirant stop smell?
Antiperspirants products stop underarm odor because they stop you from sweating. Their ingredients cause skin cells to swell until they block the ducts that release sweat.
No sweat means a less desirable are for to grow and smell.
What is the active ingredient in antiperspirant?
I did some digging and found that aluminum compounds are the active ingredient in ALL antiperspirants. They can appear on the label as:
Aluminum chloride
Aluminum chlorohydrate
Aluminum zirconium tricholorohydrex glycine
Aluminum chlorohydrate
Aluminum hydroxybromide
Even natural crystal antiperspirants contain some aluminum in the form of potassium alum or ammonium alum.
These aluminum compounds are the active ingredient in antiperspirant, they cause the swelling that blocks the sweat ducts. This is BAD NEWS for humans who use want to use antiperspirant.
Why is aluminum bad in personal care products?
It turns out that aluminum is a neurotoxin that should not be in the human body.
Reasons to Stop Using Antiperspirant
These facts shocked me! And then I learn even more startling data:
Antiperspirant is the most common sources of aluminum exposure for humans. Repeated daily use can mean a massive exposure to aluminum.
Antiperspirant is applied dangerously close to breast tissue. PLUS underarm shaving before applying deodorant can increase aluminum absorption. In fact, young girls who use antiperspirants may be more likely to develop breast cancer later in life.
Stopping sweat blocks the body from naturally releasing toxins via your underarm sweat.
Commercial antiperspirants and deodorants may also contain paraben, triclosan, and artificial fragrance. These substances can interfere with thyroid hormones, mess with your metabolism, impair brain development, weaken muscles, decrease sperm count, mimic estrogen (causing early onset puberty and/or breast cancer), act as allergens, and/or cause cellular level changes.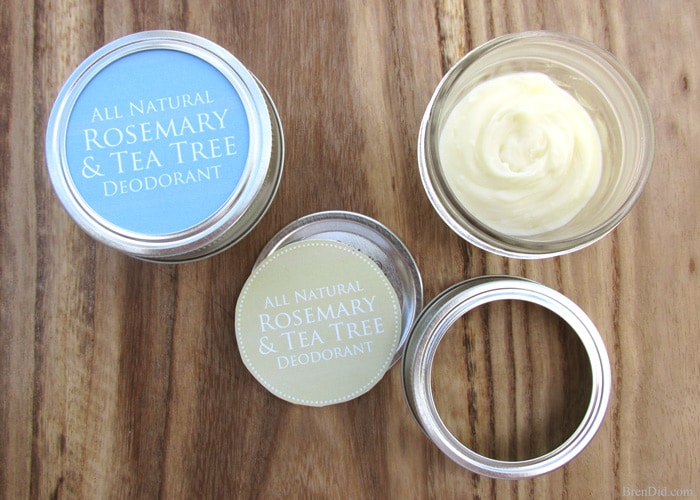 I decided to find a natural solution
Don't worry, you can give up antiperspirant and still prevent underarm odor naturally:
#1 Buy an all-natural deodorant.
Deodorants do not keep you from sweating, instead they target the bacteria that causes the smell to stop underarm odor from being produced.
Be sure to check labels when buying natural deodorant (or any body care product). Many commercial deodorants have synthetic chemicals or fragrances added. I like to check my products on the EWG Consumer Guides or on a Smartphone with the Think Dirty App.
#2 Make your own all-natural deodorant.
This all-natural deodorant recipe uses ingredients that naturally fight bacteria and keep you smelling sweet:
Essential oils that work together to eliminate odor and fight bacteria: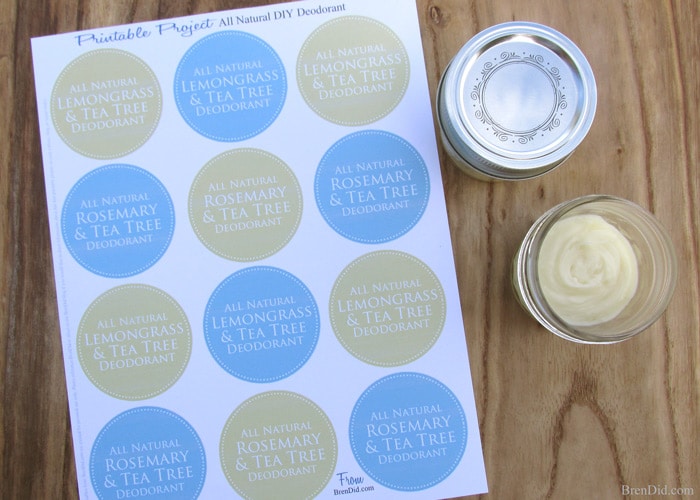 Non-toxic ingredients that naturally fight bacteria, absorb moisture, and soften your skin:
Mango butter is pressed from the seed of the mango fruit. It is highly emollient (softening and soothing) and has a high content of tannins which have anti-fungal and anti-bacterial properties.
Corn starch and Arrowroot powder are both highly absorbent powders that absorb moisture. A dry environment is much less friendly to bacteria and fungus.
Vitamin e oil is know for its skin healing and antioxidant properties. It acts as a natural preservative in homemade body care items.
How to Make All Natural Deodorant
Ingredients
1 Tbsp Coconut Oil
1 Tbsp Mango Butter grated
1 Tbsp Beeswax Pellets
1/2-3/4 tsp Vitamin E Oil
2 Tbsp Arrowroot Powder or Cornstarch
10 drops Lemongrass Essential Oil or Rosemary Essential Oil
10 drops Tea Tree Essential Oil
Instructions
Combine coconut oil, mango butter and beeswax in a small glass or metal container. I make mine in small Mason jars that hold 4 ounces.
Place the container in a small saucepan of simmering water to make a fake double boiler. The water should only be half way up the side of your container. Do not get any water into the container.
Watch the mixture carefully and remove from the heat as soon as the beeswax is melted. Use a wooden craft stick or popscicle stick to stir.
Stir in the Vitamin E oil and cornstarch or arrowroot powder until smooth. Remove the sauce pan from the stove but leave the container in the hot water to make the mixing easier. (This keeps the wax hot and melted.)
Once the mixture is smooth stir in your essential oils.
Pour into storage container (you can also use an old deodorant container). Allow the deodorant to cool completely.
Attach a free printable label, if desired.
To use apply 1/4-1/2 tsp and rub into each underarm.
Natural Deodorant Tips
Keep yourself smelling sweet while your body adjust from antiperspirant to deodorant:
Apply twice a day at first, after using it for a few weeks you can apply once a day.
Apply a bit of cornstarch, Cooling Powder, or No More Stinky Feet Spray (it works on underarms too) to underarms before the deodorant.
Get a free printable PDF label (available in the free printable library) for your homemade deodorant.
Like natural body care tips? Sign up for my newsletter below and never miss a thing!

Subscribe to the Bren Did Newsletter to Get Access