If you've been reading my blog for long then you have probably figured out that I am crazy for all things burlap & twine! Add this to my love of a decorative Halloween banner and you have the inspiration for today's project. It is a black jute "Trick or Treat" banner with creamy white block lettering. It looks so clean and orderly that you will have well-behaved trick-or-treaters lined up around the block!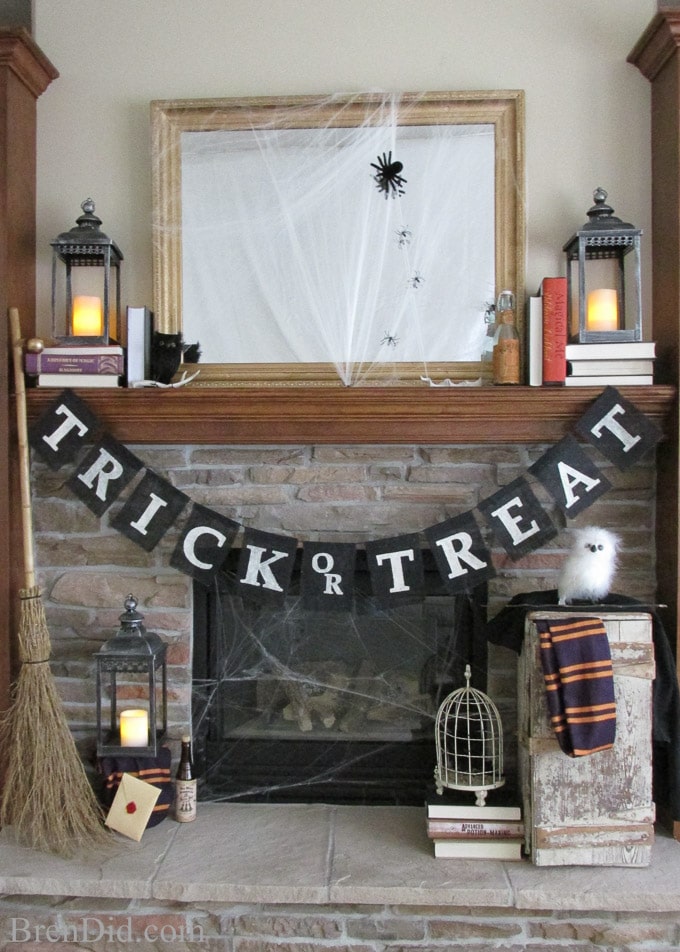 I first saw this banner in the Pottery Barn catalog and it called to me…. "Breeennnnnn, I will be the perfect addition to your Halloween décor!" Unfortunately the banner's lovely cry was drowned out by the price tag of  $24.50.  The banner is made of jute, a fancy catalog way of saying burlap. All the materials for this banner are cheap: burlap (around $4 a yard), acrylic paint (less than a dollar a tube), and a few feet of twine (about $0.10 a foot).
My love of affordable projects took over and I sat down to design a pattern. In no time at all I had the banner assembled…. then I had an even better idea… I could use the banner to create a Harry Potter themed Halloween mantle that the kids would love! (Yep, I've brainwashed my entire family into loving Harry Potter.) I'm including a printable PDF pattern and/or a Silhouette cut file you can use to make your very own Pottery Barn Inspired Black Track or Treat Banner AND all my Harry Potter inspired decorating ideas.
I hope you try making it (or one of my other Halloween banners).
Halloween Banner Instructions
1. Cut 12 pennants from burlap (the pattern is in the printable PDF pattern). They are 5.5" wide by 8.5" tall. (If you have never cut burlap before, check out this easy tip for cutting perfectly, it makes this step go FAST.) Next, use school glue to stop the edges of the burlap from fraying. I squeeze on a thin line and then use my finger to rub it gently into the material. You can also use a fray stopping product, but school glue is more affordable.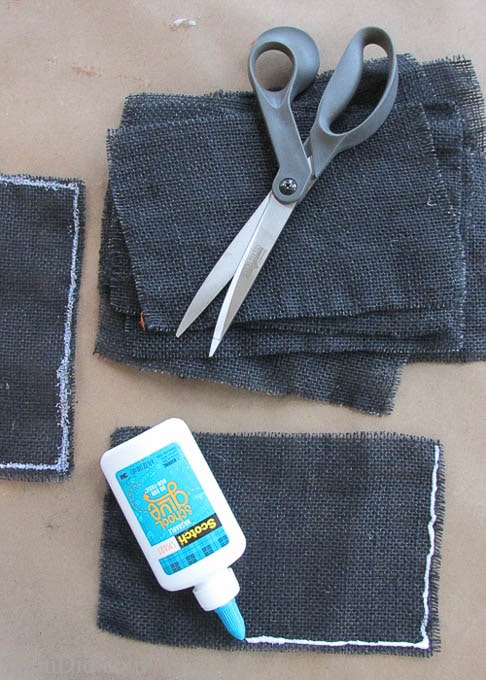 2. Print and cut stencils. There are several ways to accomplish this:
You can trace your stencils onto contact paper by hand and then cut them out by hand.
You can use a Silhouette machine to cut the vinyl for you. Get the free cut files.
You can run contact paper through your printer (here's an easy tutorial).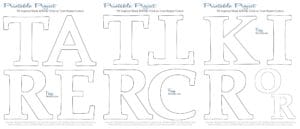 3. Stencil your design using Modge Podge or a mixture of 2/3 school glue and 1/3 water (I used the glue and water). This step creates a base layer for your paint (so you get a nice crisp edge on the lettering). Work from the edge of the stencil inward to prevent the glue from being forced under your stencil. Let the glue dry for an hour or longer. You do not want the glue to mix with your paint.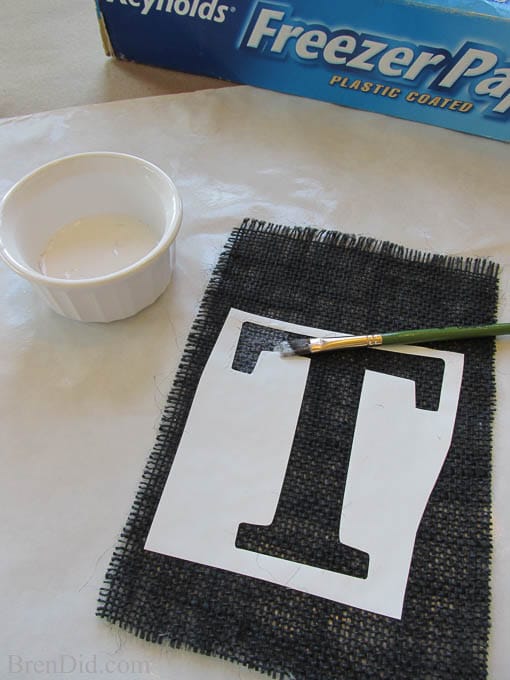 4. Use acrylic paint and a small brush to stencil your design in cream acrylic paint. Work from the edge of the stencil inward to prevent the paint from being forced under your stencil.
5. Let the paint dry for a few minutes and remove your stencils. I let the insides of the letters dry a bit longer to keep from creating smudges. You can use a toothpick to make them easier to remove.
6. Cut the twine. I use a 9 foot piece of twine because I like to have extra length at each end to attach the banner. The finished PB banner is 77 inches long. If you want a shorter banner use an 8 foot piece of twine, the ends will have a loop that takes up several inches.
7. Once the paint is completely dry use a glue gun to attach your pennants to the twine. I use an iron to crease my pennants ½ inch from the top. This makes a straight line to place the glue and twine. Go lightly on the glue, you do not want extra leaking out through the loose weave of the burlap. Space each pennant 1/2 inch apart. Leave 1 inch between words. Tip: start from the middle of your twine and work out. This ensures your banner is centered. You can even lay the whole banner out before you start gluing.  Knot the twine  at the end to make a hanger.
8. Enjoy your new creation!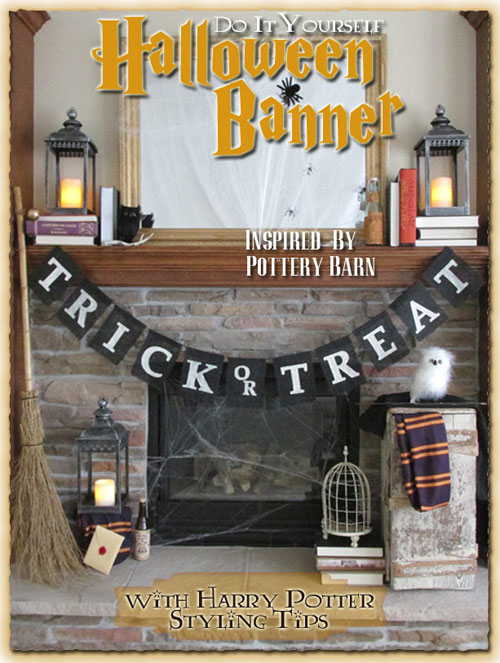 Halloween Banner Cost
I really love how this banner turned out! Black and white is really popular in Halloween decoration this year. I can see this banner fitting with many decorating schemes for years to come.
I especially love the SAVINGS! The Pottery Barn price is $24.50, mine was about 85% off…. $3.75!
Supplies
Black Burlap – $2.00
Acrylic Paint – $0.69 (used ½) – $0.30
White glue – $0.75 (used 1/3) – $0.25
Black Jute Twine – $1.10
Glue Stick – $0.10
Total price= $3.75
That's a $20.75 savings (15% of the original price).
I LOVE those savings even more than the Leaky Cauldron!
Harry Potter Décor
Now, as I promised, some Harry Potter décor ideas for your mantle. I'll describe what you can see in each picture. Feel free to improvise… and share your ideas with me!
An invitation to Hogwarts. I folded cream parchment into an envelope shape and made a "wax" seal from a piece of felt. I drew on an "H" on with a marker.
A Nimbus 2000 (I'm old school in my broom tastes, you can also use a Firebolt or a Cleansweep). My broom is a Japanese twig gardening broom. You can buy one on Etsy, at a garden shop,  or try a Halloween costume store.
Butterbeer the drink of all Quidditch champions! These free printable labels from Confetti Prints are so adorable when glued to brown glass bottles. I stuck in a piece of wine cork to make it look unopened.
Candles! I use flameless candles from Lowes as the decorations tend to attract little folks!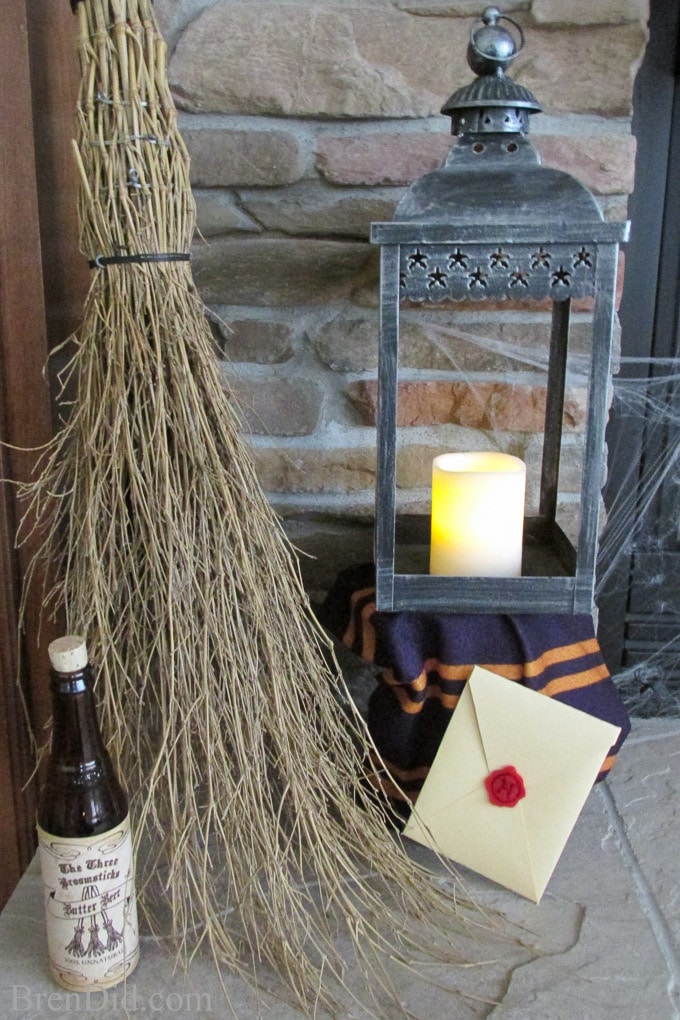 Owls and more owls! A few fake owls set the scene: there is a snowy white Hedwig, a black owl we'll call Hermes (a nod to our favorite family the Weasely's), and a little black owl in the cage (we're calling him Owl-bert Einstein due to his unfortunate feather styling). I bought them a Michael's.
An owl cage for safe companion transport. This lovely cage came from Michael's a few years ago, they have other similar styles.
A wand. If you can't stop by Ollivanders all you need is a nice straight twig. (It's at Hedwig's feet in the pictures.)
A Gryffindor scarf and robe. These are leftovers from a Harry Potter Halloween costume. Again, try a Halloween store or just use fabric.
A trunk. Would a Hogwarts student show up at Platform 9 ¾ with a suitcase? I inherited mine, if you don't have a trunk or trunk like box try using a cauldron or check eBay.
A big mirror. Mine looks pretty ancient, we'll call it the Mirror of Erised.
Add a big spider (a young Aragog, perhaps?) and some little ones to the mirror with cobwebs. They're fleeing the basilisk! The big spider is from Michaels, the little ones I cut from spider rings I bought at the Dollar Tree. The cobwebs are also from the Dollar Tree.
Pumpkin juice. I printed this label and attach it to a bottle. I used a bottle with a wire bail lid, I love the old-fashioned look (it's from Ikea).
A unicorn horn. This is easy, it's several sea shells placed together (look beside the pumpkin juice).
The Golden Snitch. Mine is made from a rubber ball with some thin plastic wings (cut from a recycled food container) attached with super glue then spray painted.
Lanterns! I wouldn't want to traverse the Forbidden Forest without one (or three). I also used an antler I found on a hike as an owl perch. I like the rustic/creepy element it adds.
School books. Print some great spines at the Hideous! Dreadful! Stinky! craft blog (love that name). I wrapped my other books in brown craft paper and/or used books with colorful cover edges.
Get More Knock Off Halloween Crafts
Here's what I've been creating this Halloween:
I hope you try making a Pottery Barn Inspired Trick or Treat Banner  or one  of my other knock-off decorations this Halloween!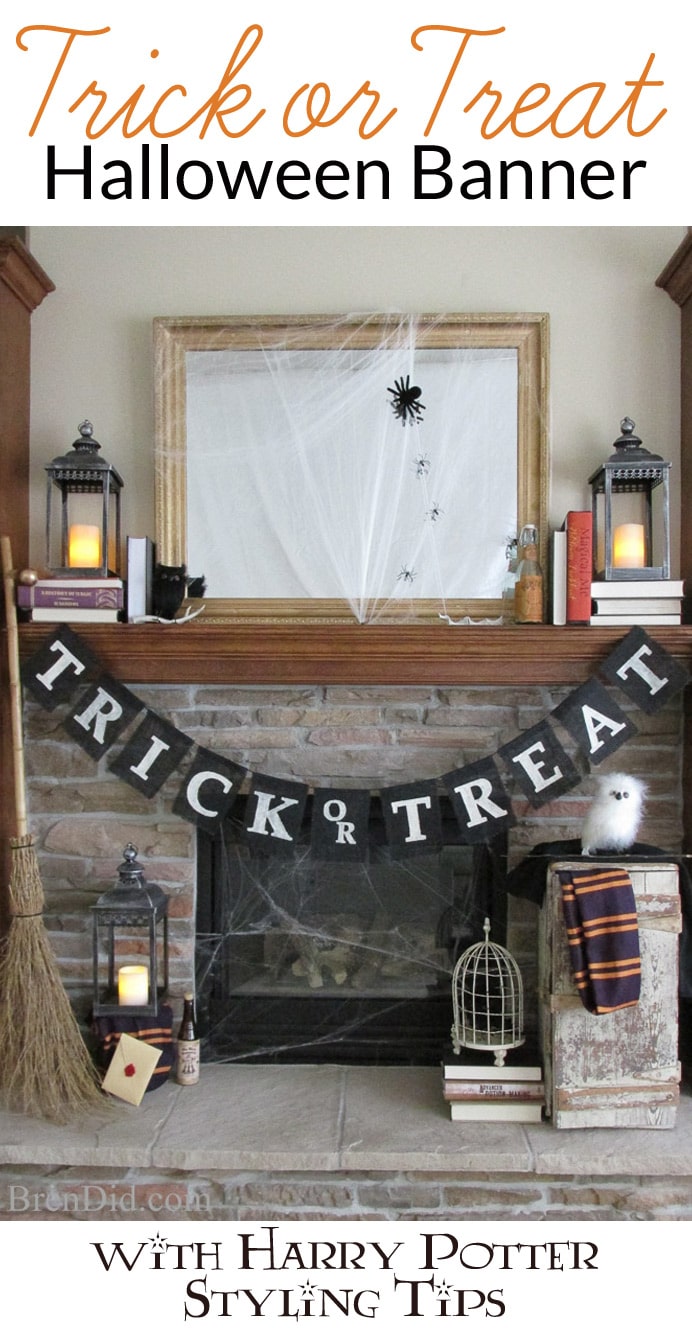 Subscribe to the Bren Did Newsletter to Get Access