Homemade bath melts are the perfect way to soothe itchy skin while you soak. Get the easy recipe and rescue your skin with this all-natural bath soak that leaves skin feeling silky soft and supple.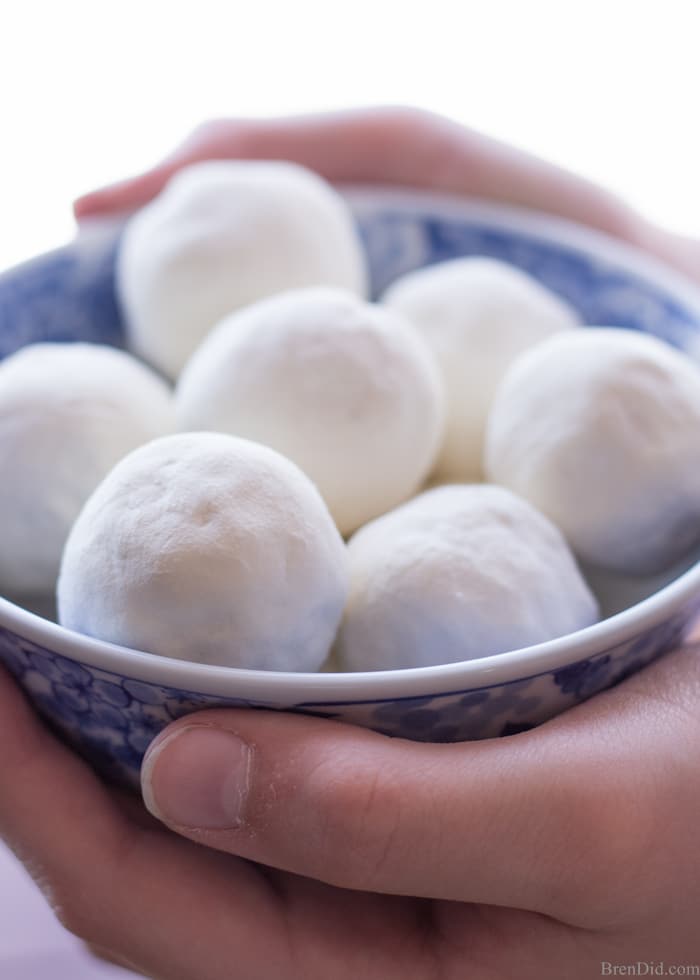 This post uses affiliate links. They don't cost you a thing and help us bring you natural beauty tutorials. Read more in Policies & Disclosures.
I'm not an exercise buff by any means, but I do love working out in the pool. A friend of mine recently hurt her leg and had to downgrade from her more dangerous sounding boot camp classes to more tame workouts of water cardio and deep water conditioning.
I am happy to follow her into the pool every morning for a few hours of laughter and fitness.
(Fun fact: I found out that I am virtually incapable of standing on a pool noodle while floating in the deep end. You win some, you lose some!)
Pool = Dry Itchy Skin
There is ONE part of me HATES working out in the pool… my skin! It has been dry and prickly since I started my chlorine filled workouts despite layers upon layers of lotion and homemade chlorine neutralizing spray. (Aurgh, winter!)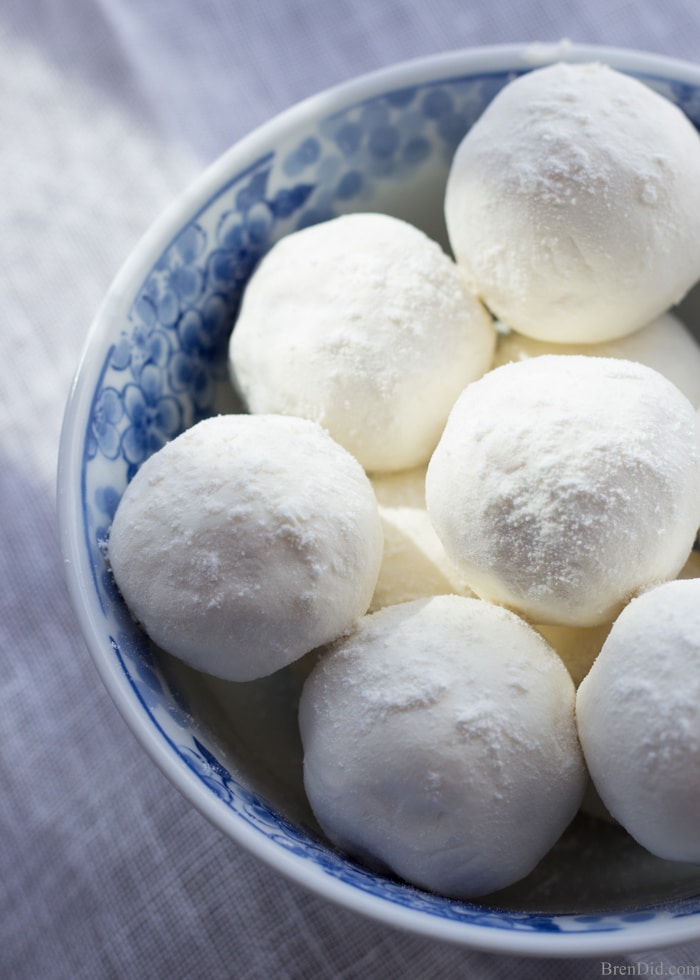 Skin Rescuing Bath Melts
Have you ever used a bath melt? They are fabulous little bath bombs of moisturizer that melt into the water and hydrate your skin. They turn your bath into a softening sanctuary!
I decided to whip up a batch of bath melts with natural oils and butters to soothe and soften my dry, itchy skin during my evening soak.
Milk and honey bath melts gently hydrate dry, irritated skin with all-natural ingredients including:
rich mango butter
sweet almond oil
organic powdered milk
luxurious honey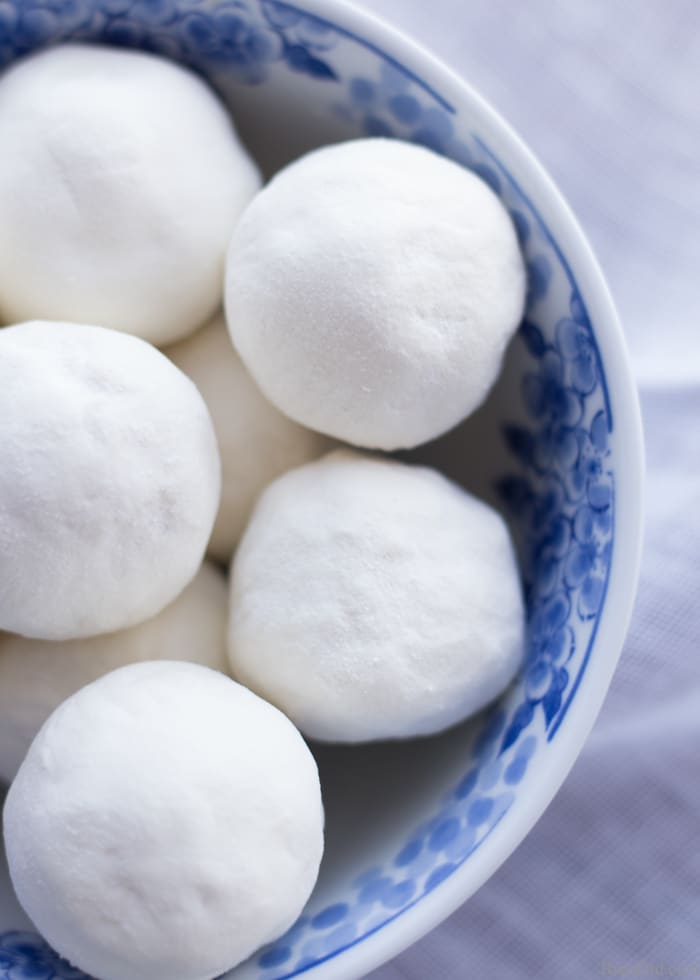 Land of Milk and Honey
The powdered milk and honey in this recipe bring to mind the land of milk and honey… a symbolic reference to the Promised Land, a place of peace where there is comfort and plenty, a heavenly land.
The bathtub is a great place for a little peace and comfort! A decadent bath is a lovely escape from the stress of daily life. PLUS it costs very little, has no calories, and can quiet the mind before bed.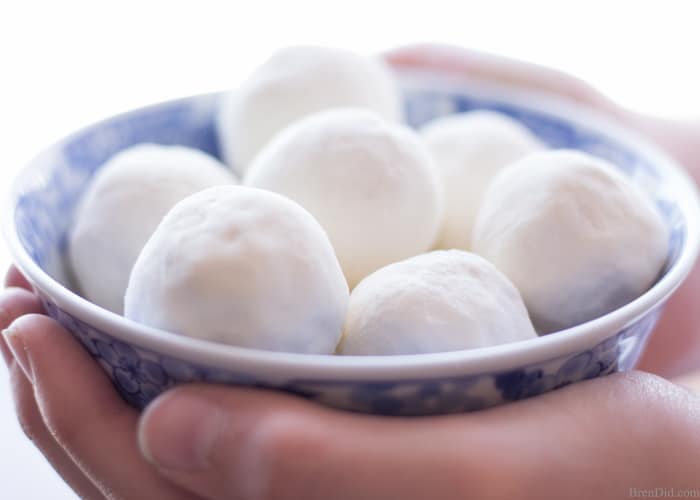 Milk and Honey
Milk and honey are all-natural ingredients that are great for skin care.
Milk baths contain lactic acid which:
Gently exfoliates away dead skin cells.
Softens and smooths rough patches.
Accelerates skin cell renewal.
Tones and tightens the skin.
Honey is a natural humectant that:
Attracts moisture and keeps in locked inside.
Supports the skin's ability to rejuvenate
Helps promote healing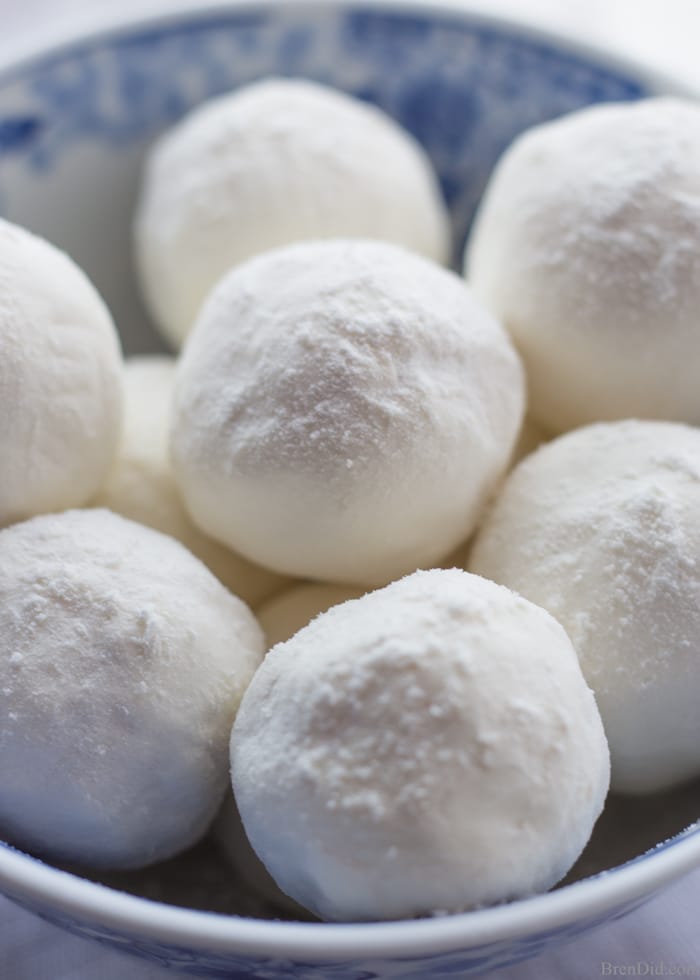 How to Make Milk and Honey Bath Melts
Ingredients
1/3 cup mango butter or shea butter
1/3 cup almond oil
¼ cup honey
1 cup powdered milk
½ cup powdered milk (for rolling)
Directions
Melt the mango butter, almond oil and honey together is a glass bowl set into a small saucepan filled with boiling water. Do not get water in the mix.
Stir in 1 cup of powdered milk. The mixture will be slightly crumbly.
Measure 2 tablespoons of mix and roll into tight balls.
Place bath melts onto wax paper or parchment paper to cool.
Roll bath melts in ½ cup powdered milk for a decorative finish.
*Recipe makes approximately 9-10 bath melts.

How to Use Bath Melts
Fill the tub 1-2 inches with hot water, place one or two bath melts in and allow to melt. (You can crumble the melts with your hands to speed the process or rub them onto your skin for extra moisturizing.)
Continue filling tub with water of your desired temperature then soak for 20-30 minutes.
When exiting the tub be carefully, surfaces can be slippery!
Tip: Rub a bath melt over heels, knees and elbows to deliver extra lactic acid and moisturizer directly to trouble spots. Allow the rest of the bath melt to dissolve in the tub.
More Easy DIY Bath Recipes
These easy all-natural bath products soften skin, promote detox, aid in sleep, and relax tired muscles. Try one today!
Fresh Snow Moisturizing Detox Bath – This moisturizing bath soak looks like freshly fallen snow. It contains natural oils to soften skin and magnesium rich Epsom salts to help relax your body and mind before bed. You can make and use this easy recipe in minutes!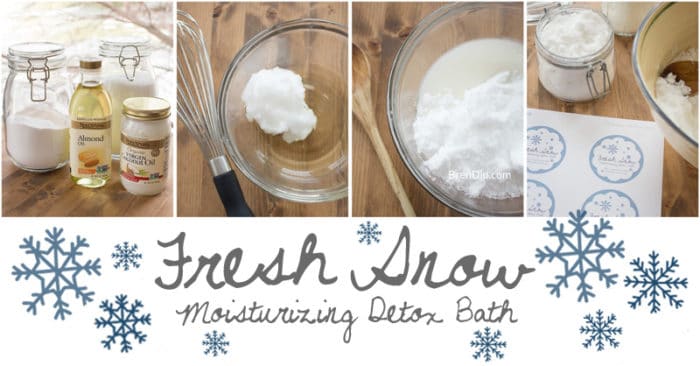 Rosemary Chamomile Detox Bath Soak – Detox bath salts help remove toxins and promote peaceful sleep. This all-natural Rosemary Chamomile Detox Bath recipe uses dried herbs and essential oils to create an inexpensive but luxurious detox bath soak.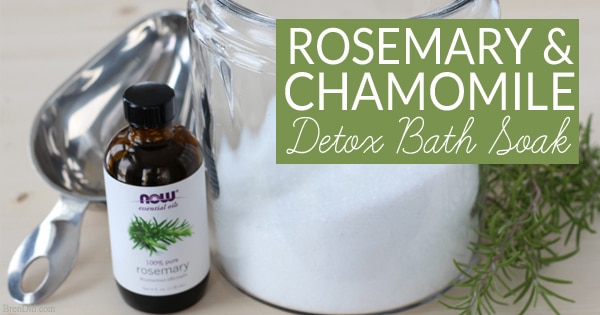 Magnesium Rose Natural Detox Bath Salts – These all-natural Magnesium Rose bath salts uses mineral salts, Epsom salt, and essential oils to create a luxurious floral detox bath soak. Epsom salt bath salts help remove toxins for weight loss and relaxation.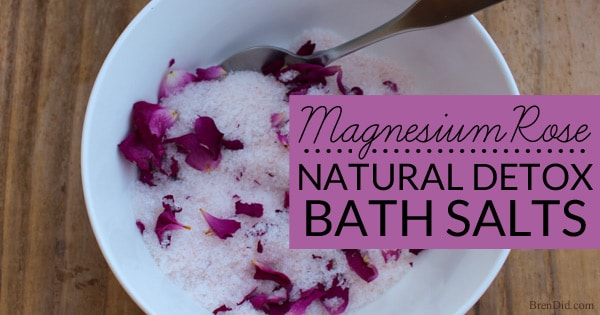 Like my natural body care tutorials? Sign up for my newsletter below and never miss a thing!