Relax in an all-natural moisturizing detox bath that soothes dry skin while you de-stress. This bath soak has the beautiful look and feel of fresh snow PLUS it leaves skin feeling silky soft and and promotes better sleep.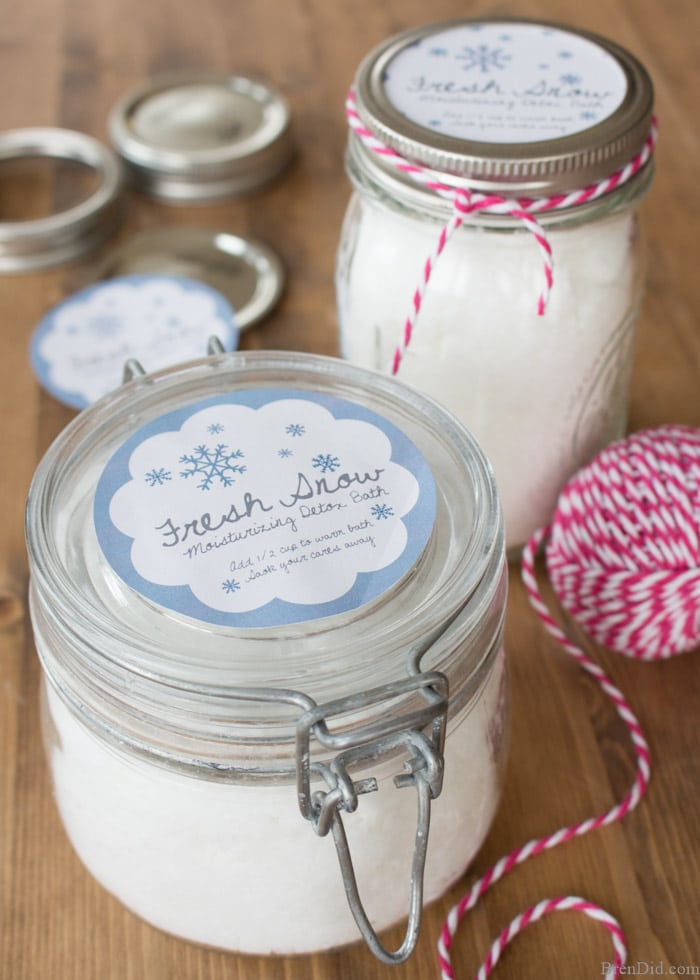 This post uses affiliate links. They don't cost you a thing and help us bring you creative projects. Read more in Policies and Disclosures.
Did you have an amazing holiday season? Maybe a little too amazing between the alcohol, extra refined sugar, and rich foods you enjoyed?
I, for one, enjoyed way too many salted caramel shortbread cookies, a few extra late nights with friends, and a few more cocktails than normal.
After a season of indulgence I like to ease back into a healthy living routine 2 ways:
Drinking a green smoothie for breakfast each day
Adding a relaxing magnesium detox bath to my nightly routine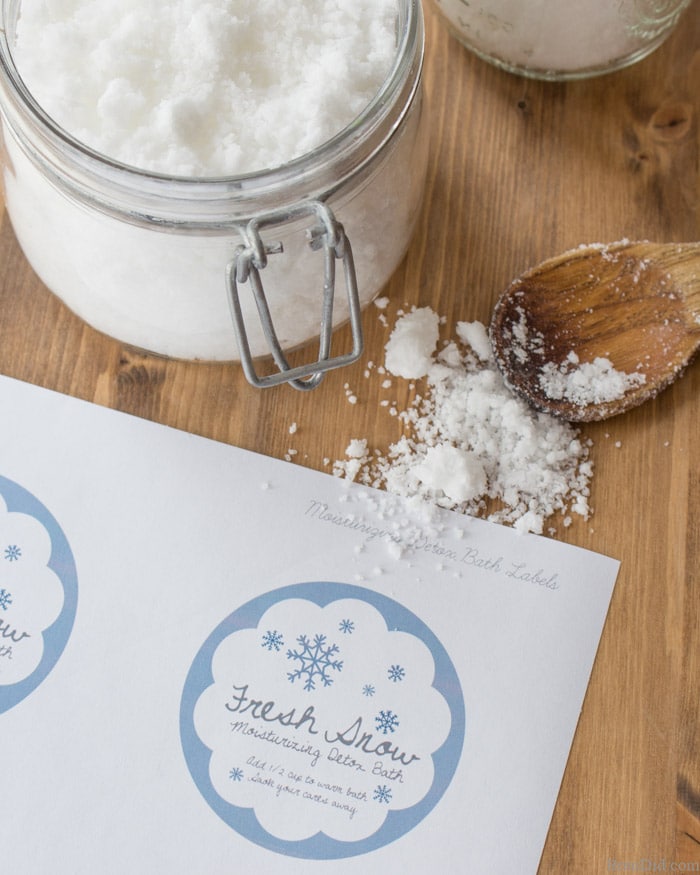 Why Moisturizing Detox Baths?
What's the number one thing humans need to be refreshed and energized?
Sleep!
Unfortunately, I am a fitful sleeper and rarely get the recommended 7+ hours of sleep… without effort!
Over the years I've found that a hot bath with Epsom salts helps me sleep better, calms my restless leg syndrome, and makes me feel less stressed.
Epsom Salt Baths
Epsom salt baths are natural body care practice based on the idea that magnesium levels can be raised transdermally ( through the skin, our largest organ).
Soaking for 20-30 minutes in a hot bath that contains Epsom salts can aid in sleep and help relieve stress.
Moisturizing Baths
This DIY bath soak contains skin-nourishing oils that moisturize and soften skin while you bathe.
Adding moisturizing ingredients to Epsom salt bath makes them soothing for winter when skin can be dry and irritated.
The skin pampering bath looks and feels like fresh snow. It has a clean crisp scent and makes a lovely gift.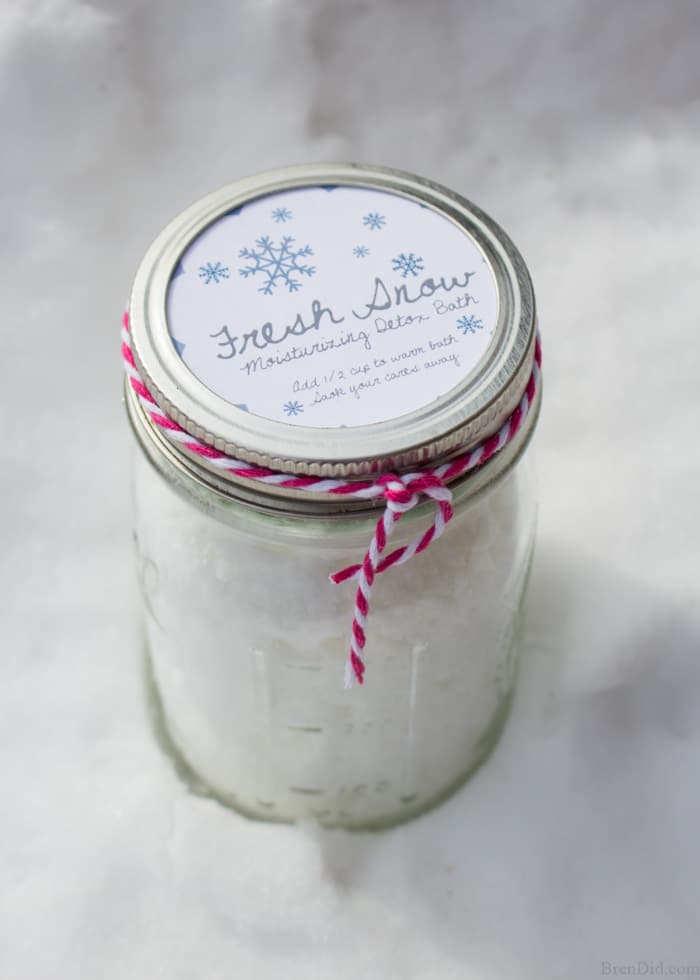 Moisturizing Detox Bath Ingredients
This detox bath recipe uses simple ingredients that promoted stress release and aid in better sleep. You probably have most of them in your home!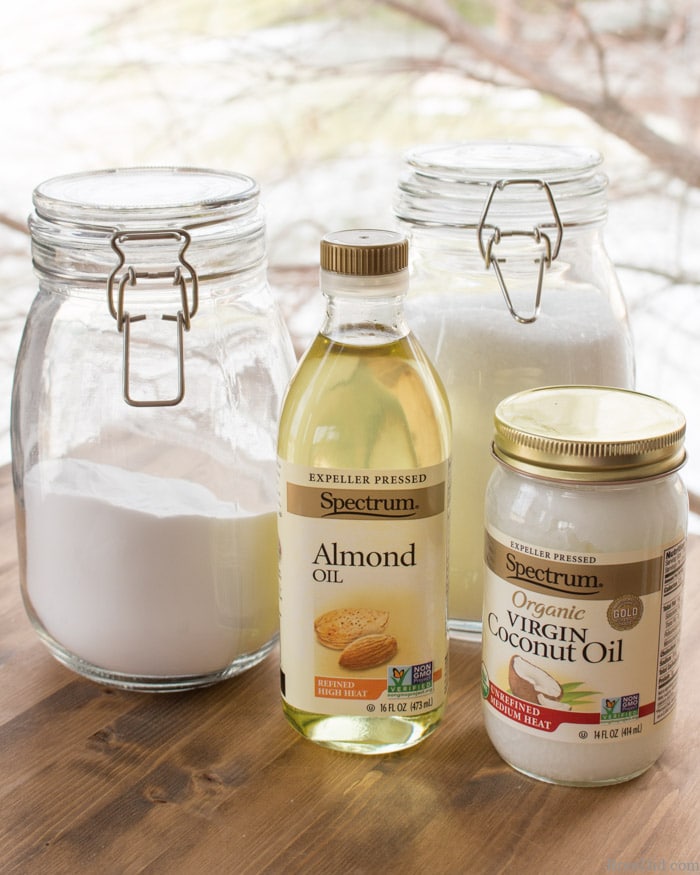 Magnesium Sulfate: Popularly known as Epsom Salt. Magnesium is used for treating anxiety, chronic fatigue syndrome (CFS), Lyme disease, fibromyalgia, leg cramps, migraine headaches, premenstrual syndrome (PMS), restless leg syndrome, skin infections and more.
Sodium Bicarbonate: Popularly known as Baking Soda. Sodium bicarbonate makes bath water alkaline which soothes irritated skin, relieves pain or itching, and leaves the skin feeling silky.
Virgin Coconut Oil: Virgin oconut oil is pressed from the "meat" of the coconut. It has a high content of lanauric acid which is anti-viral, anti-fungal, and anti-bacterial. It aids in skin healing and moisturizing.
Sweet Almond Oil: Almond oil is pressed from edible almonds. It is rich in Vitamin E, monounsaturated fatty acids, and proteins plus minerals and vitamins. It is good for moisturizing and healing skin.
Essential Oils:

Lemon Essential Oil is distilled from the peel of the lemon. It is high in d-limonene, a powerful antioxidant. Lemon oil is nourishing to the skin, improves mood, and supports immune system.
Peppermint Essential Oil is derived from the leaves of the peppermint plant. It helps increase blood flow to the skin, it is muscle-soothing, and has a mentally relaxing effect
Rosemary Essential Oil is distilled from the fresh flowering tops of the fragrant evergreen plant. It is used to stimulate blood circulation, relieve headaches and muscle aches, reduce stress, and boost the immune system.
Detox Bath Recipe
This all-natural moisturizing detox bath soothes dry skin while raising magnesium levels to aid in de-stressing. This bath soak leaves skin feeling silky soft and supple and promotes better sleep.
Makes: 5 baths
Ingredients
1/4 cup Coconut Oil (melted)
1/4 cup Almond Oil
40-80 drops Essential Oils (lemon, rosemary, peppermint)
3 cups Epsom Salts
2 cups Baking Soda
Instructions
Whisk together the melted coconut oil and almond oil.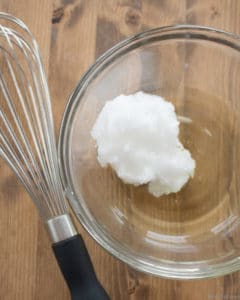 Stir in essential oils. (10-20 drops lemon, 10-20 drops rosemary, 20-40 drop peppermint)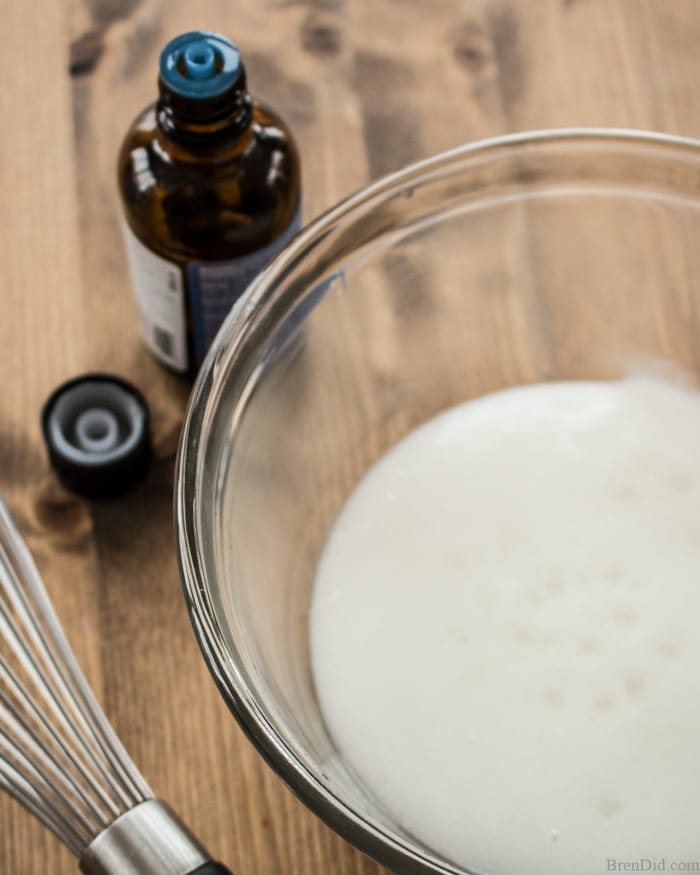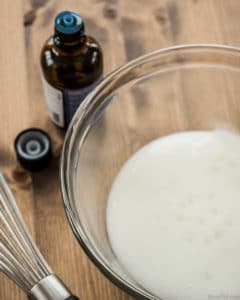 Add Epsom salts and baking soda, stir to combine.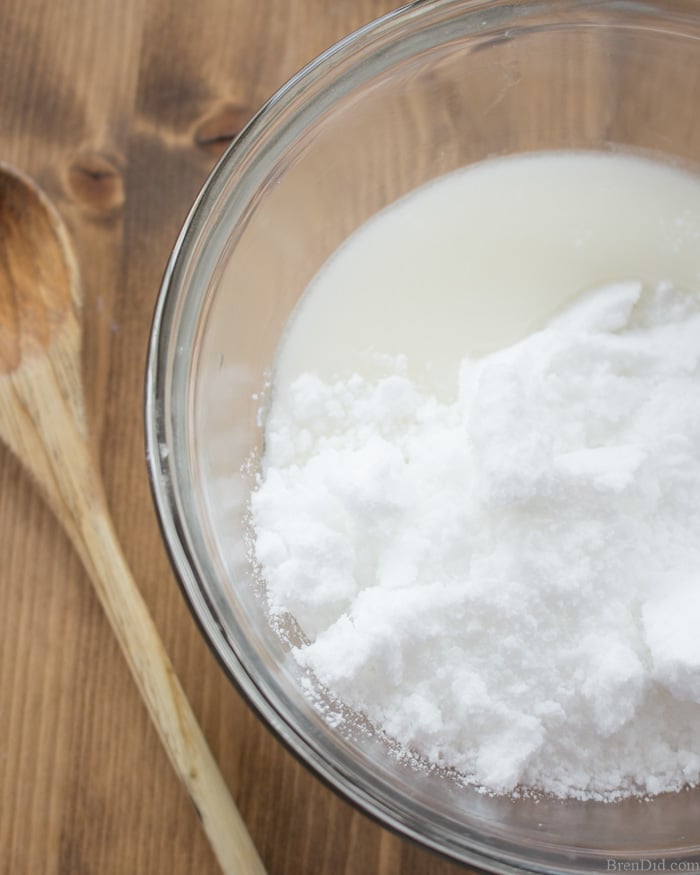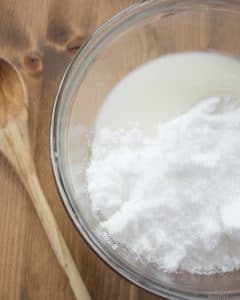 The bath salts will have the texture of fresh snow.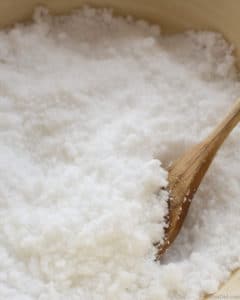 Store in an air tight jar. Add a free printable label if desired.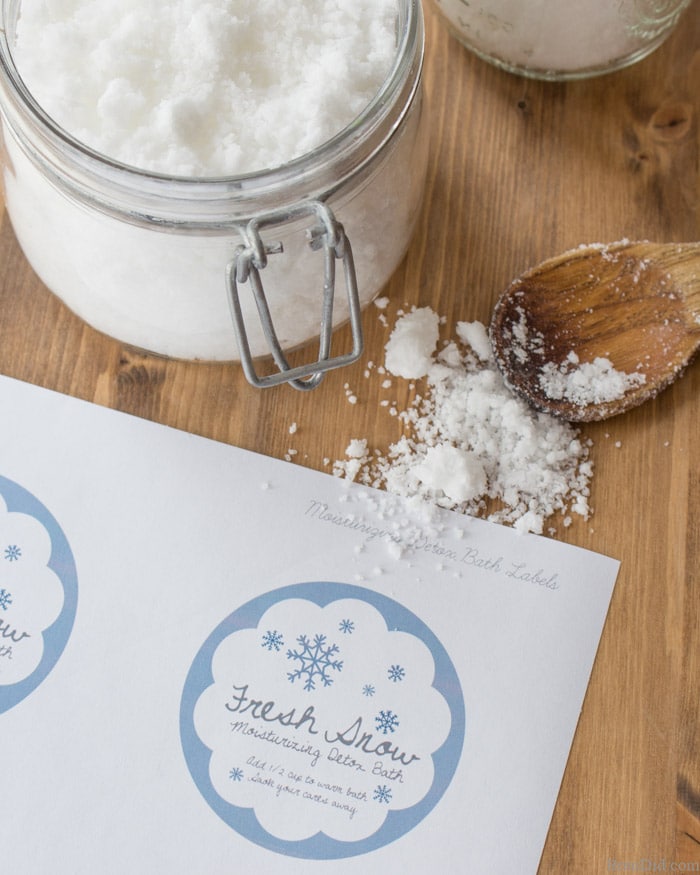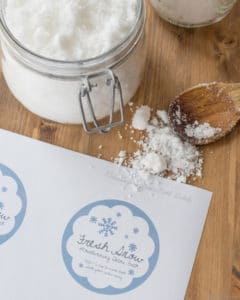 Free Printable Label
I love beautiful bath and beauty products! I designed this free printable label that you can download and use to label your moisturizing detox bath.
Print the labels on self-adhesive, full sheet labels for easy application. I like to store mine in a swing top jar or mason jars.
How to Take a Moisturizing Detox Bath
Take a magnesium bath at night just before going to bed for best results. The magnesium will help you relax while the moisturizing ingredients sooth and soften skin.
To prepare a bath: Fill the tub with hot water. Add the Magnesium Detox Bath salts then soak for 20-30 minutes. Add music, candles, a good book or an interesting podcast to make bath time more enjoyable.
Make sure to have a cold glass of drinking water within reach to re-hydrate during the bath. After soaking pat dry and go to bed.
Detox Bath Warnings
If you have any medical conditions or take prescription medicines you should consult with your doctor before taking a moisturizing detox bath. Hot bath water can cause dehydration and dizziness. You should drink lots of water while taking a detox bath and never take a detox bath when using drugs or alcohol.
This information is provided for educational purposes only and has not been evaluated by the Food and Drug Administration. This information is not intended to diagnose, treat, cure, or prevent any disease.
More Easy DIY Bath Recipes
This easy all-natural bath products soften skin, promote detox, aid in sleep, and relax tired muscles. Try one today!
Rosemary Chamomile Detox Bath Soak – Detox bath salts help remove toxins and promote peaceful sleep. This all-natural Rosemary Chamomile Detox Bath recipe uses dried herbs and essential oils to create an inexpensive but luxurious detox bath soak.
Milk & Honey Moisturizing Bath – Homemade bath melts use powdered milk, honey, and natural oils to soothe itchy skin while you soak. Get the easy recipe and rescue your skin with this all-natural bath soak.
Magnesium Rose Natural Detox Bath Salts – These all-natural Magnesium Rose bath salts uses mineral salts, Epsom salt, and essential oils to create a luxurious floral detox bath soak. Epsom salt bath salts help remove toxins for weight loss and relaxation.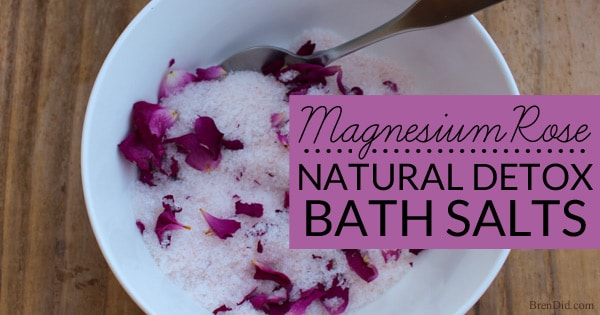 Like my natural body care tutorials? Sign up for my newsletter below and never miss a thing!