Use Sharpie paint markers to create fun Sharpie glasses that celebrate your favorite things. If you can trace you can make these easy DIY glasses!
Disclosure: Netflix provided me with a streaming device and service in return for writing about their service. The opinions and free printables in this post are my own. This post uses affiliate links. Read more in Policies & Disclosures.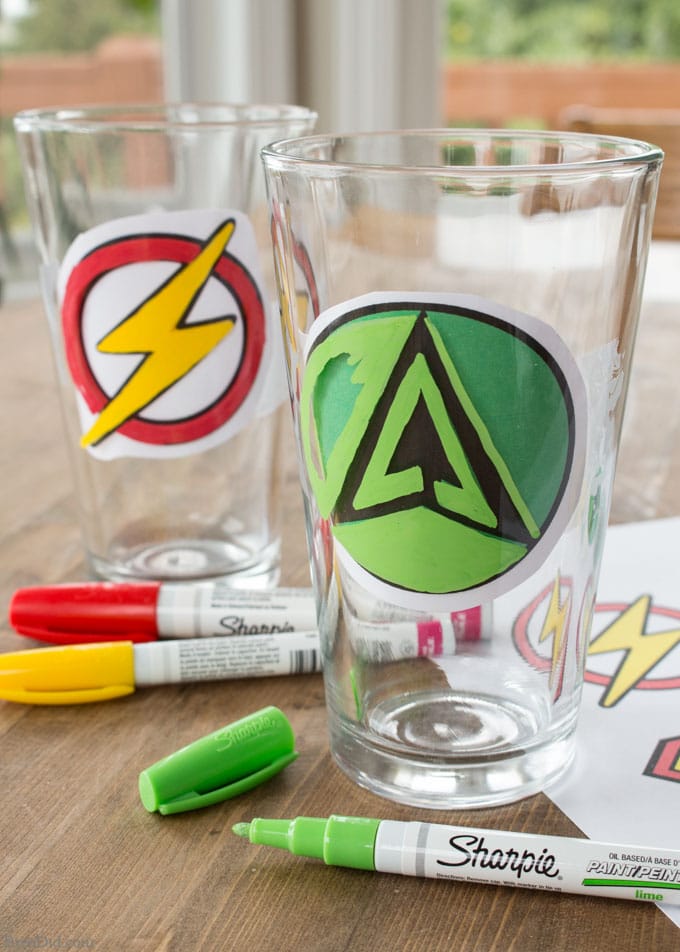 Calling All Superhero Lovers
My kids love superheroes! We can't get enough of our favorites (currently Flash and Green Arrow) enjoy watching all our favorite crime fighters on Netflix including:
Supergirl – Superman's cousin has arrived in National City and she has Girl of Steel powers! Supergirl uses flight, super strength, and laser vision to face the menaces that plague Earth.
The Flash – Young Barry Allen gains the power of super speed after being struck by lightning and becomes the hero of Central City. The Flash faces villains who use their own super powers for evil.
Arrow – Oliver Queen is a rich playboy who turns into a vigilante after he is shipwrecked and stranded on a mysterious island for five years. He takes on crime and corruption in Star City with his martial arts skills and bow-and-arrow.
Batman (Lego DC Comics: Batman Be-Leagured) – Batman is a self-sufficient loner but when Superman and other Justice League superheroes start disappearing he becomes a team player to save the day.

Superhero Custom DIY Sharpie Glasses
Celebrate your favorite superhero with these easy DIY Sharpie Glasses. Just trace the pattern onto the glass and allow them to dry… it's really that easy!
(Pssst…. Sharpie Oil Based Paint Makers are made to write on glass, ceramic, pottery, and more. You should wash the painted glasses by hand to keep the design looking great.)
Supplies
Directions
Prepare the glasses – Remove all labels then wash and dry the glasses. Wipe the surface to be painted with rubbing alcohol or vodka to remove any oil from your hands. Allow to dry.
Choose your pattern – Print the pattern file, cut out the desired logo, and tape inside of the glass. Make sure that the logo is low enough so your lips won't touch the design when drinking from the glass.
Decorate the glasses – Used an Oil-Based Sharpie Paint Marker  to trace the pattern.

If you have to go over an area a second time allow the paint to dry for 10 minutes then touch up the paint. Press lightly when applying the second layer or you will remove the first layer of paint.
Mistakes can be removed with rubbing alcohol, nail polish remover, or vodka.

Cure glasses – Allow glasses to dry for 24 hours before using or bake the glasses to set the paint. Baking the glasses is optional, some crafters think it adds durability to the painted design others believe it can ruin the colors.

Allow the glasses to dry for at least 20 minutes then place in a cold oven.
Heat the oven to 350 degrees, turn-on time to 20 minutes, and allow the glasses to cook.
Turn off the oven and allow the glasses to cool before removing them.

Tips for Making Sharpie Glasses
Sharpie glasses should ALWAYS be hand washed to keep the design looking great.
Sharpie paint markers ARE NOT labeled food safe. Use Sharpie markers on OUTER surfaces of glasses. The paint should not come into contact with drinks or lips (This is true for all Sharpie tutorials and crafts using dishware!)

Sharpie Glasses Craft FAQ
These are some frequently asked questions and answers about making glasses with Sharpie markers.
Which type of Sharpie marker should be use on glass?
All Sharpie permanent makers will write on glass. However, to create a more permanent design use Oil-Based Sharpie Paint Markers. The paint makers are specially designed to write on glass, pottery, ceramic, wood, and more!
How to Remove Oil Based Sharpie From Glass
You can remove Sharpie Paint Markers from glass if you make a mistake or just want a new design.
Use nail polish and a soft rag or cotton ball to wipe the glass clean.
or
Remove the design with a scratchy pan cleaning sponge or razor blade.
Do Sharpie Paint Pens Wash off Glass?
Oil-Based Sharpie Paint Markers create a semi-permanent design on glass.
Sharpie glasses last a long time if they are hand washed with a soft rag.
Washing Sharpie glasses in the dishwasher will damage the design.
Using a scratchy dish sponge on the design will damage it or scrape it off.
How to Use Sharpie Paint Pens on Glass
Wipe the glass surface with white vinegar, vodka or nail polish remover to remove oils and dirt.
Tape pattern to the inside of the glass
Trace the pattern using Oil-Based Sharpie Paint Markers.
Bake (optional) or let the paint dry (cure) for 24 hours.
Hand wash with a soft dishcloth and gentle detergent.
How to Bake Sharpie on Glass
Sharpie glasses can be baked in a standard oven to help set the paint, if desired. (This is an optional step!)
Allow the painted design to dry for at least 20 minutes then place in a cold oven.
Heat the oven to 350 degrees, allow the glasses to bake for 20 minutes.
Turn off the oven and allow the glasses to cool to room temperature before removing.

More Sharpie Crafts
Love Sharpie crafts? Try these fun projects: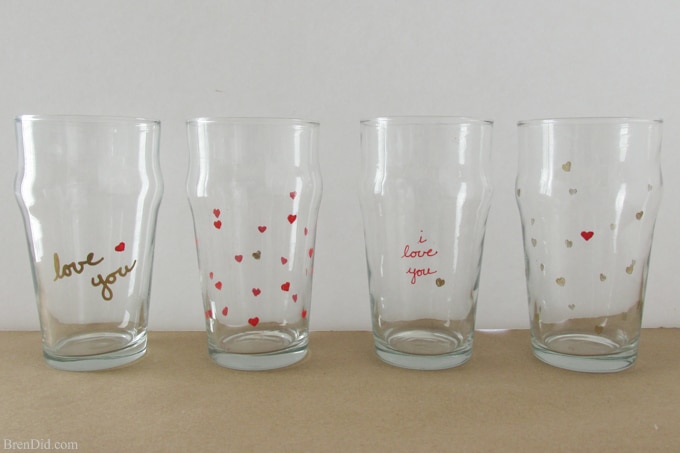 Like my easy craft tutorials? Sign up for my newsletter below and never miss a thing!