Grab this free printable Fidget Spinner Movie Picker for your next family movie night. It solves the problem of kids fighting over what movie to watch and makes good use of the fidget spinners your kids have all over the house!
Disclosure: Netflix provided me with a streaming device and service in return for writing about their service. The opinions and free printables in this post are my own. This post uses affiliate links. Read more in Policies & Disclosures.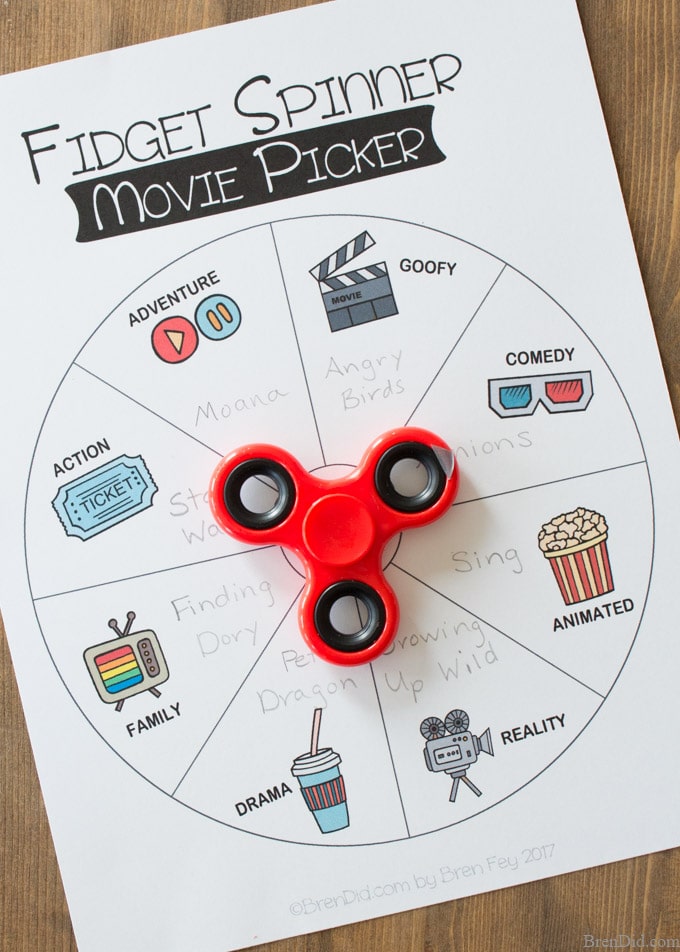 Raise your hand if fidget spinners have invaded your home…
I resisted them for the longest time…
but 2017 is the year of the fidget spinner…
and my kids save their own spending money…
so eventually the little plastic toys found their way into our home.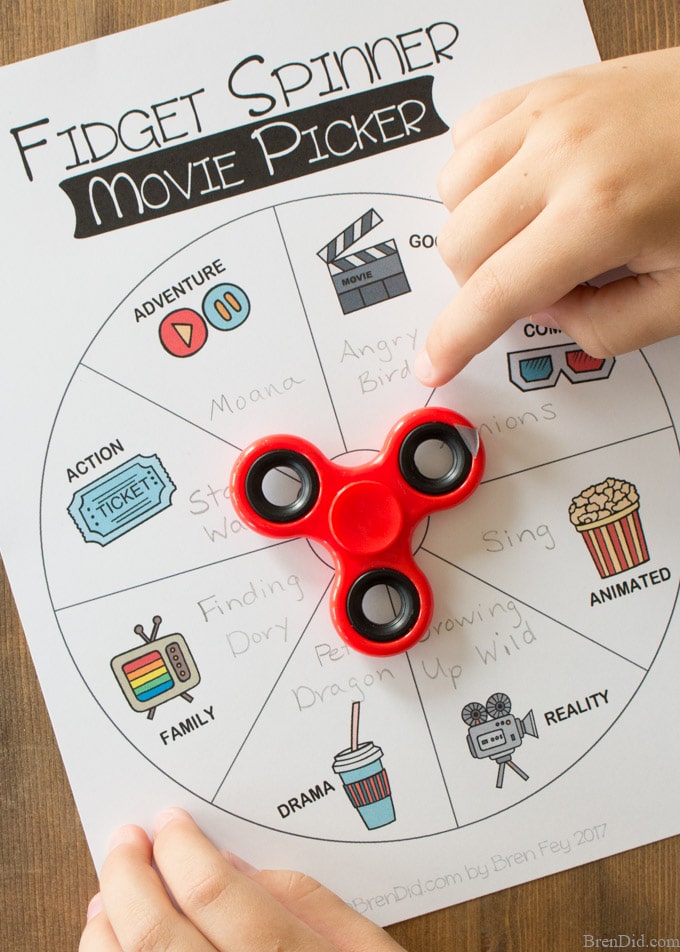 What is a Fidget Spinner?
Fidget spinners are small plastic toys made for restless hands to fiddle or "fidget" with while waiting. The ball bearings in the center of the device allow it to rotate quickly and smoothly around the center point with just a light push of your fingers. They are sometimes called hand spinners or fidget toys.
You can read more about the fidget spinner craze at Forbes.
Harnessing the Fidget Spinner Craze
Fidget spinner are everywhere this year! I have seen them being sold at the zoo, the grocery store, the gas station…. even the farmers' market had a fidget spinner booth this summer!
While the toys can get a bit annoying to teachers and parents, they can also be used in fun ways around the home.
I love these ideas from We're Far From Normal:
Use the fidget spinner as a tooth brushing timer
Use a fidget spinner chore chart to make chores more fun.
Play beat the spinner to clean up the toy room
Free Printable Fidget Spinner Movie Picker
We've found one more fidget spinner use in our home:
an argument breaking…. easy decision making…. movie picker!
There are so many fun shows to stream on Netflix that we often have a hard time agreeing on just one! Should we watch something animated, a nature documentary, or a classic family film? The decision making can go on far too long.
I created this fun paper craft to make a movie selector that settles arguments fast! Let each member of the family fill in a favorite movie title or two… then let the fidget spinner decide.
Download the free printable PDF here.
How Use the Fidget Spinner Movie Picker
Print out the movie picker. (Get it HERE.)
Write the name of a movie you want to watch in each category.
Add a piece of tape to one side of your fidget spinner. This will be your selection arrow!
Place the fidget spinner in the center of the movie picker.
Spin and see which movie you get to watch!
No fidget spinner, no problem. Grab my folded paper movie picker (sometimes called a cootie catcher or fortune teller) to help with your decision. Kids love them!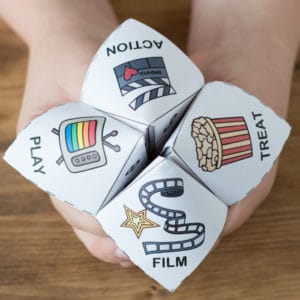 Like my free printables? Sign up for my newsletter below and never miss a thing!

Disclosure: Netflix provided me with a streaming device and service in return for writing about their service. The opinions in this post are my own. #StreamTeam