Purchasing a meaningful thank you gift for someone you depend on but barely know as an individual can be a maddening undertaking. I'm talking teacher appreciation gift ideas. Those end of year presents that you want to nail, but often fail miserably at selecting.
This post uses affiliate links. See my Polices & Disclosures page for more information.
Let's face it, we don't always know much about our kids' teachers as individuals. I might be able to glean a favorite color or random factoid while interrogating my kids but "Mrs. Nelson's favorite color is purple and she loves Snoopy" is not a WHOLE LOT to go on unless I want to buy Mrs. Nelson a lovely purple Snoopy nightgown.
That would certainly send an interesting message!
Selecting the "Perfect" Teacher Gift
I know A GREAT DEAL about teacher gifts because my mother is a retired first-grade teacher. When I was a kid the end of each school year was always marked with a selection of apple knick-knacks, Best Teacher frames, and #1 Teacher ornaments.
Stop by my parents' house and you're sure to be served coffee in a mug declaring Teachers Touch Lives or My Favorite Teacher.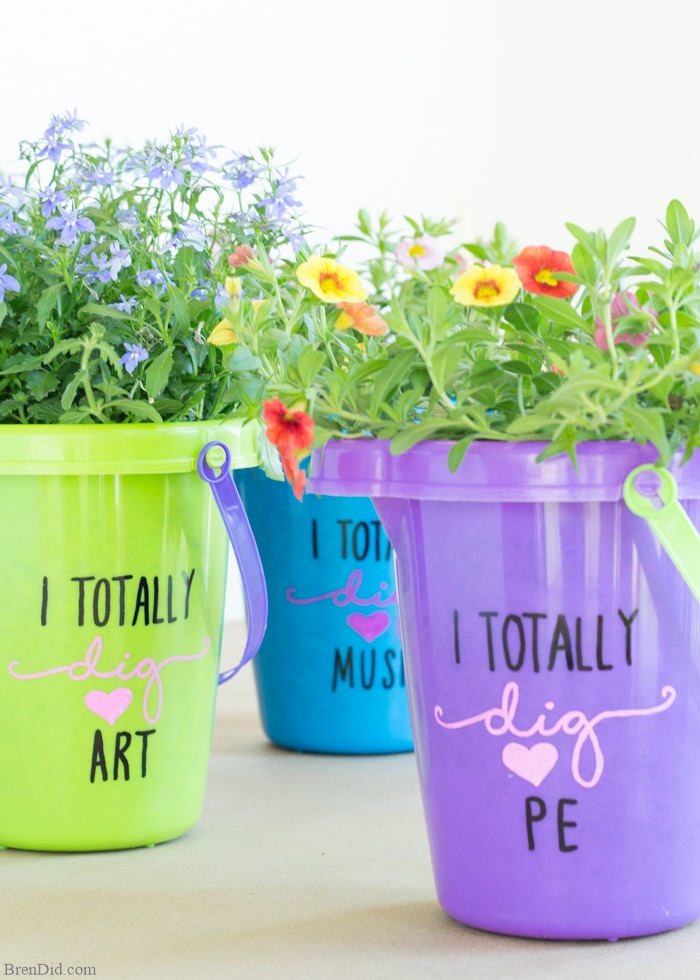 Just Say No to Apples
I'm reminded of my apple-studded childhood at teacher gift time. I roam the aisles of Target in a state of confusion for what seems like hours then give in, locate the gift card kiosk, and toss a random store card into a thank you note.
It's certainly a solution, but it's a gift doesn't feel all that special.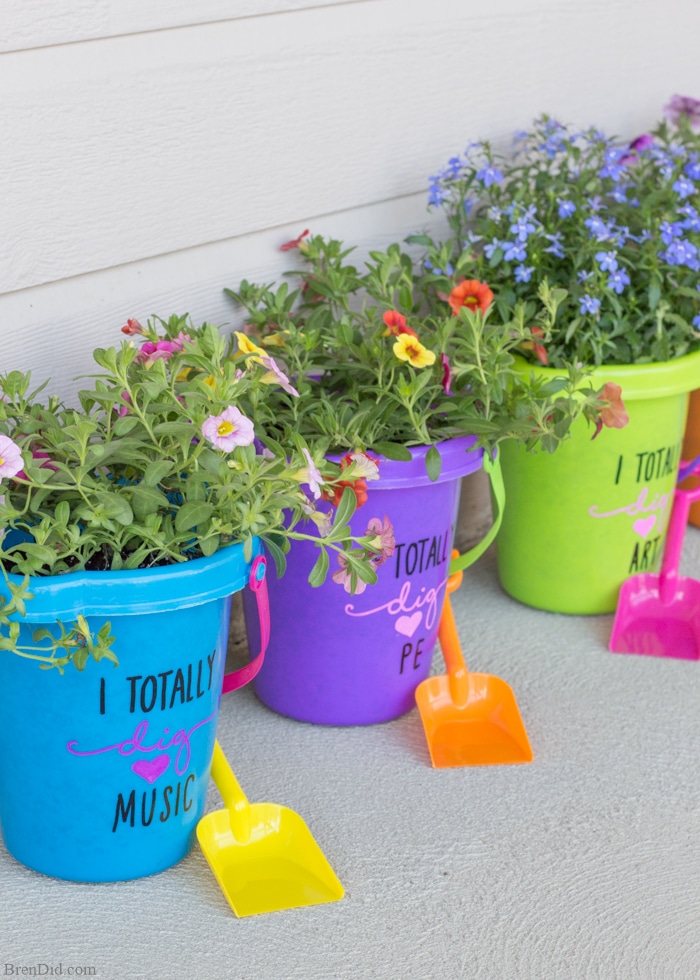 A More Personal Gift
This year I decided on the perfect present for our teachers –> FLOWERS!
Why flowers?
Knowledge of favorite colors definitely helps when choosing this gift.
Flowering plants are cheap in the spring, so you can still afford to add a gift card.
The plant can be replanted in a garden or used to decorate school rooms.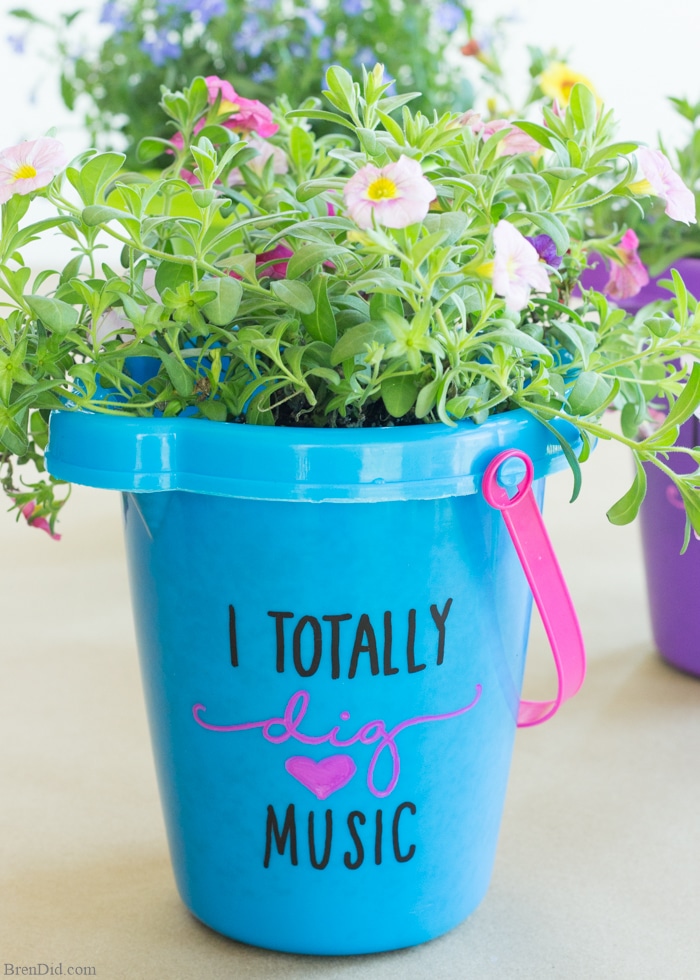 How to Personalize Flower Gifts
Armed with another morsel of teacher knowledge (the subject they teach) you can easily decorate flowers with a personalized message.
This craft used $1 dollar sand pails and shovels as an adorable planter. They're cute, they're cheap, and they come in great colors!
Plus, the pail looks great in a classroom and can be refilled with pencils or glue sticks for years to come.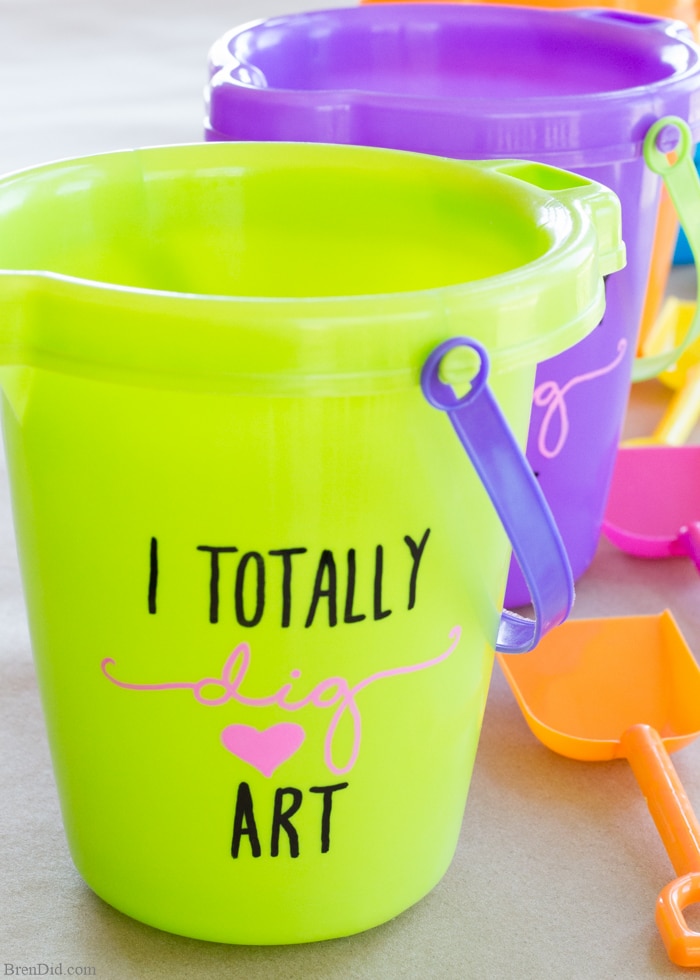 How to Make a Personalized Teacher Appreciation Gift
This craft is easy-peasy. Print, trace, plant, and gift. That's it!
Craft Supplies
Craft Directions
1 – Print the PDF file on white paper and cut out your favorite design (PDF file includes Music, PE, Art, School, Media Guidance, Technology, Choir, Teachers, Teaching, Books, or My Class).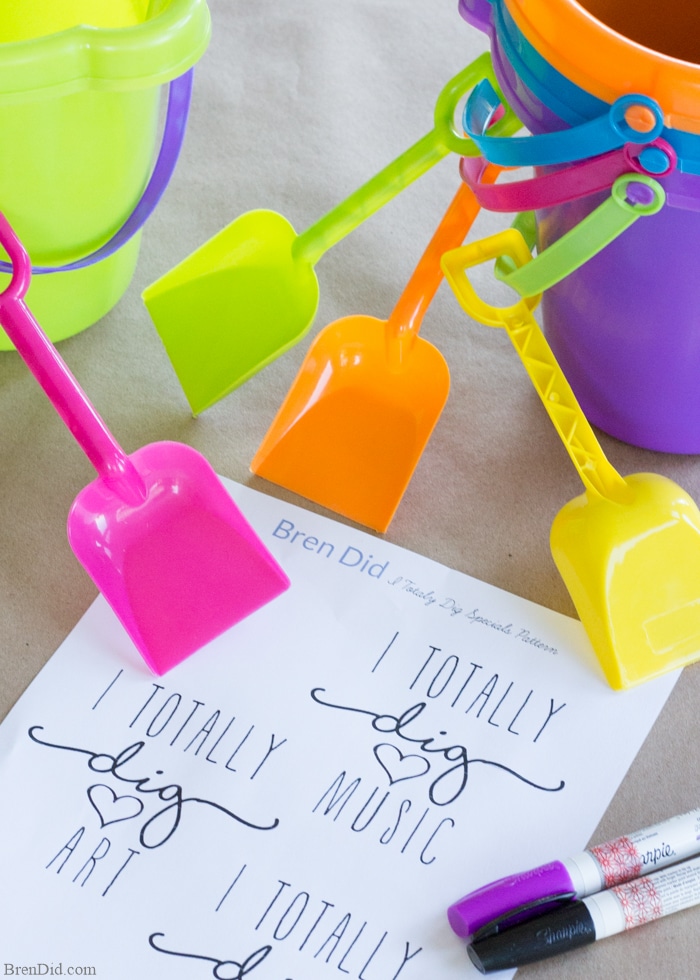 2 – Tape the design inside the bucket.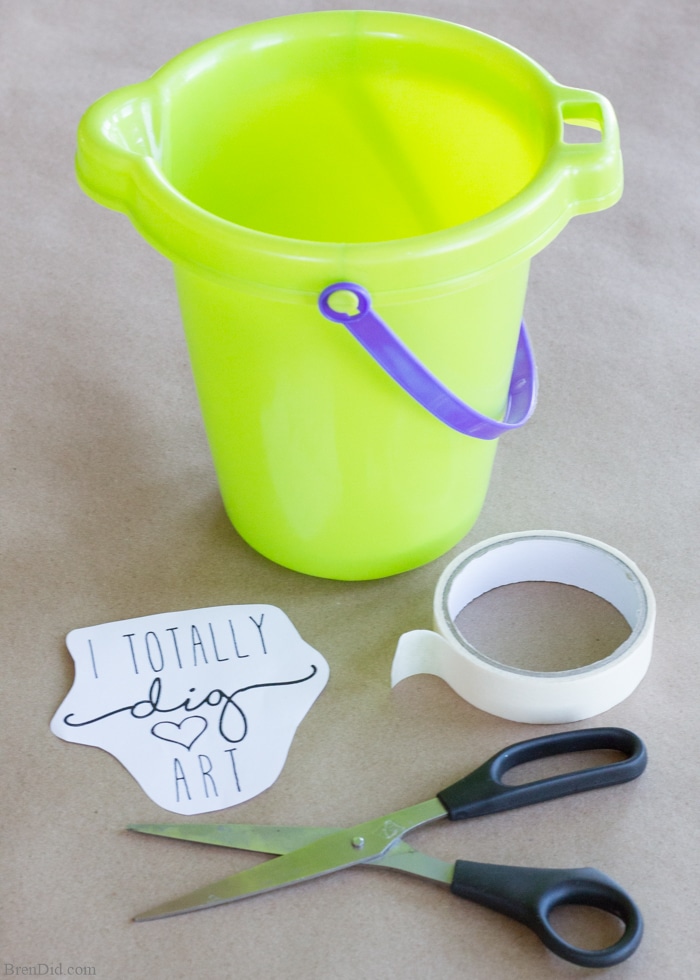 3 – Trace the design with Sharpies paint pens. Allow to dry for about 5 minutes.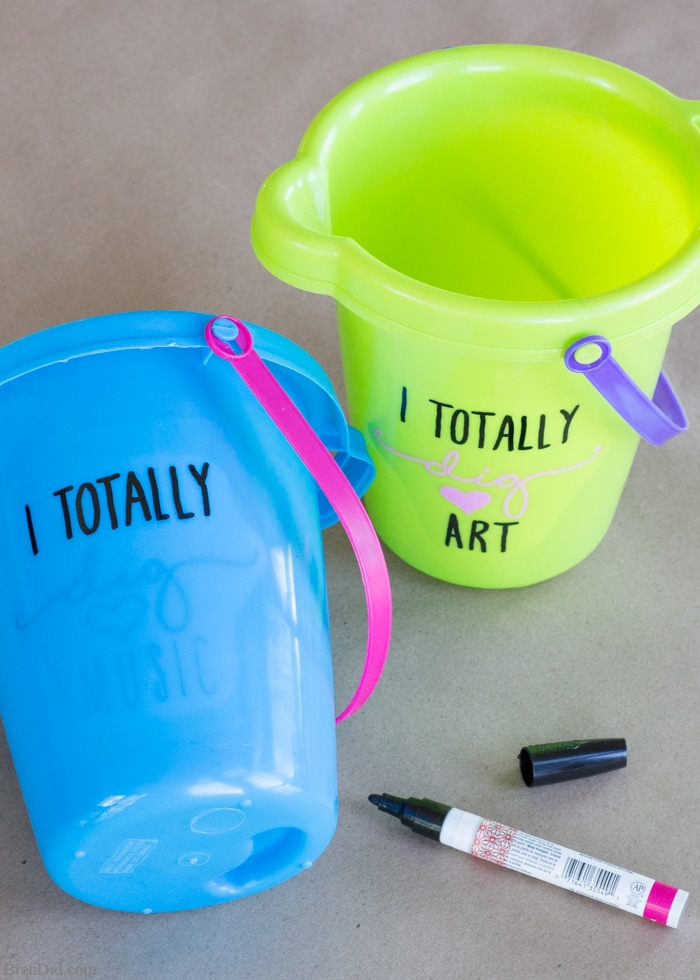 4 – Sign the shovel with your child's name.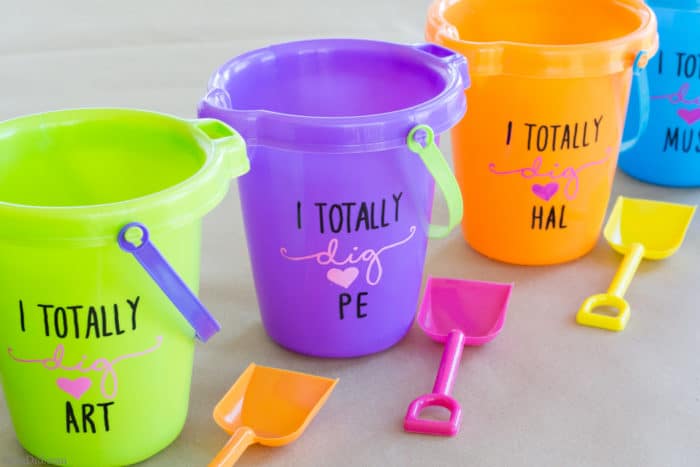 5 – Place a plant in the bucket and give the gifts!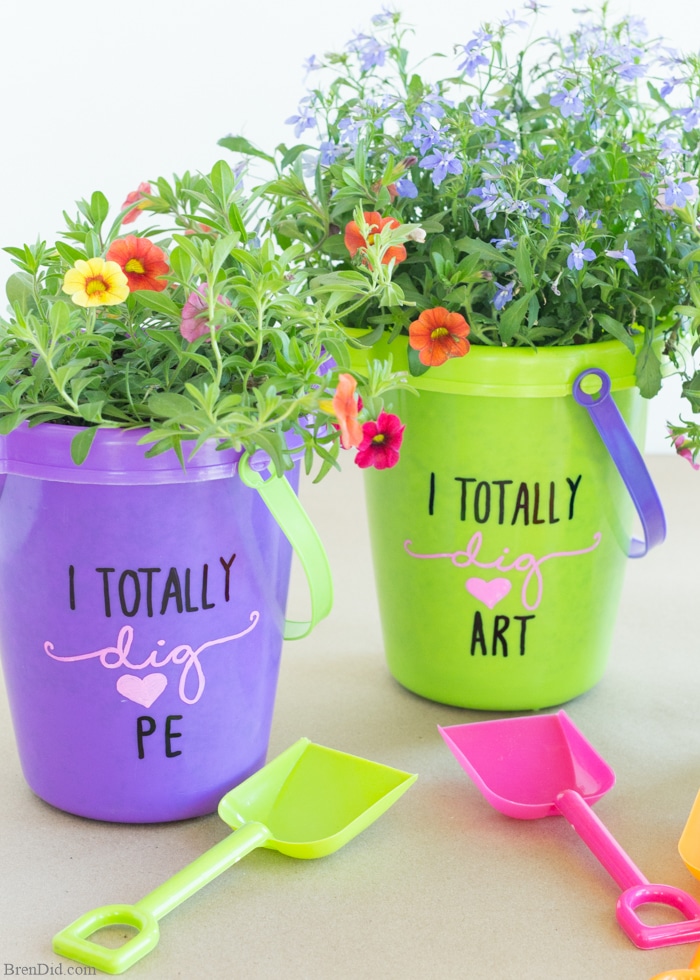 I hope this easy teacher appreciation gift frees you from the stress of teacher gift selection AND helps you avoid purple Snoopy nightgowns.

More Easy Plant Gifts
Want more plant gift ideas? Check out 18 Beautiful Plant Gifts for Teachers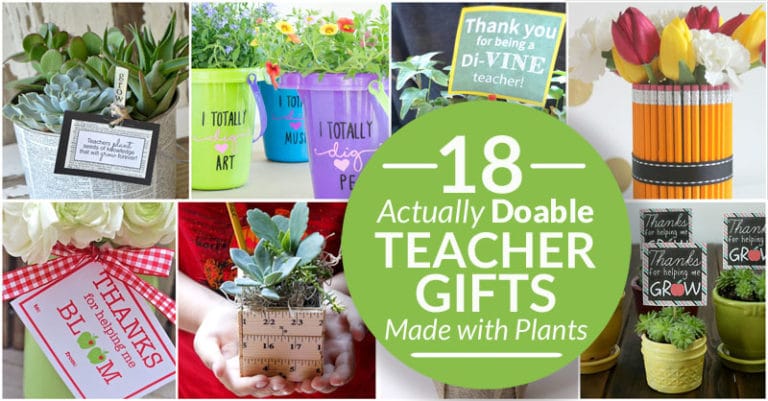 Sign up for my free newsletter below to get more great Teacher Appreciation Week ideas and free printables.