Make your home more welcoming and boost curb appeal with this easy (and affordable) front door painting project. A special thanks to Lowe's for sponsoring this mini makeover.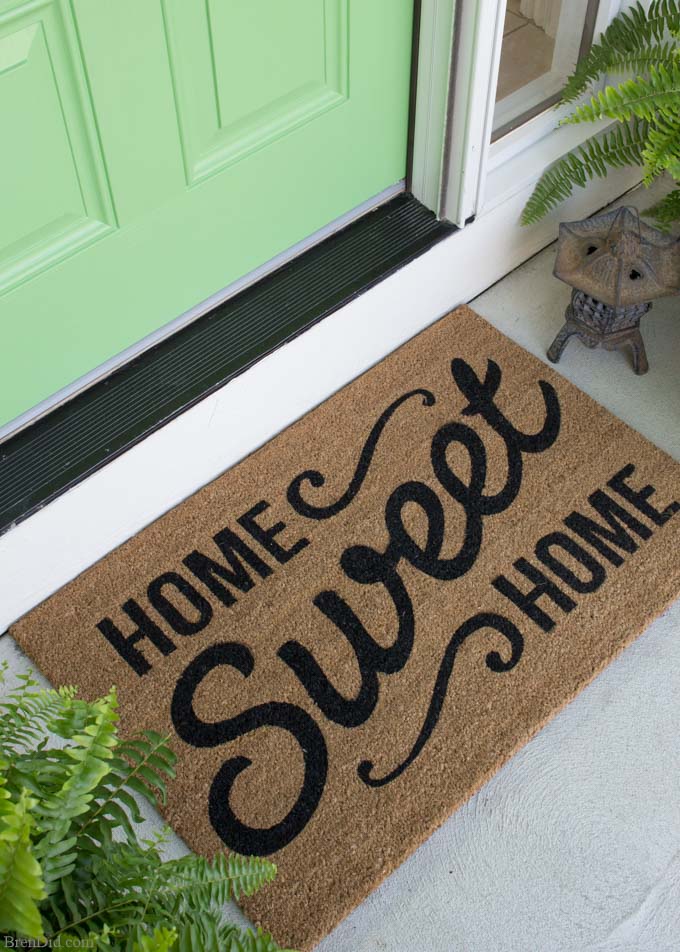 New House = New Paint
A few weeks ago we closed on a new house.
It's our ninth house in 16 years. (We've moved frequently for my husband's Navy career, but plan to live in this house for a long, LONG time.)
HOORAY!
The house is in an amazing school district and we love the floor plan, but it definitely needs some work.
The bigger remodeling projects are on the back burner until we get settled (I'm looking at you, kitchen remodel!), while other projects have to be taken care of ASAP (Dog pee scented carpet, anyone?) to make the new place feel like home.
Making Your House a Home
Painting is my favorite way to transform a new house quickly without spending a lot of money.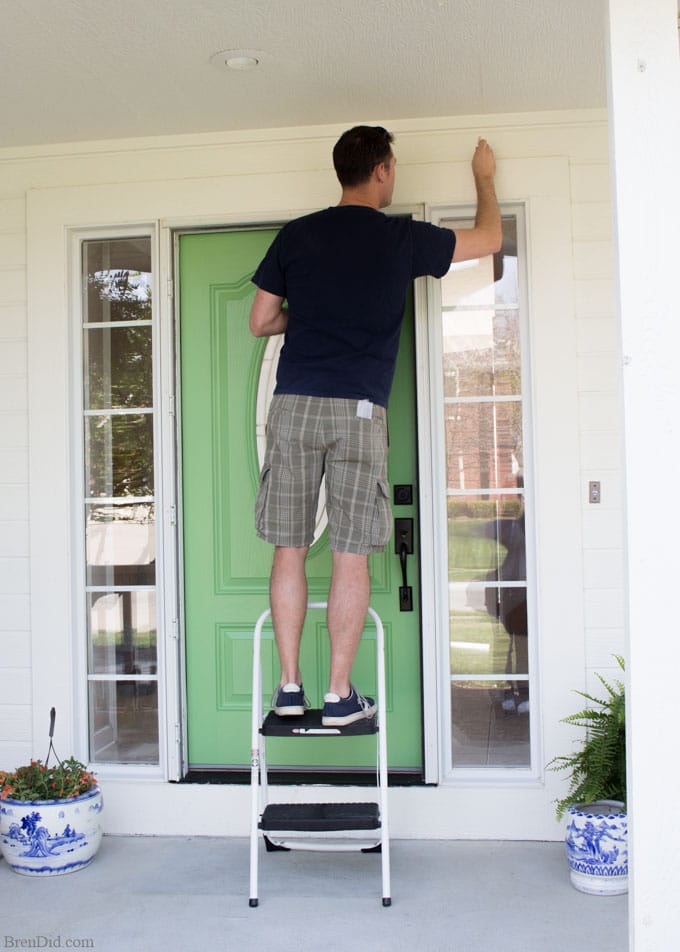 Giving the bedrooms a splash of color, brightening up closets with a coat of white, or simply painting a piece a furniture to match a new room makes a new house feel like home.
Plus it doesn't take a lot of time, money, or effort!
A More Welcoming Entry
Before we even signed the closing paperwork we decided to paint the front door of our new house.
Why?
Because it was a dingy brown shade that reminded me of a poo emoji.
Ewww!
Did I also mention that it had an etched floral glass window insert and bright gold hardware that had seen better days?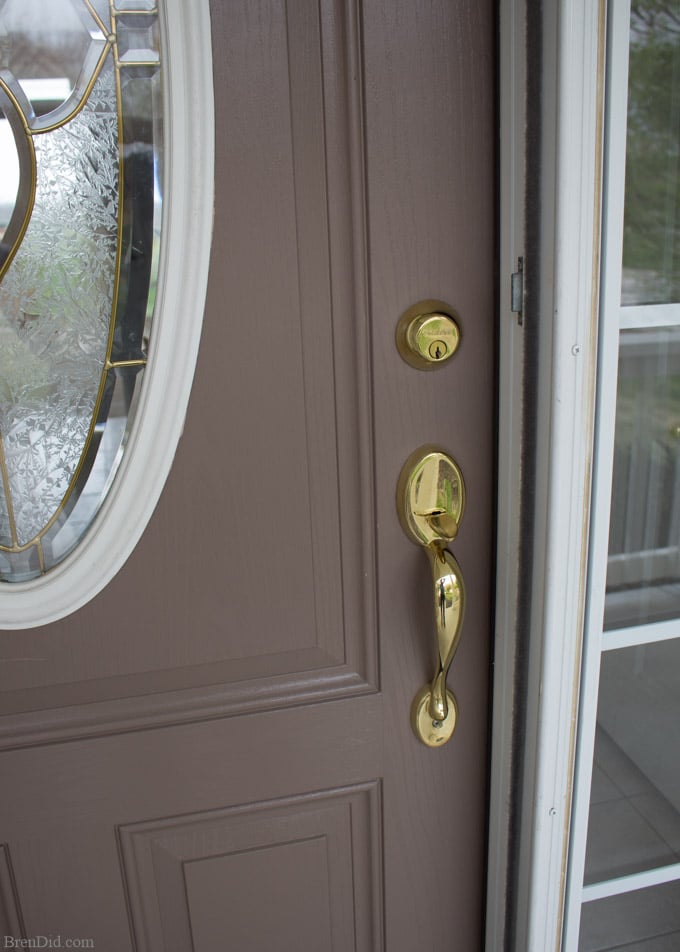 It was definitely not my favorite front entry feature!
Deciding to Paint the Front Door Green
The exterior of the new house is currently white with white trim. While it's bright and clean, it is lacking a bit of character.
We'd love to paint the whole house dark blue, but since the current paint is less than a year old we decided to save the exterior paint job for next year and spruce up the front door instead.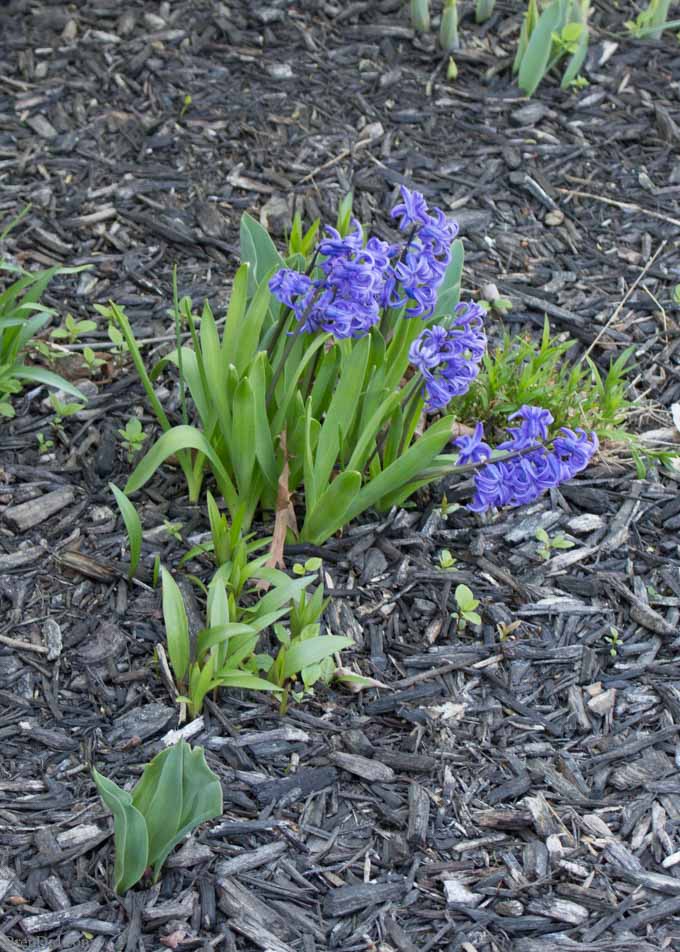 We considered a red front door and even thought about bright yellow but were ultimately inspired by the spring leaves poking through the flower beds.
We selected three green paint swatches from the Lowe's HGTV HOME by Sherwin-Williams paint line (Top to bottom: Parakeet SW6711, Talipot Palm SW6726, Organic Green SW6732)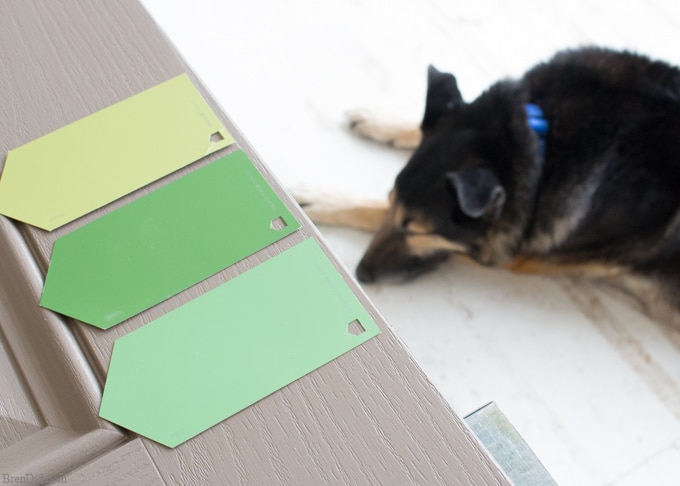 The winner was Organic Green (SW6732) . It's fresh and goes well with my favorite blue and white planters.
(Note our dog's extreme excitement!)
Prepping the Front Door
We prepared the door for paint by taking it off the hinges and removing the hardware and weather stripping.
We wiped the door down with water and a coarse sponge (Scrub Daddy Polymer Foam Sponge), trimmed away old caulk, and taped the edges with painters tape.
Front Door Painting Supplies
Our painting supplies and front door accessories were purchased at Lowe's. They have an amazing Love Your Paint guarantee:
If you're not satisfied with your paint purchase, you can return the unused portion and they'll replace it or refund your money (full details).
The supply list included:
HGTV HOME by Sherwin-Williams Ovation Tintable Satin Latex Exterior Paint (Organic Green SW6732)
3M Safe-Release Painter's Tape
WHIZZ Mini Paint Applicator Kit (Foam Roller)
Foam brush (2 inch Foam Brush)
Valspar Glass Frosting Spray Paint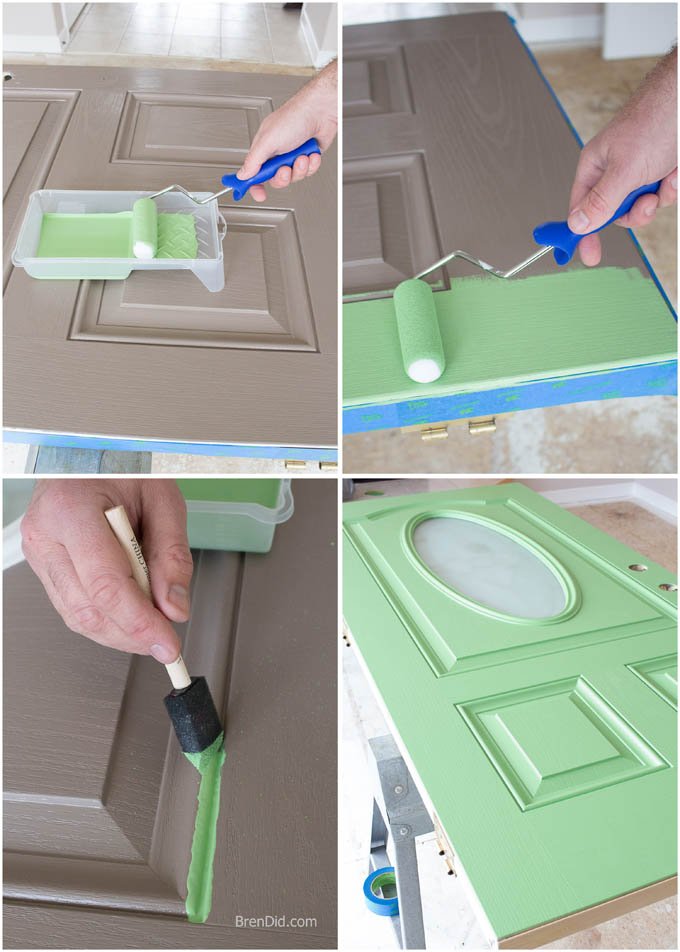 Faux Etched Glass
Remember the dated glass panel? We really wanted to replace it, but decided to try disguising it with paint before investing in a new window.
We used Valspar Glass Frosting Spray Paint to give the glass an etched look. We sprayed each side of the glass with two light coats to achieve the look we wanted before painting the door.
The result is a frosted panel that allows light through but no longer shows the floral etching.
DIY victory for less than $5!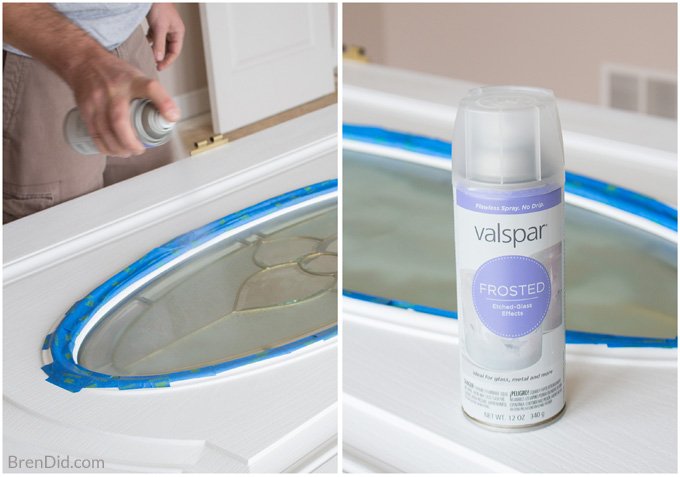 Bonus Door Makeover Items
We planned to reuse the same gold door handle (painted bronze) but it was slightly broken and impossible for the kids to open.
We purchased a new door handle set (Kwikset Signature Hawthorne SmartKey Venetian Bronze Single-Lock Keyed Entry Door Handle Set) and installed it once the paint was dry.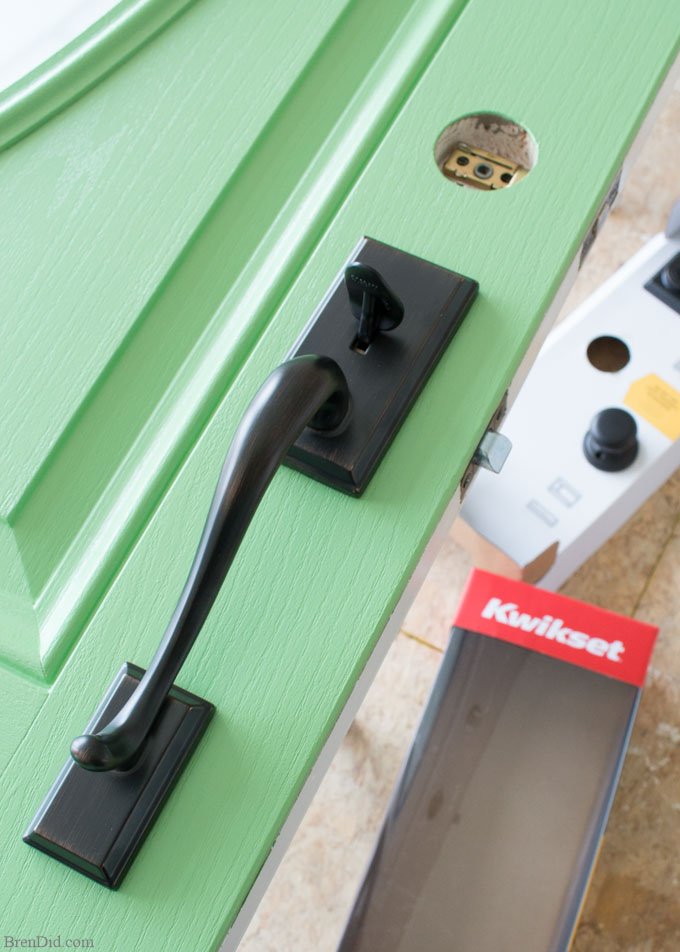 The gorgeous new door handle called out for a matching door bell cover. So we grabbed the Utilitech Antique Copper Doorbell Button.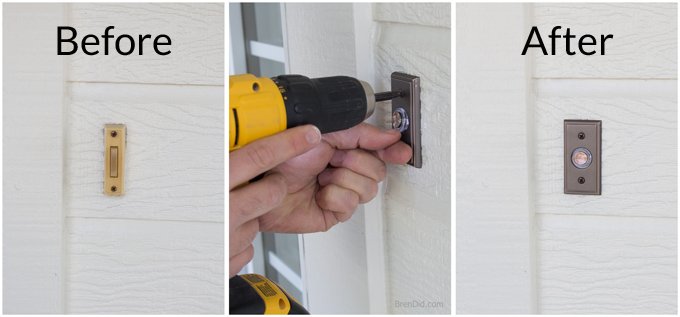 And a few new Boston ferns from the Lawn & Garden section!
Front Door Painting Before and After
Our "new" front entry looks AMAZING! The bright door color makes me smile each time I walk into the house.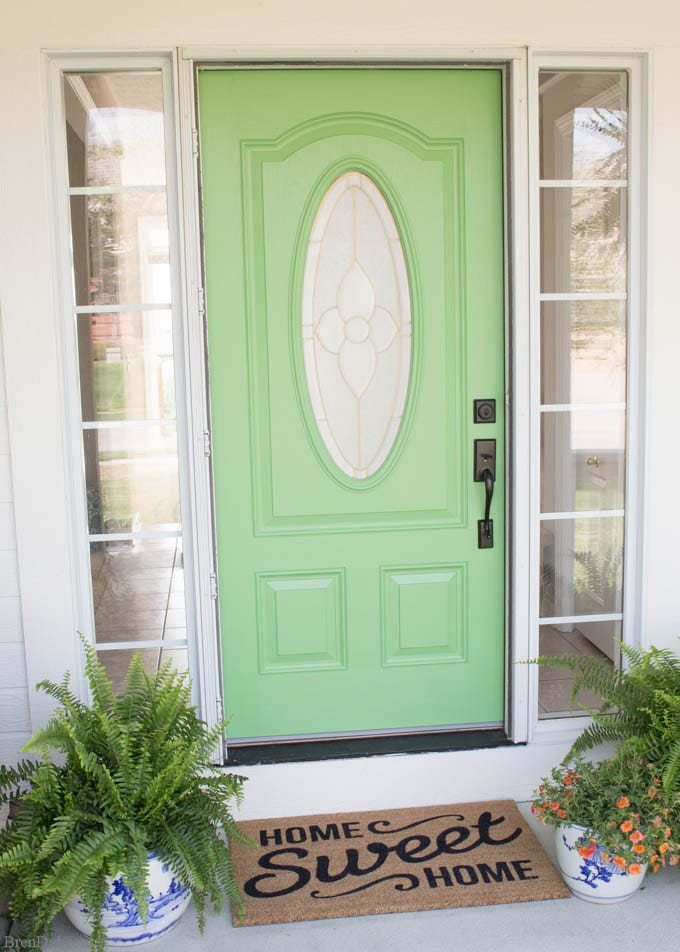 It took only a few hours of work and cost about $200 (including the new doorbell cover and door handle).
Score!
More Paint Projects
Adding a splash of color to your home doesn't take a lot of time or money… but it can have a huge impact!
Visit Lowe's for more inspiring paint projects and consider a mini home makeover of your own.
Disclosure: This is a sponsored post written by me on behalf of Lowe's. The decision to paint our front door and the paint selection was our own. We picked the products that worked best for our family and home. Thanks Lowe's, we love the results!
Like my easy DIY projects? Sign up for my newsletter below and never miss a thing!