Kids love taking part in random acts of kindness activities during the holiday season.  This free printable Random Acts of Kindness for Kids Christmas Cootie Catcher suggest small acts of giving that kids can complete. This easy Christmas craft encourages a spirit of generosity in children.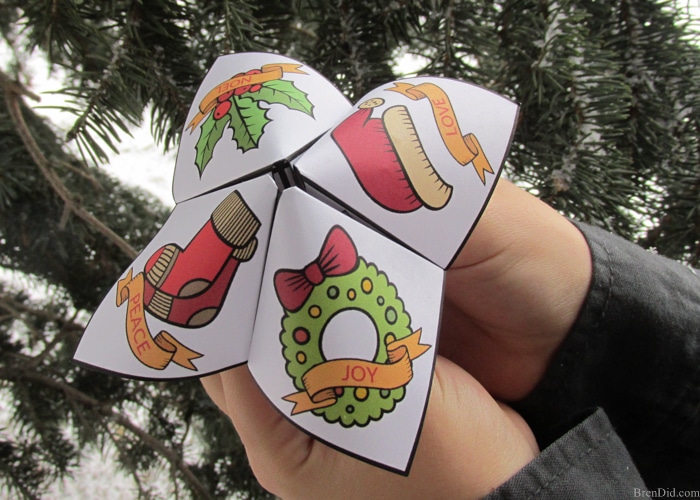 This post contains affiliate links. They don't cost you a thing, but help us bring you creative projects. Read more at Policies & Disclosures.
The Christmas season is meant to be a time of giving but the mass commercialization of the holiday can make kindness take a backseat to wants. This is especially true for kids who are easily swayed by ads and store displays.
My generally well behaved children can easily turn into greedy little creatures! My husband affectionately calls them "Me First and the Gimme Gimmes" when they trade their normally lovable dispositions for ones that are whiny or demanding.
I'm sorry to say that this behavior is often amplified during the Christmas season.
Does any of this sound familiar to you?
Giving is Important for Kids
Encouraging giving and kindness can help children focus on their blessing in life.
We love to give as a family is through "Random Acts of Kindness" or "Random Acts of Christmas Kindness."  Have you heard of these fun activities? They are little acts of giving such as buying coffee for a stranger or handing out candy canes to an entire parking lot.
While I love Random Acts of Kindness activities, they generally require ME (the mom) to spend money or make most of in the sacrifice. Most of the activities ask for very little sacrifice from my children.
I wanted my kids to participate in activities that require child-sized sacrifices and giving on their level.
How to Fold Cootie Catchers for Christmas
I made a list of Random Acts of Kindness for Kids that can be accomplished by children with no help (or very little help) from adults.
To make the activity even more interesting for kids I turned the list into a free printable cootie catcher. (These simple paper fortune tellers are popular with elementary school students.)
This is an easy Christmas craft for kids! The cootie catcher features fun holiday designs and 16 kindness challenges that encourage kids to make giving a habit for life.
These small acts of giving are educator approved! Educating Today

suggests that parents should look for opportunities to serve other and teach kids how to give by giving

.
Free Printable Cootie Catcher for Christmas
Download the PDF of the cootie catcher and the cootie catcher folding instructions  in my free printable library (enter your email address for access then download the printable and simple instructions to make your own kindness game).
Tip: I print my fortune tellers on matte photo paper , it is thicker than copy paper and prints with extra bright colors. This makes a sturdy paper cootie catcher that can stand up to littlle hands!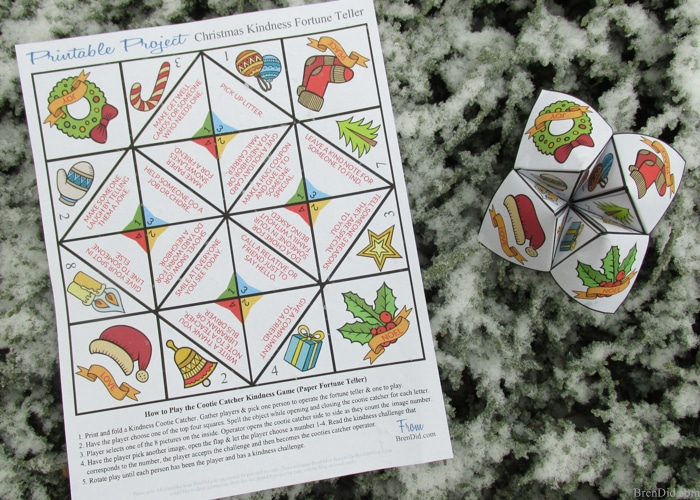 Black and White Version for Coloring
This project is extremely popular with teachers who don't always have access (or the budget) for color copies. I've made a black and white version for kids to color and use.
Grab the black and white version and the cootie catcher folding instructions  in my free printable library (enter your email address for access then download the printable and simple instructions to make your own kindness game.)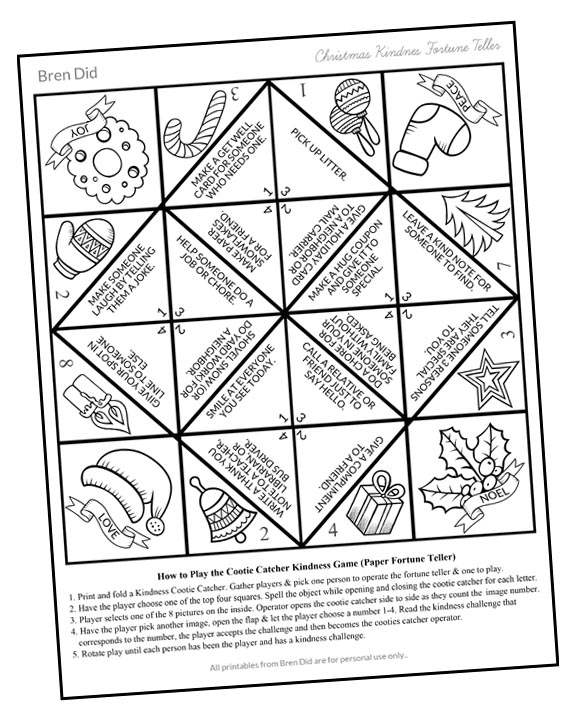 Random Acts of Kindness
We use our fortune tellers at the dinner table, this gives us time to discuss the activity with our kids and brainstorm ideas. You could also select an item at breakfast so kids have all day to accomplish their kindness task.
Cross off or initial each activity as your children complete a challenge. This makes the game even more fun as kids have to "hunt" for undone activities on the fortune teller → kids want to play with these cootie catchers forever!
More Fortune Teller Fun
Love paper cootie catchers? Check out my other season versions: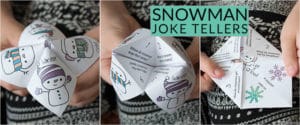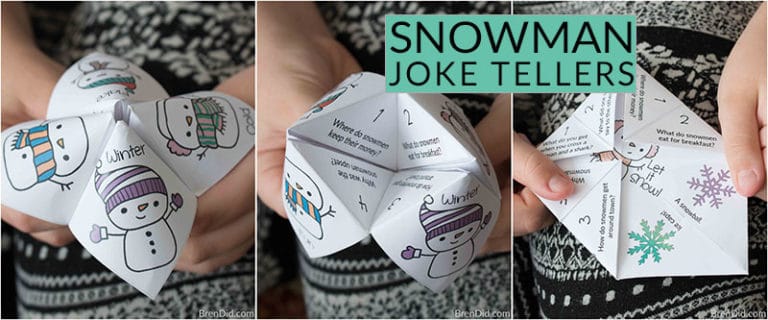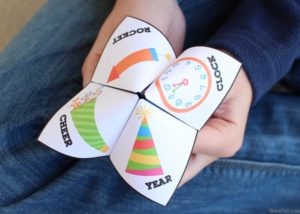 Like my easy crafts and kids' activities? Sign up for my free newsletter below and never miss a thing! 

Bren Did Newsletter Subscribers Get Access!