Is your recycling bin full of glass, plastic, tin cans and cardboard? Turn trash into treasure by upcycling a few common household trash items into beautiful diy lanterns.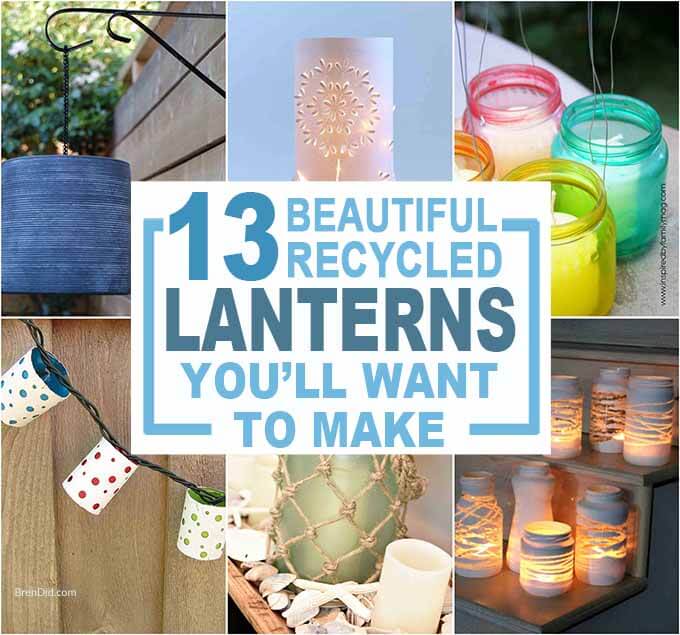 I spent most of my childhood living on a small acreage about 15 miles from the nearest town. My brother, sister and I spent our days wading through shallow streams, picking armfuls of wild flowers, and constructing rickety tree houses.
It was an idyllic life marred only by my hatred of chores (sorry, mom and dad!) and way too much begging to visit friends "in town" (but that's a totally different story).
We helped our parents cut and stacked wood for winter, tend the garden, and haul garbage.
DIY Trash Disposal
Yes, I said haul garbage.
It's one of the unpleasant realities of rural life… there is no garbage service!
You sort the trash and recycling.
You wash the recyclables so they can be stored without stinking up the garage.
You set aside combustible items for the burn barrel.
You add food waste to the compost pile.
You take the smelly garbage bags to the county dump.
Glamorous work, right?
I did learn one very important lesson from handling all this trash…
Trash doesn't just disappear into a garbage truck. It creates a sprawling, stinky wasteland outside cities or it's hauled out to sea where it become floating marine debris.
Blech.
Upcycled Crafts
I love making beautiful crafts, but I hate buying tons and tons of craft supplies that will eventually turn into mountains of trash. It's bad for my wallet and the environment.
Fortunately, there are lots of easy upcycling  tutorials that can help you breathe new life into unwanted items.
DIY Lanterns
These 13 easy lantern crafts will brighten your home with just a few cans, bottles, cardboard cartons, unwanted baskets, or jars.
Tin Can Hanging Lanterns from Kiflies Levendula – Festive ribbon turns ordinary tuna cans into Scandinavian inspired hanging lanterns. Change the ribbon with the seasons to keep your wall bright all year round. (Directions are not in English, but easy to understand through photos.)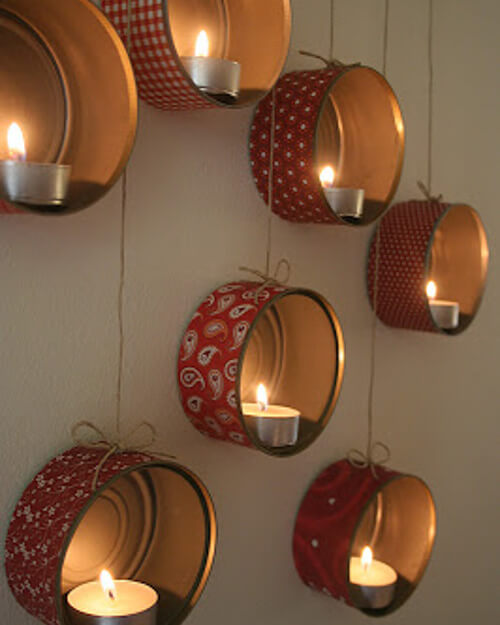 Sea Glass Rope Lantern from A Wonderful Thought – 

Need a vacation? Bring a relaxing seaside vibe to your home with this sea glass lantern craft.  An empty food jar gives off a beachy glow with the addition of rope and spray paint.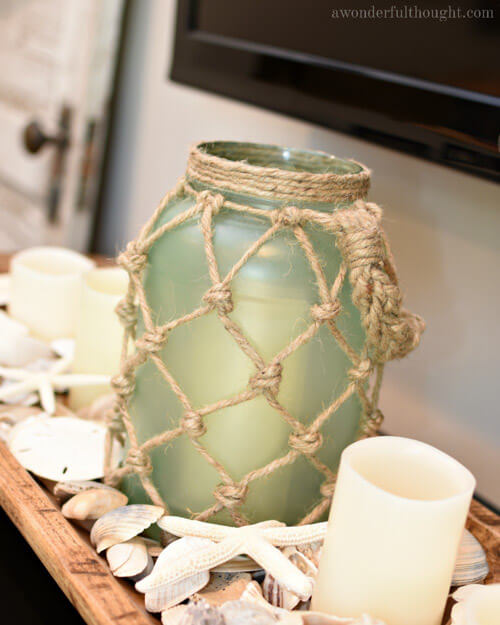 Milk Carton Lanterns from Bren Did  – Japanese inspired paper lanterns are simple to make with a few recycled household items. Milk cartons, paper,  and glue are all you need to bring a festival feeling to your home. Change the paper make new decorative lanterns for each holiday.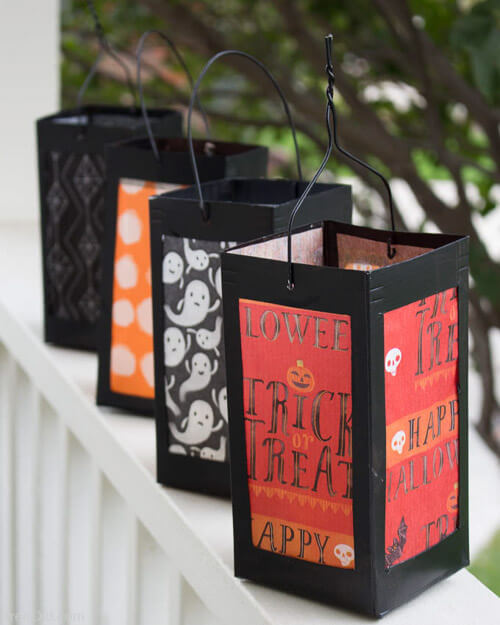 Moroccan Lanterns from Design Sponge – 

Your house will look like a festive Moroccan market when you finish making these upcycled lanterns.  Just a few dabs of glass paint transforms recycled jars into stunning works of art.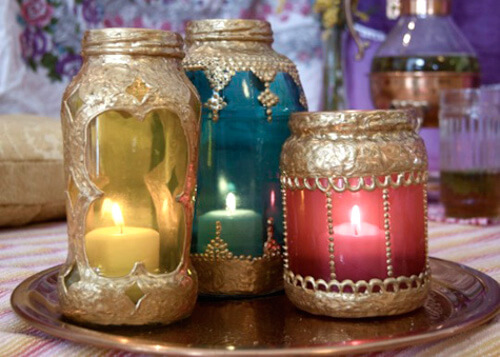 Wine  Bottle Lantern/ Candle Holder from Madame Criativa – 

Wine bottles are transformed into elegant decorative candle holders.  Decorate with round stickers and paint then hang with wire or place on a table.  Perfect for adding a warm glow to your celebration. (Directions are not in English, but easy to understand through photos.)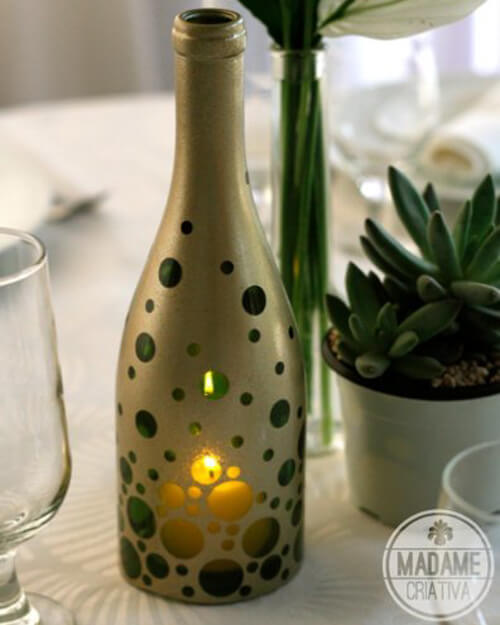 Recycled Cardboard & Paper Party Lantern from Easy Paper Crafts – 

Empty soda cartons can be turned into adorable cardboard lanterns that bring soft light into a room. Create a seasonal design, a whimsical pattern for kids, or a favorite flower arrangement.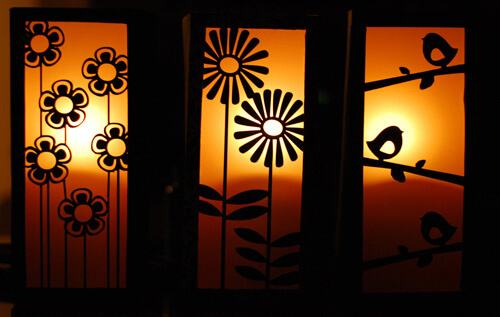 Upcycled Tin Lanterns from Bren Did – 

Give food cans new life while adding holiday spirit to your home decor. A hammer, nail, and coat hanger are all you need to create these simply but elegant recycled lanterns.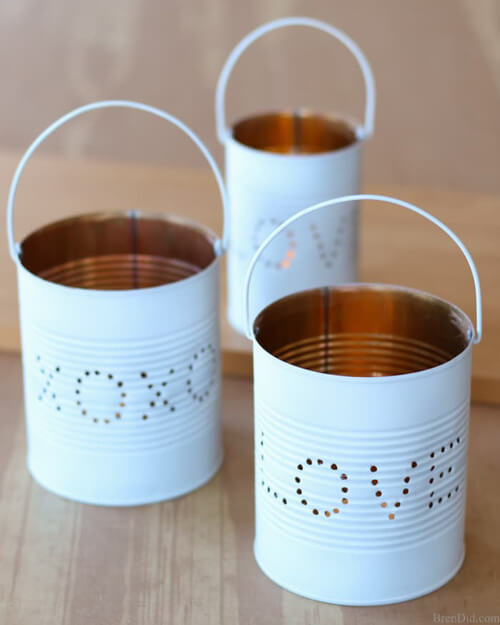 Colorful Mini Lanterns from Inspired by Family – 

These brightly colored, tiny lanterns are a fun and creative way to reuse baby food jars! They'll add a delightful pop of color to any party.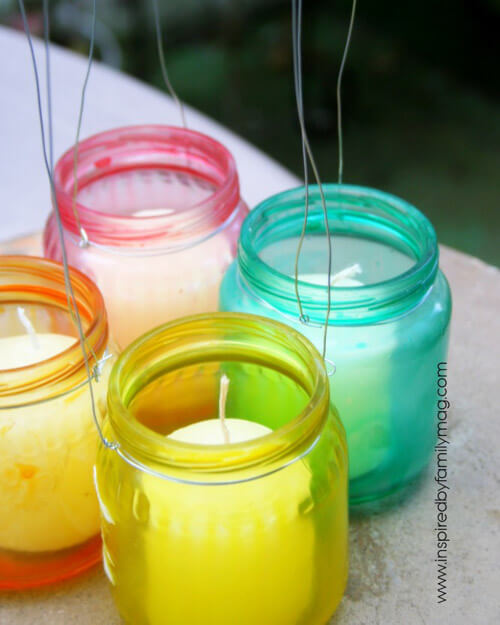 Cut Paper Water Bottle Lanterns from A Piece of Rainbow – 

Don't throw plastic water bottles into the landfill.  Make a delicate paper lantern that will fit perfectly into your home decor. Use your own design or the free template.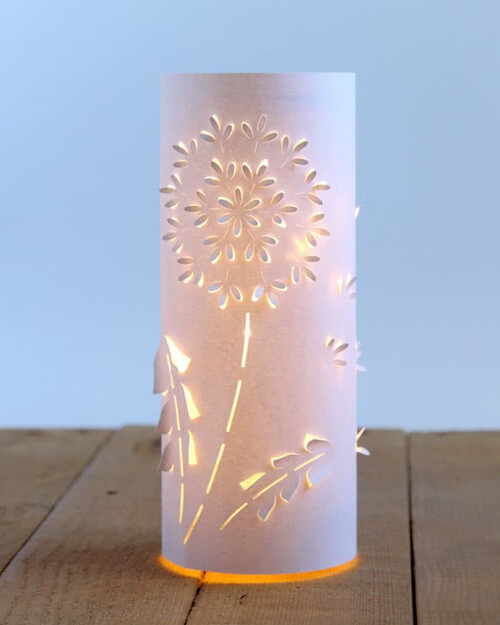 Frosted Glass Garden Lantern from Little House in the Suburbs – 

These recycled lanterns would be enchanting as wedding décor! Grab a bit of wire and some spray paint to make these simple but gorgeous lanterns. (Hint: Use a letter monogram to turn these into the perfect gift!)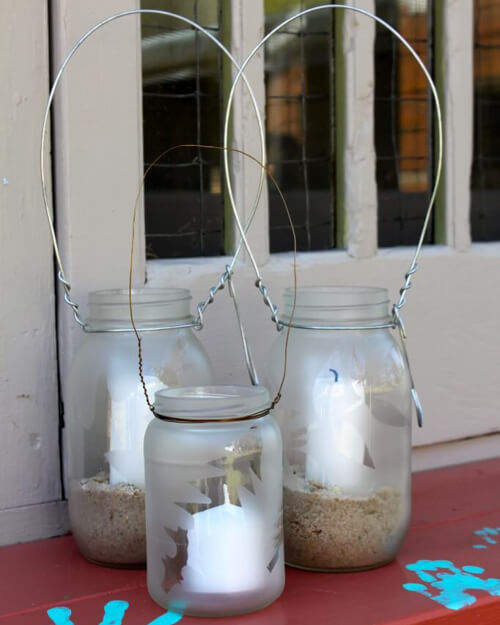 Polka Dot Toilet Paper Roll Lanterns from Just Crafty Enough – 

Empty toilet paper rolls turn into playful polka dot lanterns when lined with a bit of colored paper. String a few lanterns together for a whimsical display inside or outside your home.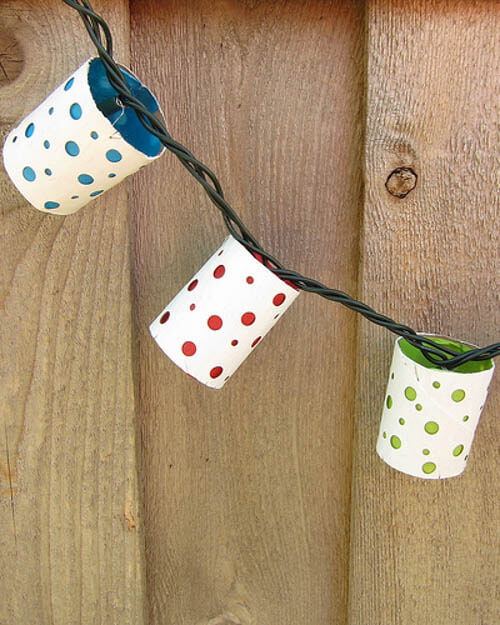 Yarn Relief Glass Lanterns from The Forged Style – 

Glass jars of all sizes turn into charming decorative lanterns in just a few easy steps.  Wrap the jar with yarn to create a pattern, spray with paint, remove the yarn, and enjoy a stunning lantern display!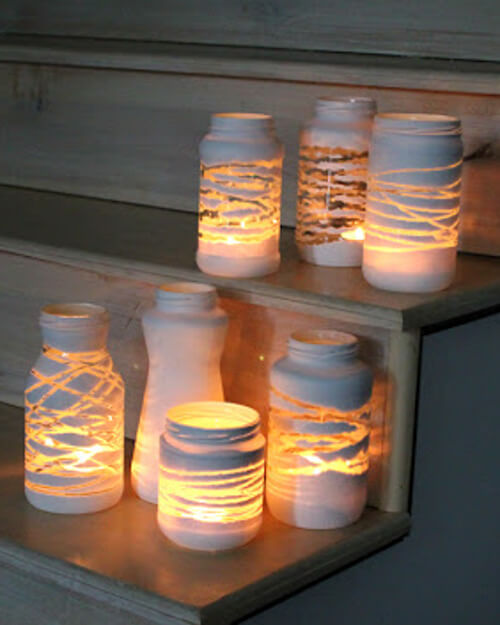 Clay Pot and Basket Lanterns from The Art of Doing Stuff – 

Grab a few overlooked clay pots or unused baskets and a battery operated light to create these sophisticated outdoor hanging lanterns. They'll keep your garden glowing all summer long.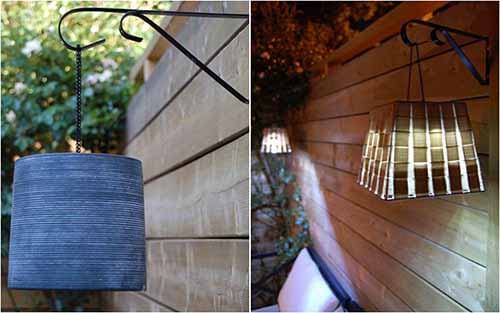 More Recycled Crafts
Want more recycled craft inspiration? Check out these upcycled home decor ideas.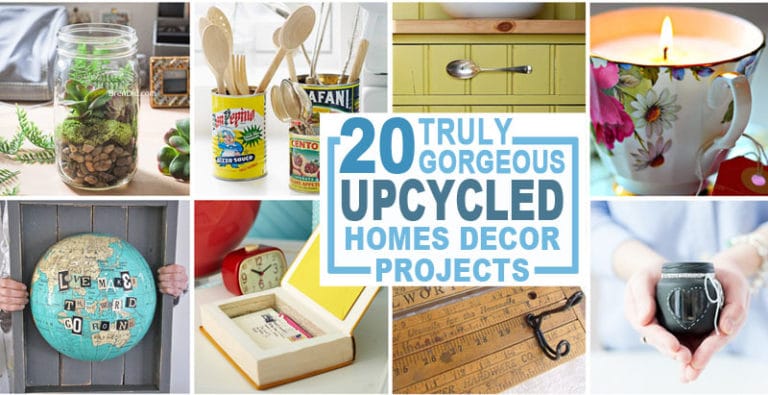 I hope you enjoyed these 13 DIY lantern tutorials. They're a great way to get your crafting fix… no trash needed!
Like my easy craft ideas? Sign up for my free newsletter below and never miss a thing.