This adorable DIY tin lantern project uses recycled craft supplies to make a beautiful Valentine lantern. They are perfect for a rustic wedding or Valentine's Day. Learn how to make an easy upcycled lantern from a tin can!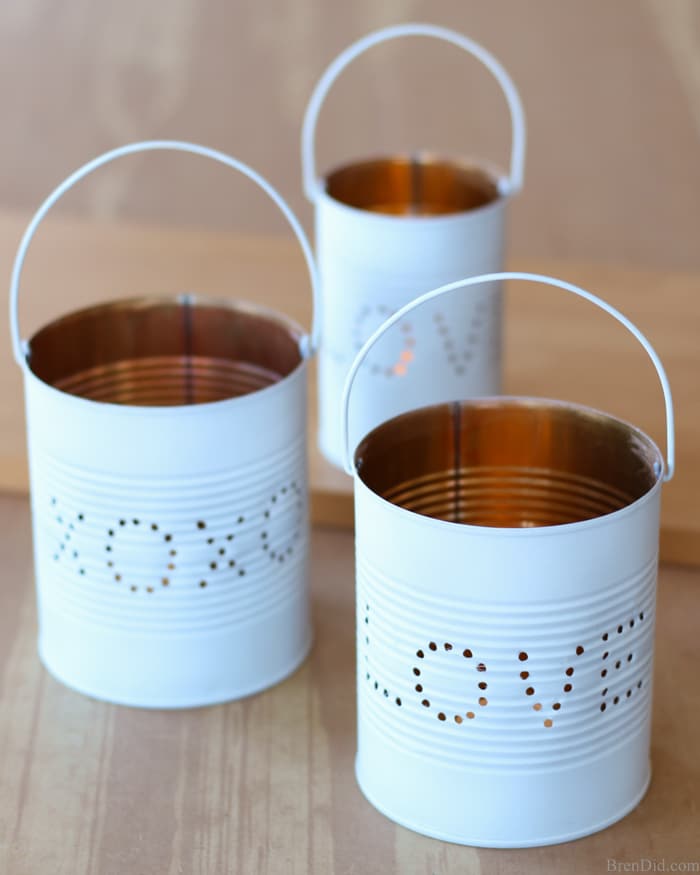 Upcycled Craft Love
I'm crafty, I always have been and I always will be. There is something magical about creating something from nothing… and I do mean nothing!
Don't get me wrong, I spend my fair share at the craft store, but I also enjoy creating crafts from humble materials such as recycled glass jars, fall leaves, or pine cones from my yard.
It is wonderful to finish a beautiful project and realize that it cost almost nothing to make.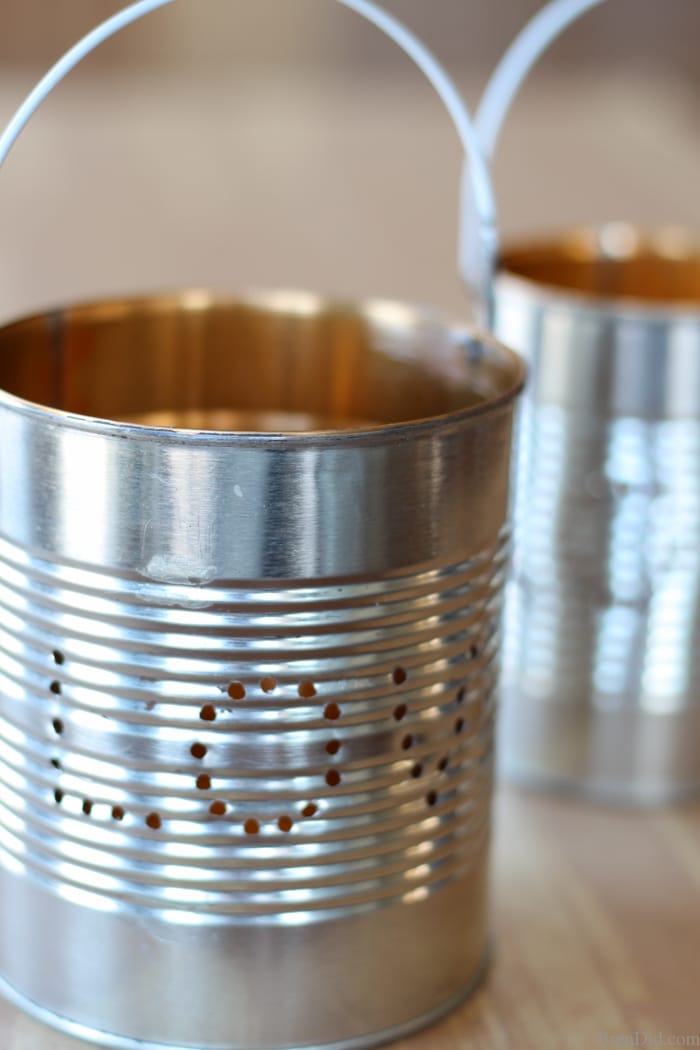 Upcycling Craft Ideas
One great way to save on craft supplies is by using recycled on upcycled materials. These are leftover supplies from previous projects or items that can be re-purposed into something new. Newsprint, empty glass jars, cardboard boxes or even tin cans can be used to create lovely new crafts.
This project using tin cans, those humble food storage containers that are usually tossed into the recycling bin. You can turn a tin can into a beautiful lantern using just a drill, a bit of wire and some paint.
Tin Lantern Inspiration
I was inspired to make these tin can lanterns after seeing a similar candle holder for sale in the Nordic House catalog. They were called beach hurricane lanterns and retail for £12.95 (approximately $18.00). I thought the lanterns were adorable but could not bring myself to spend nearly $20 for some tin cans and wire.
Fortunately you can get the look of these lanterns for next to nothing! I used a large can (1 lb 12 oz) that once held tomatoes and an unused wire clothes hanger to make each of my lanterns then painted them with cheap $2 white spray paint. Presto chango… tin lantern for less than $1 each!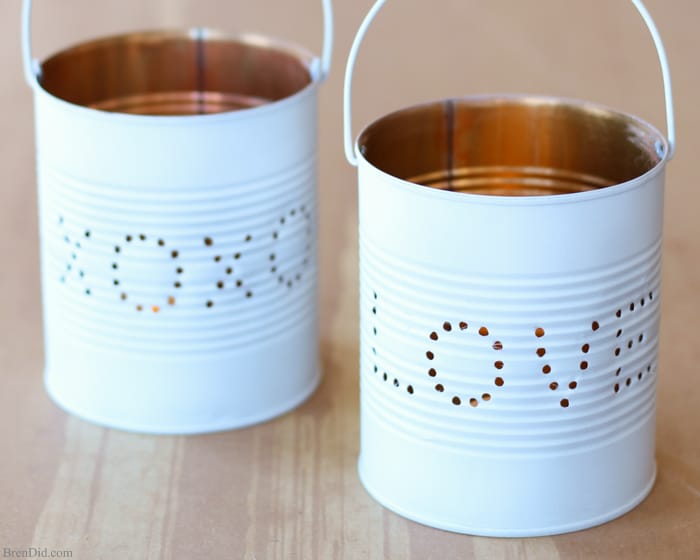 How to Make Tin Lanterns

Supplies
Tin cans, approximately  4″ diameter x 4.5″ high
Coat hanger wire, approximately 5 inches per lantern
White spray paint
Tools
Drill with 3 mm bit
Hammer and small nail
Sand paper (to sand the inside of the can if desired)
Wire cutter
Needle nose pliers
Directions
Clean cans and remove labels. Print the free PDF pattern or attach your own pattern to each can.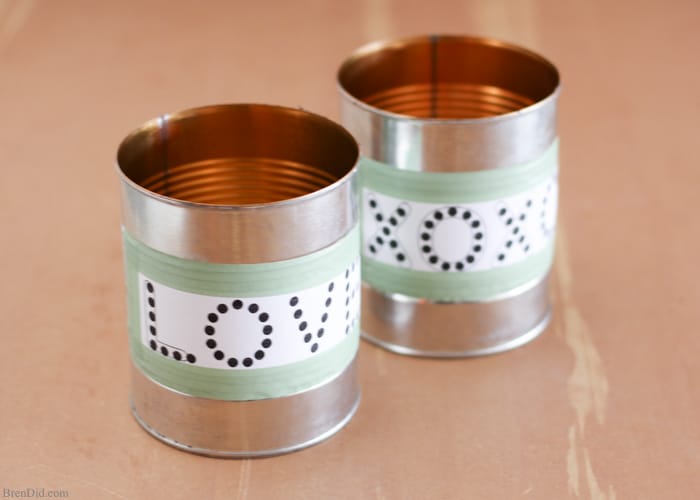 Use a tiny nail to make a small pilot hole in the center of each drill point. This will guide your drill bit.  (Tip: Place a piece of scrap wood inside the can to prevent the can from smashing.  You can also fill the can with water and freeze it before nailing and drilling. )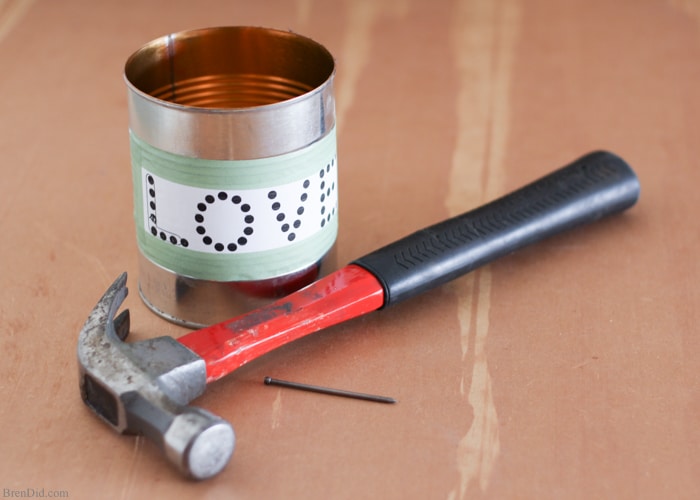 Drill holes in the can. (Tip: Drill slowly to keep the bit from slipping.)  Drill a handle hole on each side of the can just under the lip. Sand off any sharp points inside the can.
Cut your hanger into handle length pieces.  The handles show 5 inches long.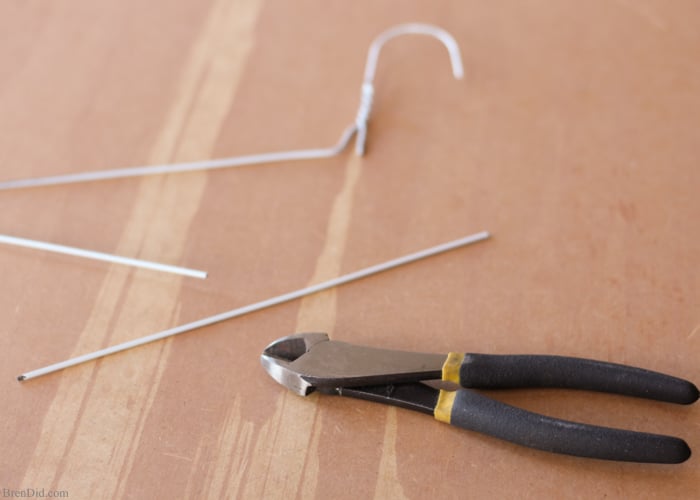 Bend the wire around a can to create a half-circle handle.  Work slowly to avoid creating kinks. (Tip: use the same size can as the can you used to make your lantern.)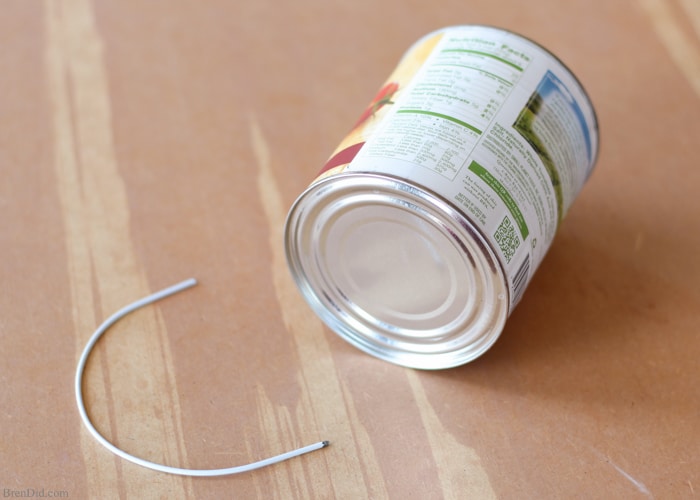 Use needle-nose pliers to bend a "c" loop at each end of the handle. Work slowly to avoid creating kinks.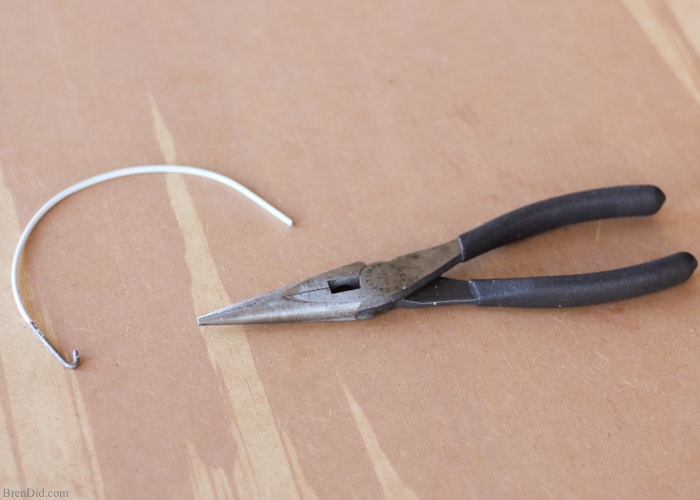 Attach the handle to the can.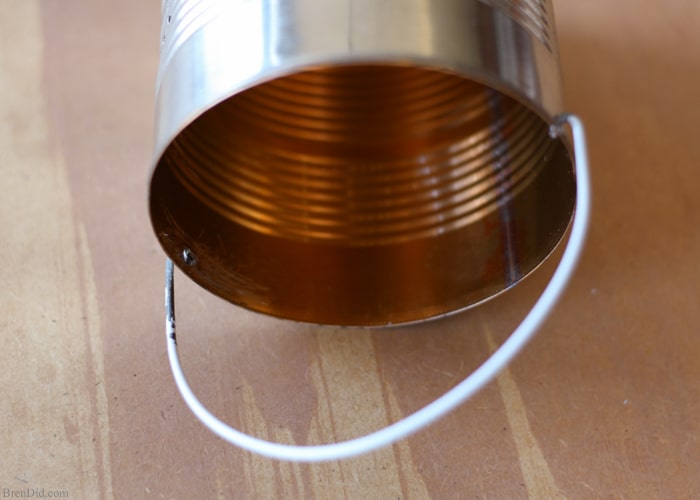 Cinch the handle tightly to the can.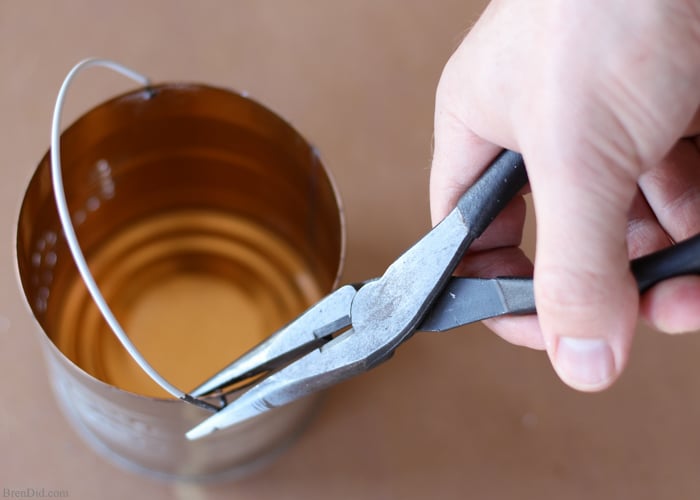 You can leave the cans their original tin color or paint them with white spray paint. If painting line the inside of the can with paper.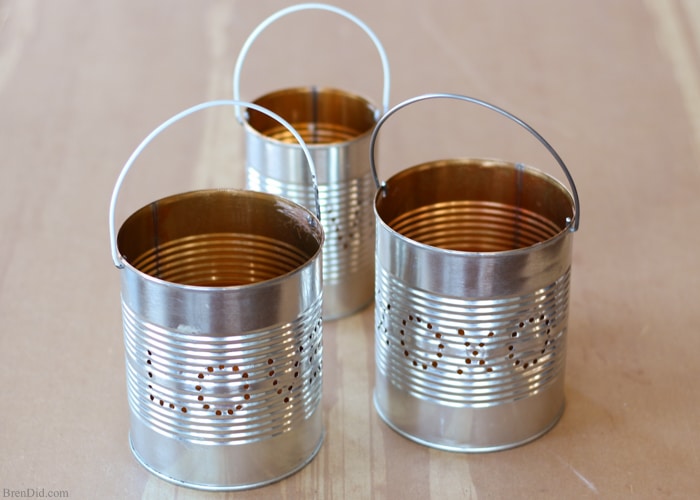 Allow paint to dry completely before using the tin lanterns.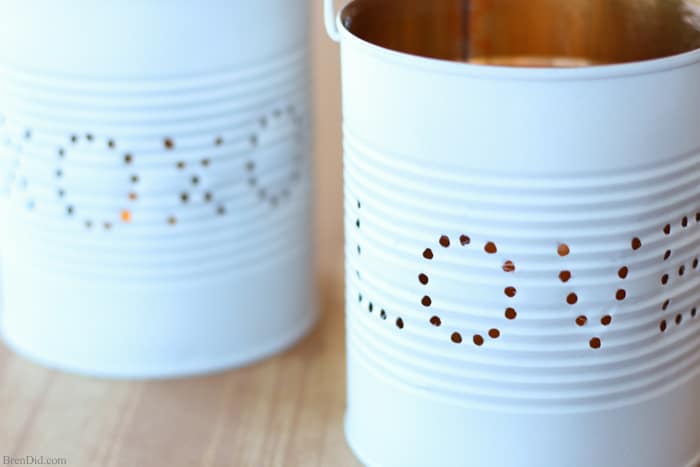 More Upcycled Valentine Crafts
Do you love upcycled projects? Check out these easy upcycled craft projects from some of my favorite bloggers:
Upcycled Button Wreath for Valentine's Day – This lovely wreath is the perfect addition to your Valentine décor and uses up the leftover buttons from your sewing box. I can't wait to display my favorites.
Upcycled Heart Valentine Cards – Valentines don't have to be store-bought! Use newsprint and paint to help your kids create these adorable Valentine cards.
Use materials found in nature to create even more upcycled Valentine projects. These are virtually free to create:
Valentine's Day Nature Art – Kids are always collecting sticks! Mine love to bring them home from hikes. Use this fun idea to upcycle them into nature art.
DIY Tic-Tac-Toe Valentine – My children love nature hikes and collecting of "precious" stones. If you have your own pile upcycle them into a Valentine Tic-Tac-Toe game.
Upcycled Heart Wall Hanging – Even cupid can't resist this adorable Valentine wall hanging created from a stick and recycled paper. You kids will love collecting supplies and punching out the hearts.
Like my easy crafts? Sign up for my free newsletter below and never miss a thing!