This Halloween I was inspired by many, many Pinterest images of black and white decorations and an incredible amount of Edgar Allan Poe themes (did you know Poe décor is "in" this Halloween?). Luckily, I had already decided to make a Williams-Sonoma Inspired Halloween Crow Wreath that fit right into my dream fireplace vignette. I searched for a Happy Halloween banner that could be added to the mantle and found the perfect one at Pottery Barn. It is cream jute with black gothic lettering and a creepy aged look. It was love at first sight, but I was not in love with the price… $24.50. It was time for a Halloween Banner DIY.
Now you may already know a few things about me: I love banners, I have a passion for burlap/twine, and I hate paying full price for décor items I can make myself. I knew I could make this banner for a better price since it's made of burlap, twine and paint. Jute is a fancy decorator way of saying burlap and burlap is CHEAP! It runs around $3.99 a yard at Michaels, Joanne, Hancock, etc. Add some acrylic paint at less than a dollar a tube and a few feet of cording and you are all set for a cheap banner.
I'm including a printable PDF pattern you can use to make your very own Pottery Barn Inspired Happy Halloween Banner. I hope you try making it (or one of my other Halloween banners).
Halloween Banner Instructions
Cut 14 rectangle pennants from burlap   They are 5.5" wide by 8.5" tall. (If you have never cut burlap before, use this easy tip, it makes this step go FAST.)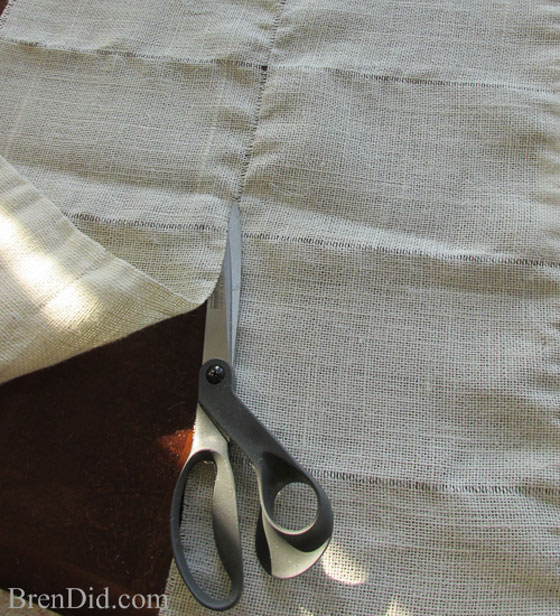 Use school glue to stop the edges of the burlap from fraying. I squeeze on a thin line and then use my finger to rub it gently into the material. You can also use a fray-stopping product, but school glue is more affordable. (No you're no seeing things, this picture is from my PB Kids Inspired Trick or Treat Banner.)
Print the banner lettering pattern. Trace each letter onto the burlap by hanging it on a window and using a permanent marker. Five of the pennants have spider webs or spiders (the pattern has these pennants laid out so you get the design in the right space.)
Use acrylic paint and a small brush to trace and fill in your design. Let the paint dry completely.
Cut 11 feet of black cording. The finished PB banner about 8 feet long. I use more twine because I like to have extra length at each end to attach the banner. If you want a shorter banner use 9 feet of cord, the ends will have a hanging loop that takes up several inches. Once the paint is completely dry use a glue gun to attach your pennants to the cord. I use an iron to crease my pennants ½ inch from the top, this makes a straight line to place the glue and cord. Go lightly on the glue, you do not want extra leaking out through the loose weave of the burlap.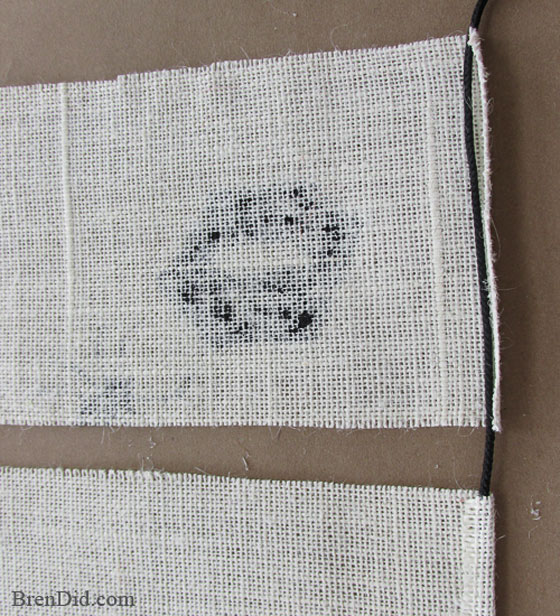 Space each pennant 1/4 inch apart. I left 1 ¼ inches between "Happy" and "Halloween." Start from the middle of your cord and work out. This ensures that the message is centered on your banner.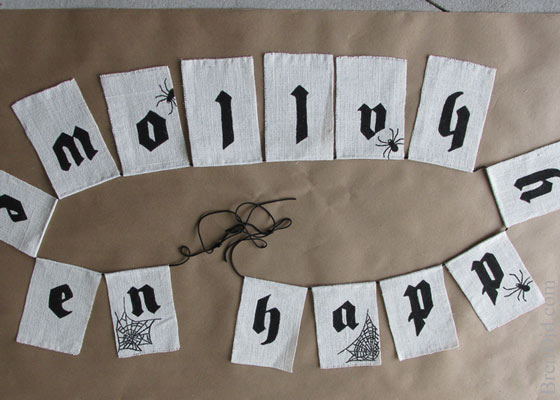 Knot cord at the end to make a hanger.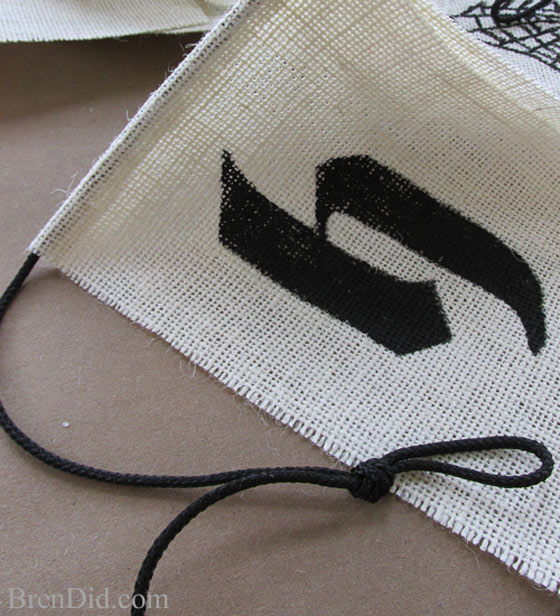 This is a fun step! You are going to lightly mist the edges of each pennant with black spray paint. Start with a little and add more until you reach your desired level of aged- dirty-gothic! Let the spray paint dry completely (I hung my banner in the garage overnight.) If you don't have spray paint you can also dab a bit of diluted acrylic paint on the edges,  but I found the spray paint effect to be more attractive.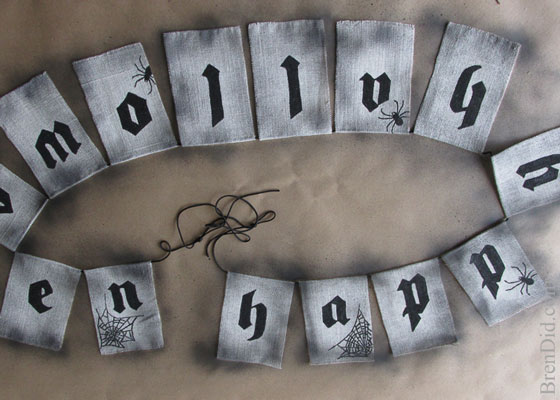 Enjoy your new creation!
Halloween Banner Cost
This gothic banner added the perfect spooky touch to my Halloween mantle. The best part? I didn't have to part with $24.50 to add it to my Halloween collection!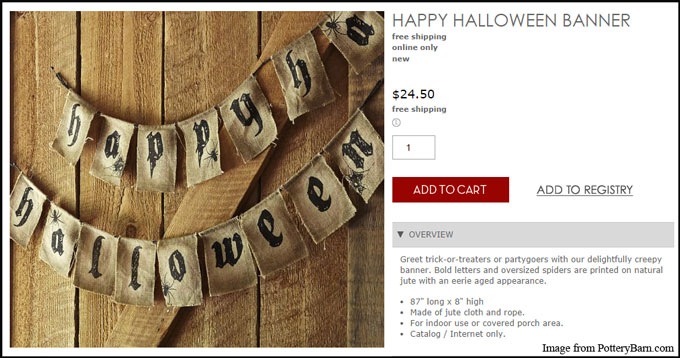 Here's the BrenDid cost breakdown:
Supplies
Ivory Burlap, ¾ yard – $1.50 (I only used ½ yard, but bought extra for errors)
Permanent Marker, black – $0.65 (already owned)
Black Acrylic Paint $0.69 (used ½) – $0.35
Black Cord, 1/8 inc thick by 11 feeth – $2.00
Glue Stick – $0.10
Black Spray Paint – $1.00 (only a little needed) – $0.15
Total price= $4.10
That's a $20.40 savings (83% off).
I LOVE the savings even more than my new/old banner!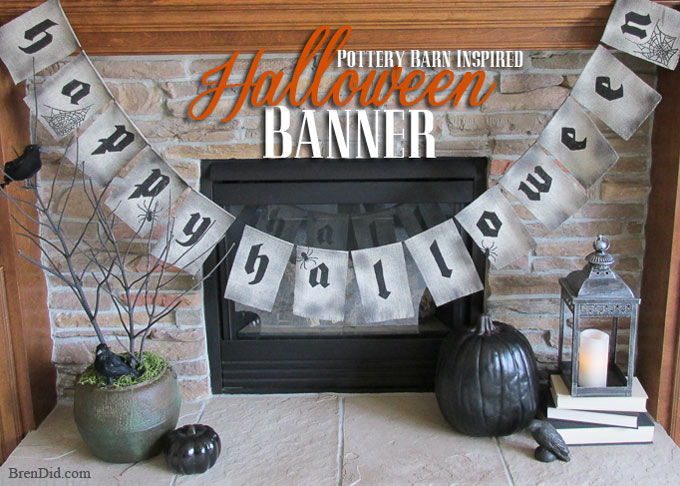 Get More Knock Off Halloween Crafts
Get all my Halloween knock off decor!
I hope you try making a Happy Halloween Banner to creep up your Halloween décor! What's your Halloween decorating style (creepy, cute, scary, gothic, gory, etc.)?