Need a fun New Year's Eve Party Game for Kids? These free printable fortune tellers will keep kids entertained for hours!
New Year's Eve is one of those either-or holidays. It can either turn out to be a great evening or wind-up being a huge disappointment.
Since having kids we enjoy making New Year's Eve a simple family night and love to host a small gathering of friends who also have kids. We spend the night enjoying delicious appetizers and playing our favorite family friendly New Year's Eve party games.
What to do on New Year's Eve
Are hosting a family friendly New Year's Eve party? You might be singing along to Etta Jones, "Here comes the jackpot question in advance. What are you doing, what are you doing New Year's, New Year's Eve?"
New Years Eve can be a challenging night to entertain children. Many popular New Year's Eve activities are meant for adults or occur too late for younger kids to appreciate.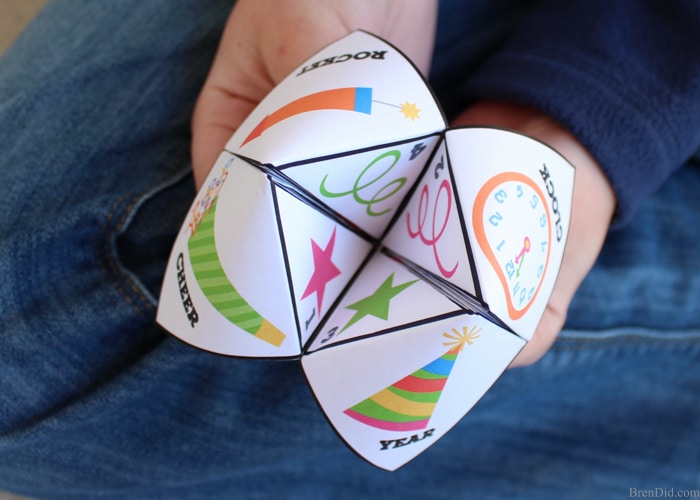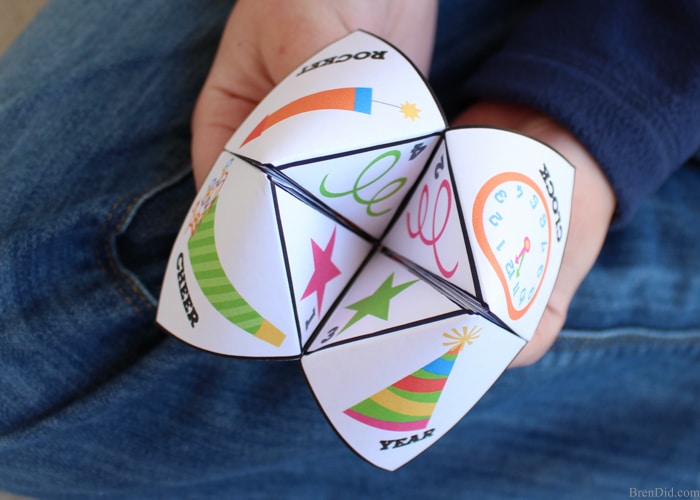 New Year's Eve Party Game for Kids -> Paper Fortune Teller
If you are looking for games of kids to play between the appetizers and the ball drop I have you covered with my free paper fortune teller and folding instructions (available in the free printable library).
You simply print, fold and play!
You'll love the easy craft and kids will love asking it simple yes or no questions.
While the paper craft is intended for children, this easy New Year's Eve party game is great fun for both kids and adults. The paper fortune teller will "magically" predict the answers your most burning questions for 2016 as you select numbers and letters.
What Will Happen in the Next Year?
There are sixteen entertaining responses on the fortune teller.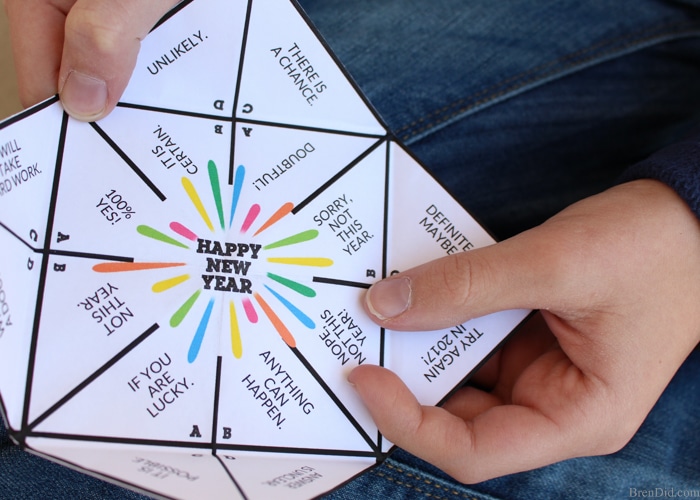 Here are some examples of fun questions to ask:
Will you make the honor roll?  It will take hard work!
Are we going to have lots of snow days this winter? If you are lucky.
Will you win the lottery? Nope, not this year!
Is your favorite team going to the Super Bowl?  Definite maybe.
New Year's Eve Joke Teller for Kids
Need another party game? These fun (and free) printable New Years Eve Joke Tellers will crack kids up with silly jokes. Grab them too!
How to Use a Paper Fortune Teller
Print and fold the paper fortune teller (PDF available in the free printable library). Gather players. Pick one person to operate the fortune teller and one to play.
Have the player ask a yes or no question they want a prediction for in the coming year. Then have the player choose one of the top four squares. Spell the word while opening and closing the fortune teller for each letter.
Player selects one of the 4 numbers in the open side. Operator opens the fortune teller side to side as they count the number.
Have the player pick another number then open the flap & let the player choose a letter (a, b, c, or d). Read the answer that corresponds to the letter, this is the player's answer.
Rotate play until each person has been the player and the operator.

I hope you have a fantastic New Year's Eve and get your year off to a great start!
Like my free printables? Sign up for my free newsletter below and never miss a thing! 

Bren Did Newsletter Subscribers Get Access!