Love using essential oils to deodorize and naturally scent your home but don't want to keep a diffuser running all day? These easy essential oil hacks will keep your house smelling incredible whenever you need a quick boost of fresh.  Learn the best way to scent your home… naturally.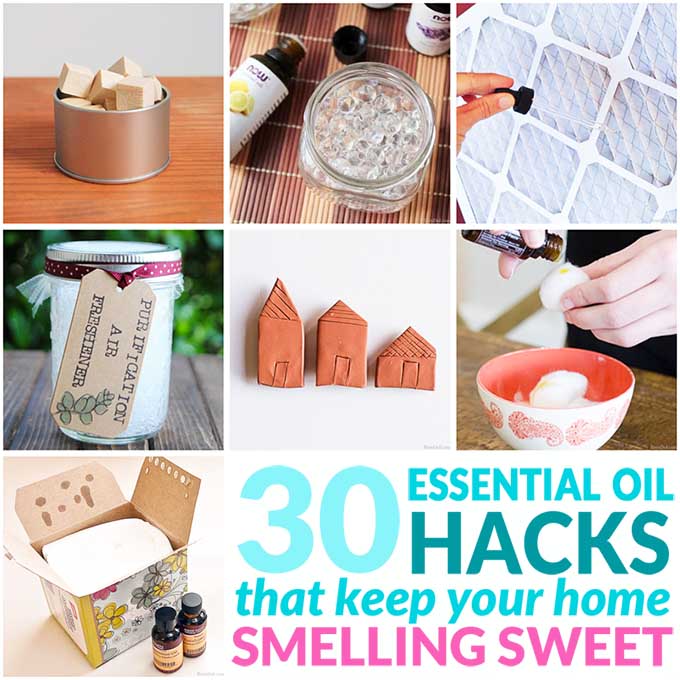 Using Essential Oils for Scent… When You Don't Have a Diffuser
The smell of a clean house or freshly-washed laundry is heavenly. A whiff of a fresh fragrance instantly brightens my mood and makes my home feel extra clean.
Unfortunately, most of the commercial products made to scent and deodorize the home are full of dangerous man made chemicals. These dangerous substances can lower indoor air quality and damage your respiratory system.
Yikes!
What's a mom to do? I gave up my favorite home scenting products (everything from scented candles to deodorizing sprays) for a few years… then I discovered essential oils. They are a safe and effective way to add all-natural fragrance to your home.
How to Use Essential Oils for Home Fragrance
Essential oils smell lovely but they do not have the long lasting power of artificial fragrances. To keep your home smelling great you can:
Run a diffuser that uses electricity and water mist to keep the pleasing aromas of essential oils around all the time.
Use an easy DIY hacks to add essential oils scent to your home…. no diffuser necessary!
How to Naturally Scent Your Home
Keep your home smelling fresh as a daisy with these 30 easy diy air fresheners. Try one (or a few) to naturally scent your home today!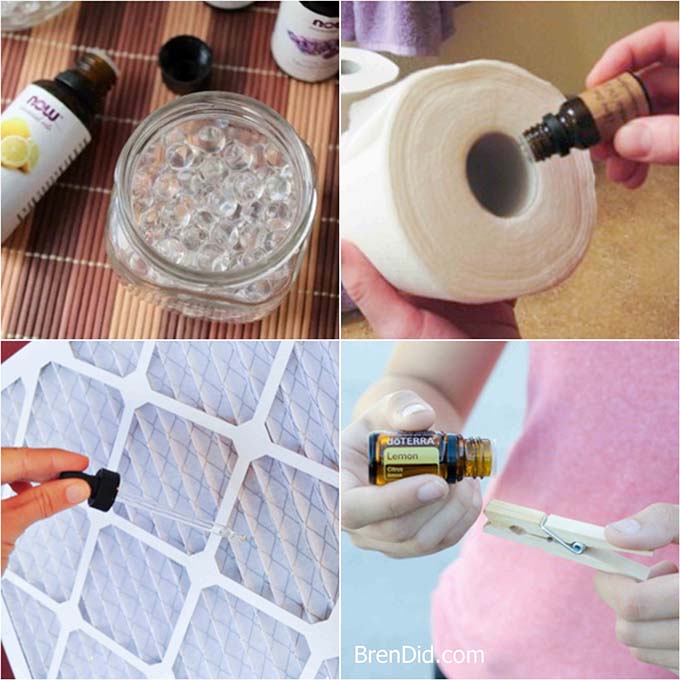 Water Bead Diffuser Jar – Combine water beads, water, and your favorite essential oil and you have a simple diffuser that works through evaporation. Easy tutorial from Life with Love Bugs.
Toliet Paper Diffuser – Freshen bathroom with this easy trick from EK Wetzel. Add a few drops of essential oil in the cardboard tube inside the toilet paper roll.  The scent of the oil will release each time the paper is used.
Furnace Filter Diffuser – Scent your  entire home in one easy step! Add a few drop of your favorite essential oils to your furnace filter then the scent will diffuse each time the fan clicks on. Full details can be found on the Kids Activities Blog.
Clothes Pin Diffuser – Add a few drops of  essential oil to a wooden clothes pin and clip it to a car air vent or floor furnace vent. The wood absorbs the oil and releases the great scent into the airflow. Get the easy tutorial from The Krazy Coupon Lady.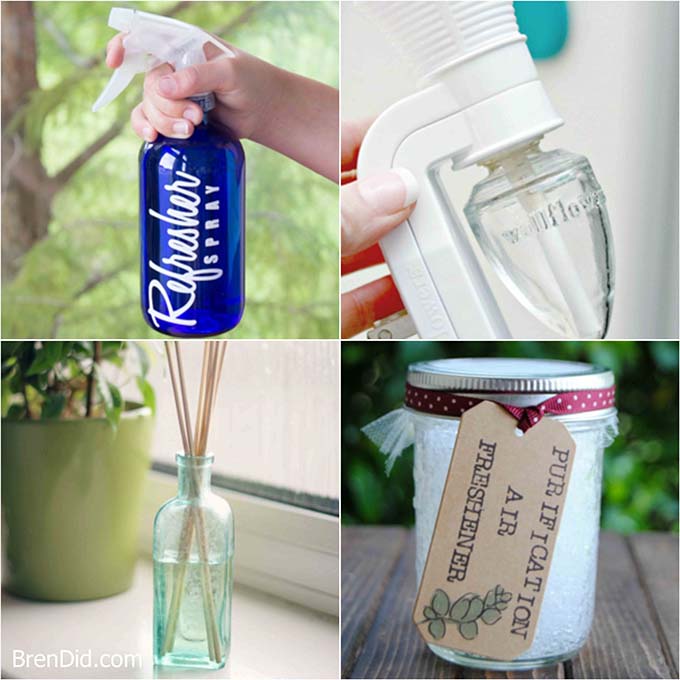 Air Freshener Spray – This all natural Febreeze replacement can be sprayed in any room to deodorize and freshen. It also works great as all-purpose cleaner! Get the easy recipe (and free label) from Bren Did. (I keep a bottle in the kitchen and bathroom at all times.)
DIY Plug In Refill – Love plug in air fresheners but want a more natural solution? Mom 4 Real shows you how to use essential oils as air freshener. You'll make your own plug in refills with just essential oils and water, no more artificial scents needed.
Reed Diffuser DIY – Reed diffusers are a popular and lovely home decor addition that keep rooms smelling great. It's easy to make your own diffuser that uses essential oil for air freshener. Tutorial from Moral Fibres.
DIY Gel Air Freshener Jars – These lovely little jars are perfect for scenting small areas such as an office or bathroom. The easy tutorial from Shaken Together uses absorbent crystals, water, and essential oils.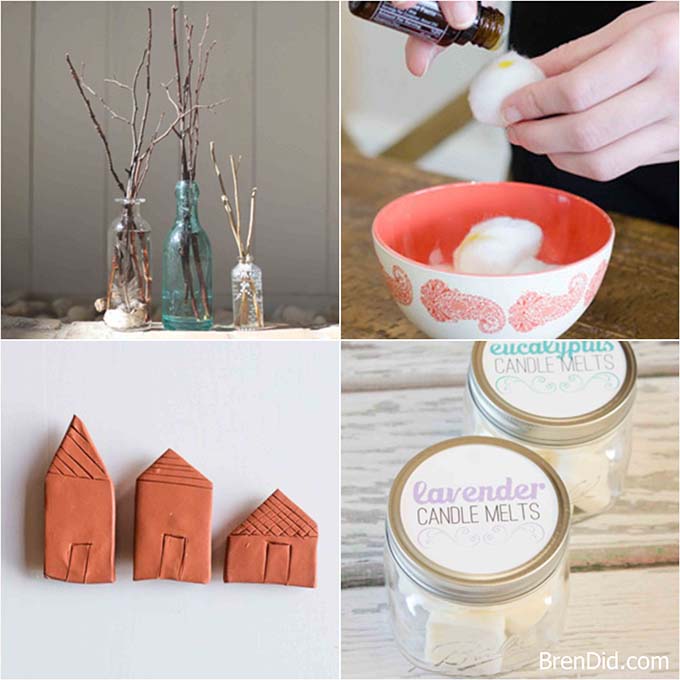 Stick Air Diffuser – This easy air freshener from Free People uses sticks collected outdoors and upcycled bottles to make an eco-friendly air freshener that looks stylish in any room.
Cotton Ball Diffuser Bowl – Need to freshen your home fast? Grab the essential oils and a few cotton balls for the easiest diffuser ever. Just drip and enjoy. Get the full details from The Krazy Coupon Lady.
Terra Cotta Diffuser Magnets – This fun craft makes clay magnets that you can drip with essential oils to scent the kitchen. Get the full tutorial from Hello Glow and make some to match your home decor.
All-Natural Wax Melts – Love wax melts but want to eliminate the dangerous artificial fragrances from your home? These natural melts from Create Craft Love are easy to make and smell amazing when simmering.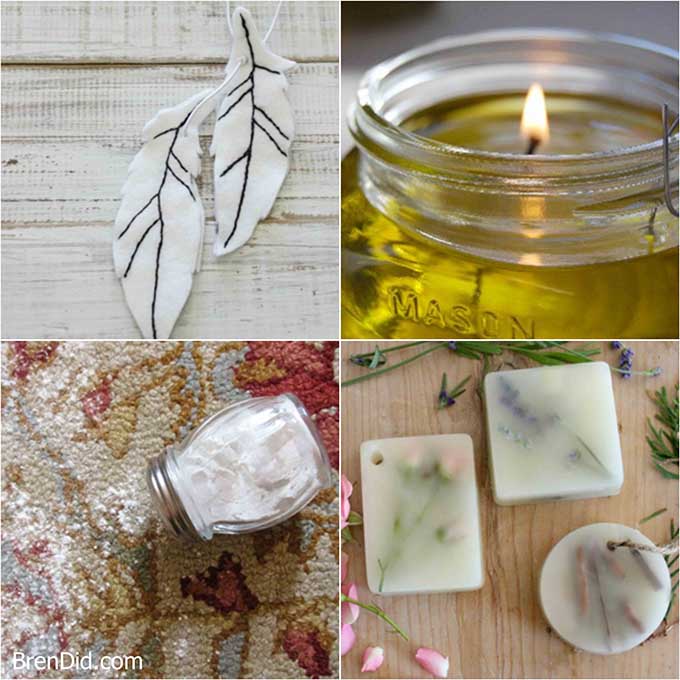 Felt Feather DIY Air Freshener – This adorable hanging air freshener from Shades of Blue Interiors is made from felt and thread. Make one for your car, laundry room or closet.
Scented Oil Candles – Grab the olive oil and a jar and you're halfway to making this easy scented oil candle with essential oils. Get the full instructions and supply list from Little House Living.
Room Freshening Carpet Powder – You can freshen your carpets, vacuum and entire home while you clean! This easy carpet powder from Bren Did uses baking soda and essential oils to freshen your home. Great for homes with pets.
Floral Scented Wax Bars – These lovely wax  bars are scented with essential oils and decorated with dried flowers.  Hang them in areas that need freshening or place them in drawers for a fresh smelling home.  Get the tutorial from eHow.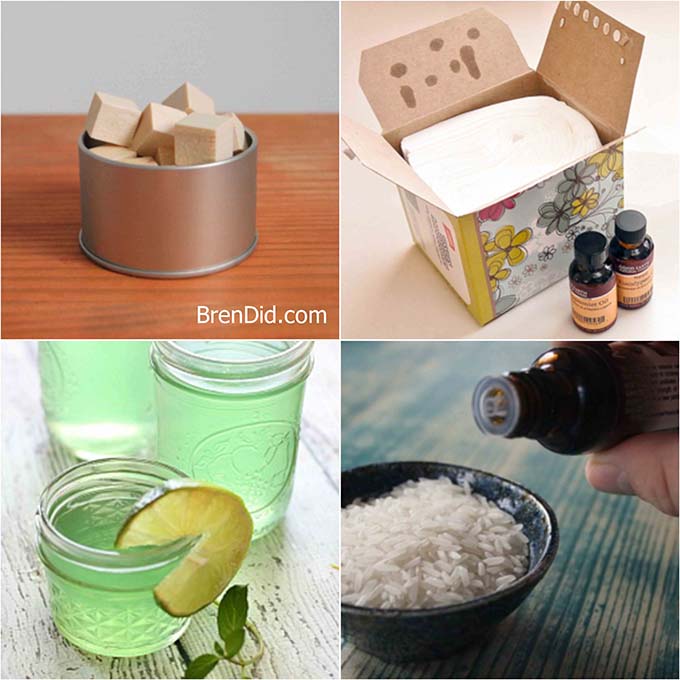 Wood Cube Air Freshener Cubes – Unfinished wood blocks and essential oils are all you need to make this stylish diffuser from North Story. It's so simple and so lovely!
Refreshing Kleenex Box -Pry open the container and add a few drop of oil to your tissue box. The cardboard soaks up the essential oils and releases a puff of fragrance every time you pull out a tissue. Get the easy directions from Pop Sugar.
Mojito Scented Gelatin Air Freshener – Water, gelatin, and essential oils are used to make this easy air freshener that scents the room as it evaporated. Get the recipe from A Cultivated Nest (and make your own scent combination).
Easy DIY Rice Diffuser – Add a few drop of essential oil to uncooked rice for an instant scent boost. Get the directions from The Homemade Experiment.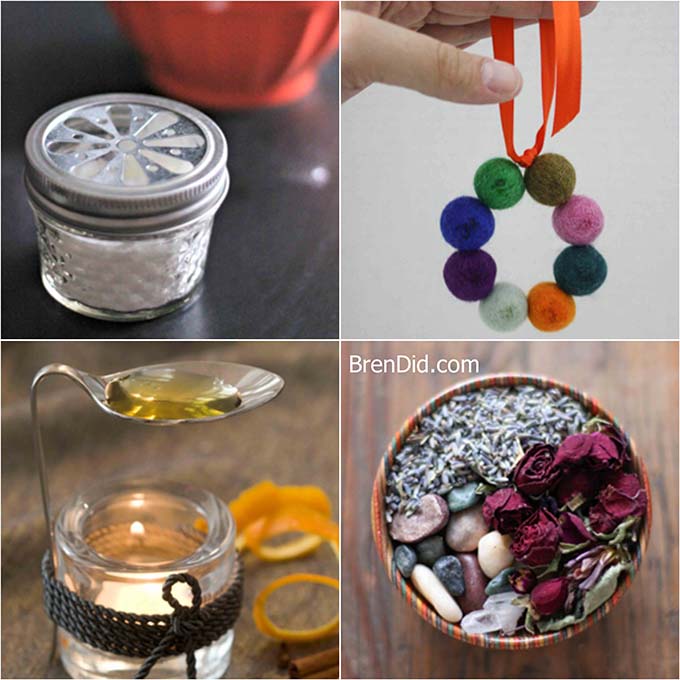 Baking Soda Diffuser Jar – This simple DIY diffuser from Dream a Little Bigger can be made with just two ingredients from your kitchen cabinets: baking soda and essential oils.  Try one today!
Felted Wool Air Freshener – This lovely ornament can be used in the car, closet, or anywhere that needs a fresh scent. Get the full instructions from Designer Trapped.
Upcycled Oil Warmer – This genius ideas uses a bent spoon and a candle to warm and diffuse essential oils. Add a bit of coconut oil or olive oil and a few drops of oil to the spoon and the flame does all the work. The post from Napiszemtorna is not in English but it's self explanatory!
Homemade Floral Potpourri – Scents for the home can double as home decor. Use flowers from your garden to create these beautiful potpourri bowls that are scented with essential oils. Get the tutorial from Free People.
Essential Oil Deodorizer Disks – Use baking soda, water, and essential oils to make these scented disks that can be used to fight odors in diaper pails, garbage cans, and the wash. Full directions can be found at the Diapers, Dirt, Donuts, Doodling and Digital blog.
Braided Leather Diffuser Bracelet – These easy DIY bracelets from Drea Wood are perfect for scenting your personal space and keeping bugs away!
DIY Clay Pot Diffuser – Hearth and Vine combines the absorbent nature of a terra cotta pot with a candle to make this effective warmer that spread lovely fragrance throughout the house.
Wood Air Freshener – Paint an unfinished wood ornament with essential oils to make this lovely hanging air freshener from Lemons Lavender and Laundry. They look lovely in windows too!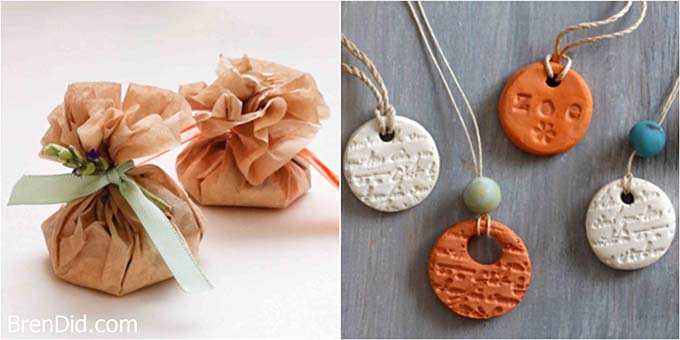 Baking Soda Coffee Filter Sachets – These DIY sachets are made from ingredients you probably have on hand! The easy fresheners from Pop Sugar can be used to freshen shoes, closets, and drawers.
Essential Oil Diffuser Necklace – Use terra cotta or white clay to make a lovey diffuser necklace that keep the lovely scent of essential oils close. Apply 1-3 drops of oil to the necklace whenever you need a boost. Get the full tutorial from Mommypotamus.
These easy essential oil projects will keep your home smelling sweet and fresh all year long. Try one today!
Like my easy craft ideas and free printables? Sign up for my newsletter below and never miss a thing!